Art Shenzhen 2019 wrapped up at the Shenzhen Convention and Exhibition Center on Sept. 15.
The four-day exhibition included five sections, namely the main gallery, spaces for public art, art derivatives, non-profit organizations and an independently curated project. It showcased over 2,000 contemporary artworks from 54 art galleries, significant public art projects and well-known art derivative brands, bringing a wonderful aesthetic feast to the Guangdong-Hong Kong-Macao Greater Bay Area.
This year, the exhibition attracted a great number of visitors, collectors and buyers. Most of the 54 galleries have made deals during the exhibition. Many reported having a good start to the affair, including Gallery Continua, Soka Art Center, Ink Studio, Leo Gallery, Whitestone Gallery and Tang Contemporary Art.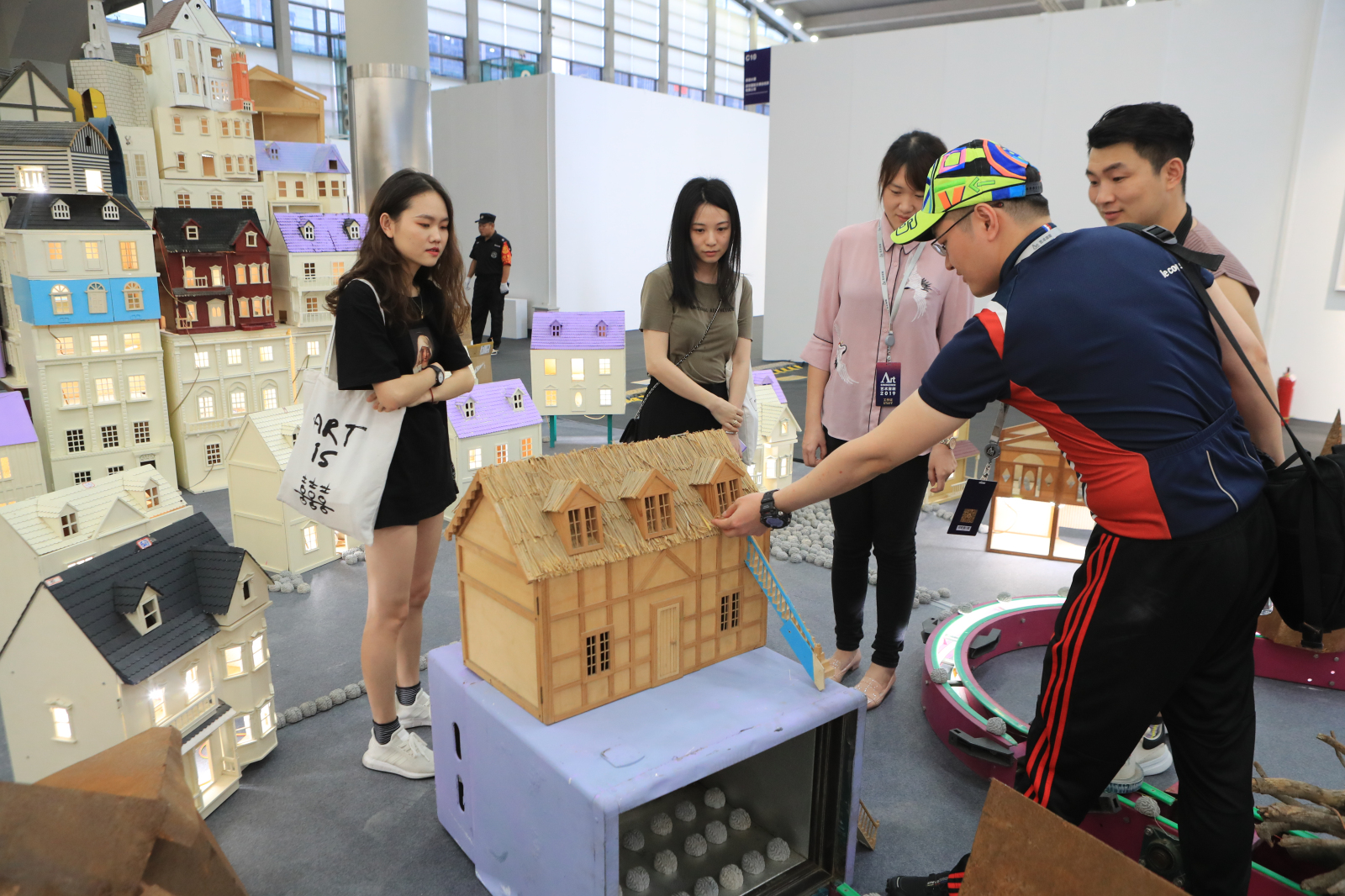 Staff members of an art gallery arrange a booth during the exhibition.
Some new faces to the exhibition also performed unexpectedly well. Space 1326 is a young South Korean gallery that attended Art Shenzhen for the first time this year. The Space 1326 exhibitors were nervous before the start of the exhibition, but their nerves were soothed as 15 artworks sold on the first day.
Gallery Continua from Italy was also satisfied after the first day. A Giovanni Ozzola work sold at the price of 60,000 euros (US$67,515).
Most exhibitors agreed that buyers from Shenzhen are practical, efficient and tolerant.
This year, the fair has attracted many exhibitors from China's Taiwan, South Korea and Japan. Chung Ching-Hsin, chairperson of the Taiwan Art Gallery Association, was among them. This is the second time she and her Da Xiang Art Space have attended Art Shenzhen since they first participated in 2016.
Compared with three years ago, Art Shenzhen 2019 received more and better visitors. Still, a larger "effective population in art" is still lacking, said Chung.
"Shenzhen is a migrant city that is highly tolerant. The visitors here are open to new media and art forms. There are many young art lovers, but they'll need more guidance to become collectors. Perhaps this is what Art Shenzhen is destined to do," she added.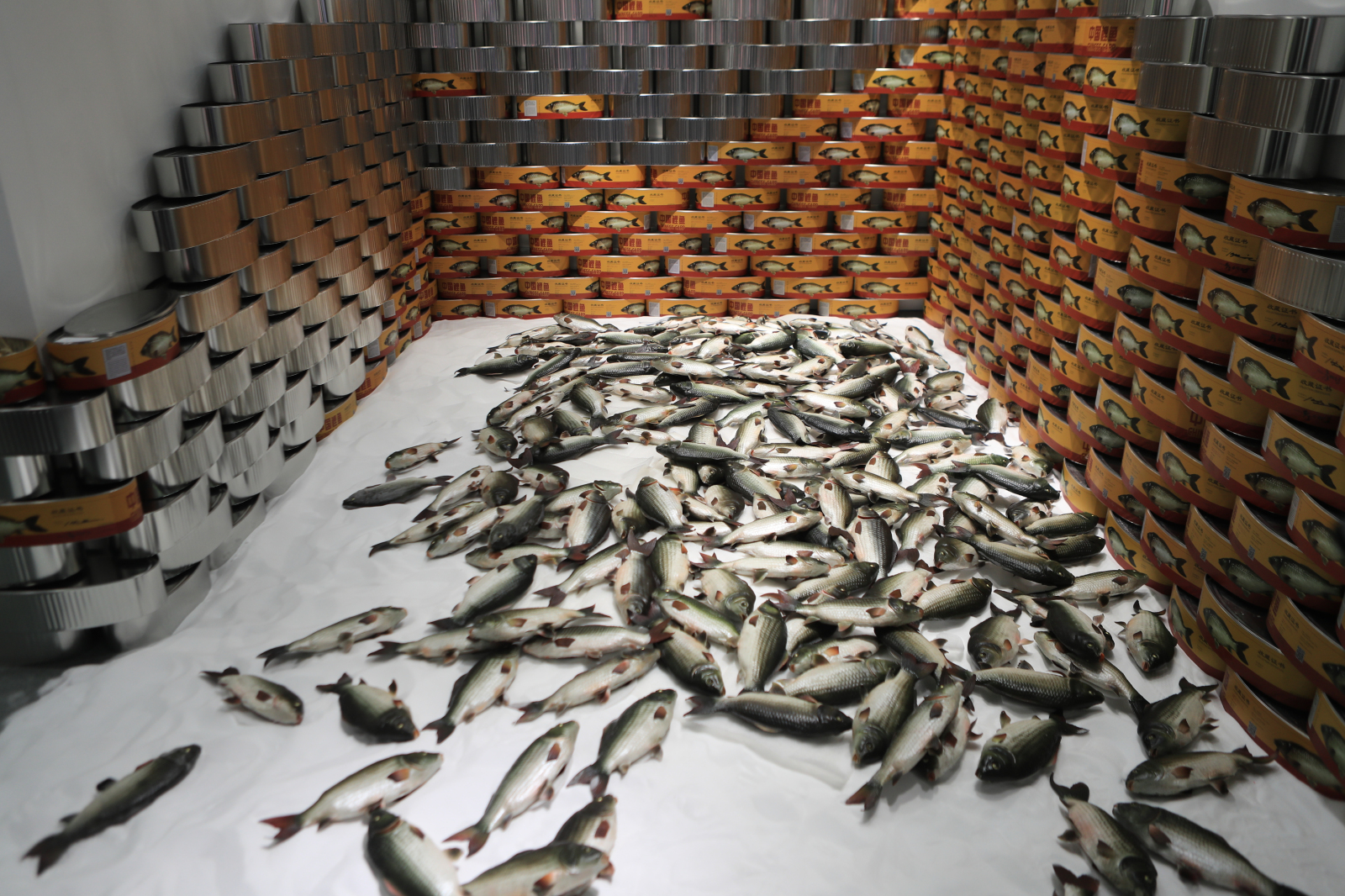 Exhibits on display.

According to the organizer, Art Shenzhen is not only an art fair, but also an event for promoting the development and influence of contemporary art in Shenzhen. It will endeavor to improve public aesthetics, discover more art galleries and cultivate more collectors. It values market performance and market effect but also highlights the social and cultural responsibility it carries.
Art Shenzhen will play positively to improve the influence of art and culture on the public, the organizer said. With Shenzhen's development in politics, economy and culture, the city is playing an increasingly significant role in the Guangdong-Hong Kong-Macao Greater Bay Area. And as it becomes the pilot demonstration area of socialism with Chinese characteristics, Shenzhen has acquired a new strategic status and historic mission. Art Shenzhen will seize opportunities to host varying cultural and artistic activities with Hong Kong and Macao to facilitate the stable development of the regional art market and hold high-level, professional international exhibitions.