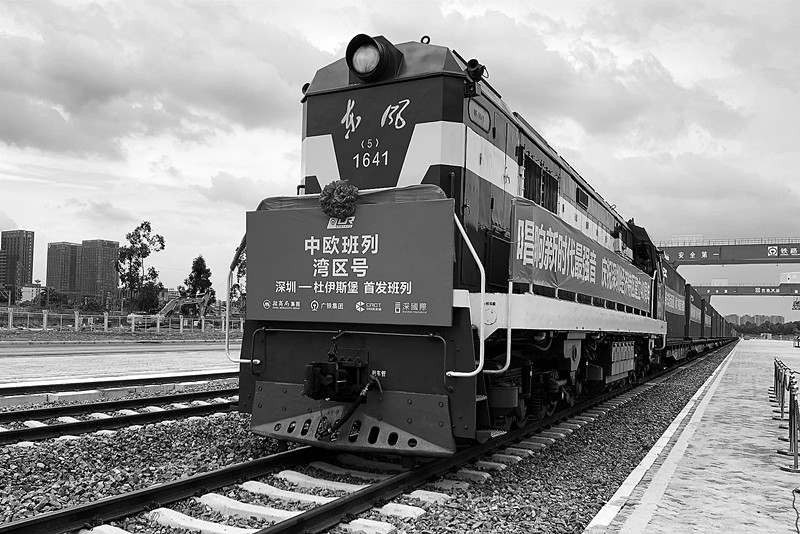 The first Sino-European freight train leaves Pinghu South Station and heads for Duisburg in Germany on Tuesday. Liao Wanyu
A cargo train carrying industrial products produced in the Guangdong-Hong Kong-Macao Greater Bay Area left Pinghu South Station and headed for Duisburg in Germany on Tuesday.
This was the first Sino-European cargo train to depart from Pinghu. According to Guangzhou Railway Cargo Center, the train will cover a distance of 13,438 kilometers in 16 days by crossing the border through Alataw Pass in Xinjiang and passing through Moscow, Minsk, Malaszewicze, Warsaw and Hamburg. It is one of the Sino-European cargo trains that cover the longest distance and save one-third of the time compared to ocean freight service.
"After the operation of the Sino-European cargo train departing from Pinghu, the industrial manufacturers in the Greater Bay Area, especially in eastern Guangdong, can load their products and sell them to Europe from Shenzhen. It will be helpful for Shenzhen to expand in the Russian, Central Asian and the European markets," Yu Baoming, head of Shenzhen's transport bureau, said at the inauguration ceremony Tuesday.
Due to the ongoing COVID-19 pandemic, world trade has been seriously affected and supply chains of the enterprises in the Greater Bay Area have altered. The Sino-European trains have gained attention from enterprises and cargo owners for its safety, convenience, low cost, and limited constraints from the natural environment.
"The train service is now operating once a week and could be increased to twice a week from the fourth quarter of the year," said Fan Yongjian, general manager of Sinotrans South China Co. Ltd., adding it would connect Shenzhen, a logistics hub in South China, with Belt and Road countries and encourage sending high-quality electronic products from the Pearl River Delta cities to the European market.
Since the beginning of the year, the operator has successfully opened Sino-European train routes including the route between Dongguan and Vilnius in Lithuania, the route between Dalang in Guangzhou and Toshkent, the largest city in Uzbekistan, and the route between Segezha in Russia and Dalang in Guangzhou. More than 100 train trips have been operated so far, carrying 70,000 tons of cargo.
"The number of Sino-European trains from Guangdong will keep rising this year. In July, the number had increased by 38 percent compared with July last year," said Huang Liming, chief engineer with Guangzhou Railway Group Corp. Cargo Transportation Department.