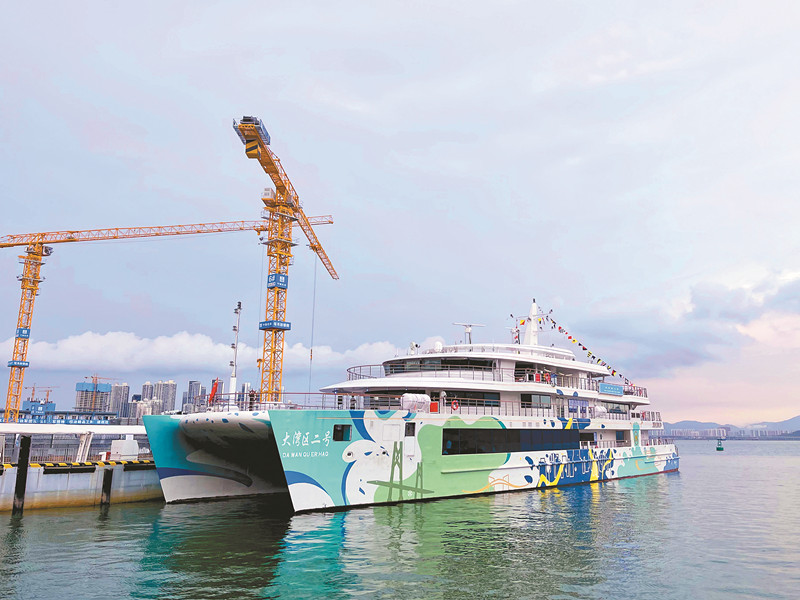 The Greater Bay Area No. 2 cruise ship docks at Shekou Cruise Homeport in Nanshan District on Friday. Liu Yujie
The maiden voyage of the Wan Qu Er Hao (Greater Bay Area No. 2) sightseeing cruise ship started at Shekou Cruise Homeport on Friday. A ceremony was jointly held by China Merchants Shekou Holdings (CMSK), Shenzhen Municipal Culture, Radio, Television, Tourism and Sports Bureau and Shenzhen Municipal Transport Bureau to celebrate the maiden voyage.

Travelers can now take the GBA No. 1 and GBA No. 2 sightseeing cruise ships to appreciate the views of the Guangdong-Hong Kong-Macao Greater Bay Area.
GBA No. 2 ship's operation brings a new Hong Kong-Zhuhai-Macao Bridge route, traveling the upstream part of the bridge, which is the most convenient way to watch the bridge's view from Shenzhen. The circular voyage will take three hours, specifically traveling the Shekou Container Terminals and future Shenzhen-Zhongshan Link and going through the Hong Kong-Zhuhai-Macao Bridge.
So far, the GBA No. 2 cruise ship runs four voyages a day, three of them sailing the Hong Kong-Zhuhai-Macao Bridge route at 7:30 a.m., 11:30 a.m. and 4 p.m. The other cruise will operate between 8 p.m. and 10 p.m. each day from either the Qianhai Bay route or Shenzhen Bay route, which will be decided by the tides and passenger flows.
The GBA No. 2 cruise ship, which is 71.95 meters long and 18.72 meters wide, carries 350 passengers and travels at a speed of 14 knots (25.92 kilometers per hour). The cruise ship provides dining, entertaining, sightseeing, technology experience and knowledge learning services. One section in the ship integrates a marine culture experience which creates an immersive underwater environment for passengers.
Tickets are available on the official WeChat account of CMSK Cruise Home Port. Ticket prices for the bridge route start at 198 yuan (US$30) for children aged 6 and above and adults. Ticket prices for the bay routes start at 178 yuan.