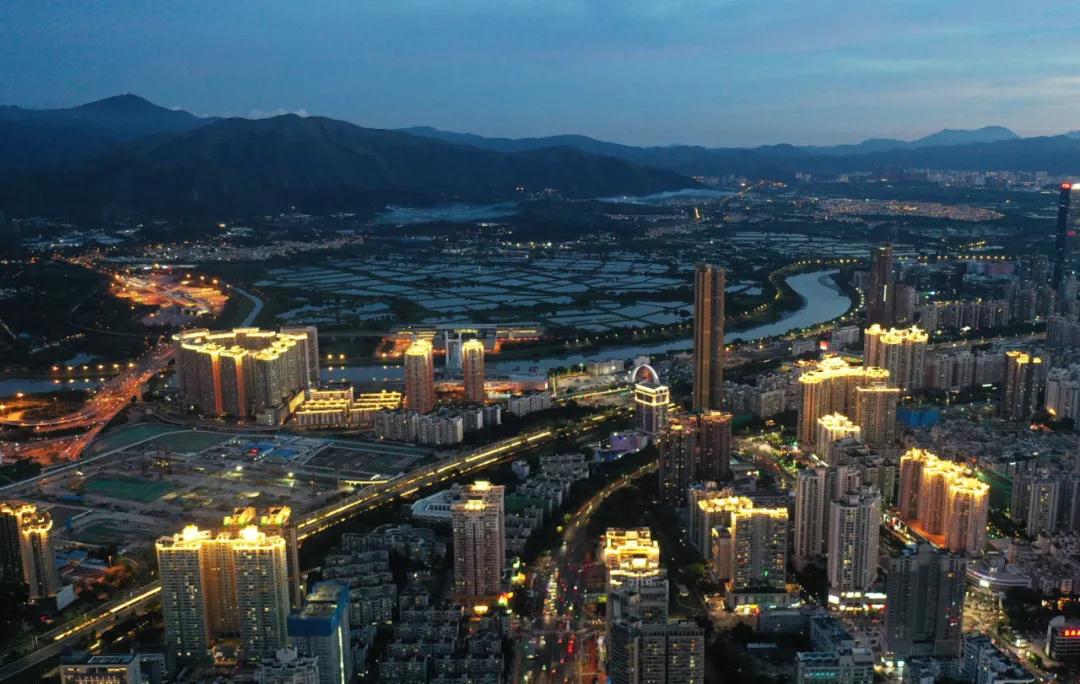 An aerial view of the Shenzhen-Hong Kong Cooperation Zone for Technology and Innovation. Sun Yuchen
The Shenzhen section of the Shenzhen-Hong Kong Cooperation Zone for Technology and Innovation (SHCZ) in the Lok Ma Chau Loop area was teeming with science and technology innovation the past year due to accelerated capital, technology, talent and information flows.
SHCZ began to take shape through innovation and entrepreneurial spirit, harnessing its unique geographical advantages as it borders Hong Kong and ecological environments.
SHCZ is attracting more teams and young Hong Kong people to open businesses because it is Shenzhen and Hong Kong's major platform for technology and innovation cooperation and a major "carrier" on building a comprehensive national science center in Shenzhen, a report of Shenzhen Special Zone Daily showed.
The Guangdong-Hong Kong-Macao Youth Innovation and Entrepreneurship Hub in SHCZ has cultivated 23 teams, including 21 with Hong Kong and Macao backgrounds, with the number of team members growing from 69 to 358. These members engage in AI, IoT, medical science and new materials. Five teams each have generated an annual output value of more than 10 million yuan (US$1.55 million) and gained financing support of 277.5 million yuan.
"I have witnessed SHCZ's development and it is very fast," said Chen Yan, a City University of Hong Kong (CityU) Ph.D. holder, who came to work at CityU Shenzhen Research Institute in September last year. Chen engaged in research on key components of high-definition time-spatial electronic microscopes. The institute has a 3,600-square-meter lab at SHCZ's Shenzhen-Hong Kong International Science and Technology Park and recently worked out an electronic microscope prototype, laying a solid foundation for cutting-edge technologies.
Chen Zhihong, office director of the GBA Digital Economy Research Institute, was also impressed with the cooperation zone's fast development. The institute was inaugurated in November last year with only six full-time employees. In the span of a year, it has expanded to a 140-member research team headed by seven leading scientists.
"From the use of space and electricity to the equipment selection and incentive implementation, the government pushed the work at various fronts simultaneously, enabling us to have the world's leading research infrastructure in a short period of time," Chen said. The institute is trying to become SHCZ's digital economy and supercomputing center geared toward international standards.
At the gathering marking the 40th anniversary of Shenzhen Special Economic Zone on Oct. 14, 2020, President Xi Jinping stated how to plan and construct SHCZ.
SHCZ, covering 3.89 square kilometers, is composed of 0.87 square kilometers on the Hong Kong side and 3.02 square kilometers on the Shenzhen side, north of the Shenzhen River.
The Shenzhen portion focuses on life science, information science and material science and six sectors in medical technologies, big data, robotics, new materials, big data, AI, micro-electronics and fintech.
So far, more than 140 high-end projects, including projects of five top Hong Kong universities, the China Branch of BRICS Institute of Future Networks and International Quantum Research Institutes, have settled in the cooperation zone. The International Quantum Research Institutes headed by Yu Dapeng, academician of Chinese Academy of Sciences, has expanded into a 200-member team within a year since its operation.
Earlier this month, Hong Kong SAR Chief Executive Carrie Lam unveiled an ambitious plan to transform remote districts bordering Shenzhen into a Northern Metropolis. The long-term project aims to alleviate the SAR's chronic housing shortage and foster a new international high-tech hub through joint development with Shenzhen and other cities in the Guangdong-Hong Kong-Macao Greater Bay Area.
In the future, after Huanggang Checkpoint's renovation, around 500,000 square meters of land will be unleashed for science and technology development between Shenzhen and Hong Kong. By 2035, the Shenzhen portion of SHCZ will provide 3 million square meters of space for science, research and industrial development, according to official statistics.