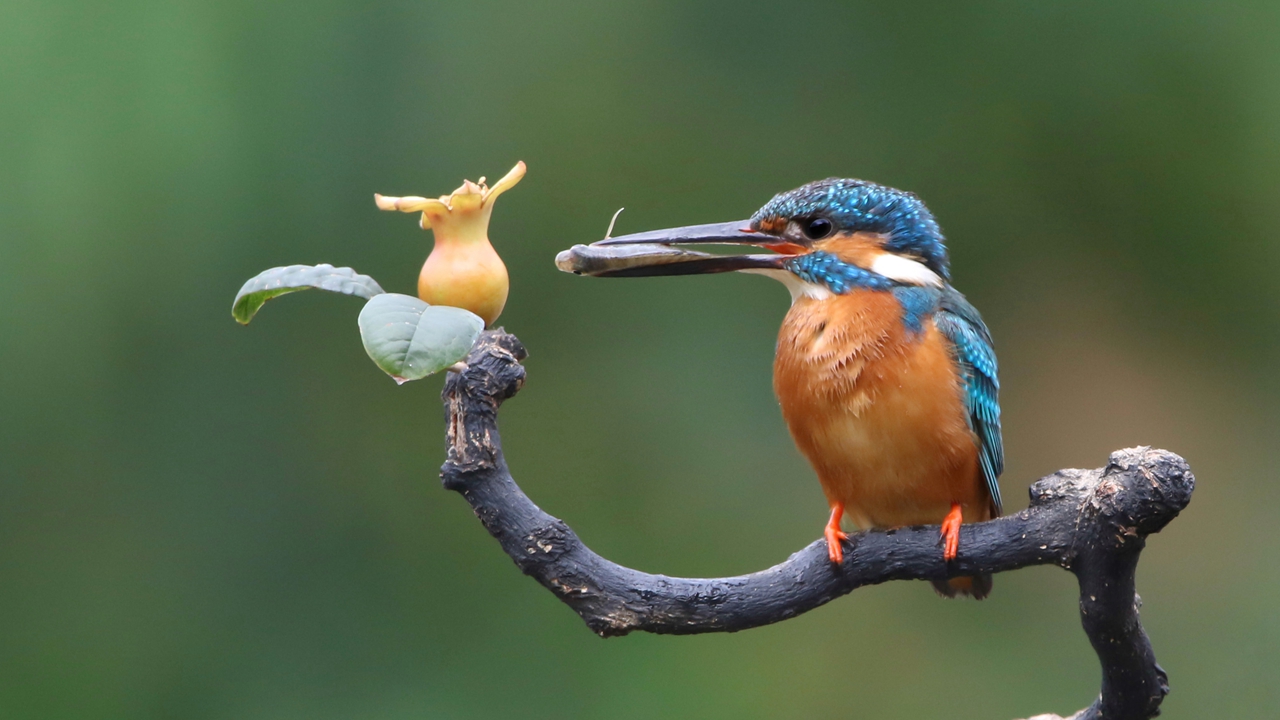 A common kingfisher is resting on a branch in Honghu Park, Luohu District.
One of the most captivating and stunning animals you can easily spot in almost every park of Shenzhen is the common kingfisher (Alcedo atthis), a bird species you can smoothly recognize for its visible iridescent blue plumage that almost entirely covers the back of its body, leaving enough space for a lovely underbelly covered in orange and with some white linings on the side of its neck and throat. Their feet are small and red and their beaks are long, strong and sharp in order to get a better grip while catching their prey. Males and females are very similar and the most notable difference rests on the color of their beaks; while the male's beak is entirely black, the female's lower part is light brown.

在深圳的各大公园中,有一种美丽迷人的小鸟随处可见,它们就是普通翠鸟。普通翠鸟非常容易辨认:它们背上覆盖着璀璨的亮蓝结构色羽毛,小巧胸脯上的羽毛是橙红色的,喉部和颈部则点缀着少许白色;脚部很小,为朱红色;喙部长、尖锐且有力,有助于它们攫取及控制猎物。普通翠鸟雌雄外表基本相似,仅喙部颜色存在差别——雄鸟的喙部全黑,雌鸟的下喙部则为浅棕色。
Common kingfishers are relatively small birds with an average length of 17 cm and an average wingspan of 24 cm. One interesting fact about them is that during the mating season, a male will find a female and then both will take care of the offspring. A pair may raise up to 10 clutchesat once (though very rarely) and they breed around three times a year.
普通翠鸟体型较小,平均体长17厘米、翼展24厘米。有意思的是,本物种为一夫一妻制,由雌雄共同参与育雏,每年繁殖三次。极个别情况下,一对普通翠鸟每窝可产10只卵。
One of the most fascinating characteristics of this species is the fact that they always eat the fish starting with the head.Even when feeding their young offspring, they will catch small fish and grab them by the tail so the babies can eat the fish head first.
普通翠鸟另一个有趣的特征是抓到小鱼后会从头部开始进食。在喂食雏鸟的时候,亲鸟也会衔住鱼类的尾巴,好让雏鸟可以先吃到猎物的头部。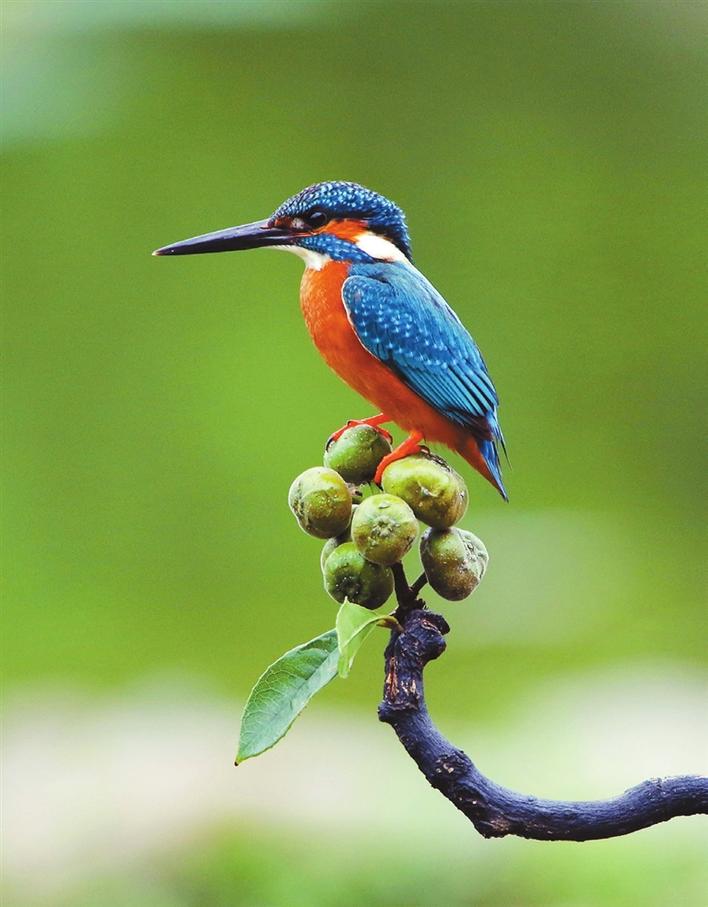 A common kingfisher is resting on a branch in Honghu Park, Luohu District.
Finding kingfishers in almost every park of the city is good news for all of us, an encouraging sign that the water bodies across Shenzhen are in a healthy condition with enough freshwater organisms to satisfy the demanding appetite of these little birds.
几乎在深圳的所有公园中,我们都能见到普通翠鸟。这是一个喜人的现象,表明深圳淡水水域水质优良,水生生物丰富,能为这些食欲旺盛的小鸟提供足够的食物。