Share

Print
A+
A-
The brown tree frog
Writer: Isaac Cohen | Editor: Liu Minxia | From: Shenzhen Daily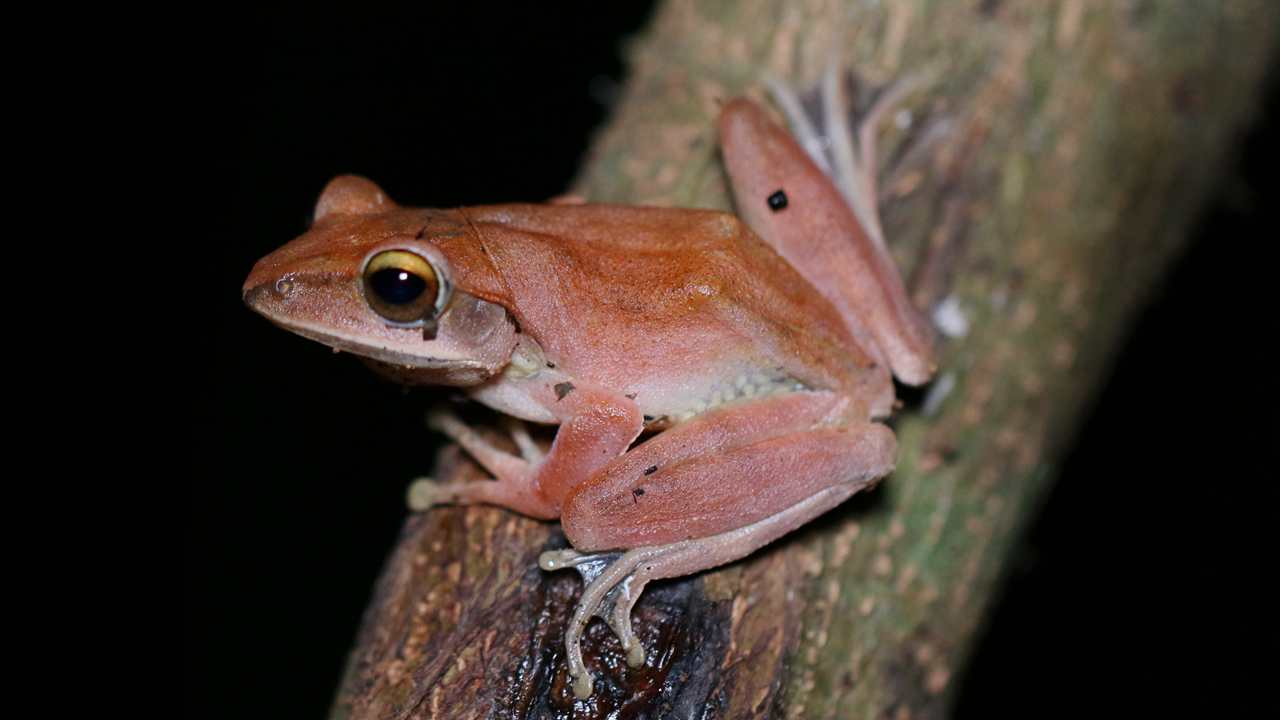 A brown tree frog is seen climbing to a branch in Bijia Mountain, Futian District.

Brown tree frog
The brown tree frog (Polypedates megacephalus) is a medium-sized frog with males about 5cm long and females up to 8cm long. As its name suggests, these frogs are mostly brown. Yet it is quite normal to find them in different colors in nature -- from yellowish to reddish -- mainly as a strategy to blend with their surroundings.
斑腿泛树蛙是一种体型中等的蛙类,雄性体长约5厘米,雌性约8厘米,体色通常为棕色,并会随栖息环境变换为红、黄等颜色。
Their head is quite large in proportion, therefore its scientific name: megacephalus. They have huge round eyes on a triangular head.
斑腿泛树蛙的头部与身体相比,显得十分硕大,它们学名中的"megacephalus"也形象地描绘了这一特征。在它们三角形的大脑袋上,还长着一双圆圆的大眼睛。
A striking trait of this species is the big sticky disks at the tip of their fingers and toes that provide them with a powerful grip. They have webbed toes but their fingers lack webbing.
这种树蛙的另一显著特征是指端生有硕大的吸盘,吸盘具有粘性,能够牢牢地吸附在攀援的表面上。它们手指间无蹼,脚趾间具半蹼。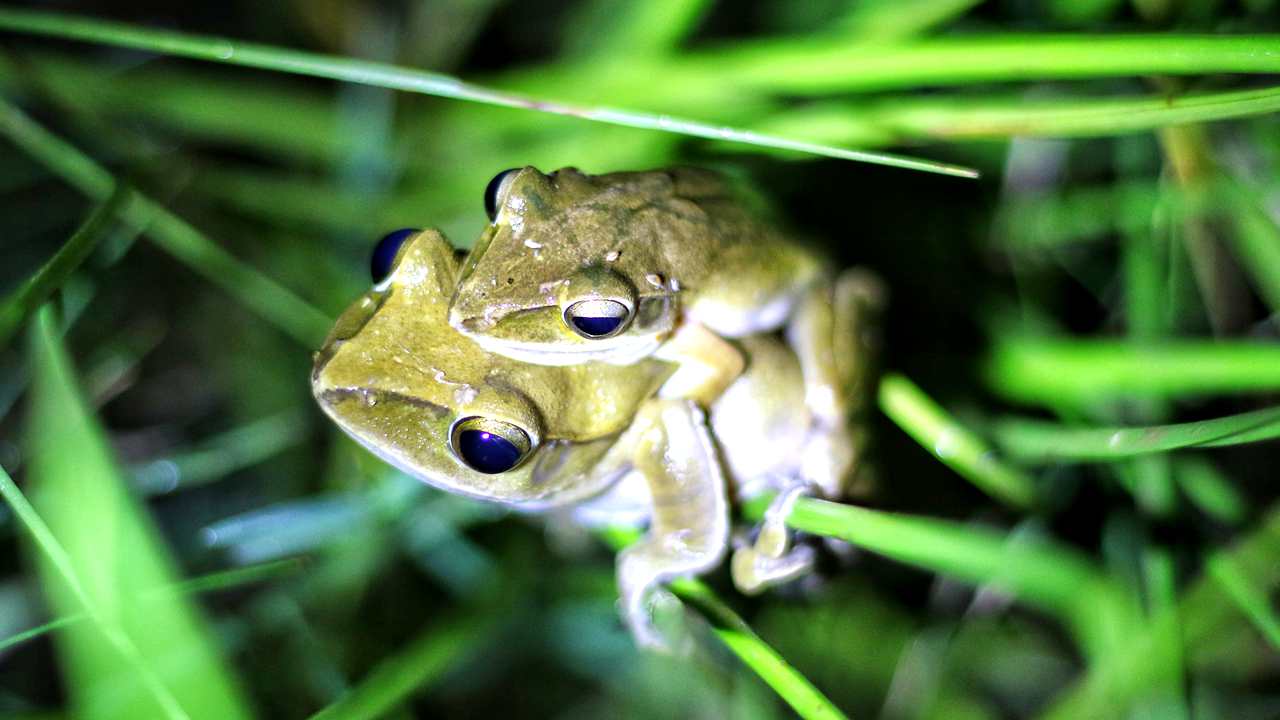 A brown tree frog is seen with a baby frog on its back in Bijia Mountain, Futian District.
The brown tree frog is probably the most common frog you can find in Shenzhen. It's widespread in every park of the city where a pond or a river is found. They commonly feed on small insects like ants, but also fall prey to snakes and birds, contributing to a balance in the dynamics of our urban ecosystems.
斑腿泛树蛙是深圳最常见的蛙类之一,广泛分布于市政公园的河岸湖畔。它们既捕食小型昆虫,也被蛇类及鸟类捕食,是维系城市生态系统动态平衡的重要角色。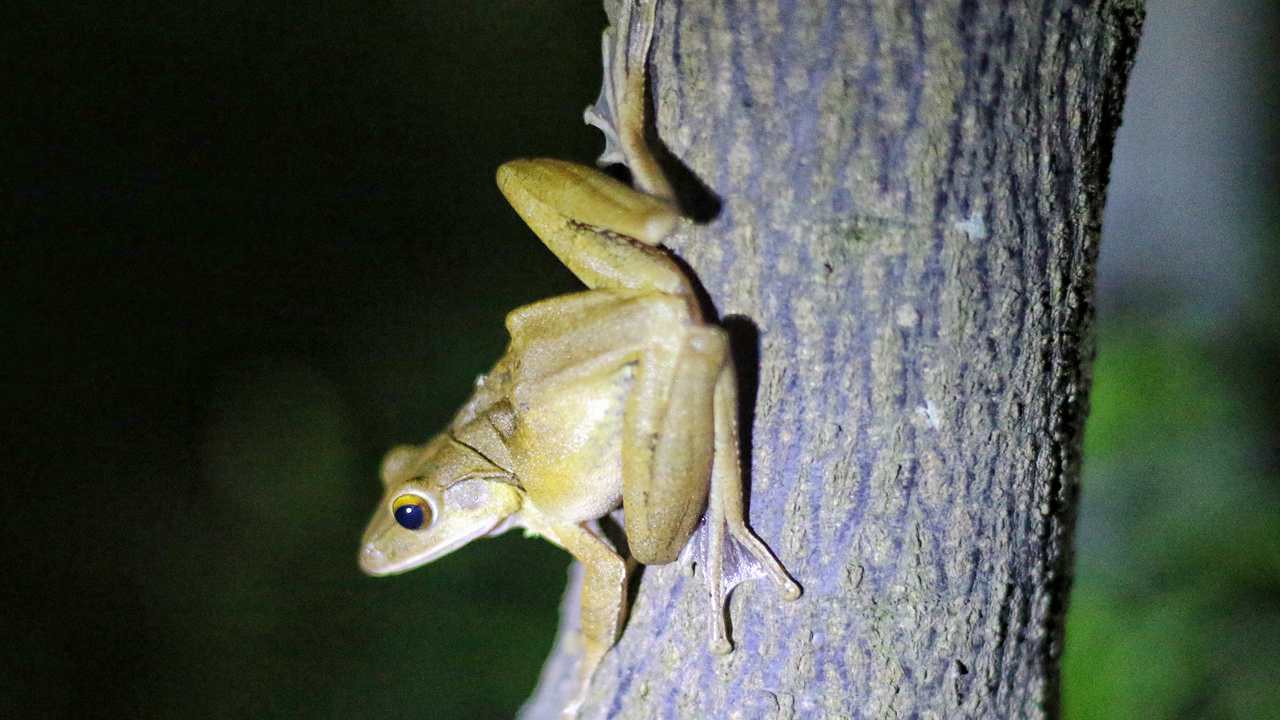 A brown tree frog is seen in this Sept. 8, 2020 file photo.

Frogs in general are indicators of the good quality of the water and their surroundings, due to its sensitive skin, which can be affected by the slightest change in the environment. Having these amazing amphibians bouncing all over the ponds is a sign that we are on the right path to provide a healthy and suitable environment for our beloved fauna to prosper.
蛙类是水质及环境质量的重要指示物种,因为它们的皮肤非常敏感,哪怕是栖息的环境有一点点改变,它们都会受到影响。能够看到这些可爱的两栖动物在深圳的水边繁衍生息,预示着这座城市正走在正确的道路上,努力为我们的动物邻居营造一个健康、宜居的家园。