Share

Print
A+
A-
The fork-tailed sunbird
Writer: Isaac Cohen | Editor: Ye Shangqing | From: Shenzhen Daily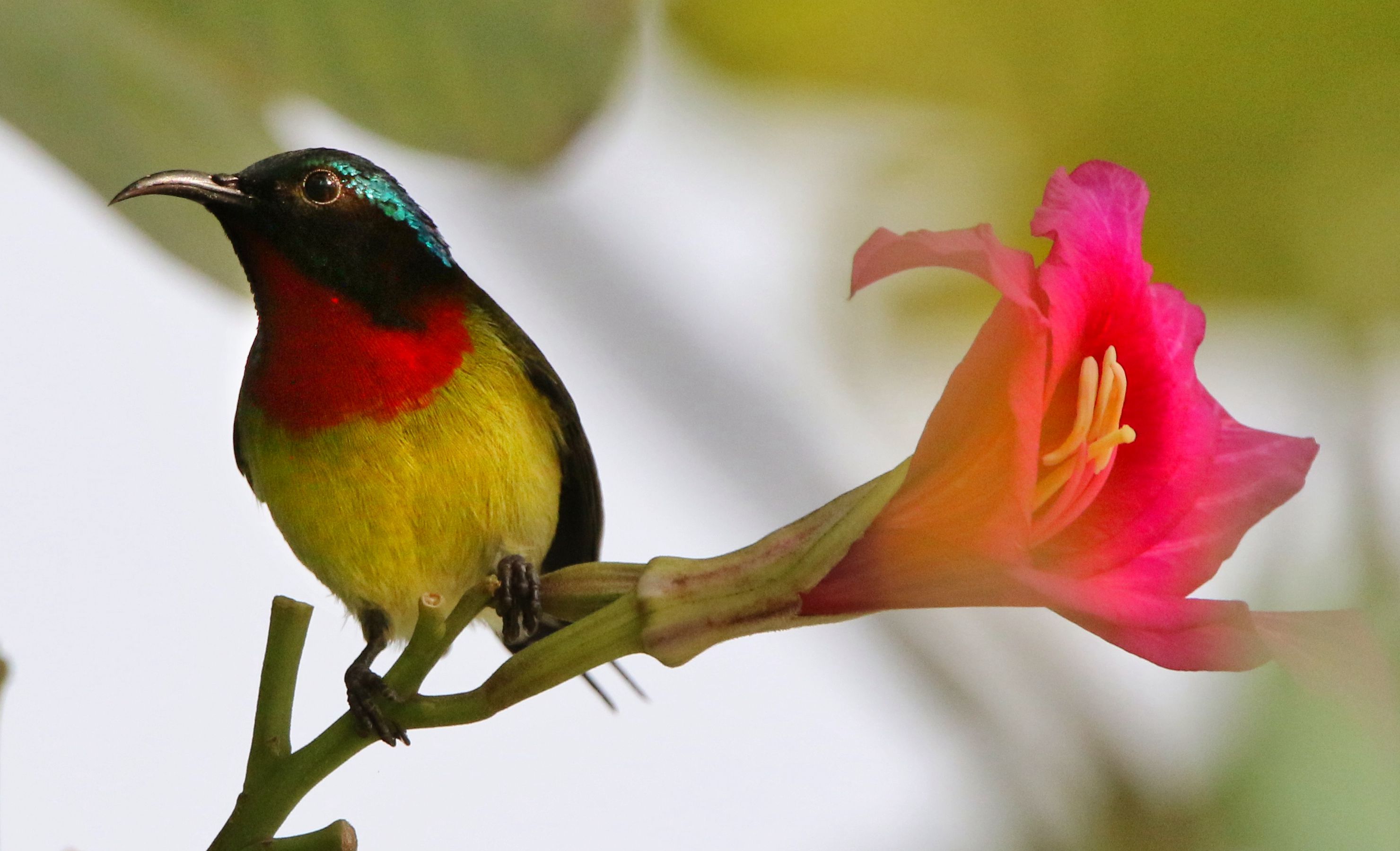 A male fork-tailed sunbird (top) and a female are seen in these two photos in Litchi Park, Futian District.


Fork-tailed Sunbird
Scarcely 10cm in length, the Fork-tailed sunbird (Aethopyga christinae) is one of the most astonishing yet rarely seen birds in Shenzhen. With a clear sexual dymorphism (meaning that males look different from the females), male sunbirds are a delight to witness, thanks to their striking coloration patterns. Their feathers display a fantastic luster in the sunlight.
小巧玲珑,身长仅约10厘米的叉尾太阳鸟是在深圳难得一见的美丽鸟类。本物种雌雄外表差异明显,雄鸟羽色艳丽,在阳光下熠熠生辉,十分赏心悦目。
The top of the head is covered with iridescent metallic blue feathers; the face is black and the throat is in a brilliant red shade. The chest is yellow and the back feathers and wings are olive green, as it is the entire body of their female counterparts. The forked tail is blue-green on the top and striped black and white on the bottom. In a nutshell, a complete beauty.
雄鸟的头顶至后颈覆辉蓝结构色羽毛,面部黑色,喉部沾红色,胸部及腰部明黄色,背上及两翼覆有与雌鸟体色相同的橄榄绿羽毛。尾部分叉,外侧尾羽表面呈具金属色泽的辉蓝色,内侧羽色则黑白相间,实在是美不胜收。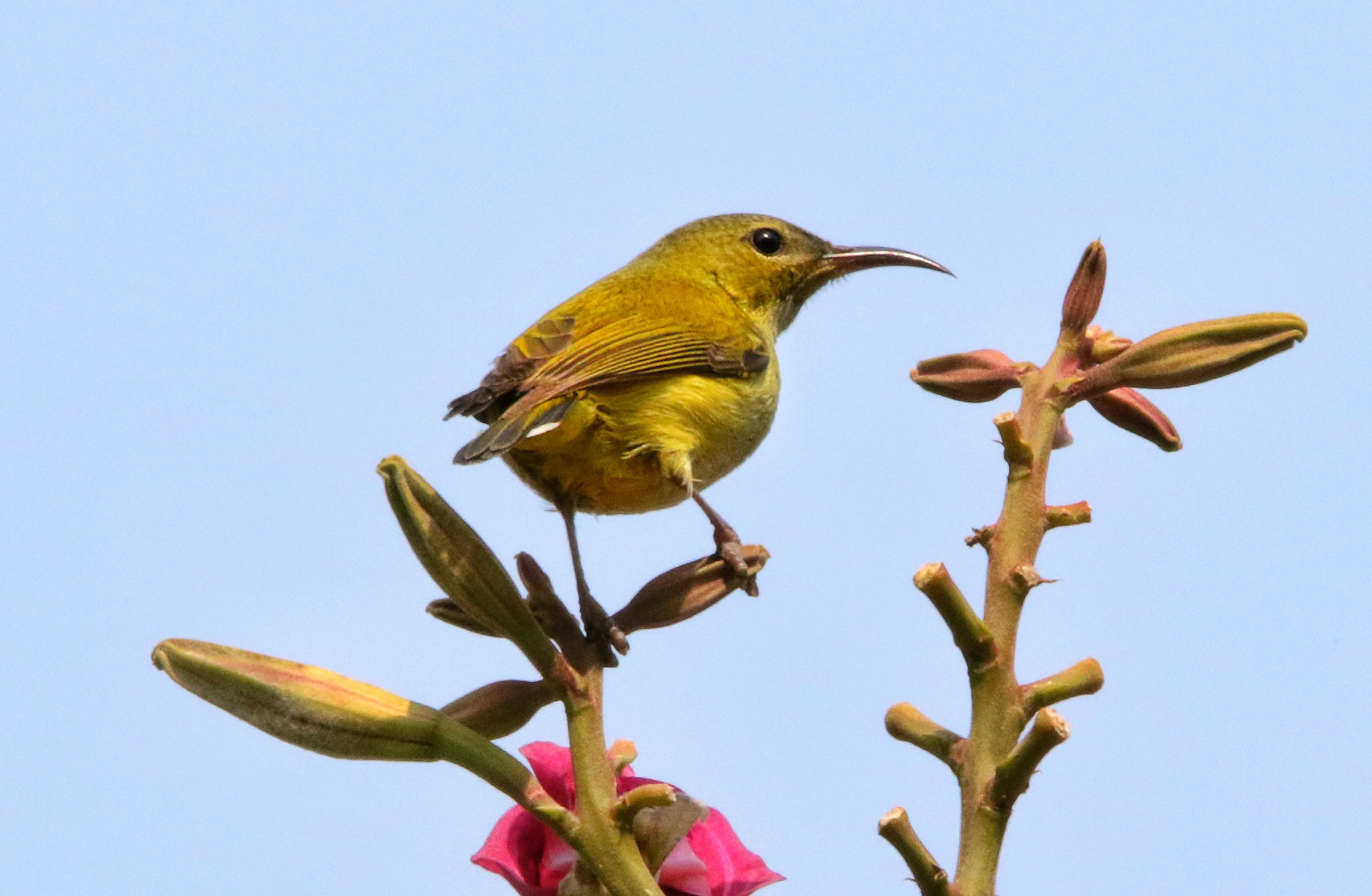 These birds are very small and quite fast, making them difficult to follow, but their eating behavior gives rise to a rare time window for observation, if you are patient enough. They will use their curved pointy beaks to reach the nectar of the big colorful flowers found in just about every city park.
叉尾太阳鸟体型小,飞行速度快,让人很难追上它们的动作。好在它们的觅食习惯给了我们宝贵的观察机会:这种小鸟会出现在市政公园盛放的美丽花树上,把它们弯曲细长的喙插进花朵里吸食花蜜。
Fork-tailed sunbirds can lay up to four eggs per clutch during the spring months, which are incubated by the female alone. However, males help to build nests and feed the chicks.
叉尾太阳鸟于春季繁殖,每窝最多生4只卵,由雌鸟独立孵化。雄鸟一般只参与筑巢和育雏。
Although they are not considered an endangered or even a vulnerable species, their numbers are rapidly decreasing mainly due to habitat loss. Therefore, we need to take care of our natural environment so this amazing species keeps enjoying a safe haven in our beloved Shenzhen.
虽然叉尾太阳鸟并不濒危,但由于栖息地丧失,它们的种群数量正在迅速减少。因此我们更应当保护好深圳的自然环境,为这些美丽的小鸟留住栖息的乐园。