Share

Print
A+
A-
The maritime striped squirrel
Writer: Isaac Cohen | Editor: Ye Shangqing | From: Shenzhen Daily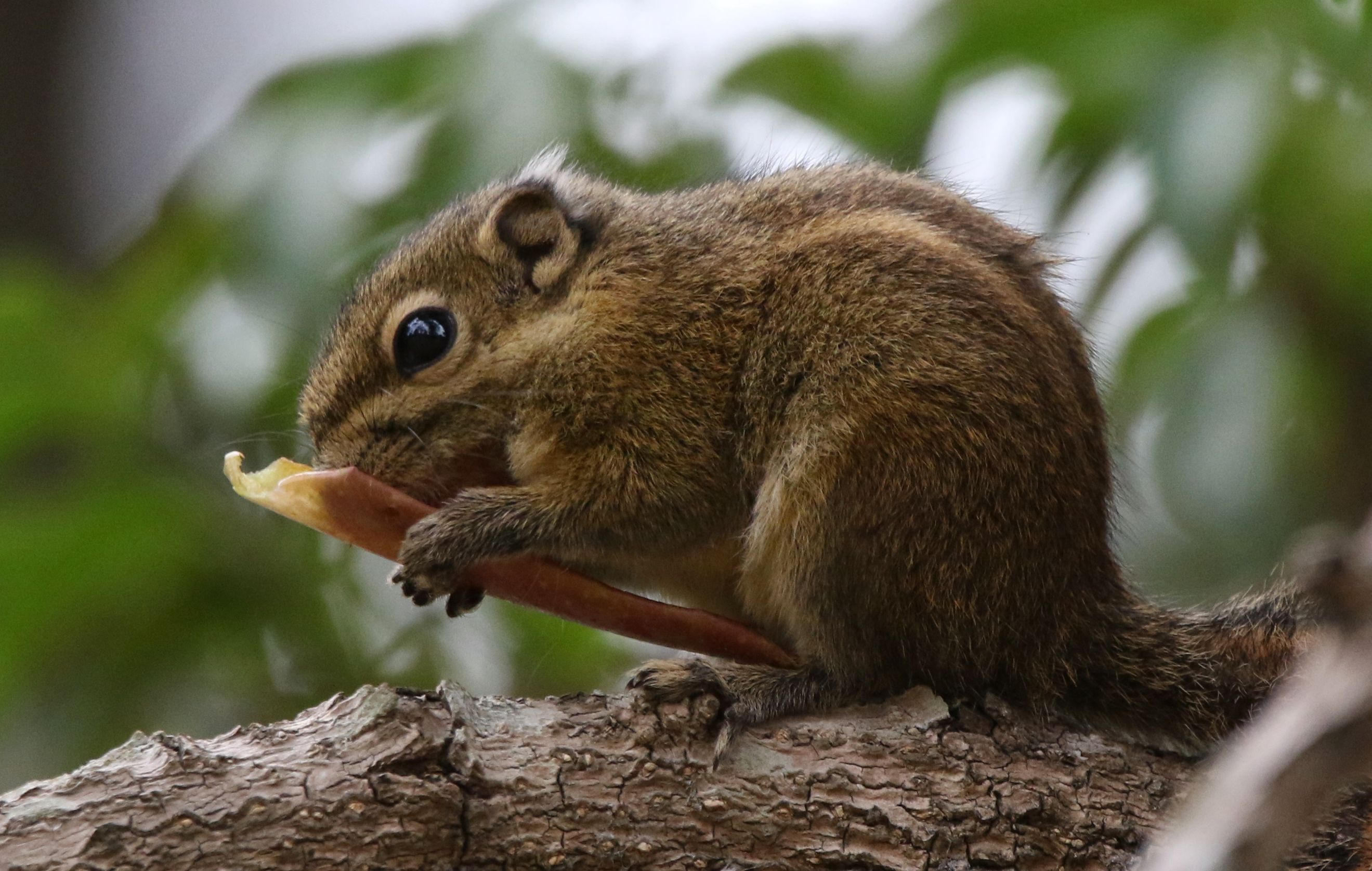 A maritime striped squirrel eats on a tree at Lianhua Hill Park in Futian District.


Maritime striped squirrel
A not too common yet beautiful animal that you can find in some parks of Shenzhen, more specifically at Lianhua Hill Park, is the fascinating maritime striped squirrel (Tamiops maritimus), a very small member of the squirrel family that is about 15cm in length.
在深圳的市政公园尤其是莲花山公园里,你可以邂逅倭花鼠——一种不太常见的可爱动物。倭花鼠在松鼠中体型很小,身长仅15厘米。
This particular rodent is characterized by having a short olive gray fur, with a pair of light yellowish stripes on the medial part of their body that goes from head to tail, which by the way, is a not too common feature to find in squirrels and an exception to the misconception that squirrels don't show stripes on their faces and that only chipmunks do.
这种啮齿类动物总体呈橄榄灰色,背部具多条亮黄色纵纹,由枕部一直延伸到尾部。倭花鼠是唯一有花纹的松鼠,人们很容易把它们与花栗鼠混淆。然而花栗鼠脸部条纹数量比倭花鼠多,这是区分它们的重要依据。
Aside from the light stripes, these fantastic animals also have a light coloration surrounding their eyes, a black stripe on the back of the body and a light chest that clearly contrasts with their characteristic olive gray coloration.
倭花鼠眼周淡黄,背部正中还有一条明显的黑色斑纹,胸部毛色较浅,与橄榄灰的毛色形成鲜明对比。
The maritime striped squirrel can be found in China, Vietnam and Laos, with individuals showing certain variations in their physical characteristics. They reproduce up to twice each year and have been reported to have up to three pups each time.
倭花鼠分布于中国、越南及老挝等地,不同地区的亚种外貌有细微差别。它们每年最多繁殖两次,每次产崽可达三只。
These little mammals are diurnal animals that feed on basically anything they can find in the forests they inhabit, including seeds, fruits, insects and even eggs. They prefer to spend most of the time on the top of trees but will usually come down to the open areas searching for food.
它们属昼行动物,多栖息于林地,以种子、果实、昆虫甚至卵为食,食性很杂,喜欢在树冠层活动,但也经常至地面觅食。
Mammals are always difficult to find and also always a delight to observe, so let's continue preserving our parks by keeping them clean and healthy so we can continue enjoying these and more to come in the near future.
在深圳,想要见到野生的哺乳动物并不容易,因此也更让人心潮澎湃。我们应继续保护好市政公园的环境,为这些可爱动物未来的造访与生存提供洁净、健康的家园。