Share

Print
A+
A-
The Asian koel
Writer: Isaac Cohen | Editor: Liu Minxia | From: Shenzhen Daily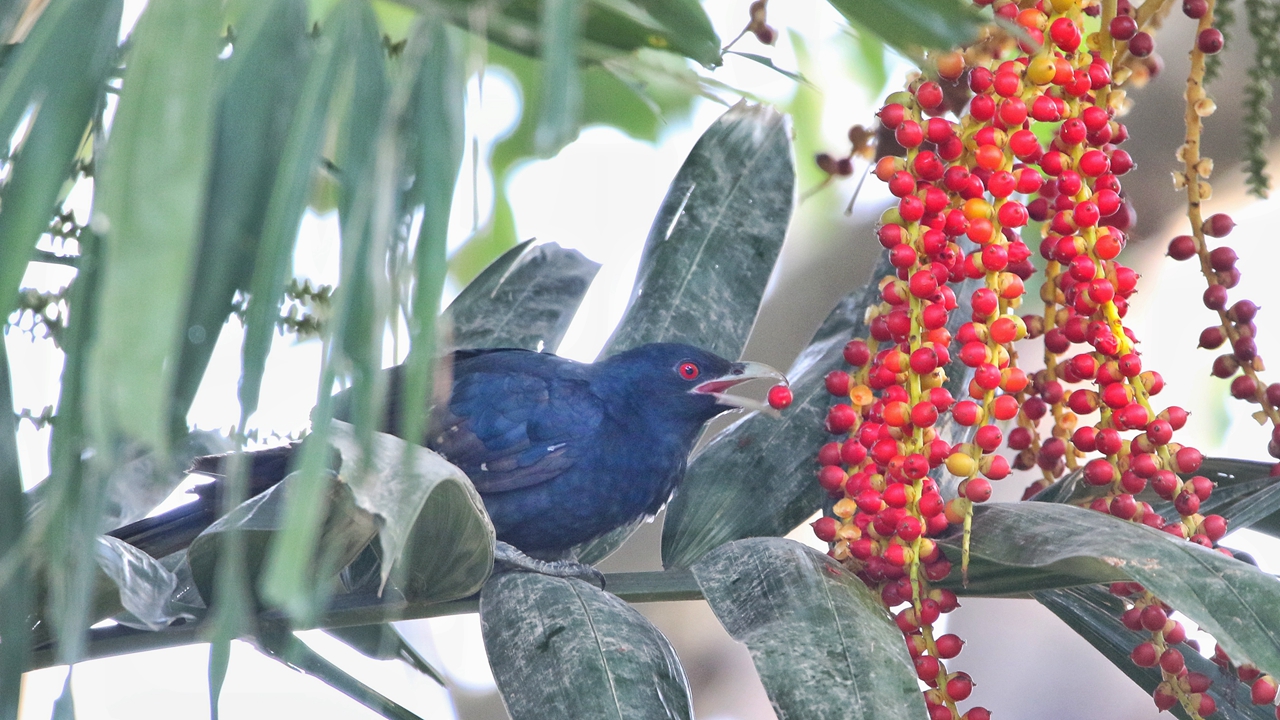 A male Asian koel eats wild berries in a tree in Shenzhen Bay Park in this Feb. 15, 2021 photo.

The beautiful Asian koel (Eudynamys scolopacea) is probably one of the most iconic resident bird species in Shenzhen. Every citizen will easily recognize the bird from its unique call, which some of us would consider a bit annoying while others think attractive. Either way, it is a sound to remember.
噪鹃是深圳最具代表性的留鸟之一,几乎没有人不认识它极有特色的叫声。虽然人们对这种叫声毁誉参半,但毫无疑问,它依旧给我们留下了深刻的印象。
These birds belong to the cuckoo family and they are relatively large, measuring around 45 cm long. They show a strongly marked sexual dimorphism, meaning males look totally different from females. The males are black with an iridescent blue color while females are light brown with several streaks and spots all over their body, making them attractive to look at. Both males and females have a sharp grey beak and striking red eyes, and astonish us with their constant "ku-oo, ku-oo" calls.
这种杜鹃科的鸟类体型较大,约45厘米长。雌雄外形差异显著,雄鸟通体黑色,具蓝色金属光泽;雌鸟体色浅棕,全身遍布显眼的白色斑点及条纹。它们的喙浅灰,虹膜鲜红,经常发出"苦哦,苦哦"的响亮鸣声,令人过耳不忘。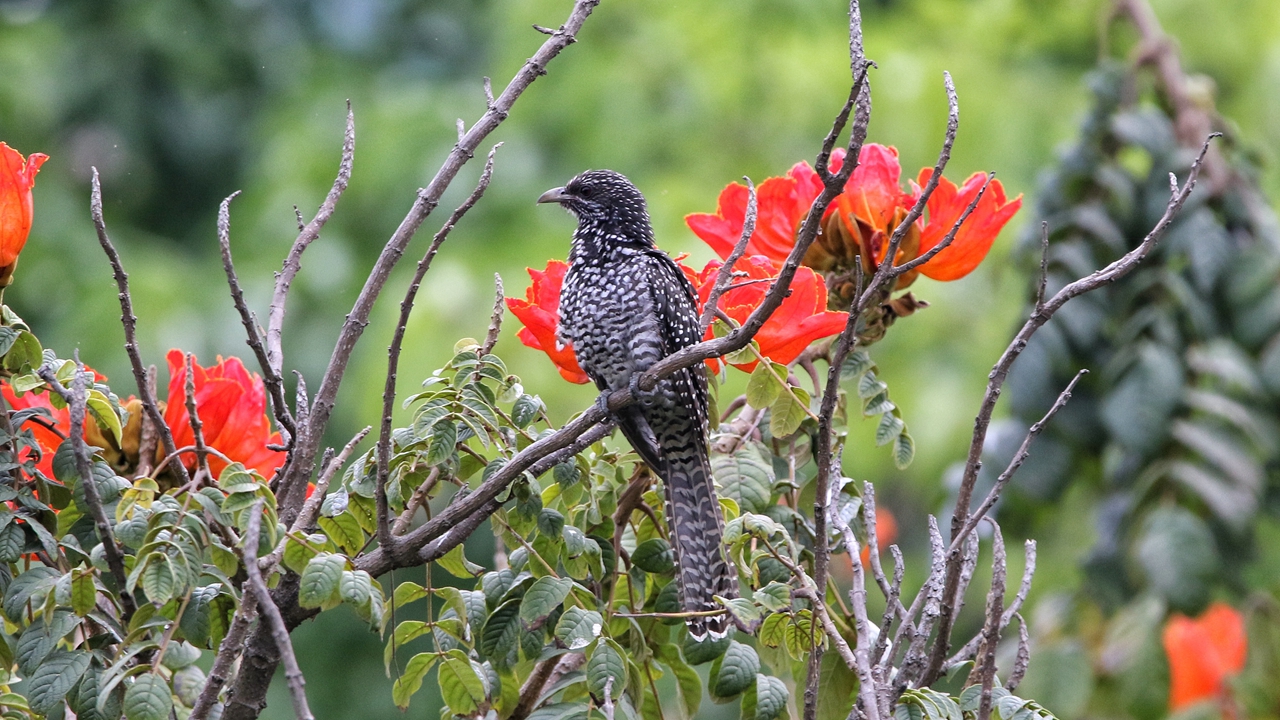 A female Asian koel perches on a tree in Honghu Park in this April 18, 2021 photo.

An interesting fact about Asian koels is that they are brood parasites, meaning that they replace other species' eggs with their own in order to be fed and raised by a substitute parent. This may sound horrific, but the truth is that this is actually an important ecological way of maintaining stability of other species' populations, since they have certain preferences for some crow's nests.

噪鹃是一种巢寄生鸟类,不自主营巢,而是将卵产在其他鸟类的巢中,由义亲孵化和喂养它们的后代。巢寄生的行为听起来虽然骇人,但这也是生态系统通过噪鹃对其他物种尤其是鸦科鸟类数量的一种调节方式。
A male Asian koel eats a flower in a tree in Shenzhen Bay Park in this May 15, 2021 photo.

Koels are able to eat whatever the environment has to offer, but as adults they have a certain preference for fruits.
噪鹃属于杂食性动物,但它们的成鸟更喜欢吃植物的果实。
They prefer to rest on top of trees so most of the time you can just hear them but are probably unable to see them. So remember to look up high and enjoy the unique beauty this species brings to our beloved Shenzhen.
噪鹃喜欢栖息在隐蔽的树冠层中,经常只闻其声而不见其身。所以,下次有机会路过树下的时候,不妨抬头看看,也许你就能找到这些可爱的留鸟。