Share

Print
A+
A-
The blue-spotted mudskipper
Writer: Isaac Cohen | Editor: Liu Minxia | From: Shenzhen Daily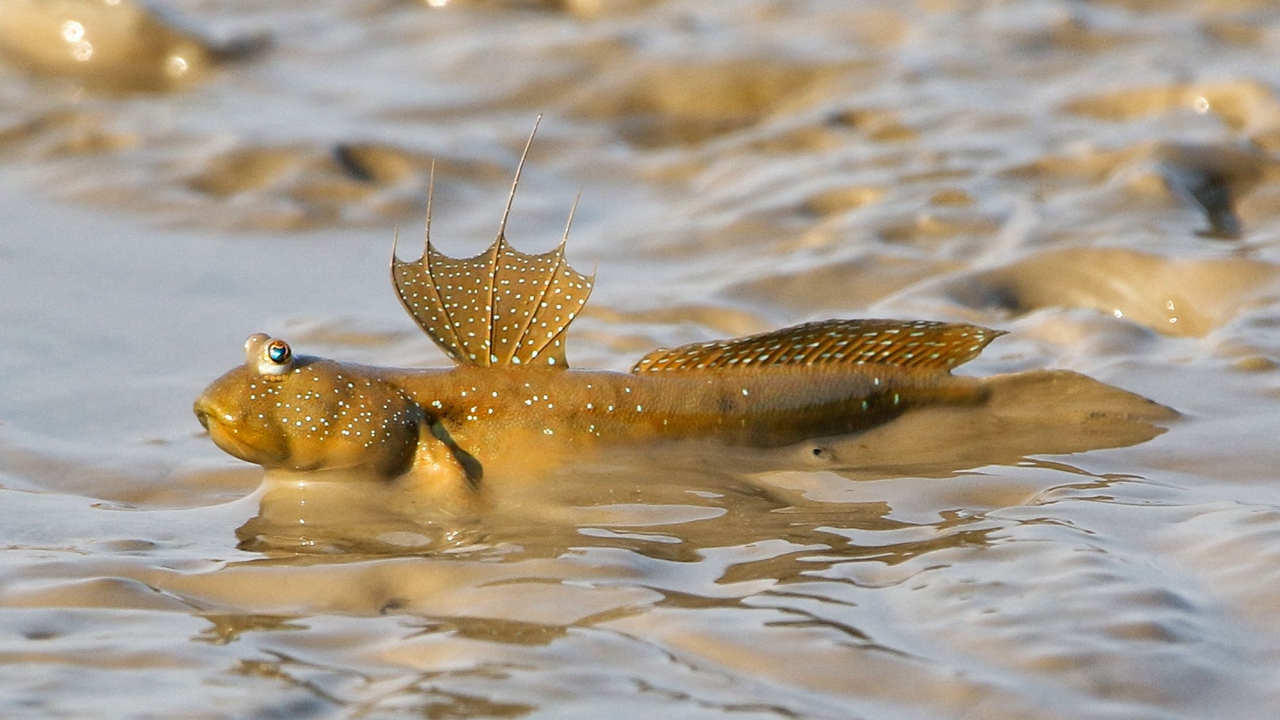 A blue-spotted mudskipper rests on mud after tides faded at Shenzhen Bay in Nanshan District on Feb. 15, 2021.

I still remember the first time I learned about mudskippers. It was in a David Attenborough film about first life on Earth and how the evolutionary processes took place on our planet. They were trying to provide a reasonable explanation about how fishes could have come out of the water during the process of evolution, giving birth to the very first amphibians. It makes total sense after you see how much these fish resemble a toad in the shape of their heads. But then, they just became another species in the huge collection of animals you could see in documentaries.
在大卫•爱登堡执导的一部介绍地球原初生命与物种进化过程的自然纪录片中,我第一次了解到大弹涂鱼的存在。片中,摄制组试图证明两栖动物最早是由鱼类进化而来的,而大弹涂鱼与蟾蜍十分相似的头部恰巧佐证了这一点。然而,和其他许多在纪录片中展示的物种一样,我一直都只是在荧幕上见过它们。
But since life is full of surprises, destiny has brought me to this fascinating city, where they show up right in front of my eyes, thriving in their natural environment in abundance.
人生不可能一成不变。在命运的指引下,我来到了美丽的深圳,并在这里第一次亲眼见到了许多活蹦乱跳的大弹涂鱼。
With its body covered in shiny blue spots, the blue-spotted mudskipper (Boleophthalmus pectinirostris) has a big head with huge bulging eyes on the top and an amazing dorsal fin that it spreads to threaten other males or attract a potential mate. Their bodies can grow up to 20cm long and their lateral fins are strong enough to allow them to walk and jump over the mud. This helps them look for food, which mainly consists of algae and small invertebrate animals.
大弹涂鱼全身布满亮蓝色斑点,头大,眼部凸出,雄性在驱逐同类及求偶时会竖起背鳍。它们体长最长达20厘米,能够借助发达的腹鳍在滩涂上匍匐跳跃,取食藻类及小型无脊椎动物。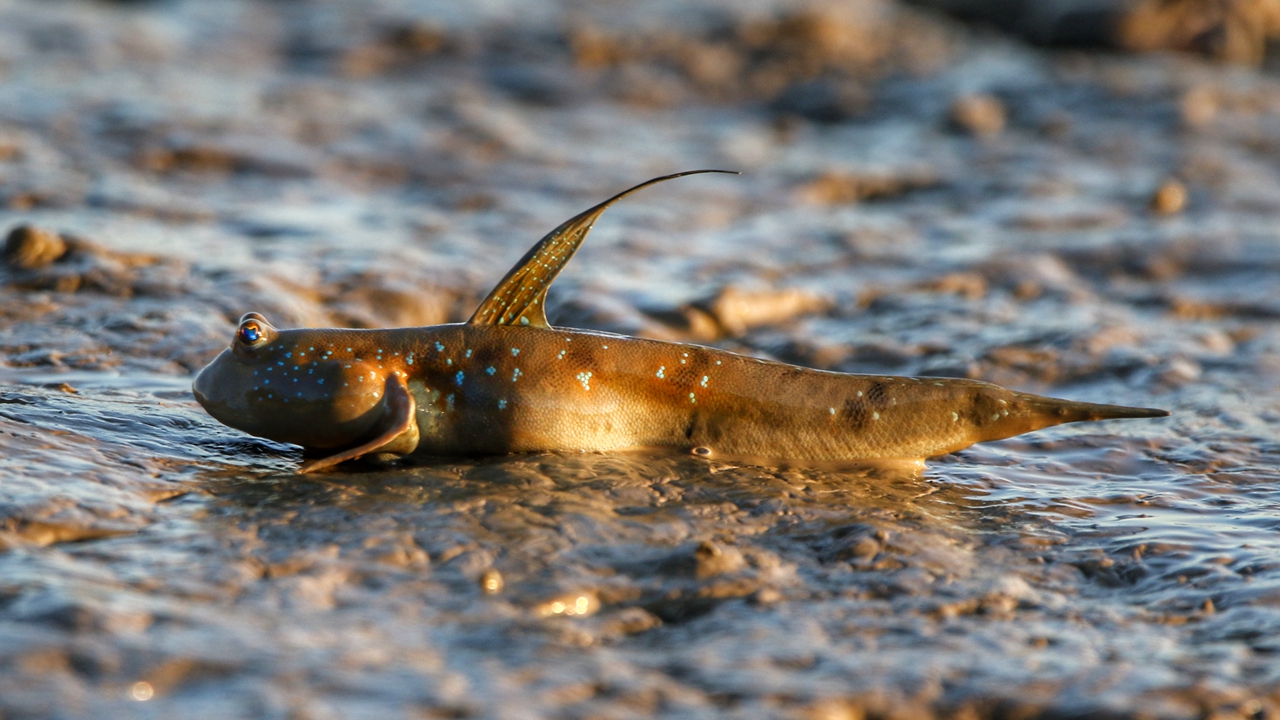 A blue-spotted mudskipper is seen at the Shenzhen Bay area in Nanshan District on Sept. 3, 2021.

These fascinating fish are very territorial, so you often see them attacking or threatening nearby males while exploring their newly conquered land outside the water. What puts them in the spotlight is their ability to survive out of water for long periods, since they can obtain oxygen from the atmosphere by absorbing it through their skin, just like amphibians do, and by creating tiny air bubbles over their gills — like a temporary oxygen reservoir.
大弹涂鱼的领地意识很强,我们很容易观察到雄性个体为扩张地盘而攻击、威吓同类的行为。不过,最引人注目的还是它们虽属鱼类,但却能长时间在没有水的情况下生存,因为大弹涂鱼可以像两栖动物一样通过皮肤呼吸,还能在鳃部制造小气泡,用于临时贮存氧气。
Mudskippers are great contributors to Shenzhen's complex food chain that provides stability to our ecosystems. They are prey to many bird species, both local and migratory, which are making an early arrival this year. I can't wait to receive them with lens wide open and will be posting about them very soon.
作为深圳本地食物链中的重要一环,大弹涂鱼维系着这座城市的生态平衡,为这里的留鸟与候鸟提供食物。说到候鸟,今年的迁徙季提前开始了,我已经迫不及待地准备好了手中的相机,很快将在接下来的专栏文章中与大家分享它们的故事。