Share

Print
A+
A-
The Pacific golden plover
Writer: Isaac Cohen | Editor: Liu Minxia | From: Shenzhen Daily
A Pacific golden plover is seen at Shenzhen Talent Park in Nanshan District on Sept. 5.

Bird migration is one of the most beautiful events that happen in nature. Living in Shenzhen puts us in a fantastic position to observe it firsthand. Starting mid-autumn and lasting until the next spring, Shenzheners can enjoy the arrival of various bird species visiting the city, where they eat, reproduce or just live.
鸟类迁徙是人类能观测到的最壮丽的自然奇观之一。身在深圳,我们就有了近水楼台先得月的优势。从每年秋季中旬开始,直到第二年春,各种各样的候鸟远道而来造访深圳,在这里生活、觅食、繁殖后代。
One of the first species to arrive during this year's migration has flown all the way from Alaska and Siberia. The Pacific golden plover (Pluvialis fulva), a beautiful medium-sized bird, can reach up to 26 cm long, with long thin legs. Observed from afar, the bird's fantastic plumage resembles a sort of scaly coat, displaying golden, white, gray and black colors that contrast perfectly with each other and makes them visually attractive. The intensity of the colors and some of their patterns change when the breeding season arrives, making the males more attractive to females and for birdwatchers as well.
金斑鸻是秋迁候鸟的先锋之一,它们从阿拉斯加和西伯利亚等地出发,不远万里来到深圳。这种中等体型的候鸟身长可达26厘米,腿部长而纤细,羽色华丽,身上的金、白、灰、黑四色羽毛交相辉映,远远看去就像穿了一件斑驳的大氅。繁殖期时,金斑鸻身上羽毛颜色的深浅和色块的分布都会发生变化,不仅吸引了异性,也招来了观鸟爱好者们的青睐。
The breeding season starts up north in early summer when the birds will lay up to four eggs per clutch and both parents will incubate for a little less than a month before preparing to migrate. Those birds that are not breeding will travel first, in July, followed by the breeding ones in August and then the juveniles in September and October.
金斑鸻一般夏初开始繁殖,每窝最多生4只卵。亲鸟轮流参与孵卵,通常一月内即可孵出雏鸟,之后就要准备开始南迁了:没有繁殖的个体会在7月先行南下,已繁殖的成鸟则会在8月动身,个别亚成鸟要到9、10月份才离开繁殖地。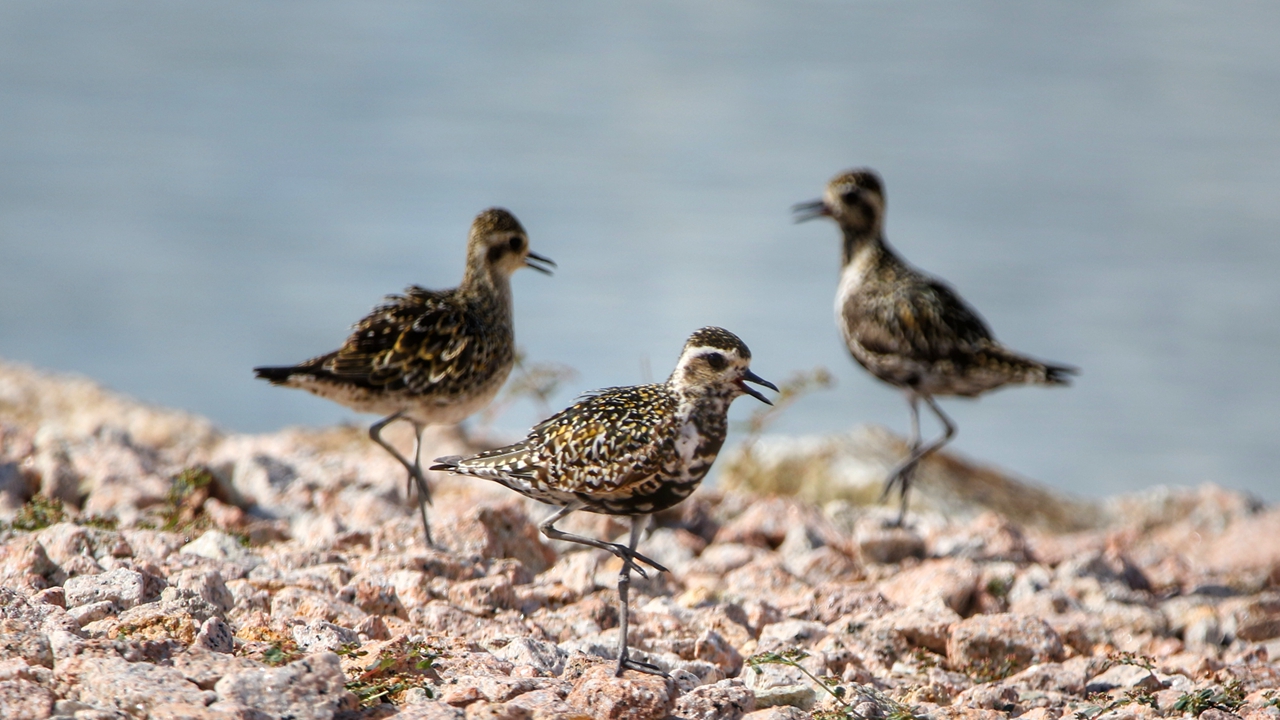 Pacific golden plovers at Shenzhen Talent Park in Nanshan District on Sept. 5, 2021.

Most of the time, these birds travel together in flocks and are rarely seen wandering alone. Right now, there is a big flock of at least 20 or 30 resting by Shenzhen Talent Park in the Shenzhen Bay area, where they look for rocky or muddy shores to feed, mainly on small invertebrate animals they can easily find near the shores.
金斑鸻迁徙时集大群,很少单独行动。最近,有二三十只个体经常被观察到在人才公园的石滩上休息。当潮位较低的时候,它们一般会飞往石滩和泥滩觅食小型无脊椎动物。
This year's migration started a little bit earlier than usual, which may have been caused by global warming. This forebodes a threat to the survival of the species due to the changes in the sea level and in the variety and number of the local species.
值得一提的是,由于全球气候急剧变暖,今年的迁徙季比往常提前开始了。全球变暖导致海平面上升,本地物种数量及种类改变,对候鸟的生存产生了威胁。
In the long term, it may not just affect the migratory birds' behavior. The worst scenario could be the species will no longer find their temporary homes or things to eat when they arrive.
长远来看,全球变暖不仅会导致是候鸟行为的改变,最坏的情况下还会导致它们在迁徙时既找不到合适的落脚地,也找不到充足的食物补充体力。