Share

Print
A+
A-
The Oriental garden lizard
Writer: Isaac Cohen | Editor: Liu Minxia | From: Shenzhen Daily
A garden lizard is seen on a tree trunk in the OCT Wetland Park in Nanshan District on April 25, 2020.

One little friend you can always observe around the city parks is the Oriental garden lizard (Calotes versicolor). This fantastic creature is known by many names, including changeable lizard or bloodsucker due to its striking red coloration during its reproductive season.
变色树蜥在深圳的公园里十分常见。它们有很多别名,因为雄性在繁殖期体色鲜红,有时还被称作"吸血鬼"。
The garden lizard can have different colorations and oftentimes people may think they have come upon a completely different animal when they are actually meeting an old friend. Its colors may vary from green, gray, red, brown or even whitish. They are not too big in size, measuring around 25 to 40cm from nose to tail. The newborns are as short as three centimeters. Males and females look a bit different, basically in terms of the length of their tails. The males display a red coloration during the breeding season, when their crests turn into a striking crown of spines.
变色树蜥可以随环境改变体色。当它以不同样貌出现时,常常会被误以为是其他动物。它们的体色有绿、灰、红、棕、白等,体型不大,体长25到40厘米,幼蜥则只有3厘米长。雄性和雌性外表上的差异既体现在尾巴的长短不同,也体现在雄性繁殖期鲜红的体色与背部显眼的鬣鳞。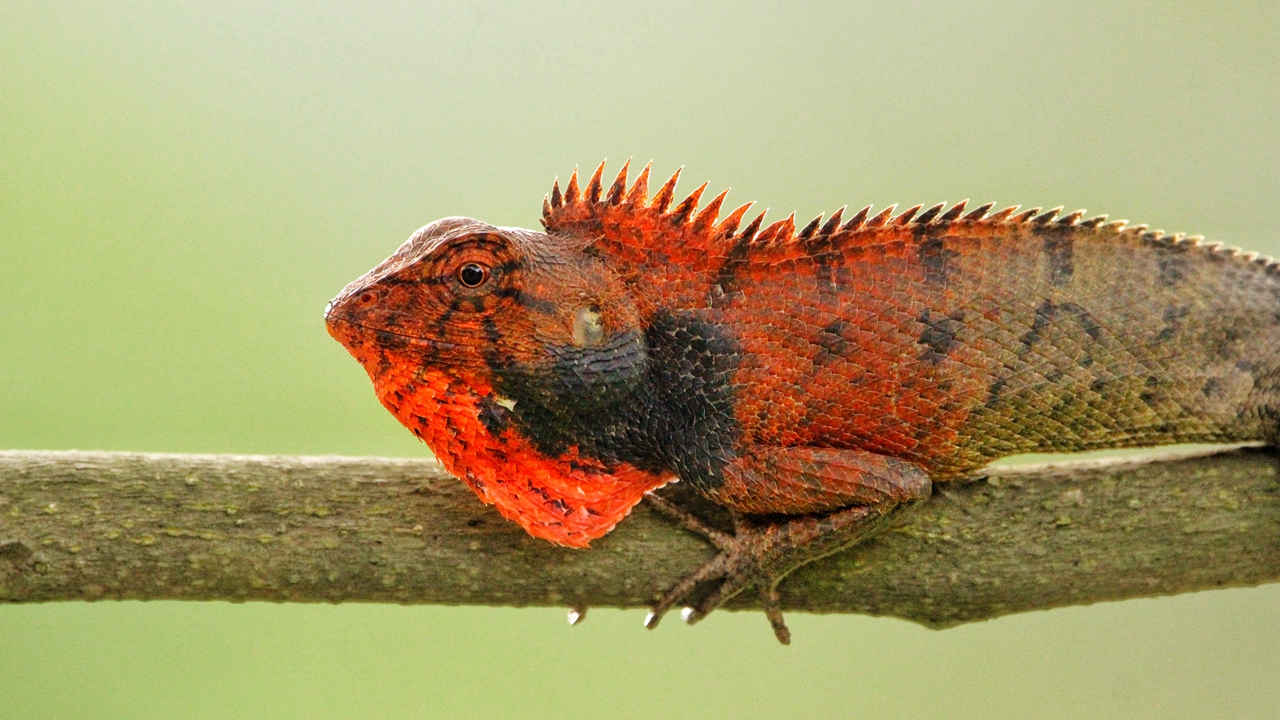 An Oriental garden lizard is seen at the Dasha River Park in Nanshan District on July 2, 2020.

These beautiful lizards are often perched in small trees or bushes throughout the city and they tend to stay still, waiting for their prey to pass in front of them. They feed on a wide range of smaller animals that include insects, annelids, mollusks, amphibians, reptiles or even small birds, and in some cases, they can end up eating their own youngsters.
变色树蜥喜欢栖息在低矮的树木和灌木上,通常守株待兔,等待猎物自己送上门来。它们主要以体型较小的昆虫、环节动物、软体动物、其他爬行动物、甚至鸟类为食,有时还会吃掉同类的幼仔。
One of the coolest facts about the lizards is that they lack sexual chromosomes, making them basically born as females and developing into males due to an increase in the sex hormone testosterone. Females can lay three to more than 20 eggs per clutch during spring and autumn, depending on the size of the female.
有意思的是,变色树蜥刚出生的时候性染色体缺失,因此全部为雌性。随着年龄的增长,部分个体会产生睾酮素,逐渐成长为雄性。它们在春、秋季繁殖,雌性的产卵数量与卵的大小挂钩,每窝可产3到20只卵。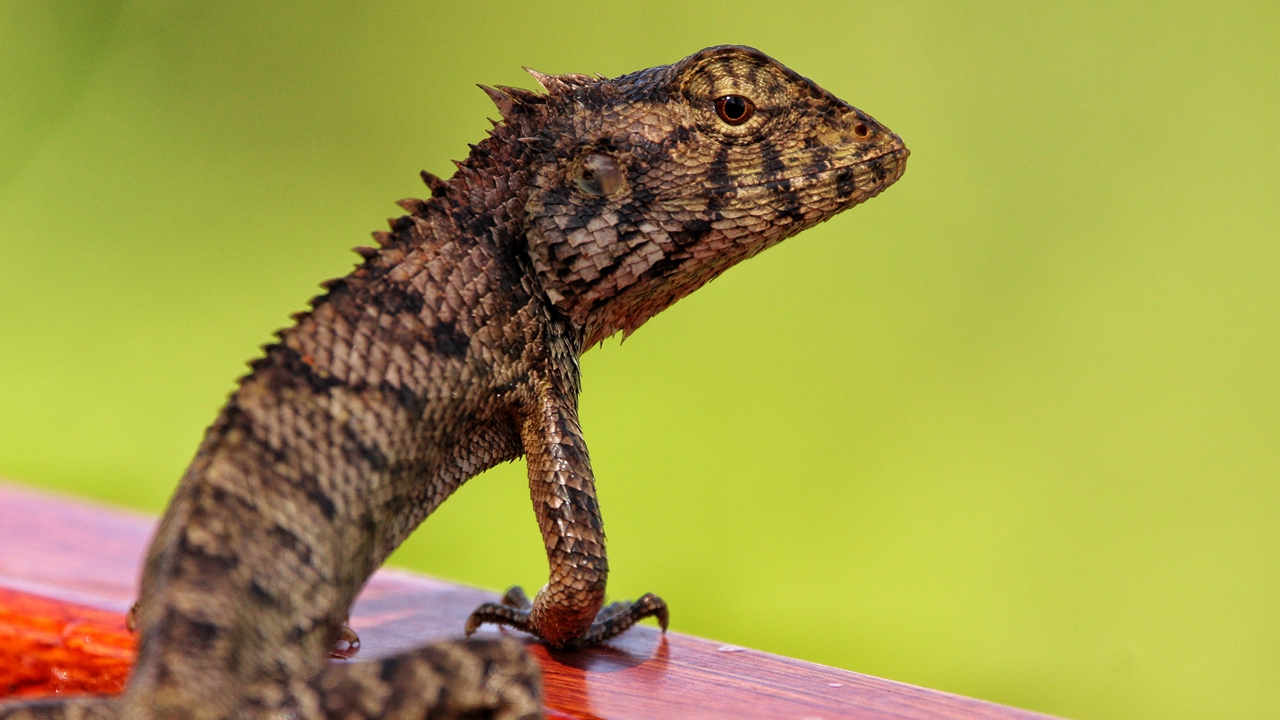 An Oriental garden lizard is seen in the Dasha River Park in Nanshan District on July 2, 2020.

Garden lizards are important for controlling other animal populations, but they also need to be controlled, because they are voracious predators that could easily decimate an entire population of other species by eating them all. They also compete for resources against other kinds of lizards.
虽然变色树蜥在控制其他生物的种群数量上功不可没,但它们的数量也应得到控制,不然这些贪婪的捕食者不仅会对被捕食种群的生存造成极大的威胁,也会挤占其他蜥蜴的生存空间。