Share

Print
A+
A-
The yellow-spotted keelback
Writer: Isaac Cohen | Editor: Ye Shangqing | From: Shenzhen Daily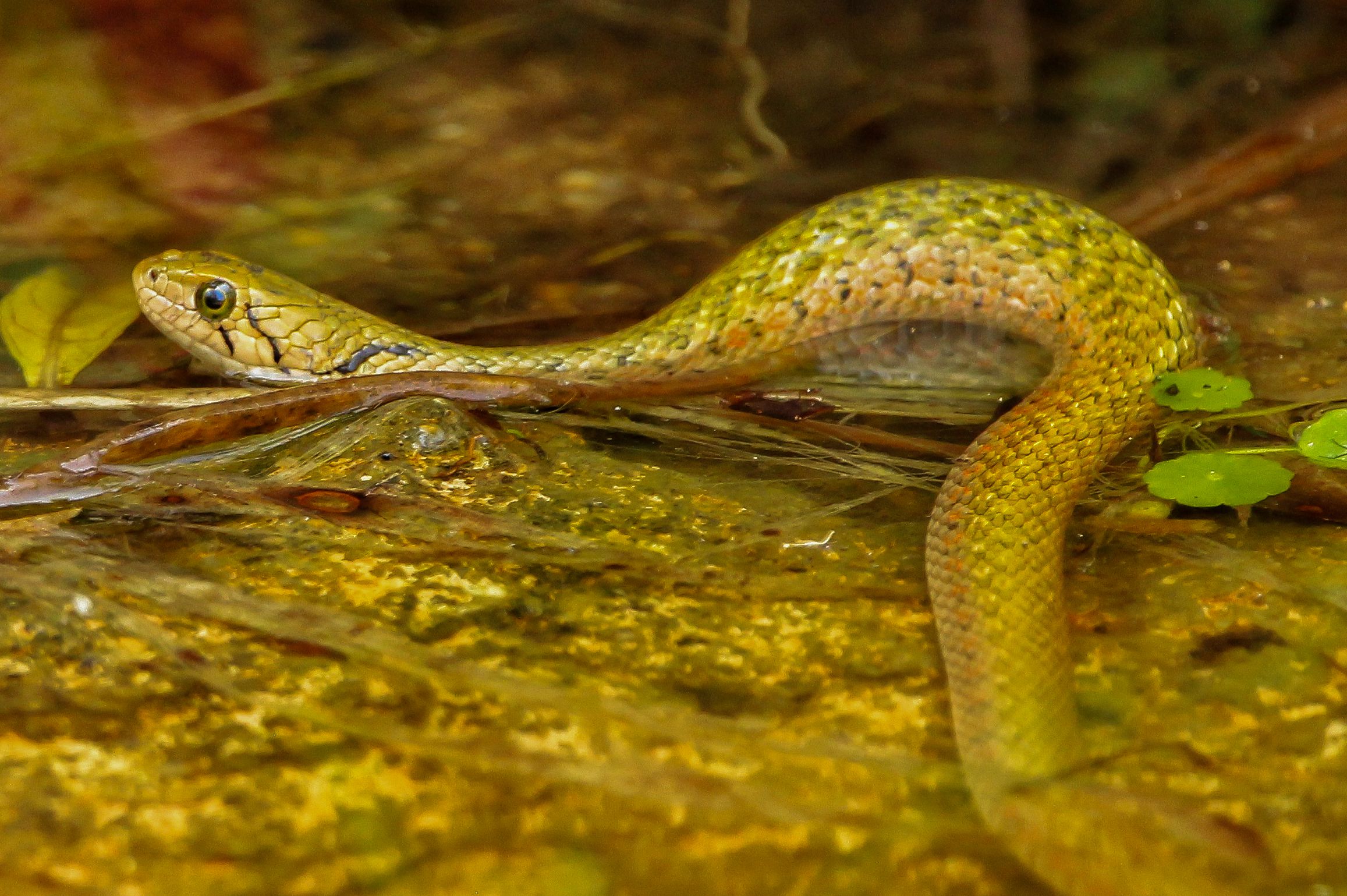 A yellow-spotted keelback is seen at OCT Wetland Park in Nanshan District.


Yellow-spotted keelback
Probably one of the most common snakes you can see during daytime in the city is the yellow-spotted keelback (Fowlea flavipunctatus). This small non-venomous snake has an attractive yellowish to olive green color decorated with black markings over the body and a couple of beautiful black lines below the eyes.
黄斑渔游蛇是深圳最常见的日行性蛇类之一。它们属无毒蛇,体型较小,体色呈明亮的橄榄黄色,密布黑色网纹,眼下亦有多条黑色斑纹。
This particular snake can grow up to 80 cm in length and can be seen during the day or at night lurking in the bushes or water bodies, searching for a frog or fish to eat.
成年个体体长可达80厘米,昼夜皆活动,常在灌木丛中出没,觅食鱼类及蛙类,也经常游泳。
This beautiful snake is also characterized by having rear fangs that won't allow the bitten prey to pull back and escape.
黄斑渔游蛇的后沟牙在捕猎时可以牢牢攫取猎物,很难被挣脱。
Despite the fact that yellow keelbacks don´t produce venom, this snake can be aggressive when bothered and can send a quick bite that of course shouldn't be taken lightly as it could result in an infection.
虽属无毒蛇,黄斑渔游蛇生性凶猛,受惊时常攻击来犯之敌,因此存在被咬中后伤口感染的风险。
This species has been reported to be highly adapted to urban environments and you can easily see it in public parks such as Honghu Park, the Dasha River Corridor and Shenzhen Bay Park. They play an important role in the control of other species' populations but also serve as food for larger snakes and birds.
这种游蛇对城市环境的适应能力很强,在洪湖公园、大沙河生态长廊及深圳湾公园等地都能经常发现它们的身影。它们可以作为捕食者控制其他物种的数量,亦被其他鸟类和其他体型更大的蛇类所捕食。
Let´s continue our efforts to protect all of the beautiful species that inhabit our fabulous city of Shenzhen!
让我们继续努力,一起保护深圳本地的物种吧!