Share

Print
A+
A-
The longan lanternfly
Writer: Isaac Cohen | Editor: Ye Shangqing | From: Shenzhen Daily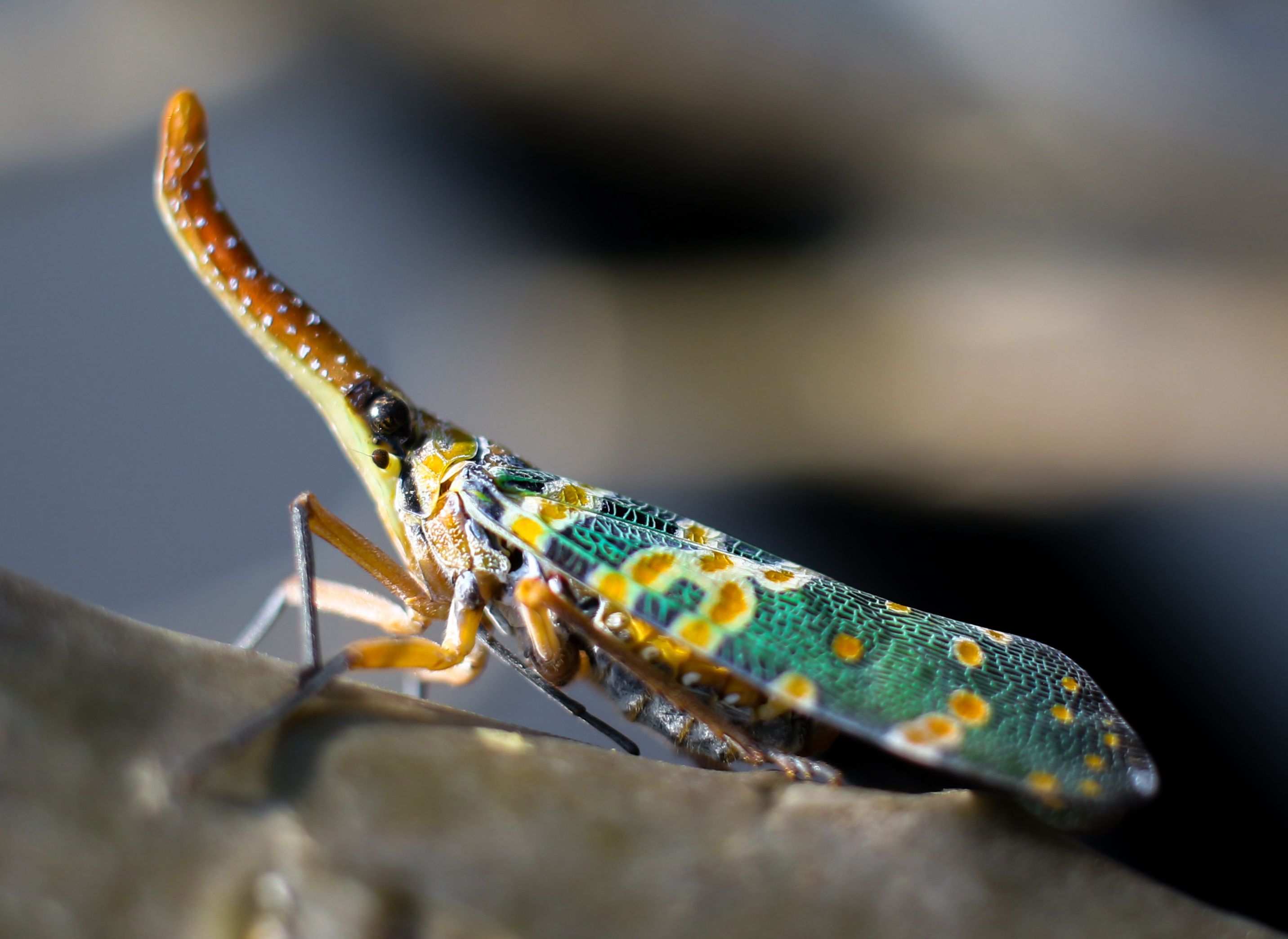 A longan lanternfly is seen on a tree branch in Longhua District.


Longan laternfly
Starting early March, a series of seasonal changes occur at a time referred to as "惊蛰" (jīngzhé) in traditional Chinese culture. The term means "the awakening of insects," a moment that brings one of the most exciting events of the year: species reproducing, newborns hatching everywhere and a huge proliferation of numerous insect species, including the fascinating longan lanternfly (Pyrops candelaria).
三月初,春雷响,蛰虫出。随着节气"惊蛰"的到来,天地万物也迎来了繁衍新生命的时期,尤其是数目繁多的昆虫。今天要介绍的,就是昆虫大家族里的高颜值成员——龙眼鸡。
Although this astonishing animal could be mistaken for a butterfly or a moth, it actually belongs to the family of the planthoppers, which are large colorful insects with remarkable characteristics.
龙眼鸡因为外形艳丽,经常被误认成蝴蝶或飞蛾,然而它们其实是一种蜡蝉。色彩鲜艳的外表是本科昆虫的显著特征之一。
Longan lanternflies have a long white-spotted reddish structure resembling a snout on its head called a proboscis, which the insect uses to dig tiny holes on the tree trunks to reach the nutritious sap. They prefer the longan trees– hence the name – and also litchi trees.
龙眼鸡喙部鲜红,具有白色斑点,并向前突出,形似长鼻,能够插入树干吸食树皮下的汁液,尤喜龙眼及荔枝树。
The beauty of these insects isn't limited to their heads. Their fore wings are of a bright green color and decorated with beautiful yellow markings surrounded by a white frame, and the hind wings are of a flashy yellow with black markings on the tips. Their unique beauty unfortunately attracts collectors to buy and keep them, an activity that has led the insect to be introduced to places where it's becoming an invasive species affecting crops and threatening the natural balance of local ecosystems.
龙眼鸡的翅膀也十分美丽:前翅呈亮绿色,分布有数十个边缘沾有白色蜡粉的黄色圆斑;后翅为亮黄色,翅尖黑色。它们靓丽的外表招来昆虫爱好者的青睐,在昆虫市场上受到追捧。然而,人为饲养的龙眼鸡一旦逃逸,极可能成为入侵物种,对当地的作物及生态平衡产生威胁。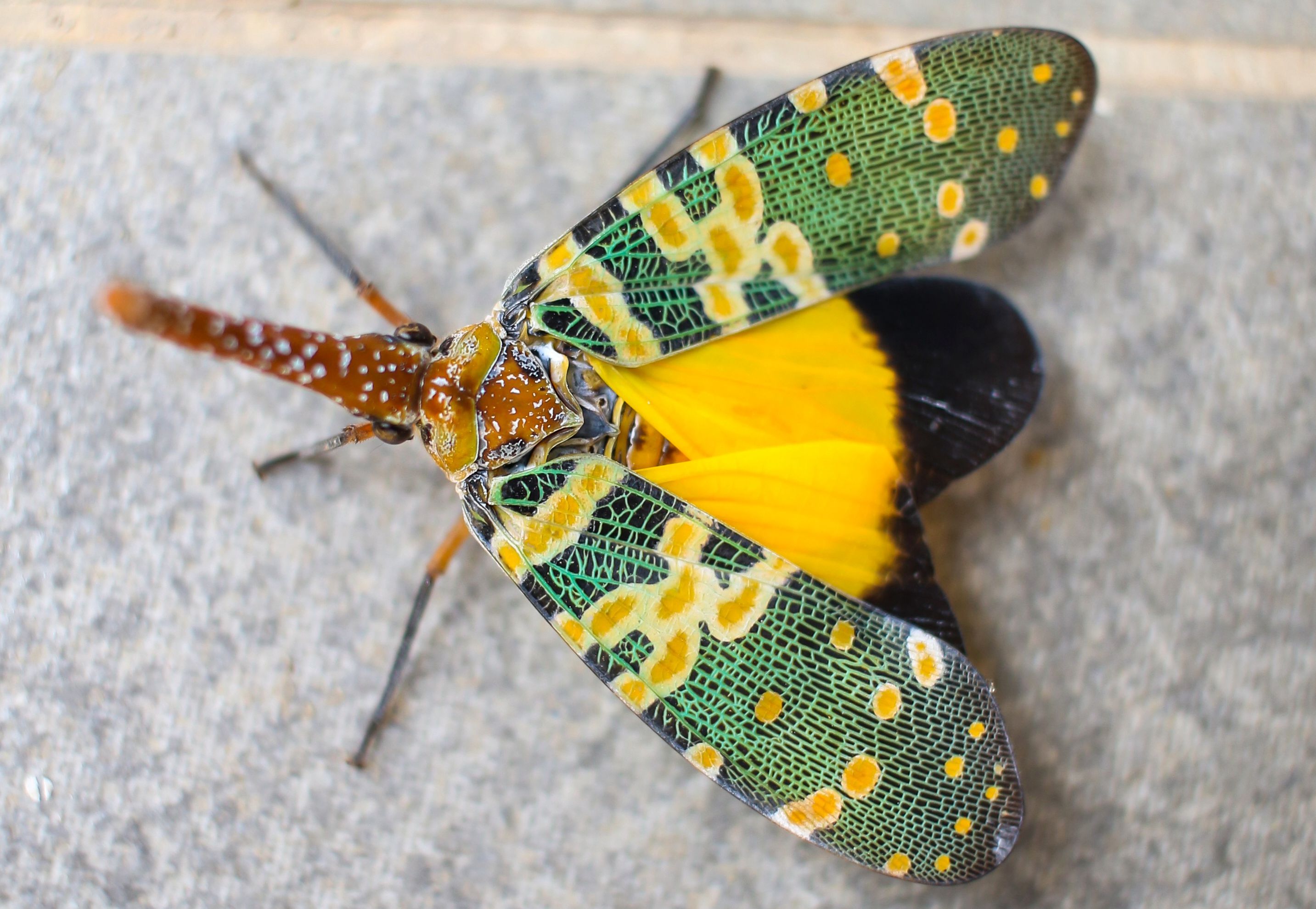 Like many other insects, the lanternflies' reproductive strategy depends on the females' superior egg-laying ability, several times a season and up to 100 eggs per mass. This guarantees a successful survival of enough offspring in spite of predation and other adversary factors. So it is of great importance not to introduce the insects to areas outside their natural habitats, as they may present a risk to the ecosystem, as is currently the case on the island of Taiwan.
和其他昆虫一样,龙眼鸡在繁殖中也采取了"人海战术",雌性成虫的产卵能力极强,繁殖期内可以产卵数次,每次最多可产100枚。对于它们来说,产的卵越多,后代从天敌口中生存的概率就越大——这也是要尽量避免将本物种引入原产地以外的生境的原因之一。它们作为入侵物种在台湾大量繁殖,对当地的生态环境产生威胁。
Fortunately, that's not a concern for Shenzhen, where the harmonious interactions among species help to control its populations. Multiple species of birds, reptiles and amphibians are predators of this beautiful insect.
所幸,龙眼鸡对深圳的生态环境并不构成威胁,它们在本地的食物链里乖乖地扮演者被捕食者的角色。在这里,多种鸟类及两爬生物以龙眼鸡为食,有效地控制了它们的种群数量。
Let's continue to preserve the local species and natural spaces so that a healthy balance enables us to enjoy them all.
因此,我们更要保护好深圳的本土物种和本地生境,维护好这座城市里的生态平衡。