Share

Print
A+
A-
The giant centipede
Writer: Isaac Cohen | Editor: Ye Shangqing | From: Shenzhen Daily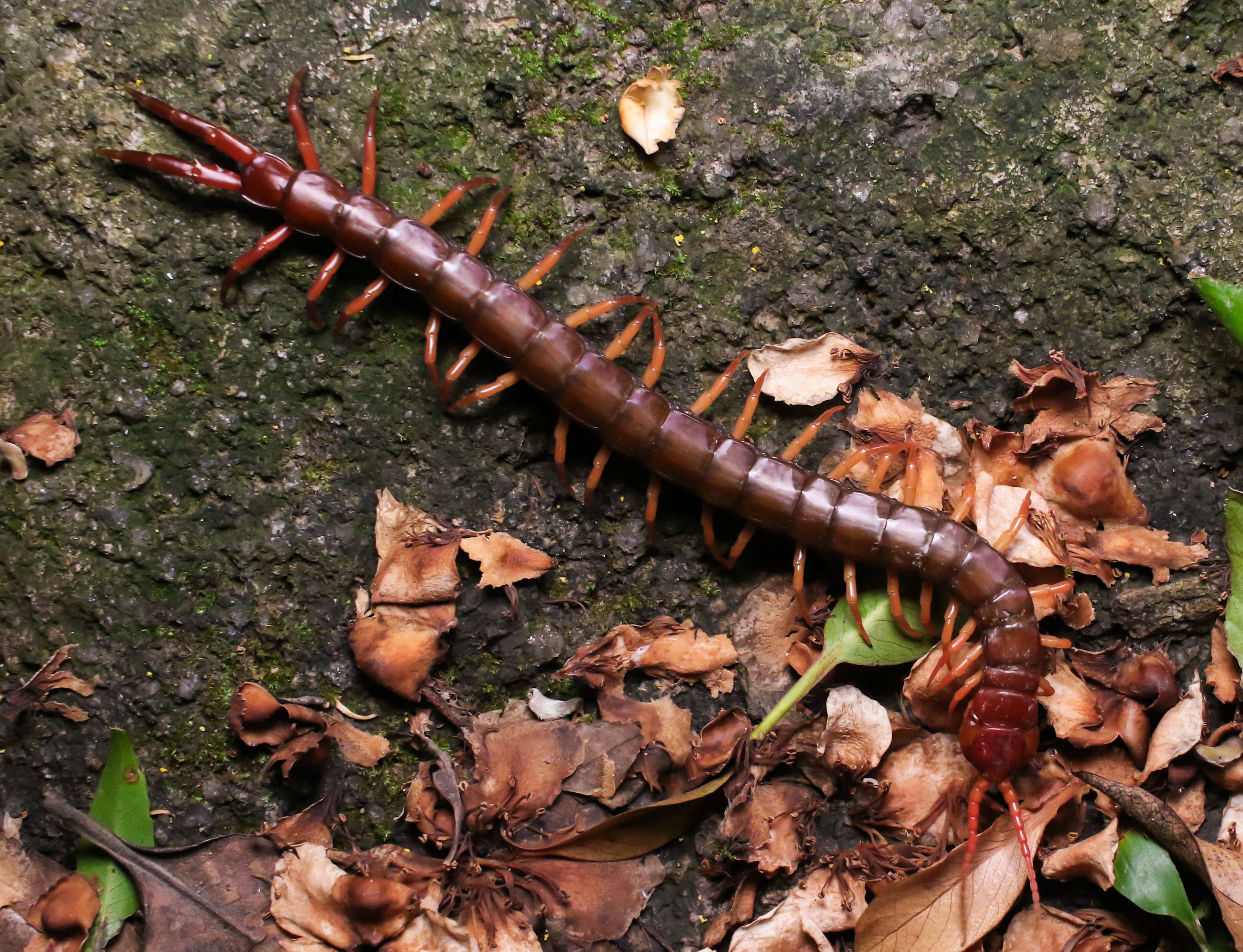 A giant centipede is seen on the ground in Meilin Mountain in Futian District.


Giant centipede
Arthropods, a large group of invertebrate animals characterized by having jointed limbs, are without a doubt the most abundant group of animals in the entire planet. That includes insects with three pairs of limbs, arachnids with four, crustaceans with five and myriapods, commonly known as millipedes and centipedes with more than five pairs of limbs. It is the latter ones we will talk about this time.
节肢动物门是动物界中最大、数量最多的一门。它们属无脊椎动物,身体及足分节,其中包括有3对足的昆虫纲、4对足的蛛形纲、5对足的甲壳纲及5对足以上的多足及倍足纲。今天要给大家介绍是多足纲。
Centipedes are distinguished from millipedes by the amount of legs they have in each segment of the body. Centipedes have one pair per segment and millipedes have two pairs. Our subject for today is one of the most amazing representatives of the genus Scolopendra, also known as the giant centipedes. They are abundant and diverse in China, with at least 13 known species or subspecies. Yet unfortunately, research on them is so scarce that we cannot understand all their complex traits and habits.
多足纲与倍足纲动物的一个重要区别在于:多足纲动物每重体节只具一对步足,倍足纲每重体节则有两对步足。今天故事的"主人公"是多足纲蜈蚣目蜈蚣科中的少棘蜈蚣,在中国境内已发现13种(含亚种),分布极为广泛。可惜现存的相关研究极少,不足以供公众了解它们的特征与习性。
Giant centipedes (Scolopendra sp.) are well known for being venomous, producing toxins that vary from species to species, bringing pain and even death to their victims, including humans and other animals. There are not enough studies on centipedes to accurately identify the different species, let alone the different effects of their venoms when a person is bitten. So better watch out and don't try to grab it if you come across one!
所有的少棘蜈蚣都有毒。不同种类携带的毒素类型不一,有的只会造成疼痛,有的却足以杀死动物甚至人类。由于现存的研究太少,对于蜈蚣的种类辨别缺乏充分的科学依据,一旦中毒,很难得到有效救治,所以走路看清脚下,见到蜈蚣时不要随便去抓是规避危险的最好办法。
These amazing animals do share certain physical characteristics that make them easy to recognize. They have a long segmented body with a pair of legs on each segment, a pair of long antennae in front and a pair of spines coming from the last segment. They also differ in size and color. This beauty I captured in the photo here is about 20cm in length.
少棘蜈蚣在野外非常易于辨认:它们有着狭长、多节的身体,每节身体有一对步足,头部有一对细长的触角,身体末端的步足呈尾状。不同个体之间存在大小和体色的差异,照片里的这条个体就有20厘米长。
The giant centipedes play an important role in maintaining a balance in the ecosystem by acting as both predator and prey, controlling the populations of such species as mollusks and insects. On top of that, they have unique value for medical and scientific research due to the presence of their venom. It's a must to help preserve them for the wellbeing of our planet, and it's also best to leave them be for your own safety.
少棘蜈蚣以小型软体动物和昆虫为食,能够有效地调节被捕食者的种群数量,同时它们的种群数量也得到了天敌的控制,在维系生态平衡中扮演着重要的角色。此外,蜈蚣的毒素还有着重要的药用及科价值,因此保护它们就是保护我们的星球,当然也是保护我们自己的人身安全。