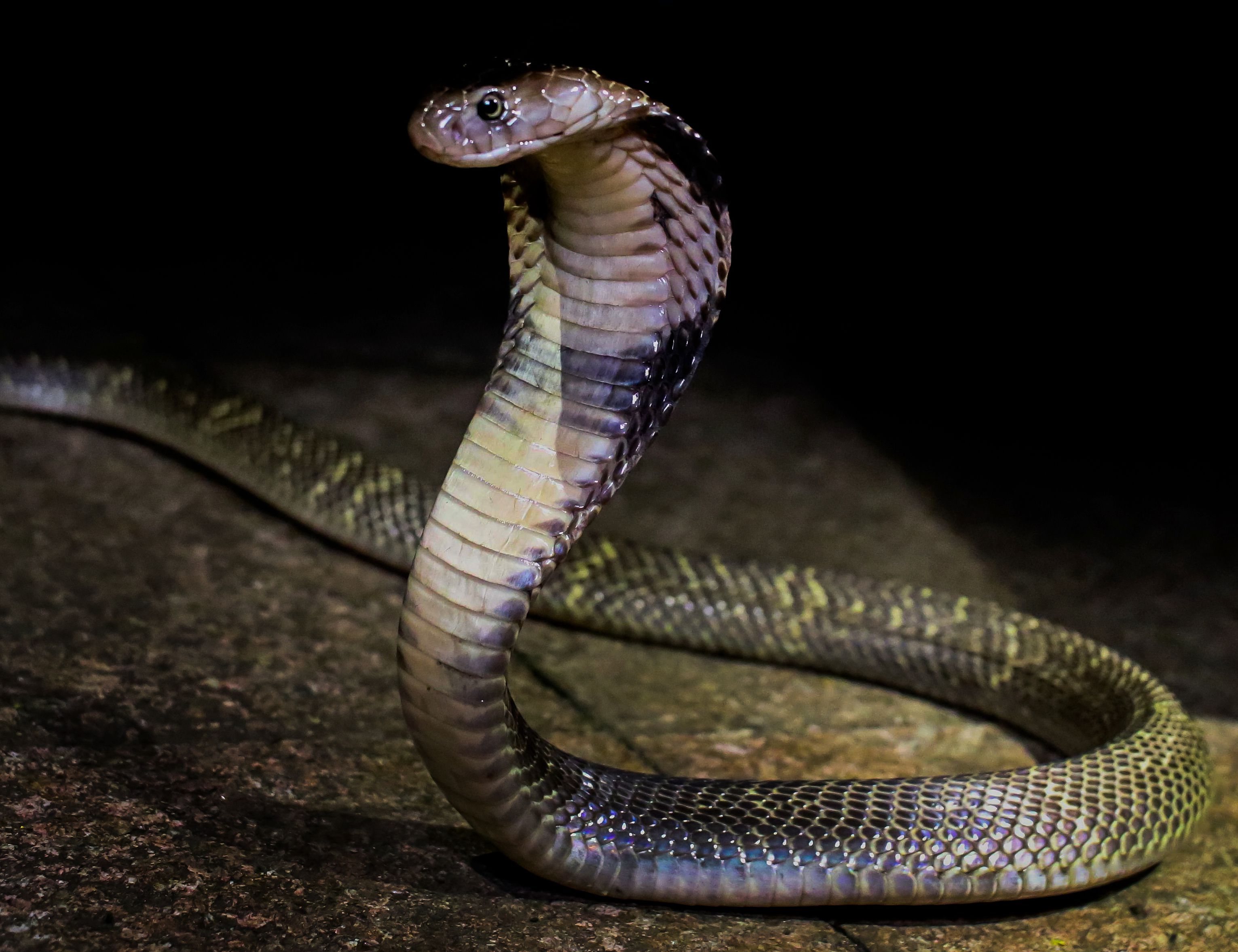 A Chinese cobra is seen on the ground in Fenghuang Mountain in Bao'an District.


Chinese cobra.mp3
Ever since I was a child, I often heard stories and watched documentaries about snakes where the majestic cobras were the protagonists. As with many other species of animals on our vast planet, I never imagined I was ever going to have the opportunity to come face to face with one of them.
小时候,我经常在书本和电视荧幕上领略眼镜蛇的威风。多年之后,虽然已经邂逅过了这颗浩渺星球上的许多生物,我仍然无法想象自己亲眼目睹眼镜蛇的那一天。
Coming from a different part of the planet, half a world away from Shenzhen, I have been treated with plenty of surprises.
然而,在距离我祖国半个地球之遥的深圳,我收获了数不尽的惊喜。
Shenzhen is home to more than two dozen species of snakes, including the magnificent Chinese cobra (Naja atra), a highly venomous snake with a reputation of being one of the most dangerous in the entire world.
深圳的本土蛇类有20多种,其中就包括身怀剧毒的中华眼镜蛇,世界上最危险的蛇类之一。
This fascinating species has a combination of dark colors like brown or black and in some occasions a pale yellow or cream. Its body length can reach up to 1.5 meters. It will display a characteristic hood on the neck, lift its body, and produce a chilling hiss when feeling threatened. The scene can scare even the most daring human beings. The hood is decorated with a beautiful pattern that resembles a ring on the back of the body, one of the most visible traits to help recognize it.
中华眼镜蛇体色偏深,通常为暗褐或黑褐色,部分白变个体呈浅黄或奶油色。成年蛇体长可达1.5米,面对来犯之敌时常将身体前段竖起,膨大颈部并发出风啸般的嘶声进行恐吓。眼镜蛇颈部膨起的时候,其背部的环状眼镜纹因鳞片扩张而更加明显——这也是在野外辨认眼镜蛇的重要依据之一。
Chinese cobras can be easily found both day and night. When they go hunting for prey like frogs, birds and other small mammals, they attack with a fulminant strike using their front fixed fangs. Then, they inject a controlled amount of venom powerful enough to paralyze and kill their victims in a short time.
中华眼镜蛇昼夜皆出没,以蛙类、鸟类及小型哺乳动物为食。它们经常以迅雷不及掩耳之势发动攻击,利用尖锐的前牙噬咬猎物并注入适量毒液,使其在短时间内失去行动能力甚至死亡。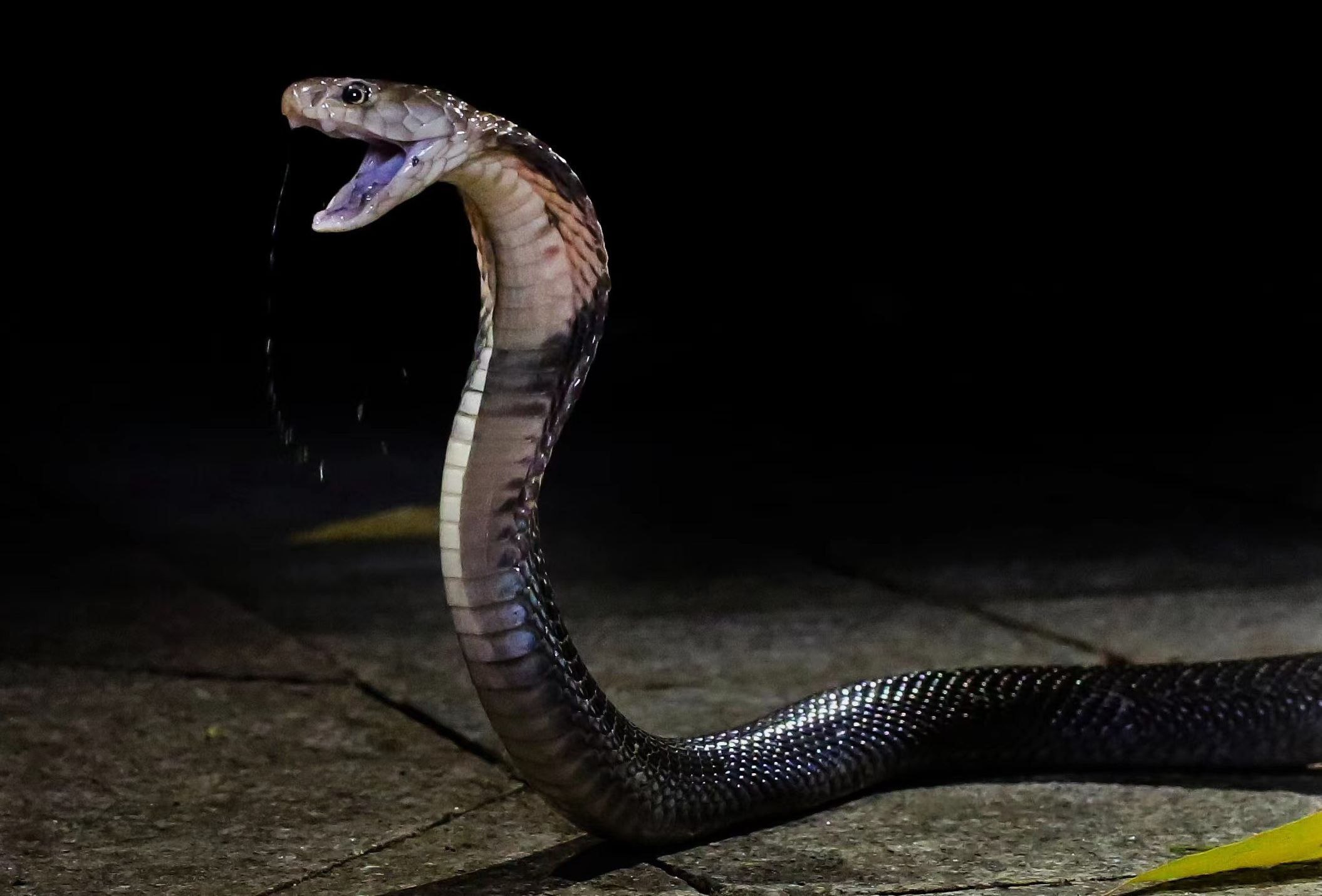 Cobras' venom is highly toxic and has been reported to contain proteins that block the nerve cell receptors and stop the heartbeat of the animals as well. However, in spite of the danger they may represent, Chinese cobras aren't aggressive if left alone and not bothered; their first reaction after being spotted is to flee the scene, or hide underneath a rock or in a hole. The cobra will only show its hood when feeling threatened or cornered; so if you happen to find one, just let it go and never attempt to grab it or bother it.
中华眼镜蛇毒可致命,毒液中含有多种蛋白质,能够抑制被咬者神经细胞活性,导致心脏衰竭。虽然十分危险,中华眼镜蛇的性情却不甚凶猛,很少主动发动攻击。一旦暴露,它们会立刻逃跑或寻找石头及洞穴藏匿,只有在受到重大威胁才会膨起颈部恐吓对手。所以如果你在山中不小心碰上了一只,千万不要尝试去驱赶、抓捕它。
The Chinese cobra is listed as a vulnerable species by the International Union for Conservation of Nature (IUCN), due to their declining numbers and reduced geographical distribution. We are very lucky to have this species in the parks and mountains of Shenzhen, as it plays an important role in the already complex dynamics of our local ecosystems.
由于种群数量下降、栖息地丧失等问题,中华眼镜蛇在世界自然保护联盟(IUCN)的红色名录被列为"近危"。它们能选择深圳的郊野公园中安家,对这座城市来说是一件幸事——因为眼镜蛇作为捕食者,对维护本地的生态平衡起着至关重要的作用。
Let's work together to conserve their habitats and help protect them, just as we should for all the other beautiful species, for the future of our planet.
让我们行动起来,一起保护眼镜蛇等受威胁物种的种群和栖息地,因为保护它们就是保护我们的地球家园的未来。