Share

Print
A+
A-
The black-faced spoonbill
Writer: Isaac Cohen | Editor: Liu Minxia | From: Shenzhen Daily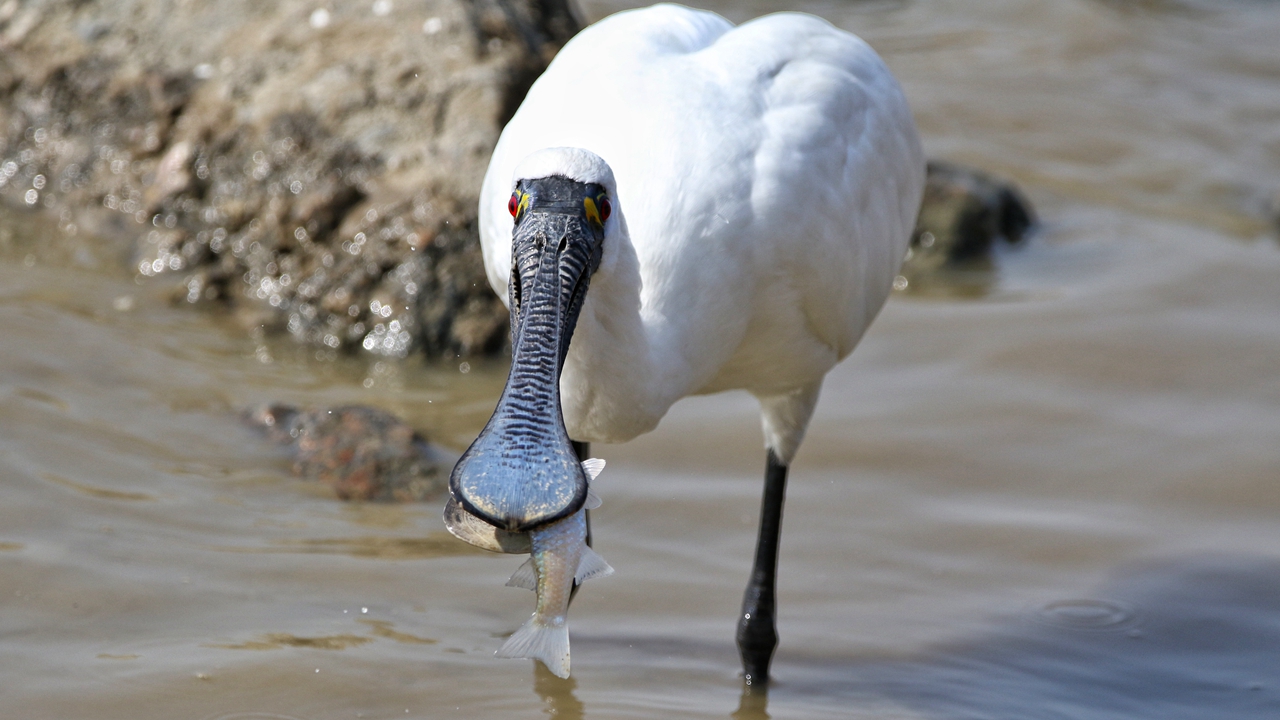 A black-faced spoonbill is seen feeding on fish in the Shenzhen Bay area Jan. 4, 2021.

Winter is coming, boding the beginning of the great migration. Dozens of species are coming; one is very special for our city: the black-faced spoonbill (Platalea minor).
又是一年冬来时,北迁候鸟渐南归。在造访深圳的候鸟大军中,有一种鸟对这座城市意义非凡,它们就是黑脸琵鹭。
This particular species represents everything we have done wrong to the environment. It appears on the red list of endangered species and if we don't act soon, we will probably never see them again. Still having them in the Shenzhen Bay area is a privilege that we should not take for granted.
黑脸琵鹭的处境为我们的生态环境敲响了警钟。如果我们不尽早行动起来,这种濒危的鸟类很可能就会灭绝。能够每年在深圳湾看到它们的身影,对我们来说是一件莫大的幸事。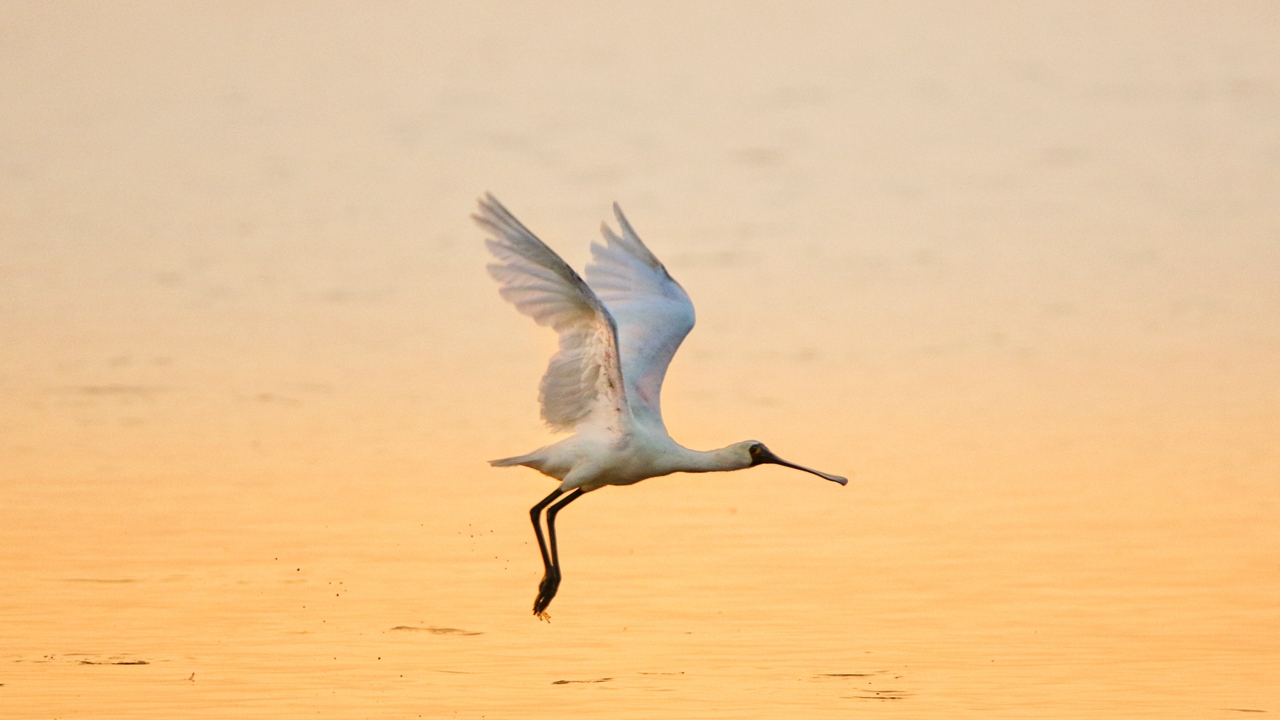 Black-faced spoonbills in the Shenzhen Bay area Jan. 4, 2021.

The bird has a small yellow patch below the eyes on an otherwise entirely black face. Its long flat spoon-shaped beak explains its name. The body is covered by a beautiful white plumage, with perfectly positioned black tips on the wings that match their black legs. During the breeding season, some of its feathers will turn yellowish around the neck and on the back of the head, giving them an attractive look.
黑脸琵鹭的脸部全黑,眼部下方有一小片黄色色块。它们的喙长而直,末端扁平如汤匙,形似琵琶,因此得名为"琵鹭"。这种鹮科鸟类全身羽毛雪白,仅初级飞羽末端沾黑色,与黑色的长腿十分相称。繁殖期时,黑脸琵鹭颈部部分羽毛由白转黄,呈项圈状,后枕部也会长出花哨的黄色羽冠,看着十分赏心悦目。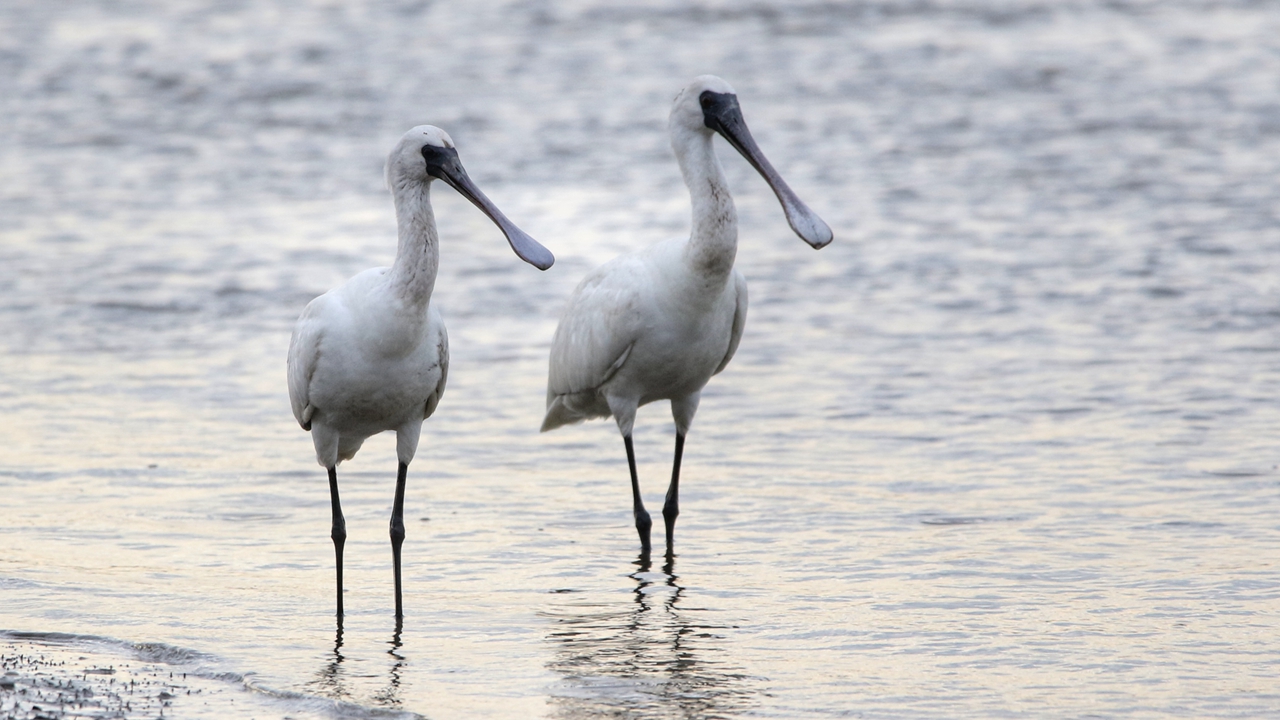 Two black-faced spoonbills are seen in the Shenzhen Bay area Nov. 10, 2021.

These fabulous birds are fairly big, measuring a bit less than 80 cm tall and with an incredible 1.1-meter wingspan. Their legs and their necks are also long. They use their long bills as paddles to wade with a constant crisscrossing motion over shallow coastal regions as they look for small fish and shrimps to eat.
黑脸琵鹭的体型较大,体长约80厘米,翼展可达1.1米。它们的颈部和腿部都比较长,可以在浅水区域涉水觅食,经常一边趟水,一边用它的匙状长嘴在水中有规律地来回扫荡,捕捉小鱼小虾。
Spoonbills breed between May and July over some small islands near the Korean Peninsula. They nest in colonies and lay two or three eggs per clutch. Facing the threat of habitat loss for many years, the species has been hit with a dramatic decrease in population.
黑脸琵鹭繁殖期为5至7月,繁殖地位于辽东半岛及朝鲜半岛周边的小岛上,冬季部分种群南迁至深圳湾。繁殖时一般营群巢,每窝产卵两到三枚。然而,由于多年饱受栖息地丧失之苦,黑脸琵鹭的种群数量曾大幅度减少。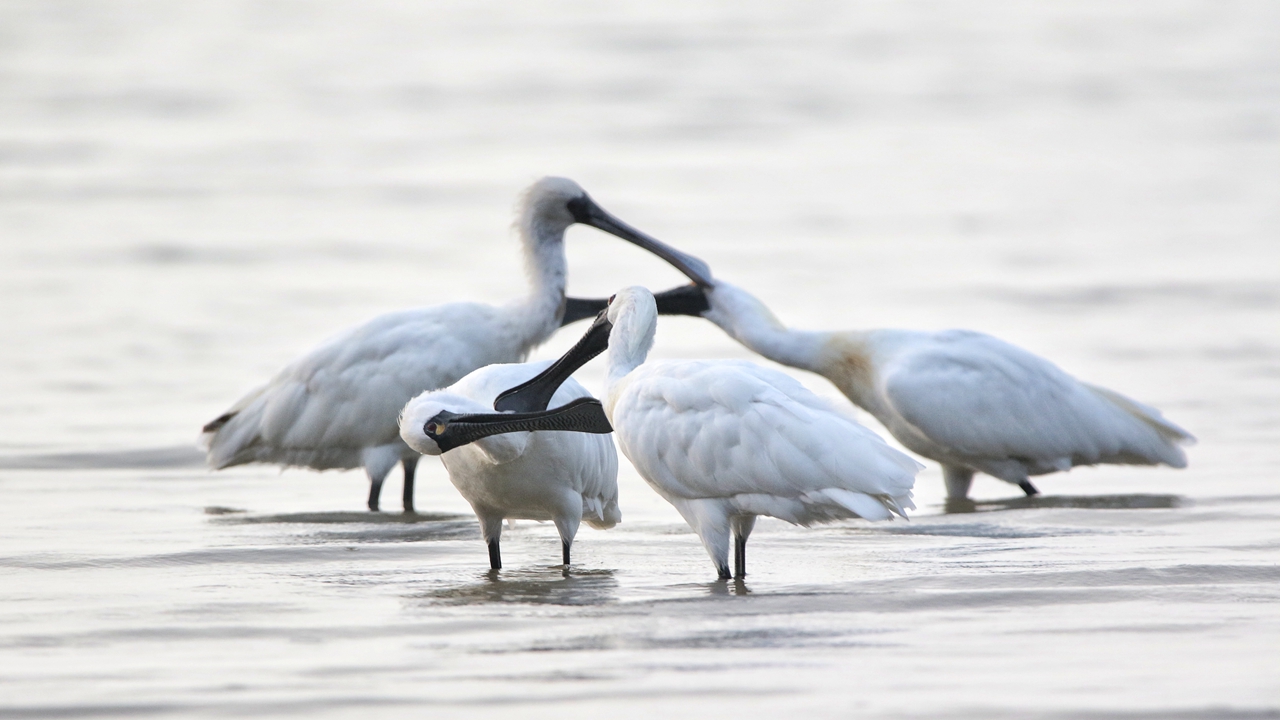 Black-faced spoonbills in the Shenzhen Bay area March 21, 2021.

They migrate southwards during winter where we can see them in our city.
繁殖期后,部分黑脸琵鹭种群会南迁至深圳湾越冬。
It is our duty to take care of all living creatures and to protect coastal areas. We need to take action to preserve not only this beautiful bird, but many others that come for an annual visit. Let's make our city a sanctuary for all species, for us and for our future generations.
为了保护黑脸琵鹭与其他每年来深圳越冬的候鸟,我们既要保护这里的物种多样性,也要保护它们滨海越冬地的环境。让我们行动起来,让深圳成为人类与动物和谐相处的乐土。