Share

Print
A+
A-
The great cormorant
Writer: Isaac Cohen | Editor: Liu Minxia | From: Shenzhen Daily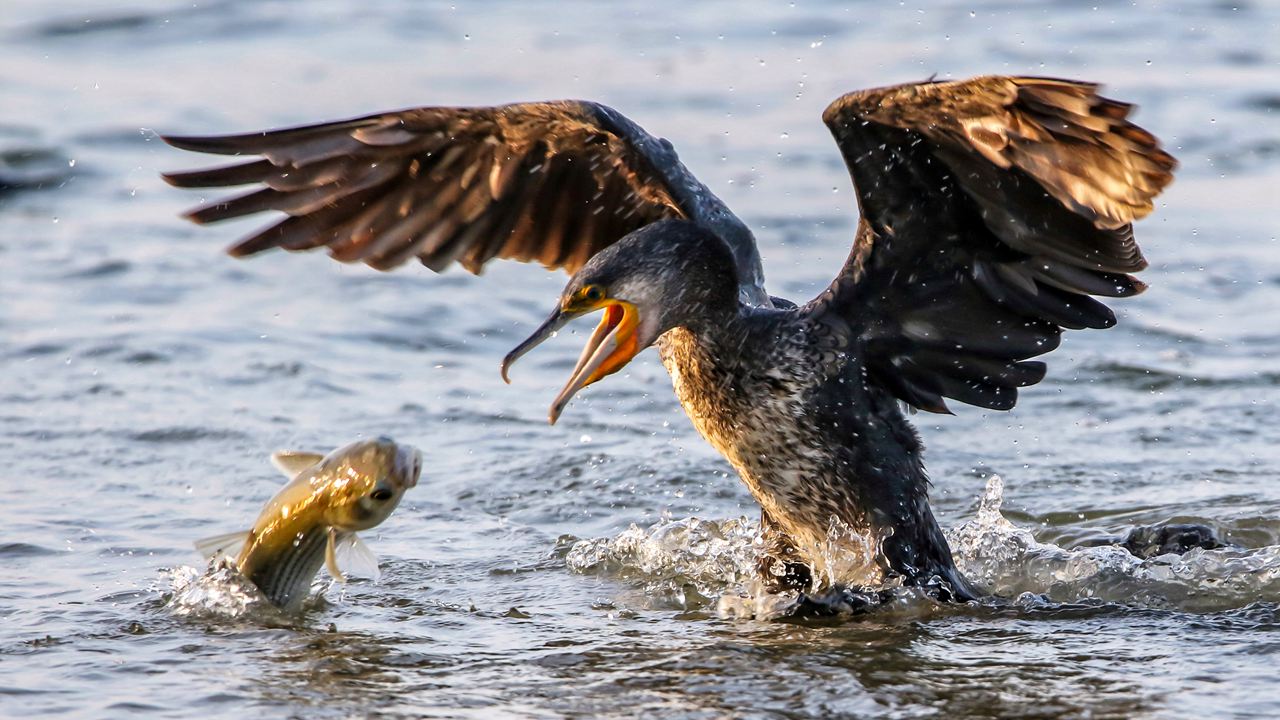 A great cormorant is seen catching a fish in the waters of the Shenzhen Bay on Dec. 19, 2020.


The great cormorant
One of the most fabulous spectacles worth observing in our city is the arrival of the great cormorants (Phalacrocorax carbo). At the beginning of winter, a couple of them will arrive at the shores of Shenzhen Bay Park. Not long after, a black cloud of thousands can be seen flying over the bay and feeding close to the rocks.
每逢秋迁候鸟季,我们的城市就会上演普通鸬鹚翔集的奇观。一开始,仅有零星几只来到深圳湾;不久后,你就能看到成千上万只鸬鹚集群的壮观景象,它们黑压压地飞越海面,来到岸边觅食。
The great cormorant is a large black bird about 90 centimeters long, with an impressive 160-cm wingspan. It has a long neck and a sharp pointy beak with a beautiful orange marking at its base. Their black feathers shine like scales under the sunlight, giving them a fantastic look. All four of the birds' toes are connected by webs, making them excellent swimmers, and therefore amazing fishers.
普通鸬鹚身长约90厘米,翼展可达160厘米,通体黑色,脖颈细长,锥状的长嘴尖端具钩,嘴底呈橙红色。在阳光下,它们漆黑的羽毛闪烁着金属般的光泽,像鳞片一般熠熠生辉。脚生四趾,具全蹼,表明它们既是游泳健将,也是捕鱼能手。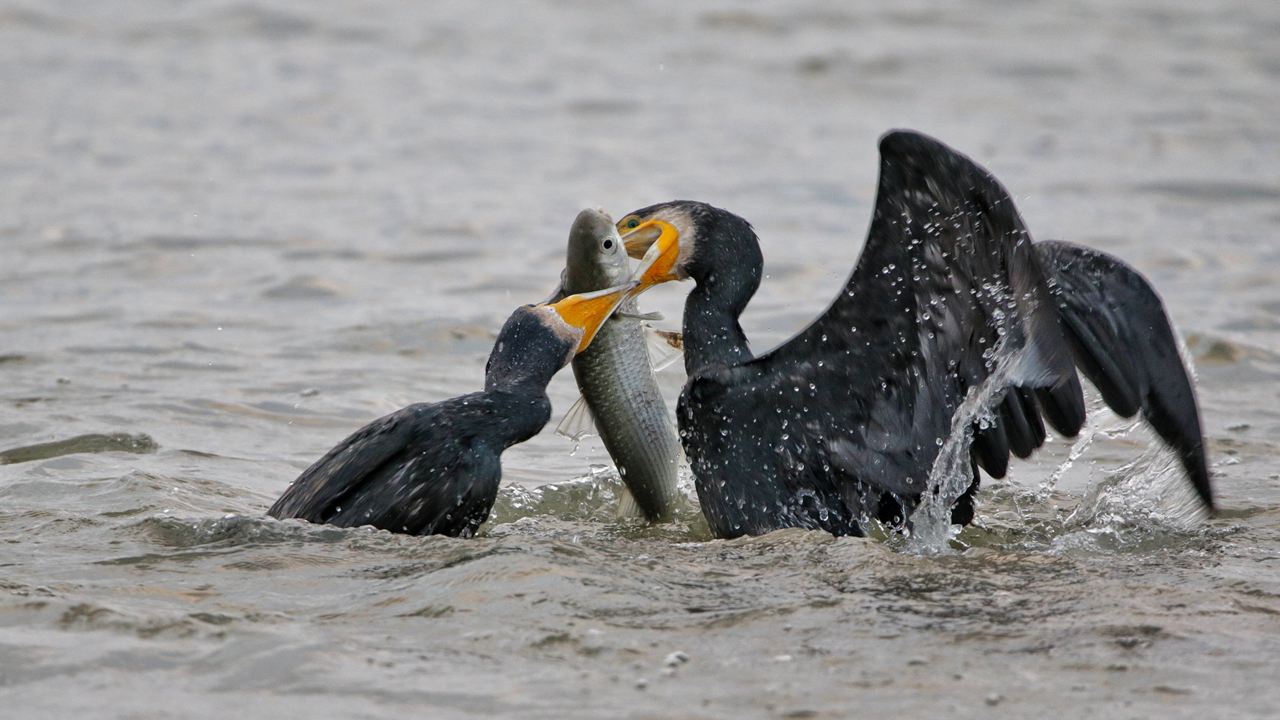 Two great cormorants are feeding on a fish in the Shenzhen Bay on Feb. 21, 2021.

Their feeding habit is fantastic to witness. There is a countercurrent of fresh water and seawater converging near a bridge close to the Metro station in the park, where hundreds of fish gather to feed on detritus. The discerning cormorants won't miss the opportunity to catch a nice big meal. Here, you will see the birds diving to catch their prey, and then some panicked fish jumping over the water, and then the cormorants fighting against each other to catch and swallow them.
普通鸬鹚捕食的画面也非常壮观。在9号线深圳湾公园站附近有一处出水口,海水与淡水在此交汇,吸引了大量鱼类,也引来了期待大快朵颐的普通鸬鹚们。"赶鱼"的时候,它们会猛然下潜,让鱼类受惊并跃出水面,随后你追我赶,争先恐后地抢夺美餐。
Great cormorants breed in colonies where both the male and female build the nests and help incubate the eggs. A couple can lay a clutch of up to five eggs; both parents take care of the chicks until they are ready to go on their own after two or three months.
普通鸬鹚繁殖时营群巢,雌雄共同筑巢、孵卵,每窝最多可产5只卵。雏鸟破壳后,还需父母共同喂养两三个月,方能离巢独立生活。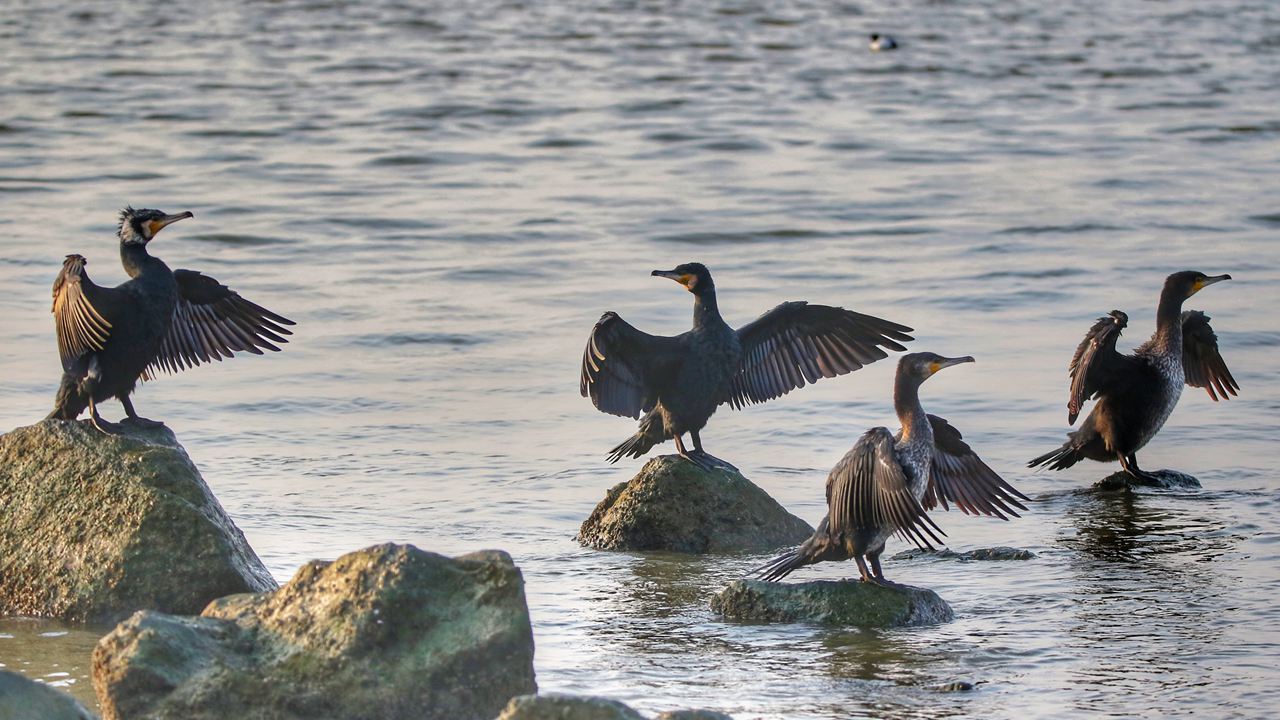 Four great cormorants are seen in the Shenzhen Bay Park on Feb. 21, 2021.

Another mesmerizing moment is to watch the birds spreading out their wings on a rock to dry their feathers under the heat of the sun. As they remain in this position for several minutes, you can enjoy them in their full magnificence.
休憩时的普通鸬鹚也是深圳湾一道靓丽的风景。上岸后,它们会站在礁石上,伸开翅膀晾晒羽毛,直至完全晾干才会继续潜水捕鱼。这个姿势一般会维持数分钟之久,足以让我们全方位地欣赏它们的美丽。