Share

Print
A+
A-
Yellow bittern
Writer: Isaac Cohen | Editor: Liu Minxia | From: Shenzhen Daily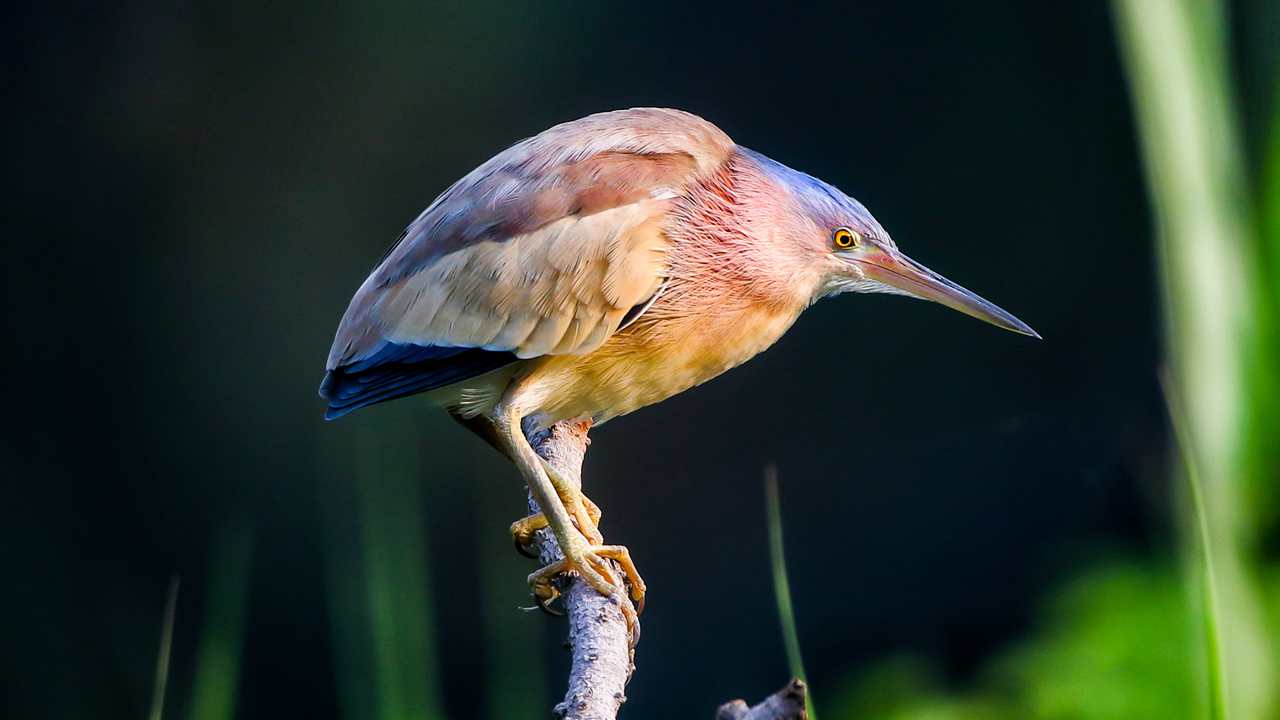 A male yellow bittern is seen perching on a branch at Honghu Park in Luohu District on April 10, 2021. Photos by Isaac Cohen

Yellow bittern
The fascinating yellow bittern (Ixobrychus sinensis), a resident bird though not too abundant in the city, always attracts the attention of bird lovers. The medium-sized bird, with its astonishing characteristics, will amaze even the less enthusiastic of spectators.

黄苇鳽是一种在深圳不甚常见的、体型中等的留鸟。它们的外形和行为独树一帜,无论你是资深"鸟友",还是普通路人,都会被深深吸引。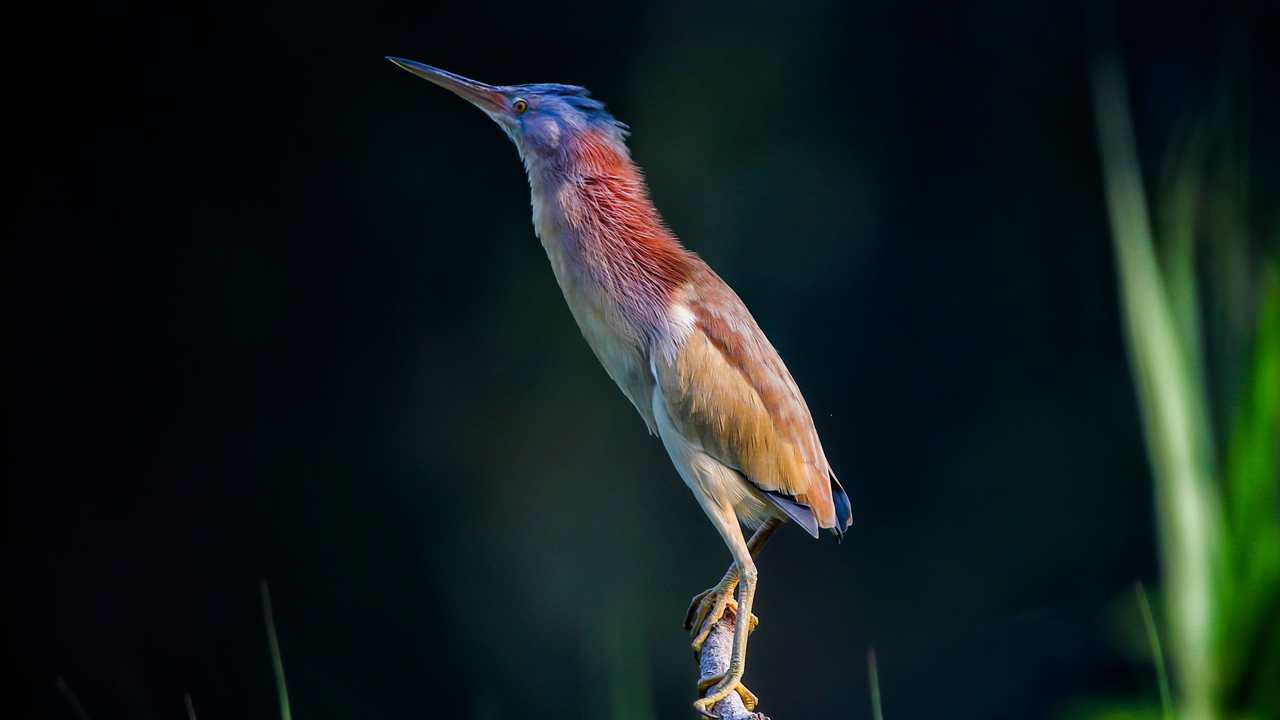 A male yellow bittern streches its neck while perching on a branch at Honghu Park in Luohu District on April 10, 2021.
The bird can grow up to 40 centimeters in length, with a wingspan measuring around 50 centimeters. Its head is decorated with a beautiful dark blue crown that contrasts with its brown forehead and its beautiful light brown throat that at the same time is decorated with stripes. The sides of the bird are a reddish brown, and its back is brown as well. The underparts of the wings display a striking dark blue at the tips and the bird has a black tail. The legs are yellow and green; the eyes are yellow; and the beak displays a whitish color with a slight tint of yellow. Females can be paler, with darker patches under the wings.
黄苇鳽成鸟身长可达40厘米,翼展可达50厘米,头具蓝黑色顶纹,额浅棕,喉部亦为浅棕,同时缀有多条纵纹;体侧覆羽为棕红色,背部覆羽为棕色;初级、次级飞羽尖端沾蓝黑色,尾羽黑色;脚黄绿色,虹膜黄色,嘴部则为泛白的浅黄色。雌鸟体色较雄鸟暗淡,两翼具深色块斑。
Yellow bitterns love inhabiting bushy marshes and water bodies surrounded by dense vegetation. Though not easy to find and see, they are a total delight to observe if you are lucky to meet them. The bird sometimes stretches its neck from a low overlying branch into the surface of the water to catch small fish, crustaceans, mollusks, larvae or insects. They move slowly and secretly, being good fishers.

黄苇鳽多栖息于植被茂密的水体沼泽区域,性格羞怯,难得一见,不过若是运气够好,你就能观察到很多有意思的行为:它们喜欢攀援在水生植物的茎秆上,把长长的脖子扎进水里捕食小型鱼类、甲壳类、软体动物、昆虫及其幼虫,一举一动慢条斯理,绝不打草惊蛇,仿佛成竹在胸的渔夫。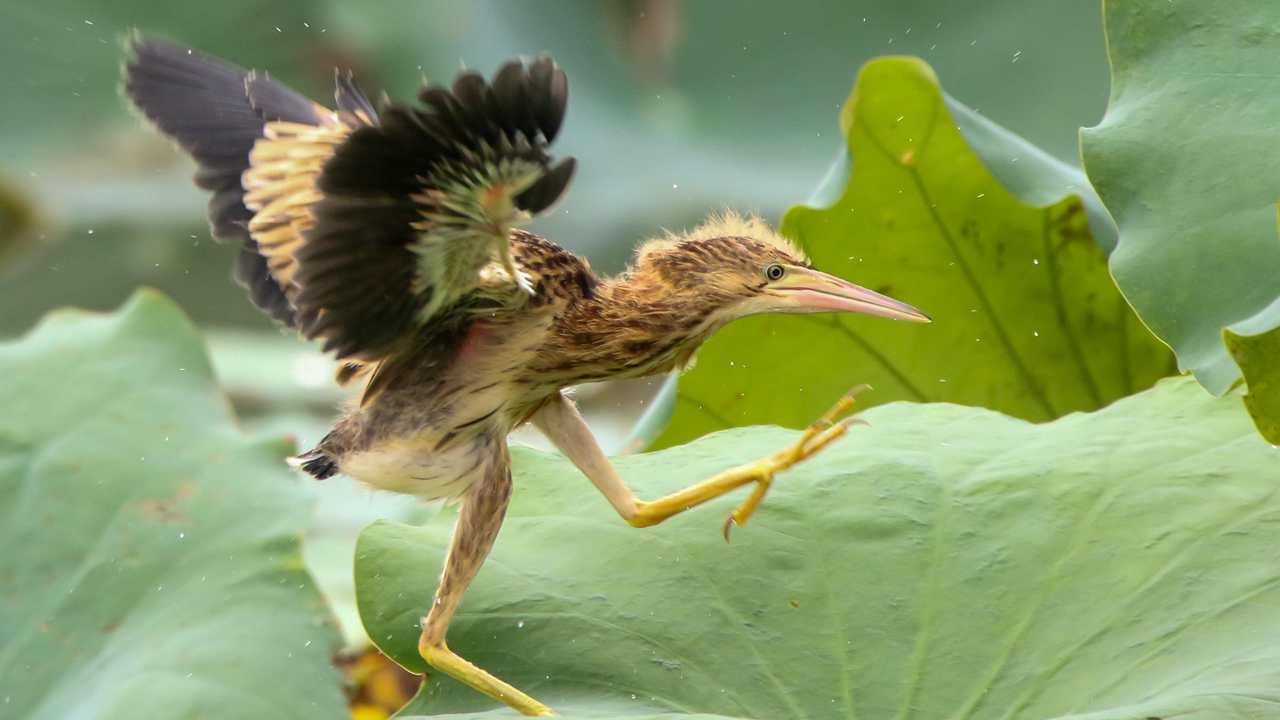 A yellow bittern chick practices flying in a lotus pond at Honghu Park in Luohu District on July 5.
Depending on the place they inhabit and primarily the temperature of the region, their breeding season may vary slightly from one population to another. The birds in China are generally active from May to August, producing clutches of up to six eggs that will be incubated for about three weeks by both parents. Newborns will receive food from their parents for two to three weeks, after which they will be ready to leave the nest.
栖息地生境及气温的差异,导致不同黄苇鳽种群的繁殖期存在差异。总体来说,分布于中国的种群繁殖期5至8月,每窝产卵可达6枚。由亲鸟共同孵化三周后,雏鸟破壳,再由双亲喂养两至三周后,方可离巢独立生活。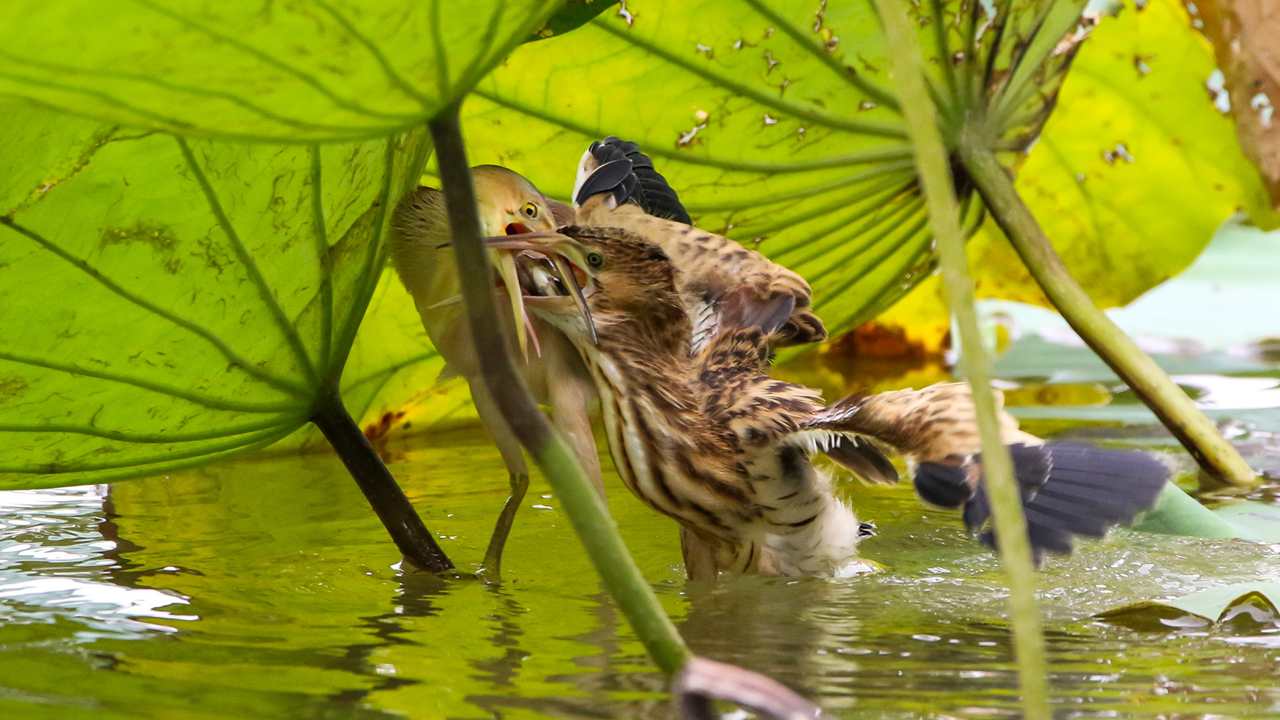 A chick begs its parent bird for food in a lotus pond at Honghu Park in Luohu District on July 5.
Yellow bitterns are definitely one of the species that we cannot miss in our beautiful and diverse city of Shenzhen.
黄苇鳽是深圳本地的"明星"物种。如果你来到这座城市,请一定不要错过这些美丽的涉禽。