Share

Print
A+
A-
Pygmy slow loris
Writer: Isaac Cohen | Editor: Liu Minxia | From: Shenzhen Daily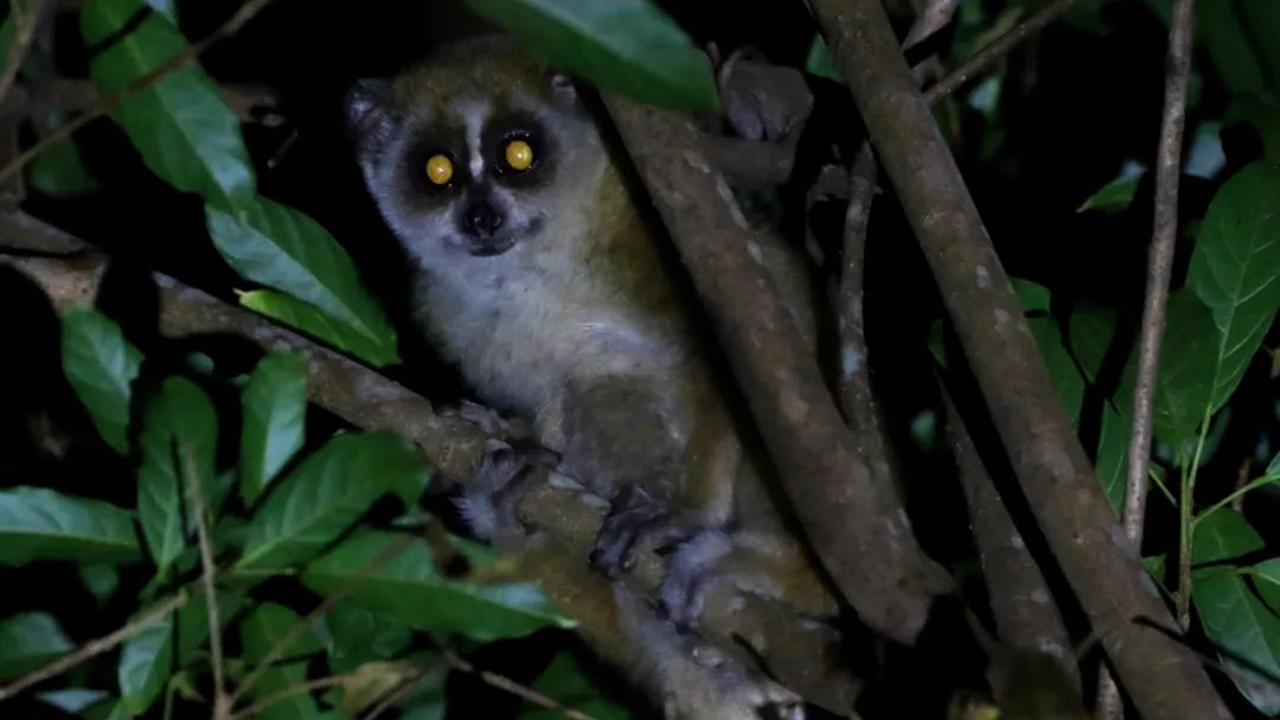 A pygmy slow loris is seen in a mountain of Shenzhen in this Nov. 2, 2021 photo. Photos by Isaac Cohen

Pygmy slow loris
Fascinating as it may seem to you, our beautiful Shenzhen is not just about birds, or frogs, or snakes. In addition to the common animals you can see elsewhere, there are astonishingly unique animals living here as well that many people find it difficult to believe their eyes when they actually see them. One that I am talking about is a small mammal that inhabits the mountains of our city, the one and only pygmy slow loris (Xanthonycticebus pygmaeus), a very small primate of about 20 centimeters and scarcely 1 pound (0.45kg) in weight.
在深圳,除了司空见惯的鸟虫蛇蛙,也住着好些令人意想不到的神奇动物,就算是见到,你也会惊讶得不敢相信自己的眼睛。像我自己在山中夜观的时候,就有幸邂逅了珍稀的小懒猴。这种娇小的灵长类动物身长约20厘米,体重仅450克左右。
The pygmy slow loris is the smallest of all the loris species in the world and can be found only in a relatively small area in some parts of Vietnam, Laos, Cambodia and the southernmost part of China. It is a threatened animal on the IUCN's (International Union for Conservation of Nature) red list, catalogued as vulnerable, with its population fast declining due to habitat loss and animal trafficking.
小懒猴,也称倭蜂猴,在懒猴科中体型最小,仅有限分布于中国南部省份及越南、老挝、柬埔寨等东南亚国家。由于栖息地丧失,非法盗猎猖獗,小懒猴种群数量锐减,已被世界自然保护联盟(IUCN)红色名录列为"易危"物种。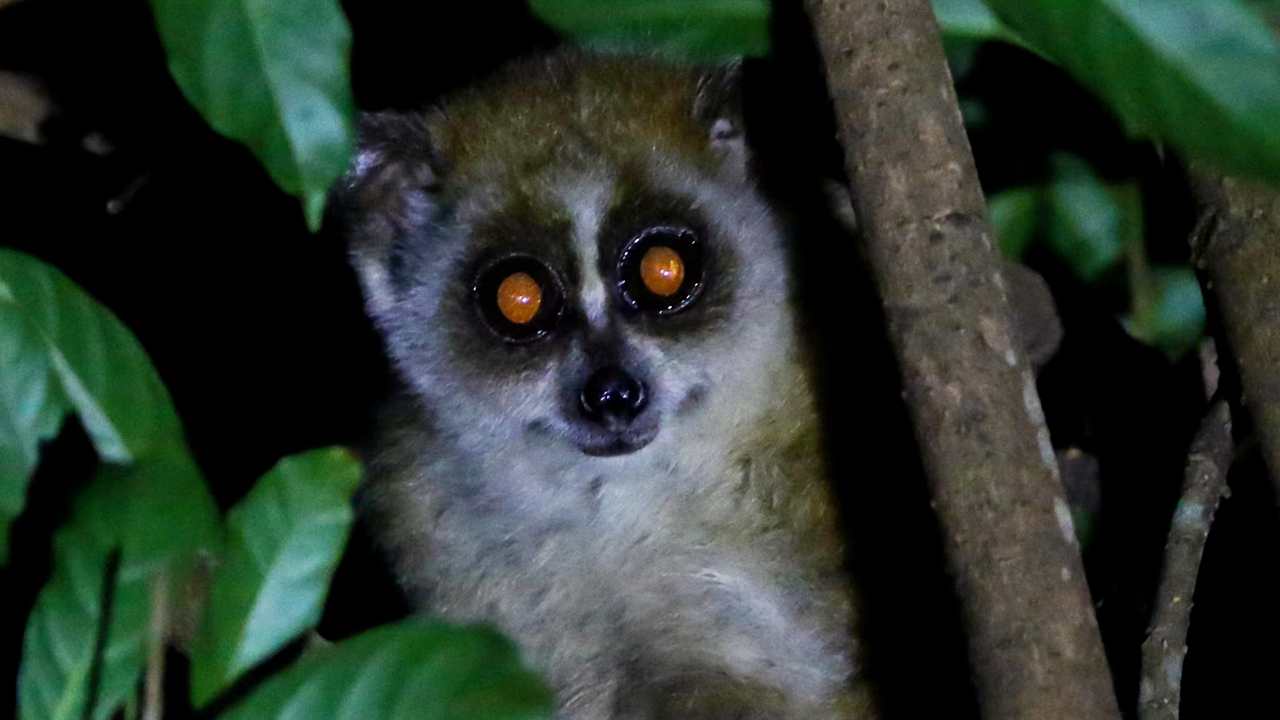 A pygmy slow loris is seen in a mountain of Shenzhen in this Nov. 2, 2021 photo.

Its body is covered by a beautiful reddish brown fur, and its long arms and legs are almost the same in length. It has very sharp claws. Its very short tail is not used as other primate species for hanging, holding or balancing their body. Instead, they use just their arms and legs to climb and hold to branches.
小懒猴体被毛棕红色,前后肢长度相当,指、趾部生有锋利的指甲;尾极短,无法像其他灵长类一样在完成攀援、倒吊、跳跃等动作时发挥支撑身体的作用,所以通常只会在树上攀爬,很少跳跃。
Two huge round eyes make up the most remarkable feature of this species, providing the animal with sharp night vision. The pygmy slow loris is active during the night, climbing the trees in search of whatever crosses their way, earning themselves fame as opportunistic predators. Slow lorises also feed on fruits, leaves or even tree sap.
小懒猴属夜行动物,又大又圆的双眼夜视能力极强,能够帮助它们在树丛间来去自如。它们有什么吃什么,是食性很杂的机会主义者,即便是植物的果实甚至汁液,也能让它们饱餐一顿。
A pygmy slow loris is seen in a mountain of Shenzhen in this Nov. 2, 2021 photo.

The reproduction period of a female pygmy slow loris can fall any time between July and October, during which time she can only be fertile for about five days. If successful, a female will have a six-month pregnancy carrying either one or two babies at maximum.
小懒猴的繁殖季很短,通常为7月到10月,雌性的受孕期更是只有5天之短。受孕成功后,母猴怀孕6个月后即生产,每胎产仔1到2只。
The protection and preservation of these small animals is in our hands. Let's keep working hard to create a better environment for all the amazing animals our city hosts, not just for the benefit of our city but for the future of our world as well.
我们应该行动起来,既保护好小懒猴的种群,也保护好它们在深圳的栖息地。只有如此,这些珍稀的物种才能在地球上长久地繁衍生息。