Share

Print
A+
A-
The oriental magpie robin
Writer: Isaac Cohen | Editor: Zhang Chanwen | From: Shenzhen Daily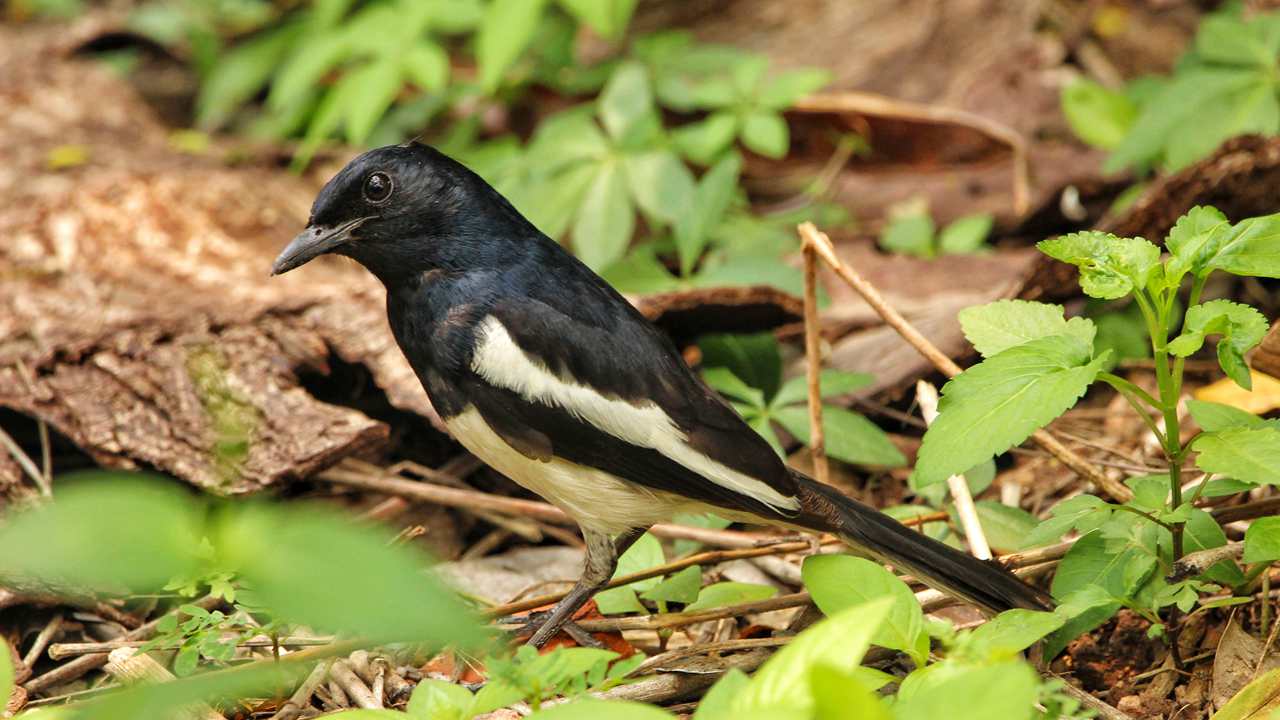 An oriental magpie robin is seen perching on a tree branch in Shenzhen in this April 25, 2020 photo. Photos by Isaac Cohen

The oriental magpie robin
Probably one of the most conspicuous bird in Shenzhen, present in basically every corner of the city, the oriental magpie robin (Copsychus saularis) is a total delight to observe. This bird with its particular combination of black and white colors, is not an exclusive of parks or mountains but is easy to find in the streets and neighborhoods of the city.
可爱的鹊鸲是深圳最常见、也是最引入注目的鸟类之一。无论是在山野公园,还是在街头巷尾,你都能发现它们黑白相间的身影。
With a length of about 20 centimeters, males are of a bright black color on the top of their bodies and in the front under half of the chest, with a white underbelly and a white line of feathers crossing the wings. Females are of a lighter grey tone but keep the same black wings. The tail of the bird is relatively large and it is another way of differentiating males from females, as the latter have shorter ones.
鹊鸲体长约20厘米,雄鸟的头顶至上腹部覆羽呈具金属光泽的黑色,下腹部白色,翅具白斑;雌鸟上半身呈浅灰色,翅覆羽则和雄鸟一样,都呈亮黑色。此外,雄鸟的尾羽也比雌鸟长。
An oriental magpie robin is seen perching on a tree branch in Shenzhen on May 15, 2021.

The magpie robin feeds on a variety of invertebrate animals including insects, arachnids, mollusks, crustaceans and even annelids like earthworms but can also be seen feeding on nectar, fruit and seeds from certain trees.
鹊鸲主要以昆虫、蜘蛛、软体、甲壳、环节(如蚯蚓)等无脊椎动物为食,但有时也吃植物的花蜜、果实及种子。
One of the most fascinating traits about this species is their beautiful vocal behavior. You can hear a wide variety of sounds coming from them. There are even reports of them trying to imitate other bird species.
鹊鸲是一种典型的鸣禽。它们的叫声悦耳动听,婉转多变,有时甚至还会模仿其他鸟类的叫声。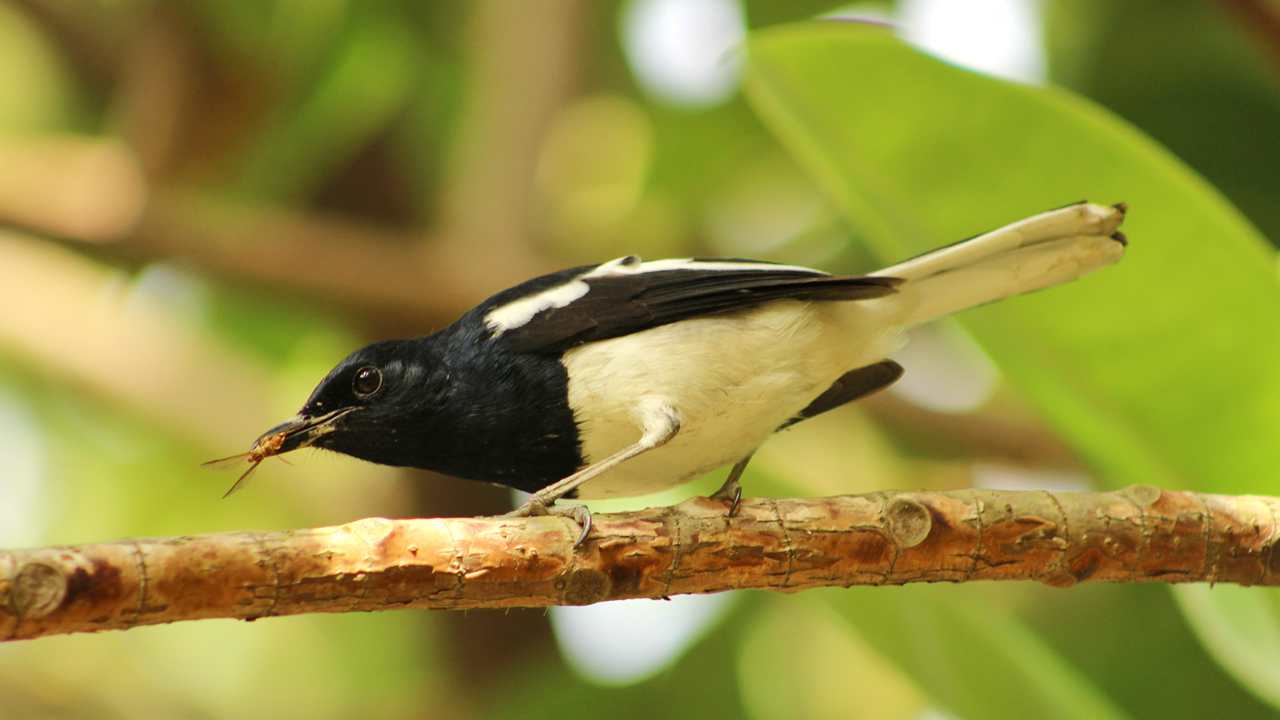 An oriental magpie robin has an insect in its mouth in this Nov. 26, 2017 photo.

They breed during the spring months, when females lay up to five eggs per clutch in nests that may be reused for another clutch. Newborns may hatch after a short two-week period and will be ready to leave the nest after another two weeks on average.
鹊鸲每年春季繁殖,有沿用往年的旧巢继续繁殖的习性。雌鸟每窝产卵可达5枚,孵化两周后雏鸟破壳。
Although this beautiful bird is not considered to be a threatened species, it is still important to protect them, so that we can enjoy a healthy diversified environment in our beautiful city.
虽然鹊鸲的生存并没有受到威胁。但是我们依然要保护它们,因为保护它们就是保护这座城市的生物多样性。