Share

Print
A+
A-
The black-crowned night heron
Writer: Isaac Cohen | Editor: Liu Minxia | From: Shenzhen Daily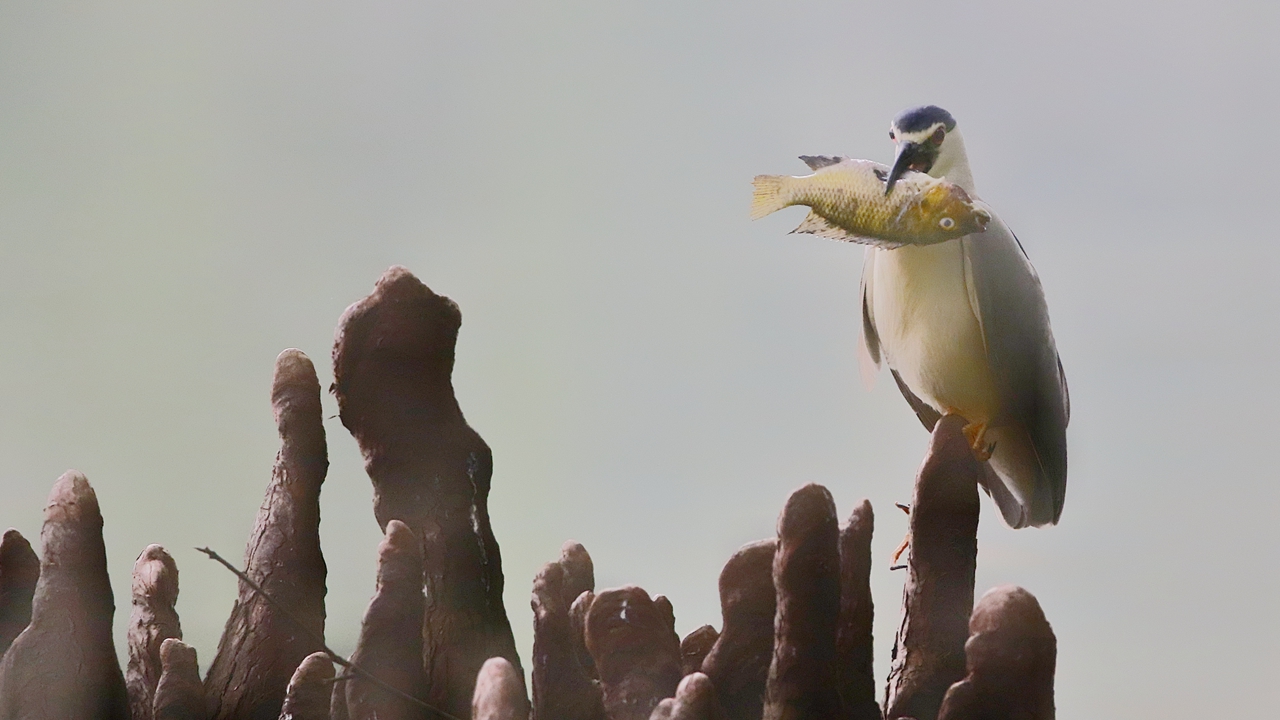 A black-crowned night heron is seen with its prey in Honghu Park, Luohu District. Photos by Isaac Cohen


The black-crowned night heron
As enigmatic and beautiful as it can be, the black-crowned night heron (Nycticorax nycticorax) is one of the several heron species we can enjoy in our beautiful city of Shenzhen. Along with the great egret, the small egret and the Chinese pond heron, the night heron is one of the most ubiquitous heron species in the city, and can be easily found in almost every park in town.

颜值不凡但神出鬼没的夜鹭是深圳常见的鹭类之一。它们的身影遍布各大公园,经常和大白鹭、白鹭及池鹭一起出现。
This amazing birddisplays a blackishdark blue cap over their head and back, contrasting with a beautiful gray color that covers the rest of the body. The eyes are of a vivid red and their legs are yellow. They usually keep the head tucked and hold a perching position over tree branches, waiting for an opportunity to fly down and partake of food that comes into their view.They are among the several heron species observed to engage in bait fishing – luring or distracting fish by tossing edible or inedible buoyant objects into water within their striking range – a rare example of tool use among birds.
成年夜鹭头部具黑色顶冠,躯干覆羽灰白色,虹膜鲜红色,瞳孔黄色。它们喜欢缩着脖子长时间站在树梢一动不动,等到猎物进入视线范围,才会飞离伫立的地方展开攻势。有意思的是,人们还曾观察到夜鹭及其他几种鹭类罕见的使用工具"钓鱼"的行为:它们会找来食物或者其他能够吸引鱼类注意力的物体,把"饵料"扔在水里"钓鱼",一旦有不明真相的鱼类上钩,便会沦为夜鹭的盘中餐。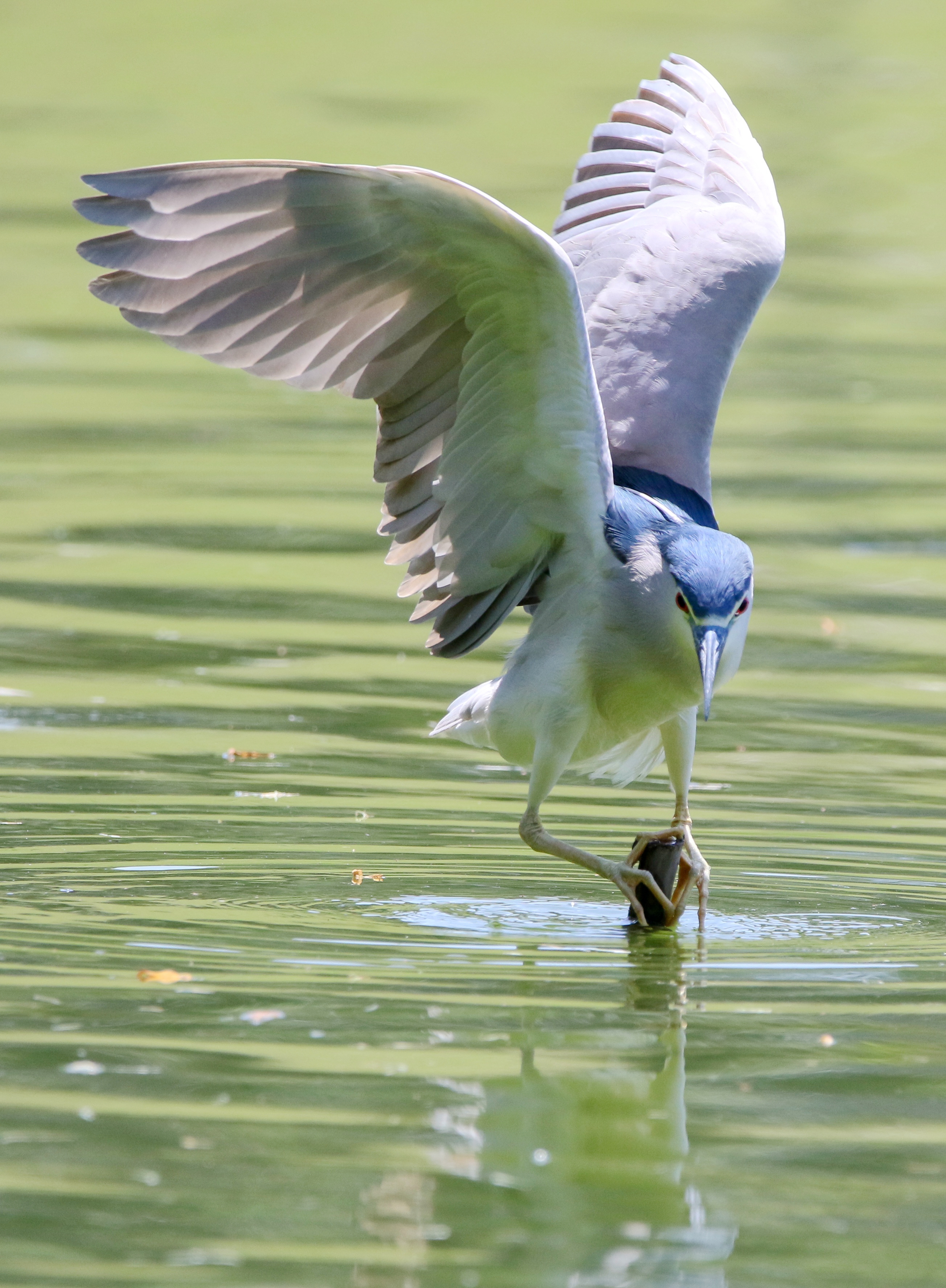 A black-crowned night heron is ready to take flight from a stake on a lake in Honghu Park, Luohu District.

Youngsters look a bit different from adults and can be easily mistaken for other species of herons. Their body is covered by brown feathers with stripes all over, and the eyes are yellow. Their necks are usually stretched and the body is not as stocky as in the adults.
夜鹭的亚成鸟和成鸟长相完全不同,因此经常会被错认为其他物种。亚成鸟体色深棕,全身具纵纹,虹膜黄色,比起成鸟体型更小,也没有那么喜欢缩着脖子。
Although active during the day, night herons prefer nighttime feeding when they look for fish, frogs or other prey in ponds, rivers or even the ocean, thus earningtheir name.
夜鹭虽然并不是严格的夜行性鸟类,但是它们夜晚明显比白天更活跃,经常在池塘、河流甚至海洋等区域觅食鱼、蛙等水生动物。
These birds are communal, and you may see several couples nesting in the same tree at the same time, and even together with other heron species such asthe little egret.
它们是一种社群性极强的鸟类,经常三两成群地共同生活在同一棵大树上,也经常与白鹭等其他鹭类混群。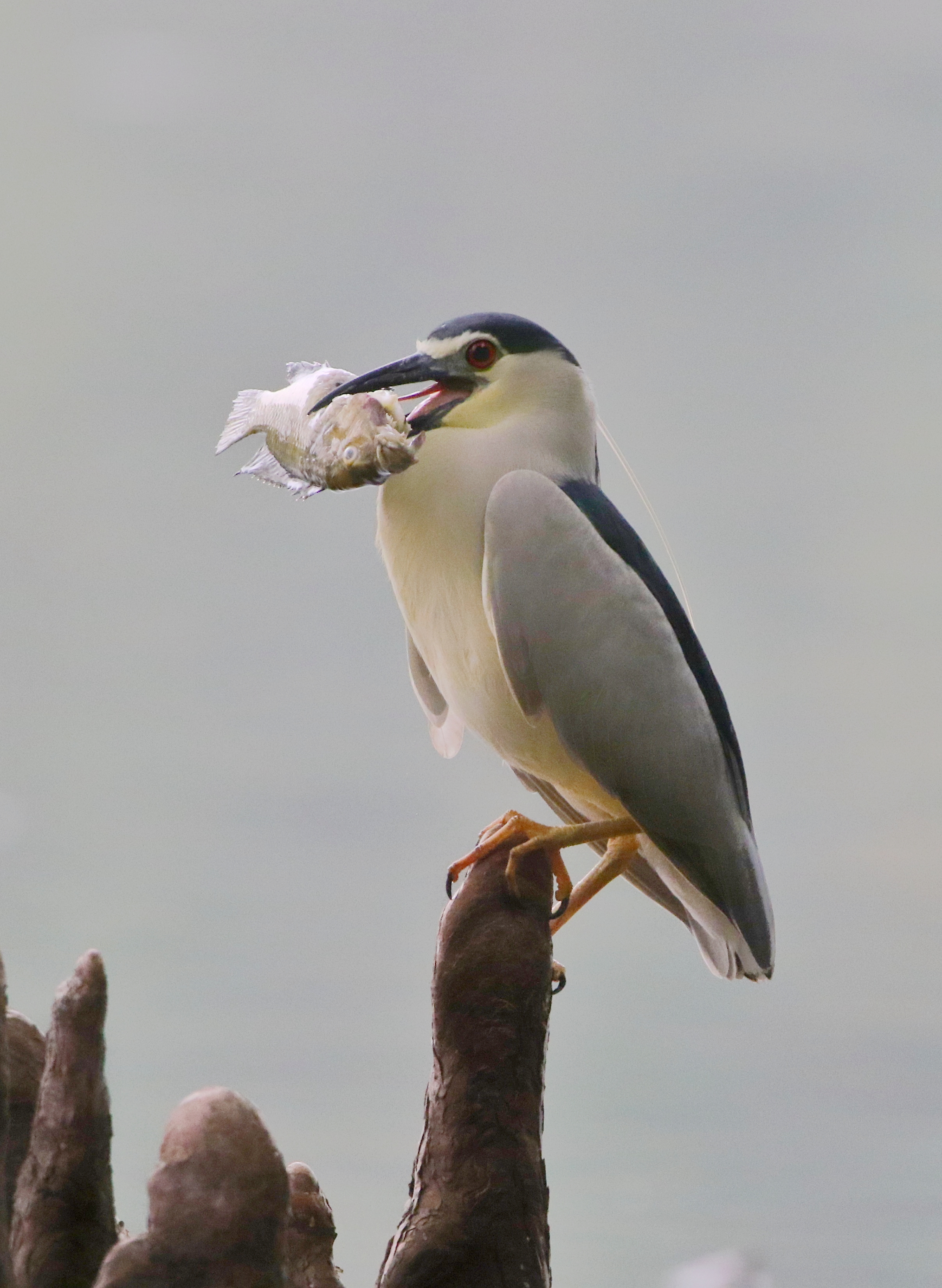 A black-crowned night heron is seen with its prey in Honghu Park, Luohu District.

They are presumably monogamous, meaning they have only one mate for life, with whom they will reproduce once per reproductive season. The female lays up to five eggs per clutch, and the male will help with their incubation and feeding. Some may take care of other couples' offspring, as they are unable to recognize their own.
此外,夜鹭还恪守一夫一妻制,终身不更换配偶。一对亲鸟每年只繁殖一次,雌鸟每窝产卵最多五枚,雄鸟亦会参与孵化和育雏。有些亲鸟还会因为无法辨别自己的孩子,从而一视同仁地抚养其他同类的后代。
The night heron is yet another good reason to keep on working hard to preserve our environment so that we can enjoy the magnificent presence of this and other dozens of bird species that call our city their home.
能有夜鹭这样美丽的鸟类在我们身边繁衍生息,启示我们应更努力保护这座城市的生态环境,为居住在这里的鸟类守护好它们的家园。