Share

Print
A+
A-
The little egret
Writer: Isaac Cohen | Editor: Liu Minxia | From: Shenzhen Daily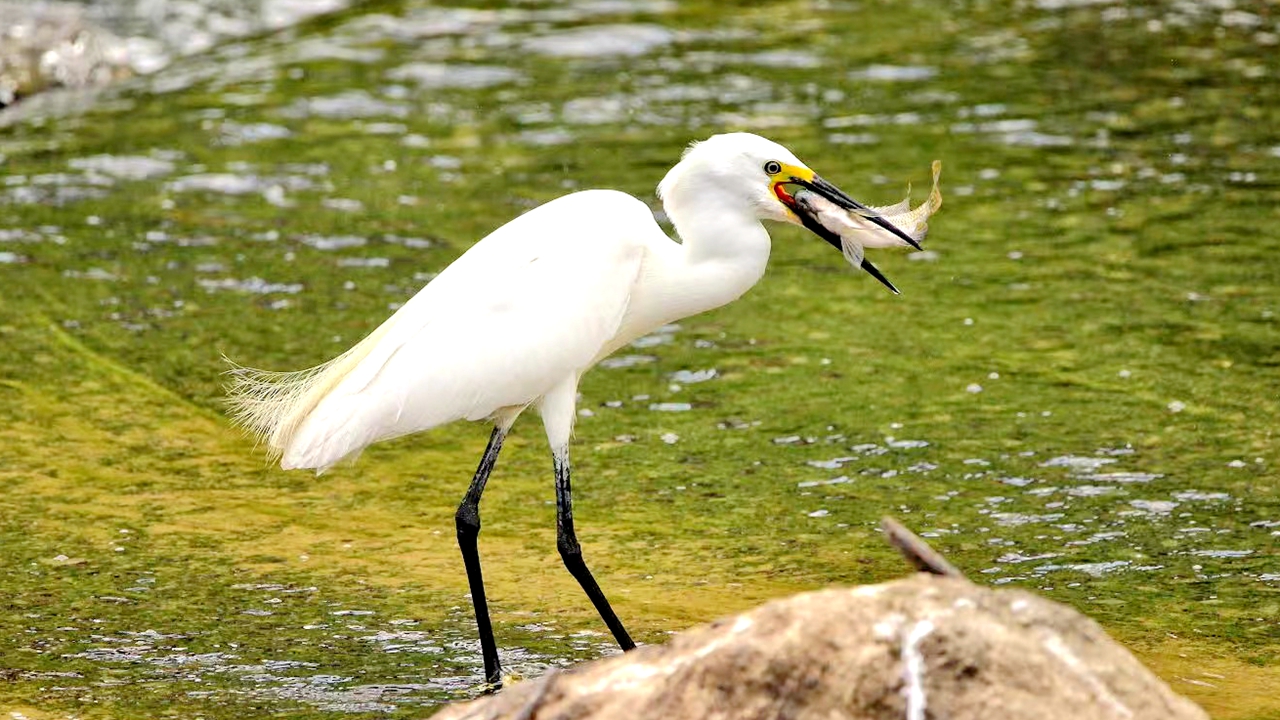 A little egret is seen with its prey near the shore of Dasha River. Photos by Isaac Cohen

The little egret
Of all the bird species you can find in Shenzhen, probably the one every citizen or visitor has seen at least once is the little egret (Egretta garzetta). This species can be found on almost every continent of our world.
相信在深圳,没有人没见过白鹭。这种涉禽十分常见,在全球各地均有分布。
The little egret can reach a height of up to 65 cm and a wingspan of up to 104 cm. Its main feature lies in its beautiful thin white body; although it has darker variations, it is the white color that stands out. Its long narrow neck speaks only about its elegance and beauty. The legs are long and black, and the feet are yellow but become dark during courtship. During the breeding season, the plumage gets more abundant and bushier on the crest and the dorsal part of the body.
白鹭体长可达65厘米,翼展可达104厘米,体色纯白,部分羽毛颜色略深,但却不影响它们洁白无瑕的整体形象;仪态优雅,颈甚长,腿亦甚长,脚黄色,但在繁殖期会变为黑色;此外,繁殖期个体的胸前及背部还会换上花哨的丝状蓑羽。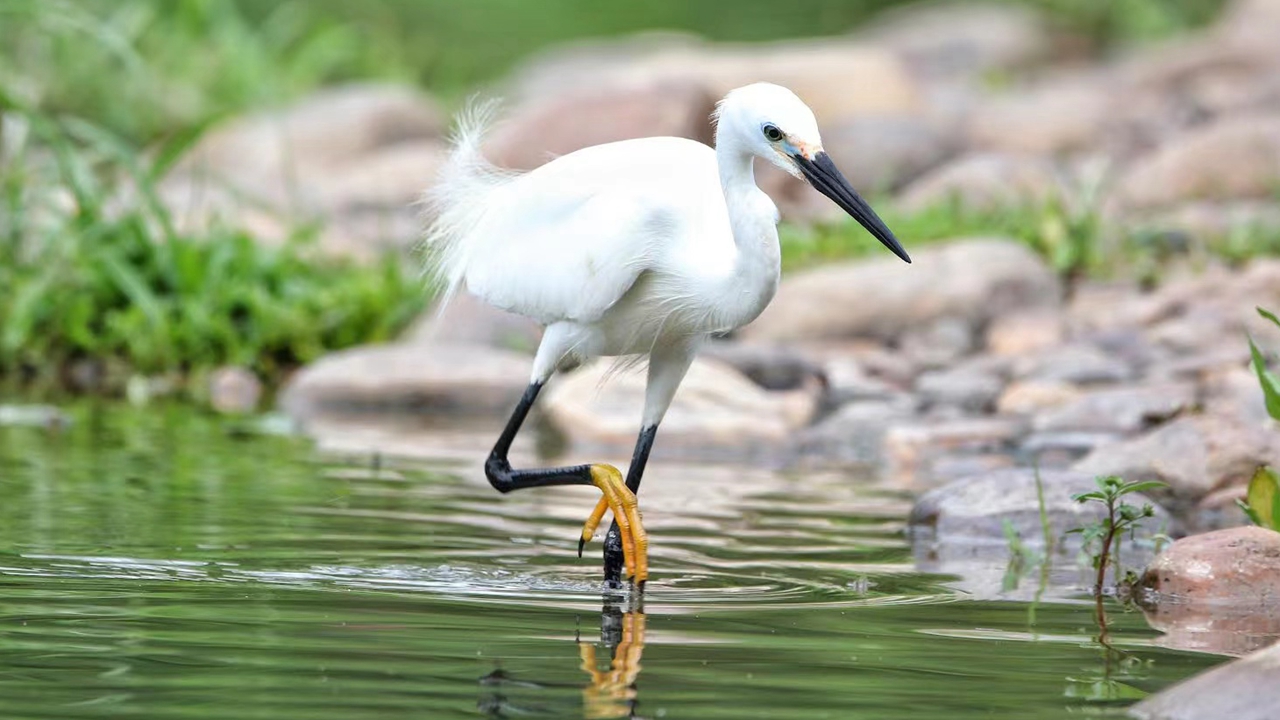 A little egret is seen near the shore of Dasha River.
A fascinating characteristic of the little egret is the coloration of their beaks and lore (the space between the eye and the beak), which show a wide variety of striking colors. During the non-breeding season, the lore is dark grey or even light blue, but it can become pink or red during the breeding season.
有意思的是,白鹭喙部及眼先皮肤的颜色是可以改变的。平时,它们的眼先呈深灰及浅蓝色,繁殖期则会转变为红色或粉色。
This fascinating bird enjoys open areas of wetlands, with shallow waters regardless of salinity. They are found around rivers, lakes, estuaries and ocean shores, but also in floodplains, rice paddies, or even dry fields.
白鹭喜欢在开阔的湿地涉水觅食,在咸水区域亦能经常看到它们的身影。它们栖息的生境包括河流、湖泊、河口三角洲、海岸、冲积平原、稻田等,但有时也会在旱地出没。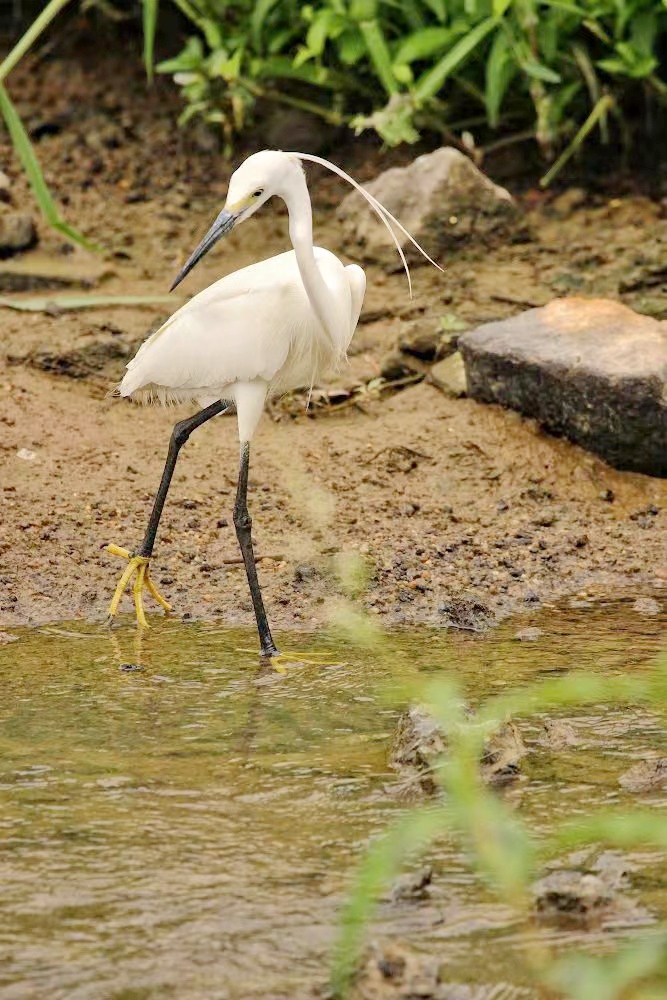 A little egret is seen near the shore of Dasha River.
Little egrets are opportunistic and love taking advantage of any favorable situation across the city, finding places with abundant prey. They can feed on almost any animal, from snakes to fish and from crustaceans to frogs, or insects, spiders, mollusks, and even rats.
白鹭是机会主义觅食者,哪里有吃的,它们就出现在哪里。食性较杂,既吃鱼、甲壳类、软体动物等水生动物,也吃昆虫、蜘蛛、蛇甚至老鼠。
A little egret is seen in the Shenzhen Bay area.
The little egrets' breeding season starts during spring and lasts until the end of summer. The species is monogamous, and females can lay up to six eggs per clutch, which both parents will incubate for three weeks. Nests are built on tree branches, usually alongside those of the night herons.
白鹭每年春、夏两季繁殖,恪守一夫一妻制,雌鸟每窝最多可产6枚卵,由亲鸟共同孵化三周后,雏鸟方破壳而出。它们喜欢在高大的树顶筑巢,也喜欢和夜鹭等其他鹭类一同筑群巢。
Let's enjoy this beautiful bird in our city and help prevent the loss of its habitat, for a healthy future for our ecosystem.
让我们共同保护好白鹭的家园,遏止它们栖息地的丧失,此举不仅能够帮助它们继续在我们的城市里繁衍生息,也能促进本地生态系统的健康发展。