Share

Print
A+
A-
The red-necked keelback
Writer: Isaac Cohen | Editor: Liu Minxia | From: Shenzhen Daily
A juvenile red-necked keelback is seen winding its way among grass in Bijia Mountain, Futian District. Photos by Isaac Cohen

The red-necked keelback
One of the most interesting animals you can ever find in Shenzhen is the red-necked keelback (Rhabdophis subminiatus), a snake thatcan grow up to 80 centimeters in length. They maybe found around Shenzhen's mountainous parks during the daytime.

红脖颈槽蛇是深圳最特别的蛇类之一。它们属日行动物,身长可达80厘米,常见于深圳的山野公园。
The red-necked keelback is covered throughout in beautiful olive-green scales except for its neck, where a strikingly red patch gives the animal its name. Juveniles have a black patch next to their red neck, usually followed by a ring of bright yellow; but as the animal ages, this yellow coloration loses brightness. The eye of this snake is big and round, and the tail is short and differentiated from the body.
红脖颈槽蛇全身覆橄榄绿色鳞片,颈部腥红色,因此中国人也叫它们"野鸡脖子"。亚成体除红色的颈部外,还具显著的黑、黄色环带。随着个体年龄的增长,黄色环带会逐渐褪色。它们的眼睛大而圆,尾部较短,与躯干的分界明显。
A red-necked keelback is seen winding its way among grass in Bijia Mountain, Futian District.

But what makes this species of reptile so special? This fascinating animal is one of the few animals on our planet that is both venomous and poisonous. A venomous animal can produce specific proteins that, when injected through fangs or stings, generate harmful effects on the body of their victims; in contrast, a poisonous animal will cause harmful effects if consumed.
红脖颈槽蛇是蛇类之中少有的能够主动及被动分泌毒素的物种。它们不仅可以通过毒牙注入毒液,破坏猎物的身体机能,即便是被捕杀,潜伏于它们体内的毒素也能进入捕食者体内,造成伤害。
The red-necked keelback can produce highly toxic venom capable of killing a big animal, including a human.However, this animal seldom shows aggressive behavior and usually flees the scene ofan encounter. The red portion of the neck will secrete a poisonous substance that, if consumed by another animal, will give pain to its attacker. This poison results from the metabolism of toxic toads the snake consumes and later exudates through its skin.
红脖颈槽蛇的毒液能够杀死大型动物甚至人类,但是它们性情羞怯,遭遇人类时通常会逃跑,极少主动发起攻击。它们红色的颈部亦具毒,会让捕食者疼痛难忍。有意思的是,红脖颈槽蛇颈部的毒素并非是自身产生的,而是来自它们捕食的毒蟾蜍。因为蟾蜍体内的毒素无法通过新陈代谢排出体外,从而积聚在红脖颈槽蛇的颈部,成为了它们的另一项"秘密武器"。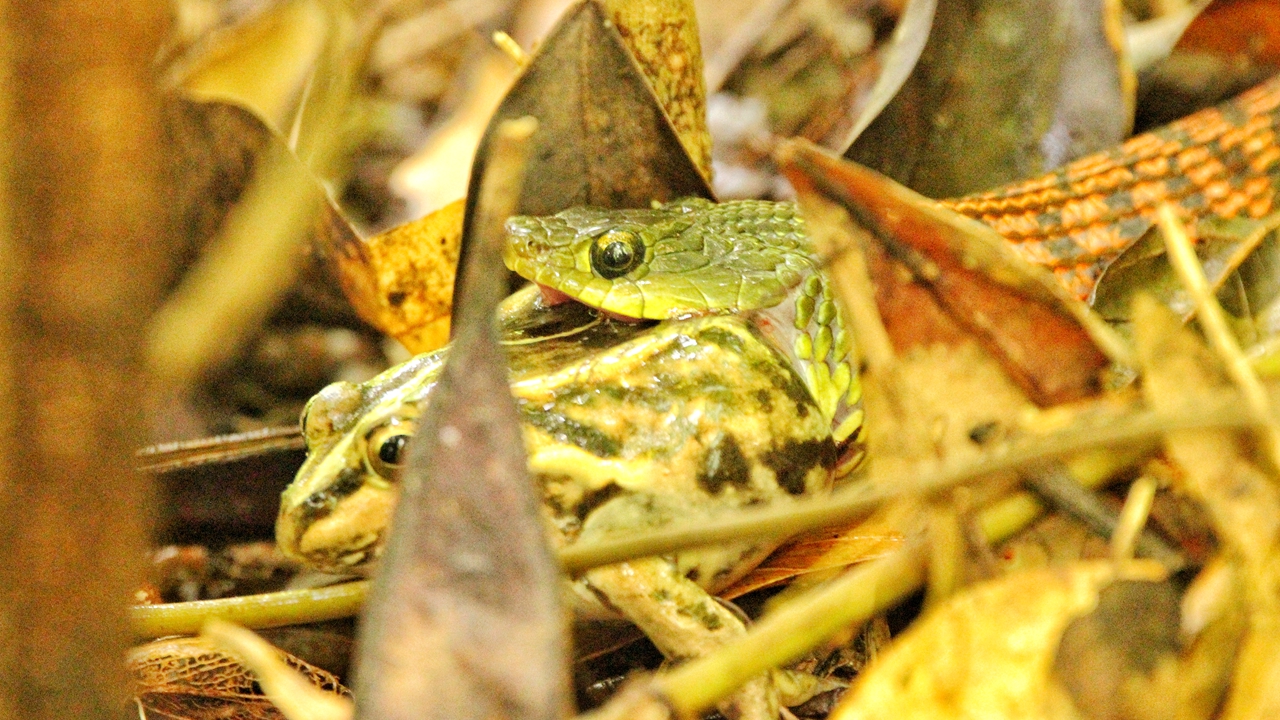 A red-necked keelback is seen eating its prey (a frog) in Bijia Mountain, Futian District.

Snakes can look scary, and sometimes we prefer not to get in their way. Still, the truth is that these fascinating animals are fundamental to maintaining a healthy ecosystem by acting as predators of other species that otherwise will grow in numbers without control and become plagues to our city. So let´s protect them and their habitats so we can keep enjoying ourecological paradise of Shenzhen.
蛇类神秘而危险,很多时候我们都对它们敬而远之。然而作为捕食者,蛇类能够有力地控制被捕食者的种群数量,遏止某一物种的泛滥,是维系城市生态平衡的重要成员。因此,我们要保护蛇类和它们的栖息地,让它们继续为保卫深圳的生态系统贡献自己的力量。