Running up and down the soccer pitch at Futian Haibin Eco-sports Park in Futian District, young players from the soccer club Total Communication Football moved agilely on the pitch like gazelles.
Their coach, Takashi Rakuyama, was the first Japanese player in the Chinese Super League and has been dedicated to training young soccer players in Shenzhen for eight years, SZTV reported Monday.
Takashi Rakuyama (L) runs on a soccer pitch when he was a player in the Chinese Super League in this undated photo. SZTV

Rakuyama, born in Toyama prefecture, Japan, started playing soccer at the age of 7. He is a typical representative of soccer players who enter professional soccer clubs after receiving training from the Japanese youth soccer system. He is also the first Japanese to play and score in the Chinese Super League.
In 2011, renowned soccer coach Philippe Troussier took charge of the Shenzhen team. Rakuyama soon joined the Shenzhen team and became one of its main players. "I want to do things that others have never done and go to places that others have never been to," Rakuyama told SZTV.
Rakuyama played 79 games and scored four goals in the three seasons when he was playing for the Shenzhen team.
On the evening of Dec. 29, 2013, Rakuyama announced his retirement on China's Twitter-like platform Weibo. Many fans left comments hoping that he could stay.
"I was also thinking about how to make some contributions to Shenzhen. What I can do is soccer," Rakuyama said.
Although Rakuyama got his coaching certification early on, it was not easy for him to stay in Shenzhen as a foreigner to run a youth soccer training club.
In order to find the right place, he traveled around the city. He asked friends to help and set up experience classes to recruit students. In order to improve classes, he gradually learned Chinese culture and language, soon becoming a fluent speaker.
In 2014, soccer club Total Communication Football was opened in Shenzhen with the goal of youth training. Over the past eight years, over 2,200 Shenzhen children have signed up for training and fallen in love with the sport.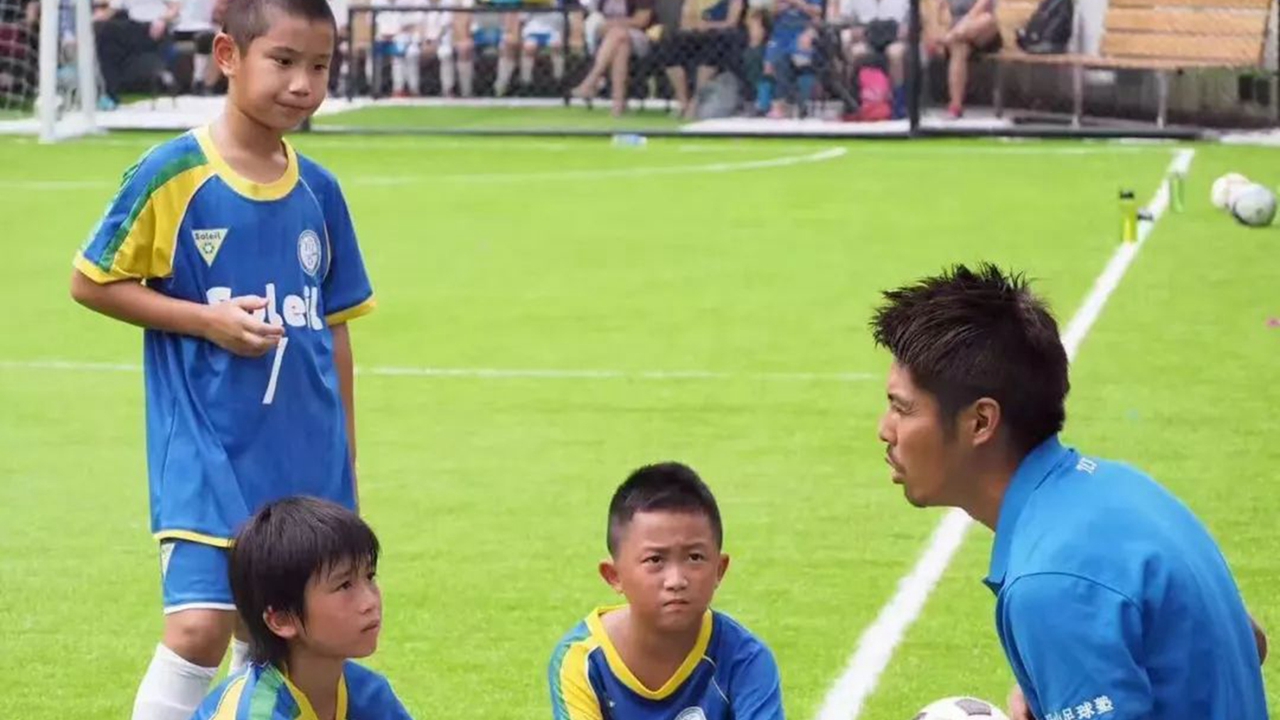 Rakuyama tells children what they should learn in soccer training.

As a children's soccer coach, Rakuyama believes that good manners, willpower and active thinking are the precious qualities that children should learn in soccer training.
"This year is the 11th year since I came to Shenzhen. Although I was not born here, every time I come back from Japan and train with the kids, I feel like I'm at home," he said.
According to Rakuyama, Shenzhen is an international city and has attracted many soccer coaches from other countries, who bring advanced education concepts and training models.
When talking about future plans, Rakuyama said that he will continue to provide good training for students and strive to let children play more formal games. "It's perfect to have 40-plus games a year."