Share

Print
A+
A-
The Indo-Pacific humpback dolphin
Writer: Isaac Cohen | Editor: Liu Minxia | From: Shenzhen Daily
Two Indo-Pacific humpback dolphins are seen in the waters off the west coast of Shenzhen on Feb. 7, 2021. Photos by Isaac Cohen

The Indo-Pacific humpback dolphin
When people refer to a city's biodiversity, they will look at those species that can be found within the boundaries of the town. We frequently refer only to terrestrial animals and plants and seldom turn our eyes to aquatic ecosystems. In fact, every single marine species that inhabits the continental platform of our coastal city is considered a part of Shenzhen's biodiversity.

谈及深圳的生物多样性时,人们一般首先会想到陆域范围内的野生动植物,很少会把目光投向浩瀚的海洋。其实,生活在大陆架海域的海洋生物,和陆地上的生物一样,也是这座城市多样生物系统中的成员。
Such is the case of the astonishing and unique Indo-Pacific humpback dolphin (Sousa chinensis), a first-class protected species in China that swims in the waters off the coast of Shenzhen.
中华白海豚就是深圳的本土海洋动物之一,属于国家一级保护动物。
Two Indo-Pacific humpback dolphins are seen in the waters off the west coast of Shenzhen on Feb. 7, 2021.
This beautiful mammal has white, gray, and pink colorations over the body with a diverse pattern range; the pink is caused by overdevelopment of blood vessels, while the white and gray are the result of an absence or presence of pigment cells.
这种美丽的海豚体色多样,有些个体因皮肤充血而呈淡粉红色,有些则因黑色素的旺盛或缺失而呈灰色或白色。
The Chinese white dolphins, as they are popularly called in China, can grow up to 3 meters, with some individuals reportedly having reached 3.5 meters or more. Their youngsters have an average length of only 1 meter and can be distinguished from adults by their darker coloration.
中华白海豚成年个体身长可达3米,有些则可长到3.5米长;亚成体体长仅1米,体色较成年个体黯淡。
A pink Indo-Pacific humpback dolphin and a gray Indo-Pacific humpback dolphin are seen in the waters off the west coast of Shenzhen.
Dolphins are mammals, and have developed lungs to obtain oxygen from the atmosphere. They must surface to breathe before returning to the underwater world. They can spend about 8 minutes under water without breathing, before surfacing again to refresh their air supply.
它们属海洋哺乳动物,用肺呼吸,需要时常浮出水面换气,但可潜水达8分钟之久。
These dolphins are usually observed in small groups of up to 10 individuals that hunt together using self-generated sound waves under the water, similar to the way radars work. They feed mainly on different fish species but have been seen feeding on mollusks or crustaceans as well.
中华白海豚经常以10只为单位的小群共同觅食,群成员之间使用特有的回声定位系统相互联络。它们主要以鱼类为食,有时也吃软体和甲壳类动物。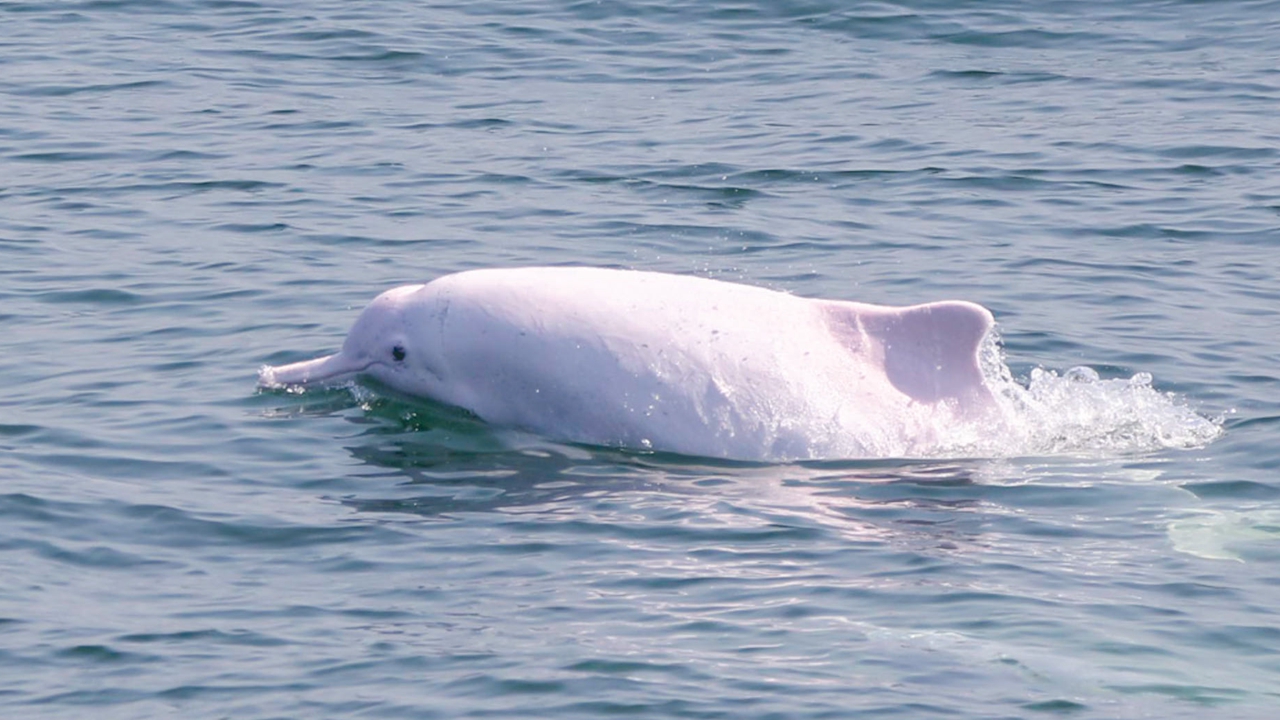 A pink Indo-Pacific humpback dolphin is seen in the waters off the west coast of Shenzhen.
Indo-Pacific humpback dolphins are listed on the International Union for Conservation of Nature (IUCN) list of threatened species. Their numbers are declining due to human activities including overfishing, pollution and habitat fragmentation. We need to take action as fast as we can to protect our coastal areas so that this fascinating species can survive and our future generations can enjoy their beauty as we do.
中华白海豚在世界自然保护联盟濒危物种红色名录中被认定为易危物种,过度捕捞、海洋污染及栖息地丧失是导致种群数量减少的主要因素。因此,有关部门更需要立刻采取行动,对中华白海豚的沿海栖息地加以保护,让它们得以继续在我们这座城市周围的大海里繁衍生息。