Share

Print
A+
A-
The northern pintail
Writer: Isaac Cohen | Editor: Zhang Chanwen | From: Shenzhen Daily
A northern pintail is seen at Shenzhen Bay Park.


The northern pintail
Coming to visit our amazing city every year during its migration season, the beautiful northern pintail (Anas acuta) is one of the most beautiful ducks you can experience in Shenzhen.
外形俊雅的针尾鸭是深圳的常见候鸟,每逢秋迁季不远万里来到深圳湾,赶赴与深圳人的期年之约。
The northern pintail inhabits the northern hemisphere of the planet, being a resident in the United States , Canada, Russia, Sweden and Finland, but migrates during their non-breeding season to southern territories to spend the winter months in places such as Mexico and all over central America to even the northern most part of Colombia, some Sub-Saharan African regions, and Southeast Asia including our lucky city.
针尾鸭的模式产地在北半球,繁殖地位于美国、加拿大、俄罗斯、瑞典、芬兰等国,越冬地则位于往墨西哥及哥伦比亚北部、撒哈拉以南的非洲及东南亚等国。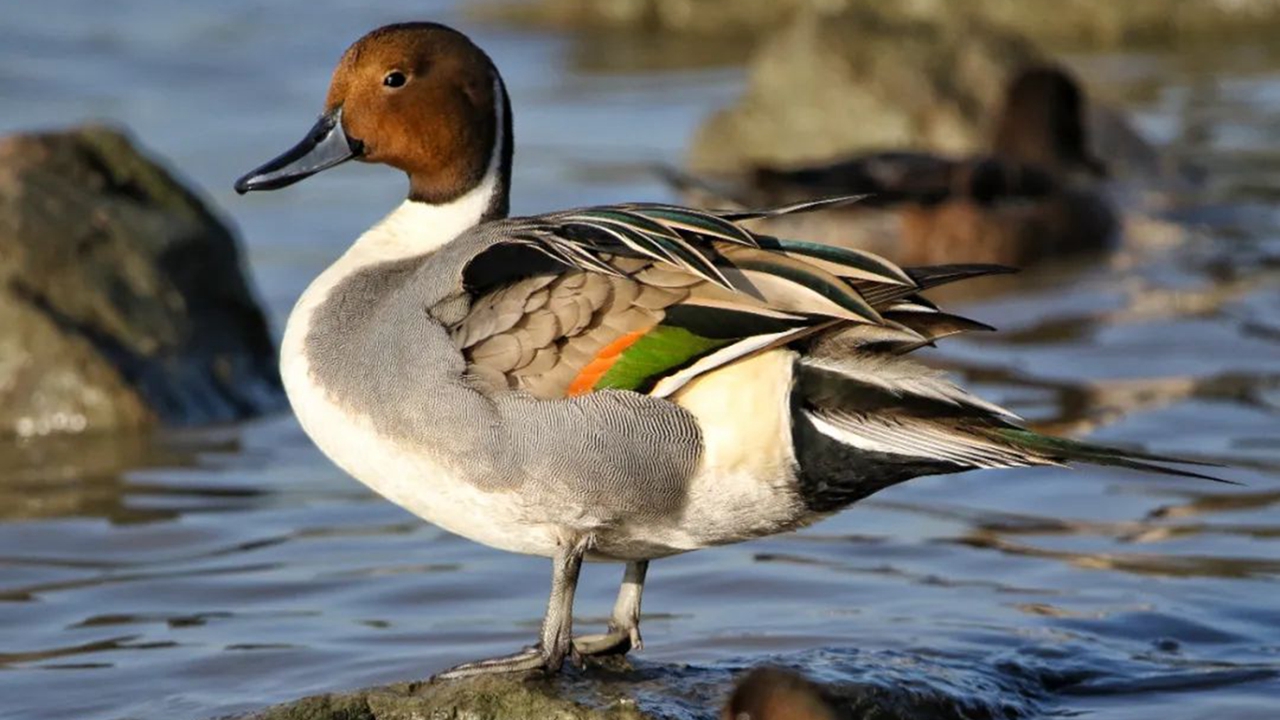 A northern pintail is seen at Shenzhen Bay Park.

Pintails can grow up to 65 centimeters long with a 90-cm wingspan. These amazing ducks are characterized by having a long thin neck and a pointy tail and adorned by astonishing coloration.
Males are of a striking brown coloration on their necks and head, with white stripes on both sides of the neck. The breast and belly are white but fade into a yellowish coloration on the lower belly; the wings are mottled gray with black. When open, their wings display beautiful orange, green and white feathers. The tail is pointy with black feathers and can be fully seen when the duck holds a vertical position while foraging for food.
针尾鸭成年个体身长可达65厘米,翼展可达90厘米,颈部修长,雄鸟具特别延长的针状尾羽,体色艳丽,头、颈部满杂褐色与白色相间的波状横斑,胸腹白色,下腹部泛黄色,翅上覆羽为黑、灰褐色,具美丽的铜绿色翼镜及橙色和银白色羽缘。针尾鸭属浮水鸭,觅食时会采取倒立的姿势,上半身扎进水中,只露出尖尖的尾部。
Pintails feed mainly on plant parts, including seeds, roots or even leaves, but they also include a high percentage of animal matter in their diet, feeding on insects, snails and crabs.
针尾鸭多以水生植物的种子、根茎、叶子等植物性食物为食,但并非完全的素食主义者,它们也吃昆虫、蜗牛及螃蟹等动物性食物。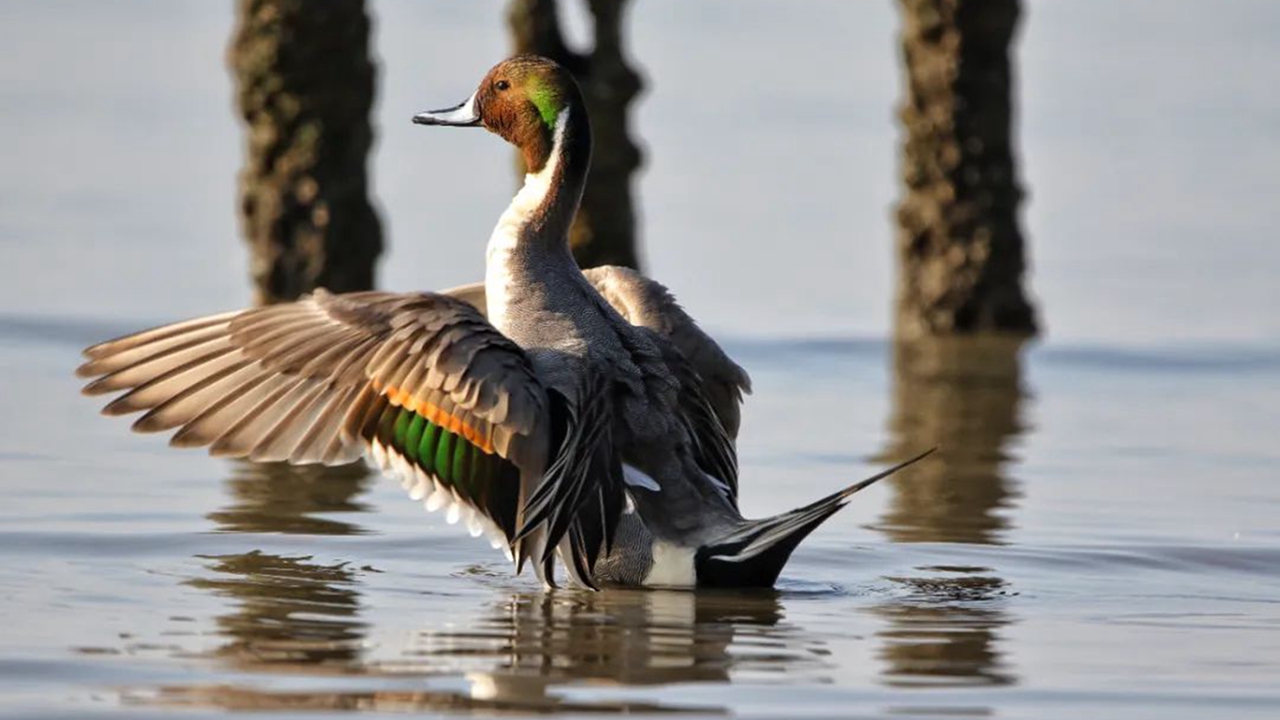 A northern pintail is seen at Shenzhen Bay Park.

During the breeding season in spring, they can lay up to 12 eggs per clutch that females will incubate during a period of three to four weeks. Ducklings will start coming out in turns, usually after 24 hours from each other and their parents will take care of them for a period of up to six weeks during which time the mother will be extra protective of her offspring.
针尾鸭于春季繁殖,每窝产卵可达12只,由雌鸭孵化三、四周后,雏鸭会在一日内相继出生,再由亲鸟共同照料六周后方可离开父母独立生活。
The Shenzhen Bay Park is where you can enjoy these fantastic creatures while they spend their non-breeding season here. Let's keep working hard to preserve the amazing creatures that call our city home.
今年冬天的针尾鸭也已到埠,正在深圳湾等着与大家打照面。我们在欣赏它们的美妙身姿的同时,也要行动起来,保护好这些美丽的鸭科动物和它们的家园。