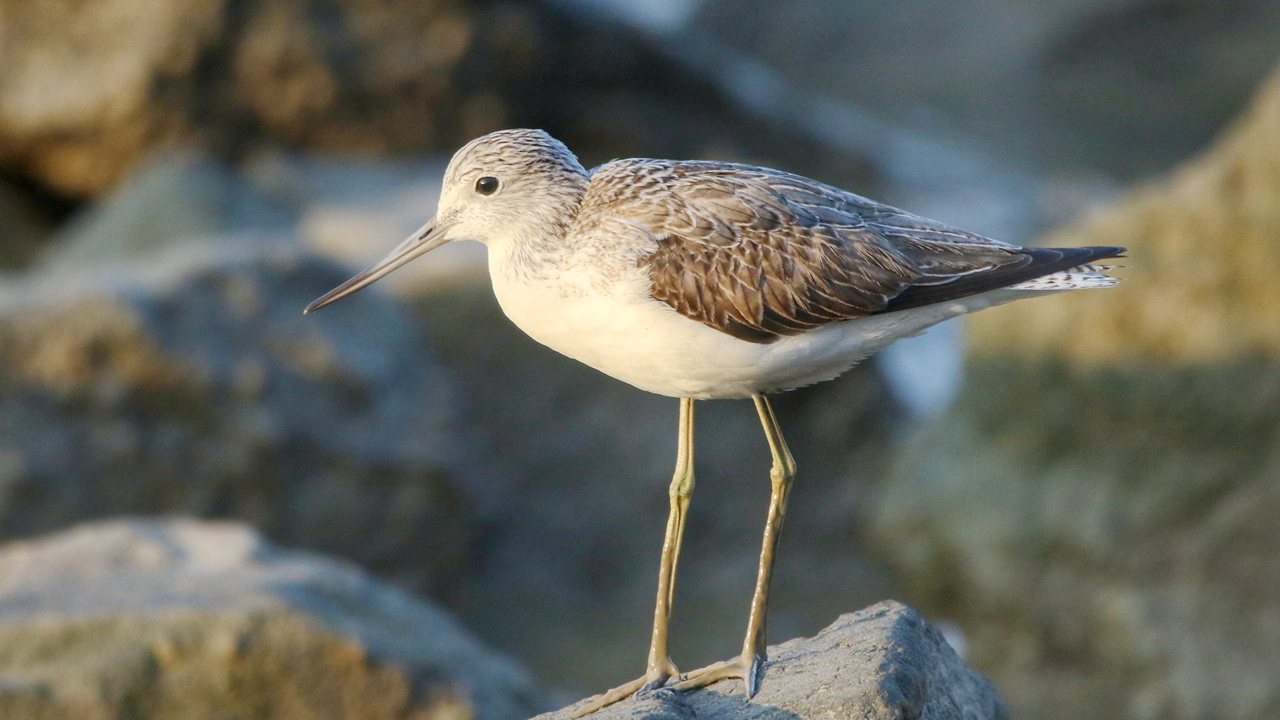 A common greenshank is seen perching on a rock in Shenzhen Bay Park. Photos by Isaac Cohen

The common greenshank.mp3
Of all the bird species that visit Shenzhen every year, the one probably first to arrive and last to leave, and therefore easily spotted in different areas of the city, is the fantastic common greenshank (Tringa nebularia). This medium-sized bird, 35 cm from head to tail and with an average wingspan of 70cm, is the largest member of the Tringa family.
在每年拜访深圳湾的候鸟中,青脚鹬是最早来、最晚走的客人之一,且越冬期间深圳各地易见。这种中等体型的涉禽体长35厘米,平均翼展可达70厘米,是同种中体型最大的一类鸟。
It has a white face, a streaked black-brown upper body that becomes darker over the wings, a white underbelly and long yellowish legs. A long, solid beak tilts slightly upward.
青脚鹬脸白色,上体具黑棕色纵斑,及至双翼颜色渐深,下体白色,腿黄绿色,嘴细长,末端微上翘。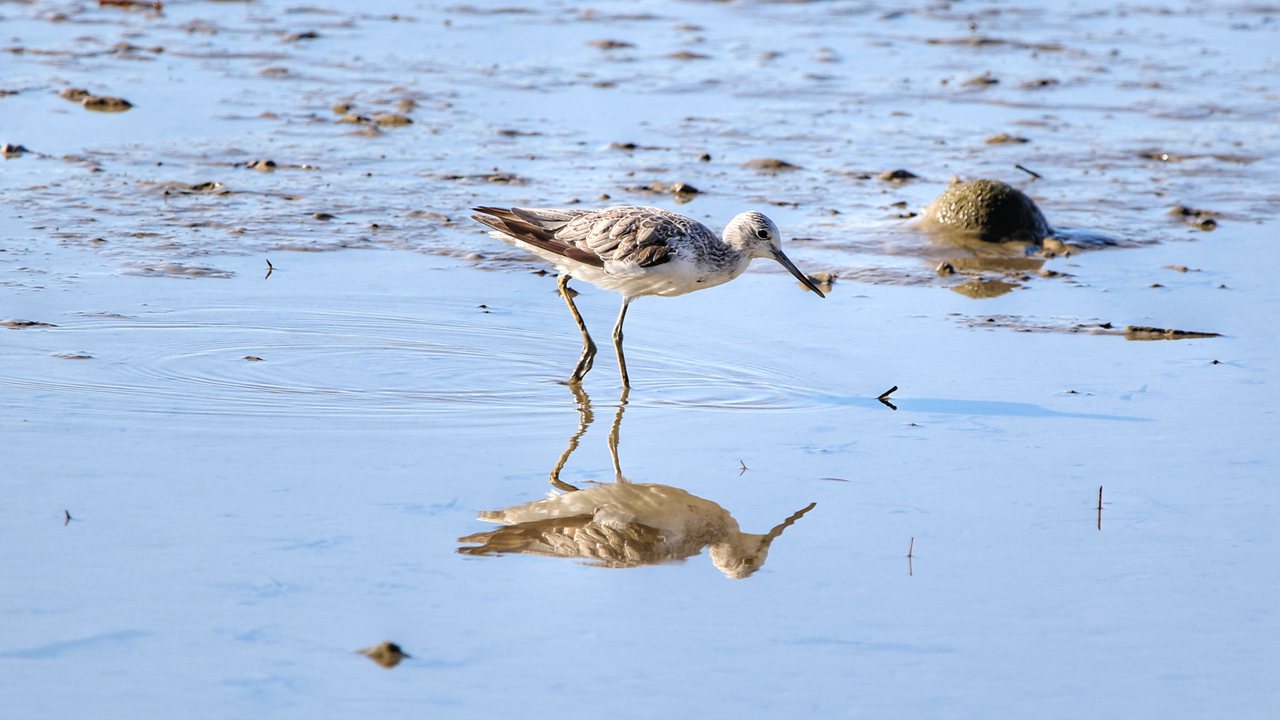 A common greenshank is seen foraging in Shenzhen Bay Park.

This bird species resides in the northernmost areas of Europe and Asia, such as Scotland, Sweden and Russia. During the cold winter, it travels south into warmer places such as northern Africa, the Middle East and Southeast Asia. That's why we can meet them here in Shenzhen.
青脚鹬模式产地位于欧亚大陆北端,包括苏格兰、瑞典及俄罗斯等国,冬季迁往气候温暖的北非、中东及东南亚地区,深圳即是它们的越冬地之一。
The bird prefers walking on the ocean's shores and into mudflats, sandbars, marshes, or dried-up lakes, where they forage for insects, crustaceans, mollusks, amphibians or small fish.
青脚鹬喜欢在海岸、潮间带、沙洲、沼泽及干涸的湖泊等活动,边走边靠触觉取食昆虫、甲壳、软体、两栖类及小型鱼类。
A common greenshank is seen foraging in Shenzhen Bay Park.

Their breeding season usually runs between April and June, and they are mostly monogamous during their entire life. Females can lay up to five eggs per clutch in a nest built by the male. The eggs are incubated by both parents for about four weeks. Another four more weeks under the care of their parents, and the chicks are ready to explore the world on their own.
青脚鹬每年4月至6月繁殖,大部分个体终生恪守一夫一妻制。繁殖期间雄性负责筑巢,雌鸟每窝最多可产5枚卵,由亲鸟共同孵化4周后,雏鸟破壳,再由双亲照顾4周后方可独立生活。
Not a threatened species, this bird is plentiful in their numbers. Let's keep working together to preserve their habitats so that they come to visit us for many more seasons.
青脚鹬全球范围内种群数量丰富,属无危物种。让我们一起保护它们在深圳的栖息地,让这些美丽的涉禽继续选择来这座城市度过寒冷的冬天。