Share

Print
A+
A-
The garganey
Writer: Isaac Cohen | Editor: Zhang Chanwen | From: Shenzhen Daily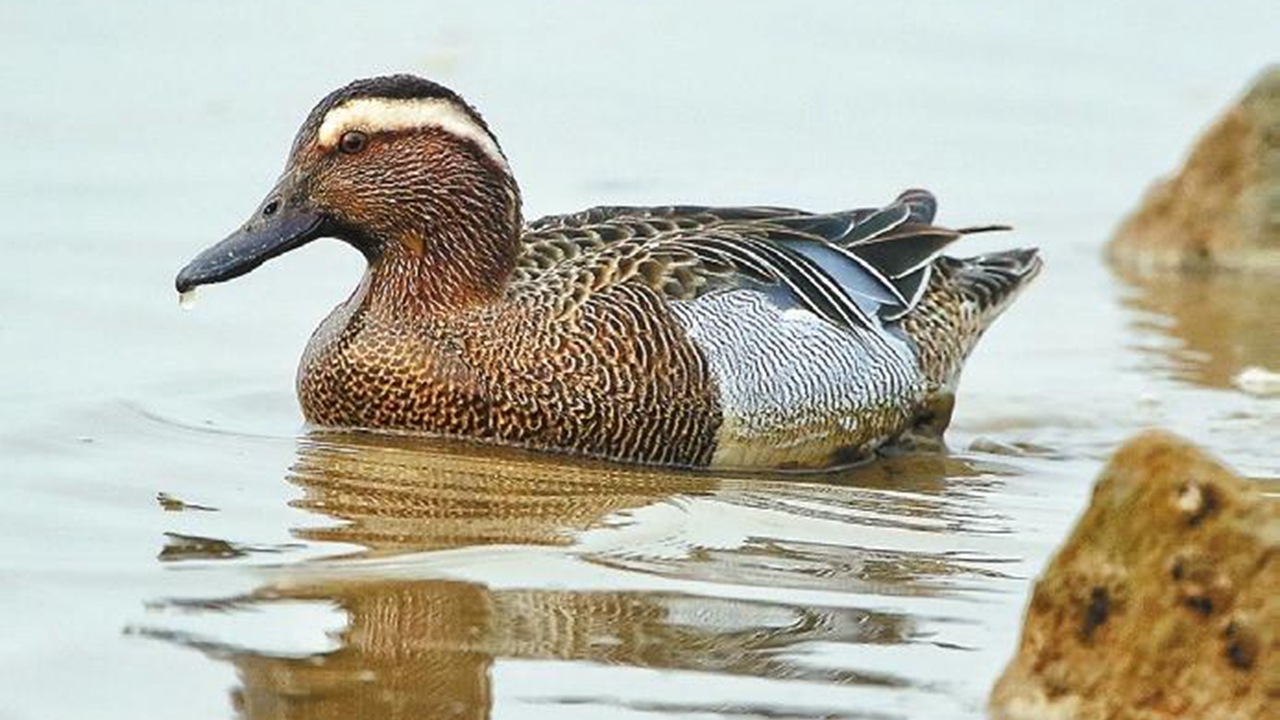 A male garganey is seen foraging in Shenzhen Bay Park. Isaac Cohen

The garganey
Every year, when winter arrives in Shenzhen, the city prepares its shores for the arrival of thousands of birds from other locations worldwide. Among those multiple species of migratory birds, probably ducks are the one species that makes up the biggest proportion. We can, for instance, enjoy at least ten different species of ducks in places like Shenzhen Bay Park, Futian Mangrove Park and OCT Wetland Park. Today, I would like to introduce a fascinating duck species, the garganey (Spatula querquedula). This medium-sized bird enjoys spending winter with us.

每当深圳入冬时,这座美丽的城市就会迎来成千上万来自世界其他地方的候鸟。在这些种类繁多的候鸟中,鸭子可能是数量最多的一种。在深圳湾公园、福田红树林生态公园和华侨城湿地公园等地方,我们都可以看到至少10种不同的鸭子。今天,我想介绍一种有趣的鸭子——白眉鸭。这种体型中等的鸟儿喜欢到深圳来过冬。
The garganey can grow up to 40 centimeters in length with a wingspan of around 65 centimeters. Like many of the other ducks that visit our shores, females and non-reproductive males can be easily confused with other species. Breeding males, however, are easily recognizable with a distinctive broad white crescent extending from above the eyes through the back of the neck that contrasts with its dark brown forehead and a light brown flecked face and neck. The chest is speckled with brown feathers; the belly abruptly changes to a striped pale gray. The wings have light grey and brown feathers and flashing blue coverts; the tail is of a darker brown with black tips. The legs and beak are dark grayish, and their eyes are brown.
白眉鸭体长可达40厘米,翼展约65厘米。像许多其他来深圳过冬的鸭子一样,雌性白眉鸭和处于非繁殖期的雄性白眉鸭很容易与其他物种相混淆。然而,处于繁殖期的雄鸭很容易辨认,它有一条宽阔的白色眉纹,月牙状,从眼上一直延伸到头后,极为醒目,与其黑褐色前额和淡栗色的头颈形成鲜明对比。胸棕黄色而杂以暗褐色波状斑,腹部则呈条状灰白色。翅膀上有浅灰色和棕色的羽毛,有点蓝灰色感;尾巴是较深的棕色,有黑色的尖端。尾部深棕色,带有黑色尖端。腿和喙则是深灰色的,而眼睛是棕色的。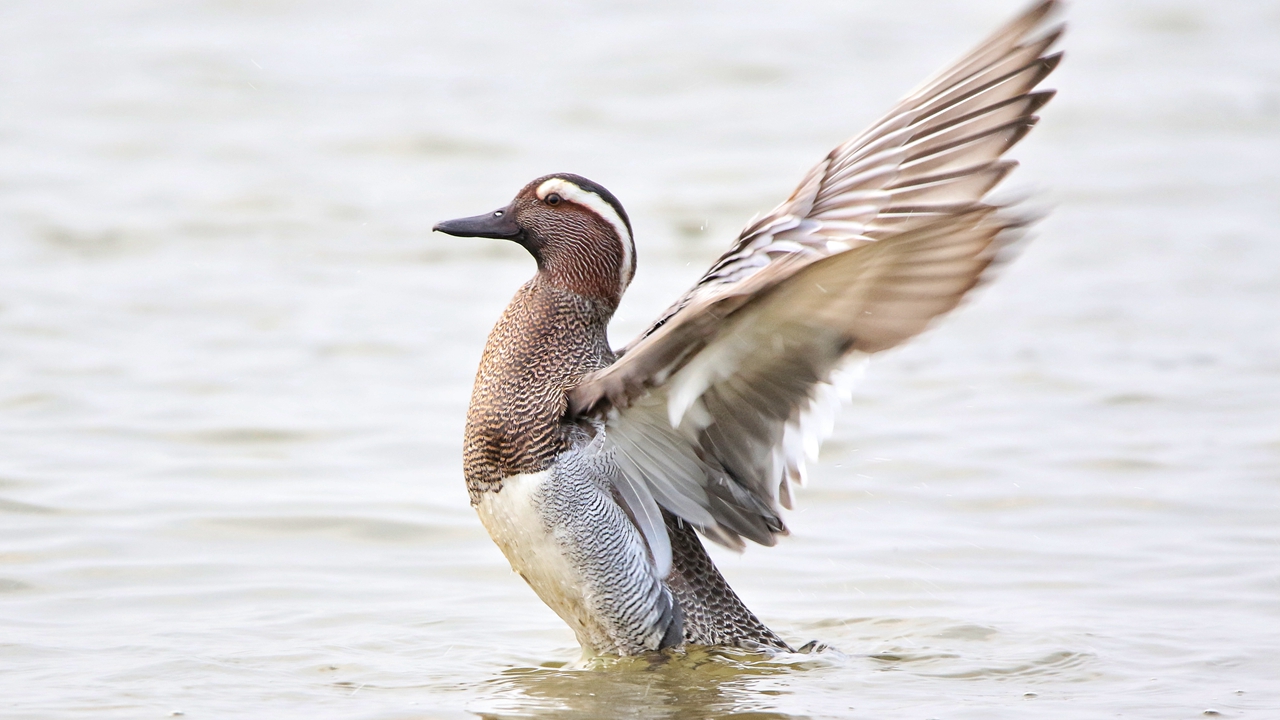 A male garganey spreads its wings in Shenzhen Bay Park.
Garganeys feed primarily on aquatic invertebrate animals, such as crabs, snails, worms and insects, but it also consumes small fish and frogs. However, when animal protein sources are scarce, these ducks also feed on plants.

白眉鸭主要以水生无脊椎动物为食,如螃蟹、蜗牛、蠕虫和昆虫,它也食用小鱼和青蛙。然而,当动物蛋白来源匮乏时,这些鸭子也以植物为食。
Their breeding starts in April when they find their mate and lay up to ten eggs in a nest built by the female, who will incubate the eggs on her own, but under the protection of the male.

它们的繁殖期从4月开始,那时它们开始寻找配偶,之后,雌鸟筑巢并能产下多达10颗卵。雌鸟独自孵卵,雄鸟则在巢附近保护。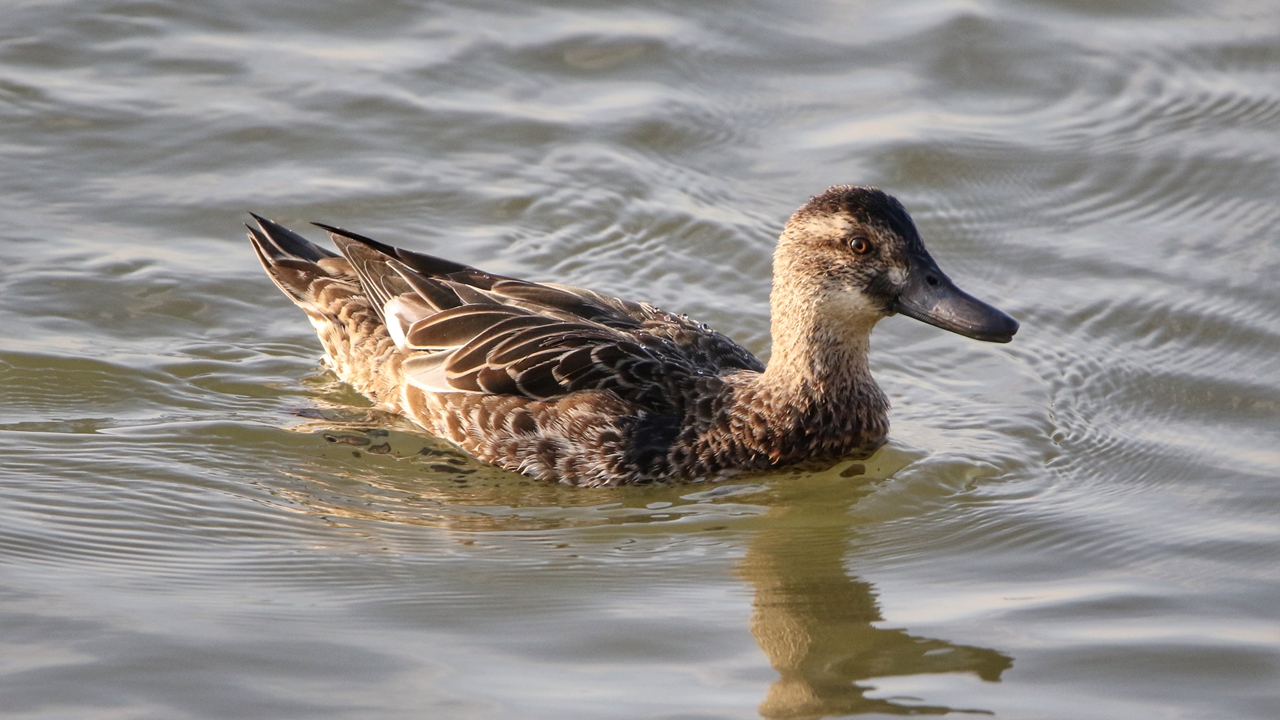 A female garganey in Shenzhen Bay Park.
An interesting fact about the garganey, since we already mentioned their resemblance with other species, is that they can breed with other duck species. Sometimes they create hybrids with such species as the green-winged teal or the northern shoveler, which happens to migrate to the shores of Shenzhen during the same period as the garganey.
关于白眉鸭有一个有趣的事实,我们之前提到,白眉鸭与其他物种很相似,它们可以与其他种类的鸭子进行繁殖。有时,它们会与同个时段迁徙到深圳湾的绿翅鸭或琵嘴鸭等物种杂交。
Even though the garganey is not a globally threatened species, their numbers in Shenzhen are not significant compared with other visiting species. It is essential to preserve our shores and other natural habitats so more wild species can stop in our fantastic city during their global travel.

尽管白眉鸭不是濒临灭绝的物种,但与其他迁徙物种相比,它们在深圳的数量并不多。保护我们的海岸和其他自然栖息地非常重要,因为只有这样我们才能吸引更多的野生物种在全球迁徙过程中停留在我们这座美丽的城市。