Share

Print
A+
A-
The great crested grebe
Writer: Isaac Cohen | Editor: Liu Minxia | From: Shenzhen Daily
A great crested grebe is seen at Shenzhen Bay in Nanshan District. Photos by Isaac Cohen

The great crested grebe
Not every migration season allows us the pleasure or luck of appreciating the same species arriving in our city. Sometimes we have species that have never come before, and sometimes we have species that used to come but never returned. One of the not-too-common visitors to the shores of Shenzhen Bay is the majestic great crested grebe (Podiceps cristatus), a member of the highly diving-specialized grebe family.
与候鸟邂逅也是一期一会。有时候,我们会遇到从未见过的鸟类;而有时候,有些经常光顾的鸟类离开后却不再回来。不过,每年冬天深圳湾畔都能迎来不少回头客,鸟中"浪里白条"凤头䴙䴘便位列其中。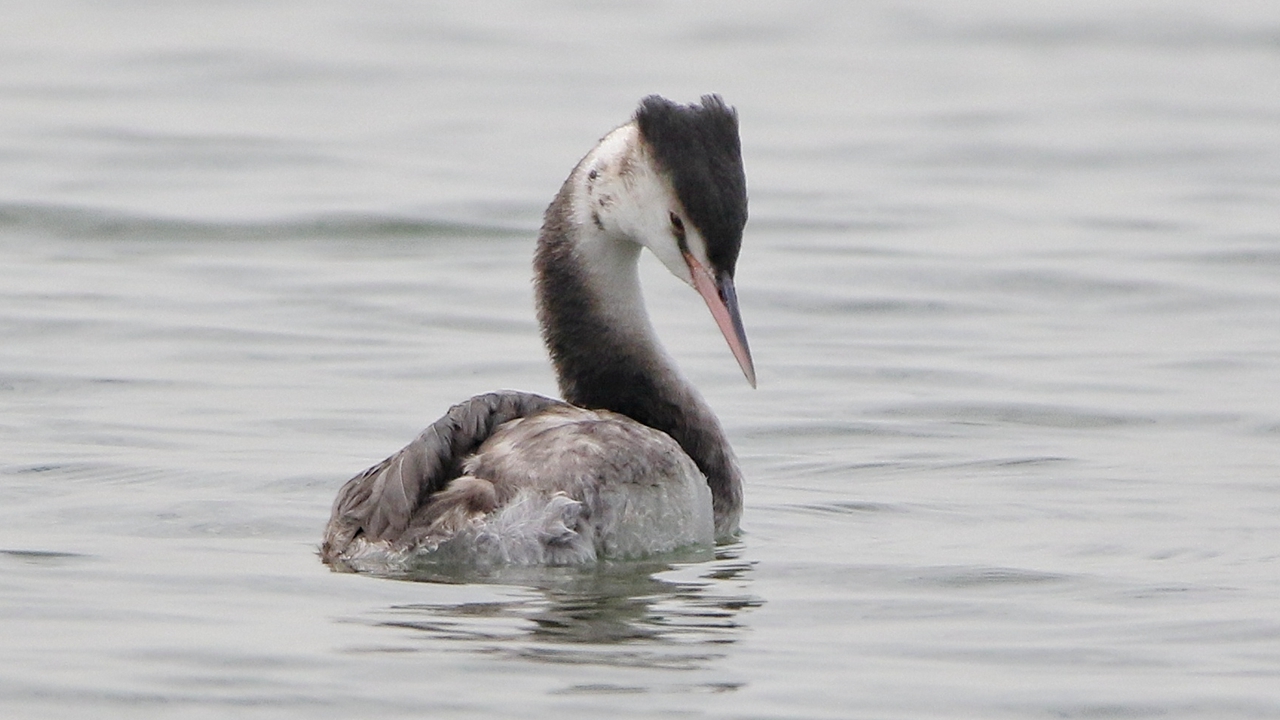 A great crested grebe is seen at Shenzhen Bay in Nanshan District.

Great crested grebes can grow up to 60 centimeters in length. During the breeding season, males can display a beautiful black cap that ends in a fascinating crest they clearly show when looking for a mate to couple with, and a reddish-brown set of feathers on the head. The neck is a dull gray coloration that becomes darker as it approaches the upper parts of the body, combined with a brownish coloration that fades as it goes down to the bird's lower body.
凤头䴙䴘身长可达60厘米。雄鸟在繁殖季头部羽色转为棕红,颈部覆盖着花哨的鬃毛状饰羽以吸引雌性;颈部的浅灰色羽毛至上半身逐渐转深,至下半身又过渡至棕色并逐渐转浅。
The beak is long and may have different colorations ranging from light pink to blackish, and there is a black line that comes from the beak into the eyes.
凤头䴙䴘喙部细长。个体不同,喙的颜色也不尽相同,有黑色的,也有浅粉色的。脸部具一黑色带状斑,将喙基部与眼部连接起来。
A great crested grebe is seen at Shenzhen Bay in Nanshan District.

Like other grebes, the great crested grebe is specialized in diving without the need to thrust into the water. They float and swim in the water and, from their position, perform a short leap into the water and begin diving in search of small water animals like fish, shrimp, or mollusks which they pursue underwater for as long as 30 seconds before coming back up for air.
和其他䴙䴘科鸟类一样,凤头䴙䴘不需要调整姿势也可以轻松潜水。通常它们会一边凫水一边观察,一旦发现鱼、虾、软体动物等猎物的踪影,便立刻潜水觅食。它们能够在水下憋气长达半分钟之久。
Their breeding season goes from April to July when they build floating platforms using aquatic plants where they lay up to five eggs per clutch. They incubate them for at least one month; another two to three months are needed before the newborns are ready to leave the nest.

凤头䴙䴘每年4月到7月繁殖,营巢于用水生植物枝叶筑成的平台上,每窝产卵可达5枚,孵化至少一个月后雏鸟方破壳,再由亲鸟喂养两到三个月后才能离巢。
A great crested grebe is seen at Shenzhen Bay in Nanshan District.

These fascinating animals are not endangered.They are looking for warm places to spend their winters. Let's continue providing more suitable areas in our city where this and other migratory species can rest during their long journey back home.
凤头䴙䴘是一种种群数量丰富的候鸟,每年秋季迁徙至气候温暖的地区过冬。我们继续保护好它们和其他候鸟在深圳的越冬地,让这些远道而来的客人安心过冬。