Share

Print
A+
A-
Rediscovering media art in 'Topologies of the Real'
Writer: Cao Zhen | Editor: Zhang Chanwen | From: Shenzhen Daily | Updated: 2023-05-29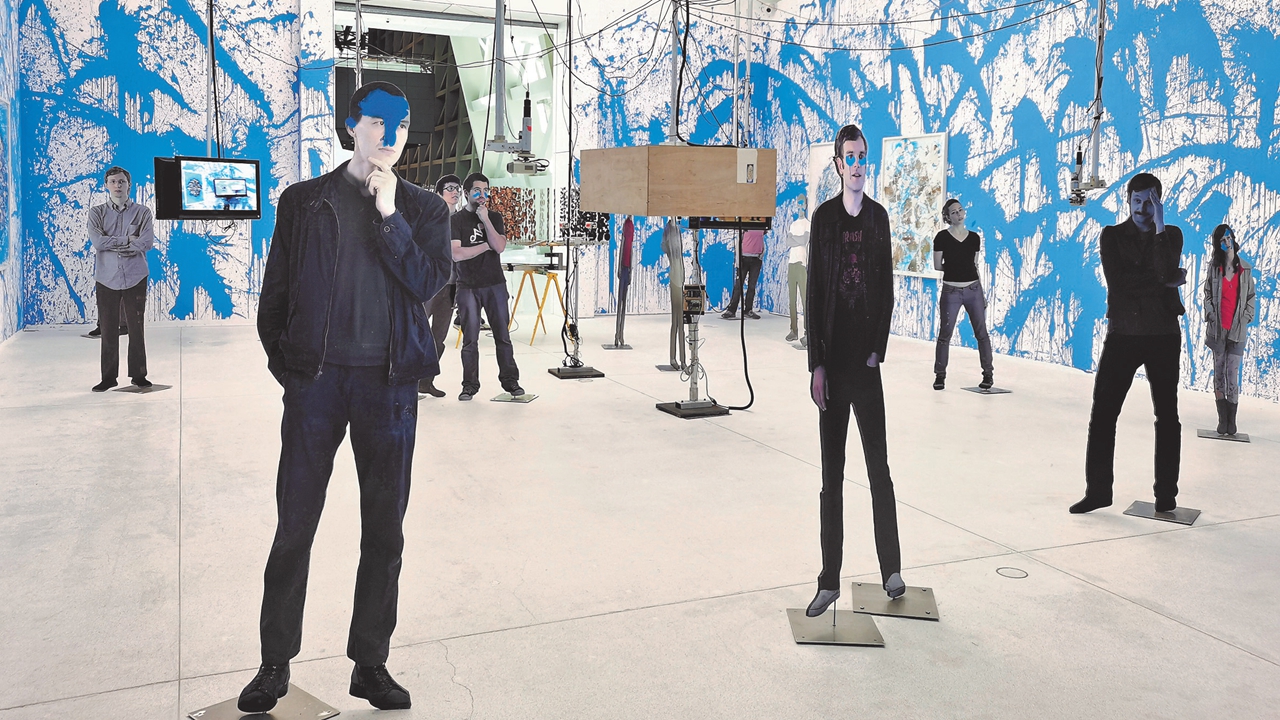 Jon Kessler's mixed media work "Blue Period" (2007-2011) is on display at the "Topologies of the Real: Techne Shenzhen 2023" at MOCAUP in Futian District. Photos by Cao Zhen
New media art that incorporates digital technologies has become a significant genre in contemporary art, but what media art looked like a century ago? Perhaps, by looking at past media art, we can gain insight into the themes, techniques and styles, and develop new ideas that push art forwards in exciting ways.
The "Topologies of the Real: Techne Shenzhen 2023" exhibition at the Shenzhen Museum of Contemporary Art and Urban Planning (MOCAUP), features over 100 works by international artists spanning from the late 19th century to the present, including early experiments on film, photography, video, computer and telepresence art, as well as works by modern art pioneers and contemporary artists.
A scene from "Burst of a Soap Bubble by a Projectile," Lucien Bull's chronophotographic film created in 1904.
Marcel Duchamp's film "Anemic Cinema" (1926) is projected on the left wall and Harold Eugene Edgerton's photo "Bullet Through Apple" (1964) is seen on the right wall.

According to Yan Weixin, director of MOCAUP, many exhibits are of historic importance to the development of media art and some are being shown for the first time in China. "The exhibition provides an overview of the transformations in media art. Premised on a new era of technological innovation, we inspect the history of the intermingling of art and technology while looking forward to future trends of new media art creation," he said.
"One of the key features of media art is technology's impact on art: It is stimulating humans' senses, expanding our perception and reshaping art; on the other hand, the birth of each new technology triggers new philosophical, ethical and social issues, which are reflected in artworks, so art can give a new perspective to people who would participate and intervene in these issues," said Zhang Zikang, director of the Central Academy of Fine Arts' Art Museum.
Hans Haacke's "Blue Sail" (1964-1965). Haacke believes this work deviates from the traditional aesthetics of sculptures.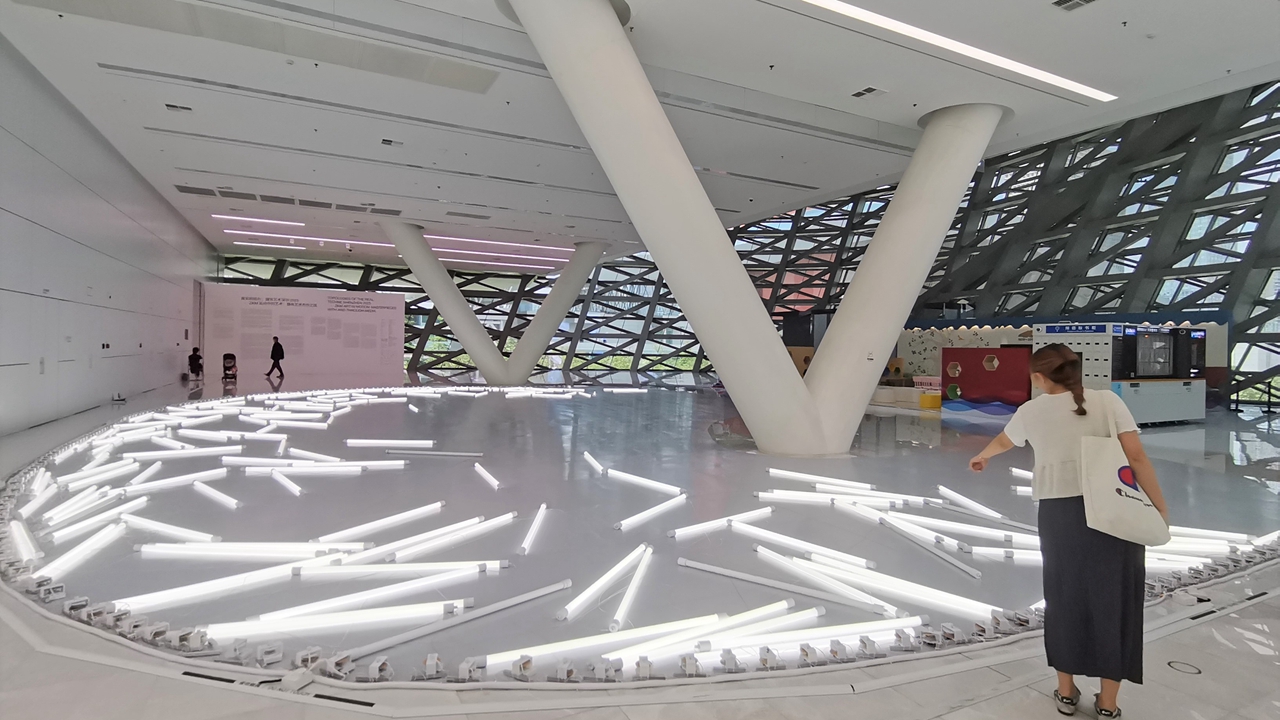 A visitor observes an artwork at the entrance to the exhibition.

Central Academy of Fine Arts professor Zhang Ga, chief curator of the exhibition, explained the exhibition title by saying that in mathematics, topology is the study of geometric properties and spatial relations unaffected by the continuous change of shape or size of figures, and the exhibition attempts to discuss what the "real" is in the continuous changes brought by technologies and artistic imagination.
The grand exhibition consists of three sections: "Reality Interrupted," "Datumsoria: The Return of the Real" and "Multiverse: Ecology Without Nature." A sideline exhibition, "Art in Motion: Masterpieces With and Through Media," showcases artworks, historical documents and archival materials on loan from the ZKM | Center for Art and Media Karlsruhe, an influential research and exhibition institution for new media art.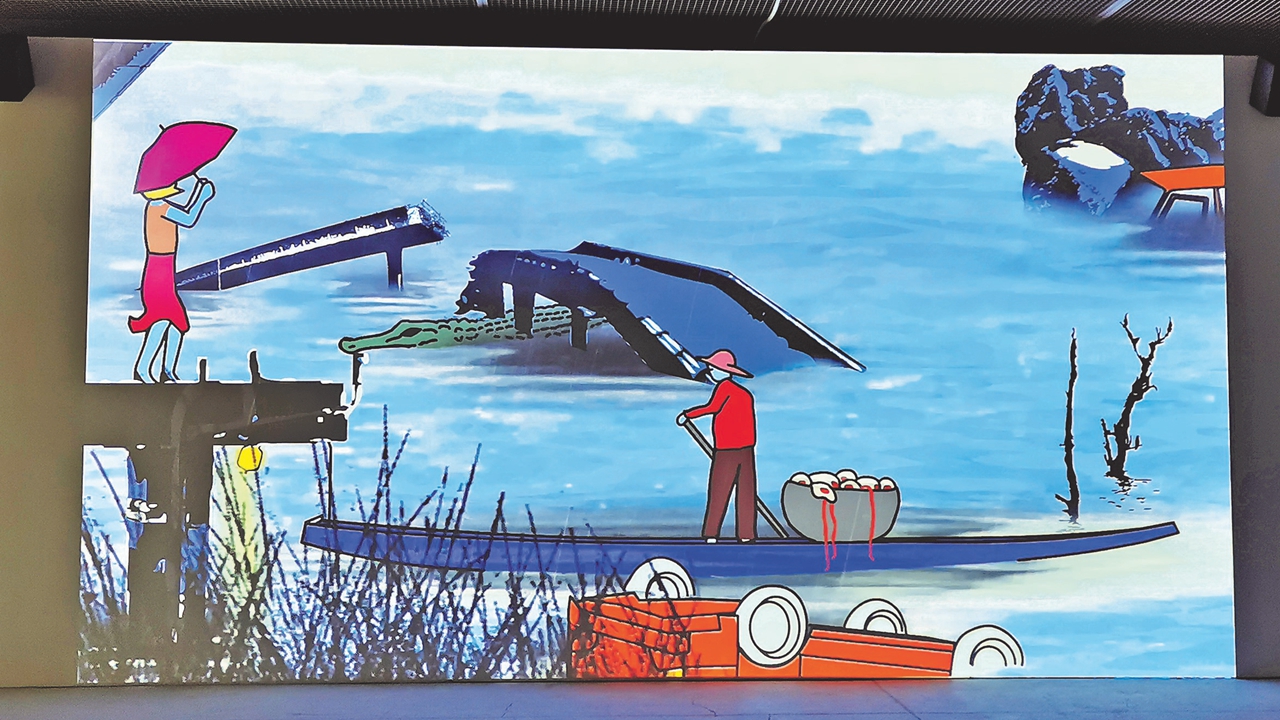 A still from Marina Zurkow's animation "Slurb" (2009).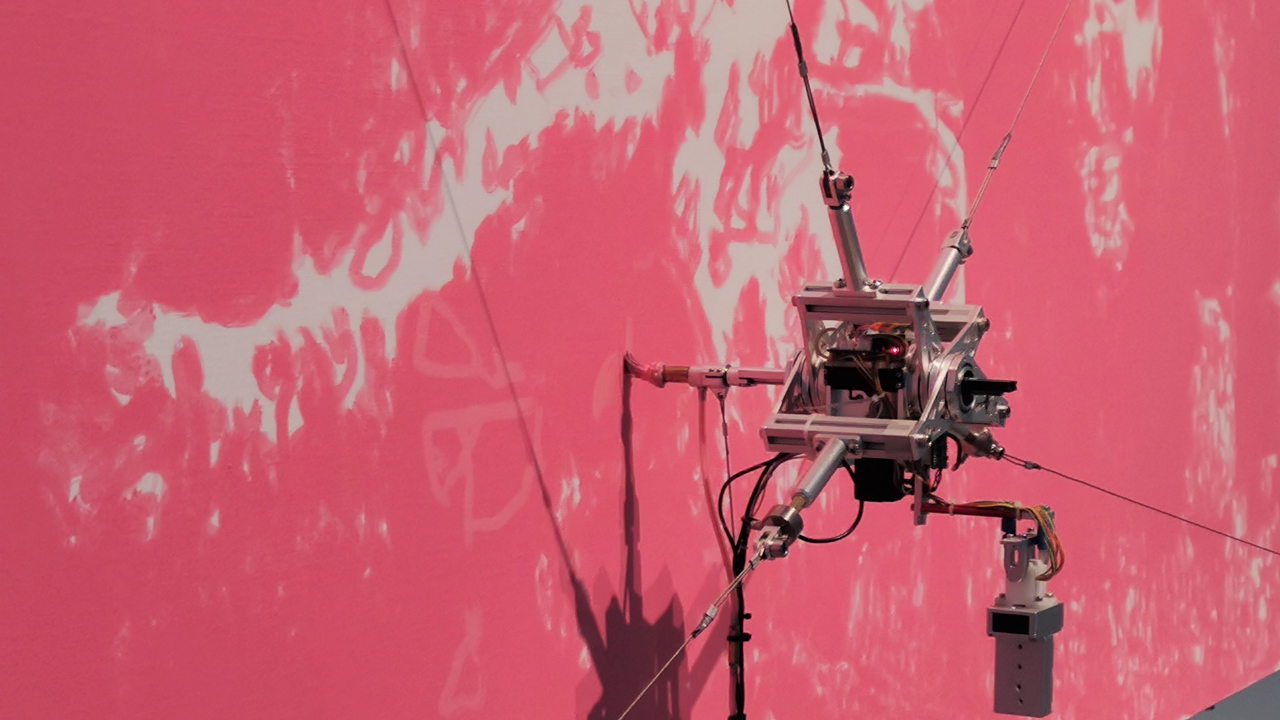 A mechanical device paints automatically at the exhibition based on streaming data and computer vision algorithms. The work titled "Weight of Insomnia (Round-the-Clock, Parkview Green Beijing)" was created by Liu Xiaodong in 2023.

In the 6,500-square-meter exhibition area, visitors can spend half a day to observe the artworks from many international museums and art foundations, including Center Pompidou, Museum of Modern Art, San Francisco Museum of Modern Art, to name a few. Interactive elements enable viewers to participate in the artworks.
In Buky Schwartz's "Yellow Triangle" (1979), yellow geometric patterns are painted on walls and the floor of a small room, with a camera on the ceiling. The illusion of an isosceles triangle is then created and displayed on two monitors separated by a wall. When one is standing on the painted yellow area, one will view oneself on the isosceles triangle in the monitors, which is an optical illusion, and thus people become a necessary element of the artwork.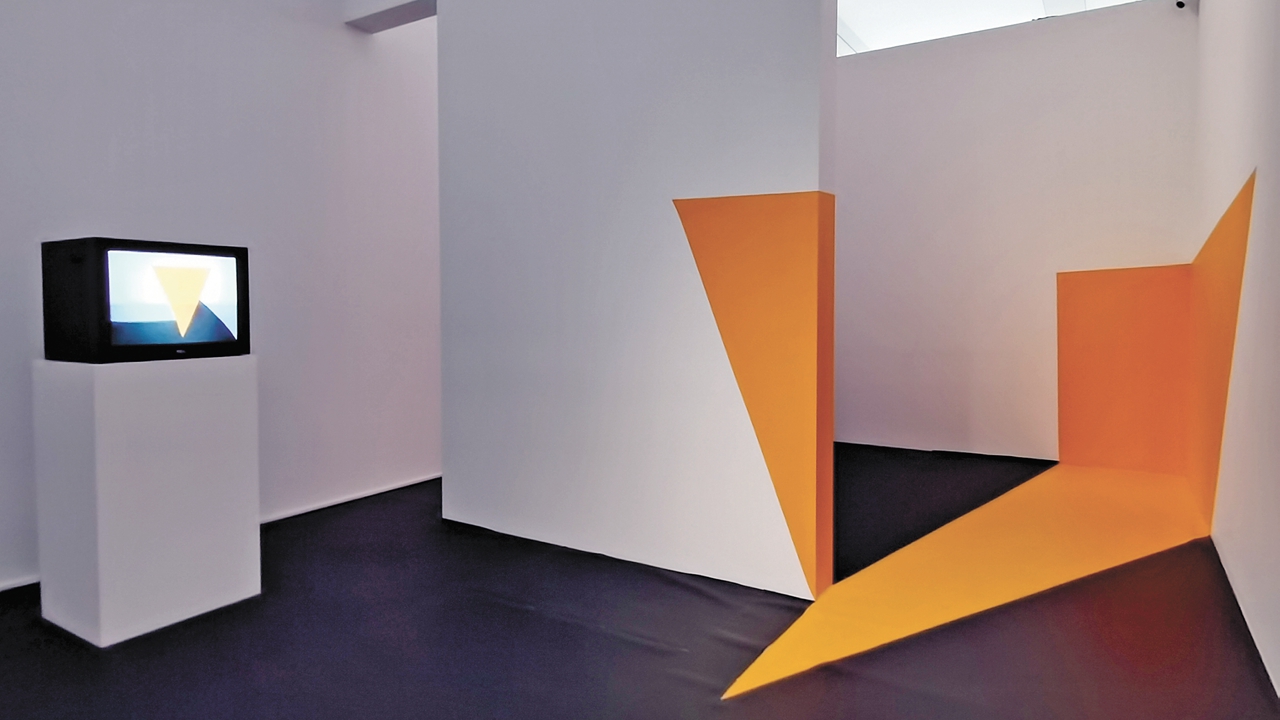 Buky Schwartz's "Yellow Triangle" (1979). Visitors can stand on the painted yellow area and then view themselves on the isosceles triangle in the monitors, which is an optical illusion.
Paul Sermon invites visitors to sit on his sofa installation "Telematic Vision" (1993). Two identical green sofas are located in two remote locations in the exhibition. In front of each sofa stands a video monitor and camera. The camera images are relayed between the sites and displayed on monitors simultaneously. Viewers in both locations can sit on the sofas to experience a live image of themselves sitting on a sofa next to telepresent persons. Sermon allows visitors to become part of the work itself and this overcomes the usual passive TV situation. It is nothing without the presence of viewers and the interactions of users who create their own TV scenes.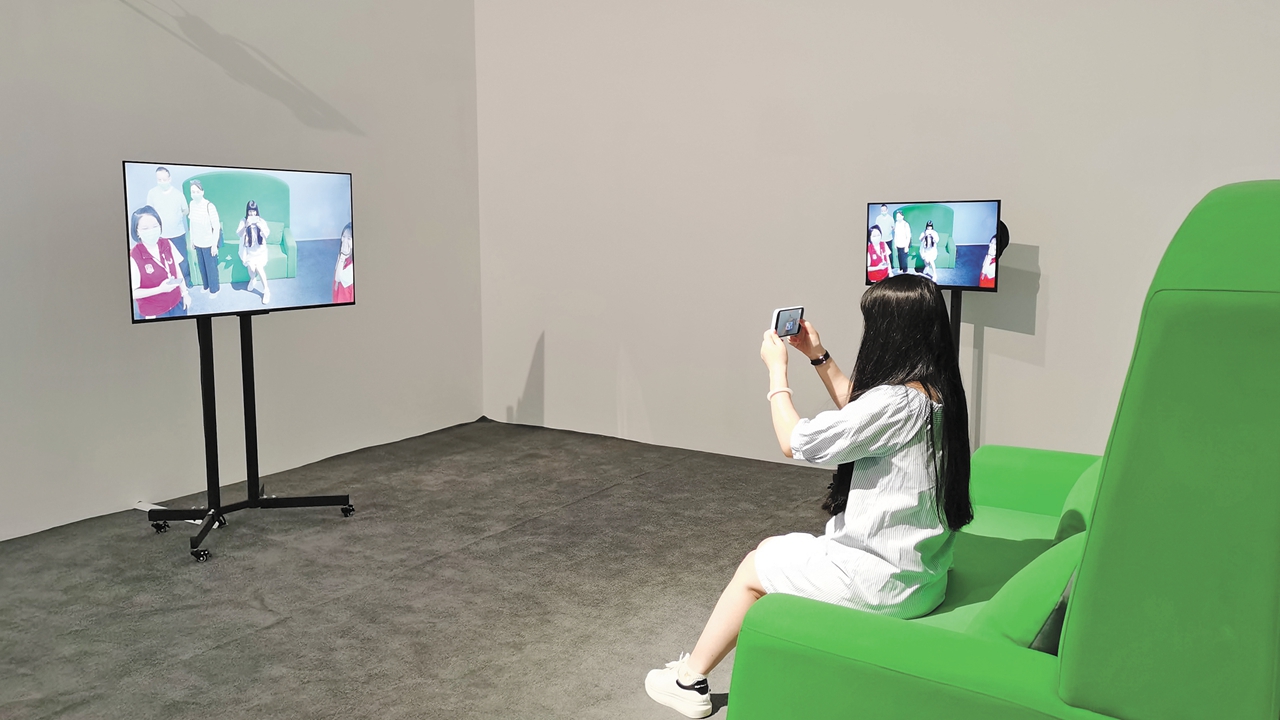 A visitor takes photos as she she experiences Paul Sermon's "Telematic Vision" (1993). Except the visitor, people shown in the monitors are simultaneously experiencing the work in a remote location within the exhibition.
Research and crossover art creation will be conducted during the exhibition. On June 3 and 24, experimental dances will be performed while on June 17, an experimental sound art performance will be staged.
Dates: Until July 23
Hours: 10 a.m.-9 p.m., closed Mondays
Tickets: 168-188 yuan (various discounts available)
Booking: WeChat account "深圳市当代艺术与城市规划馆"
Venue: Shenzhen Museum of Contemporary Art and Urban Planning, Futian District (深圳市当代艺术与城市规划馆)
Metro: Line 3 or 4 to Children's Palace Station (少年宫站), Exit A2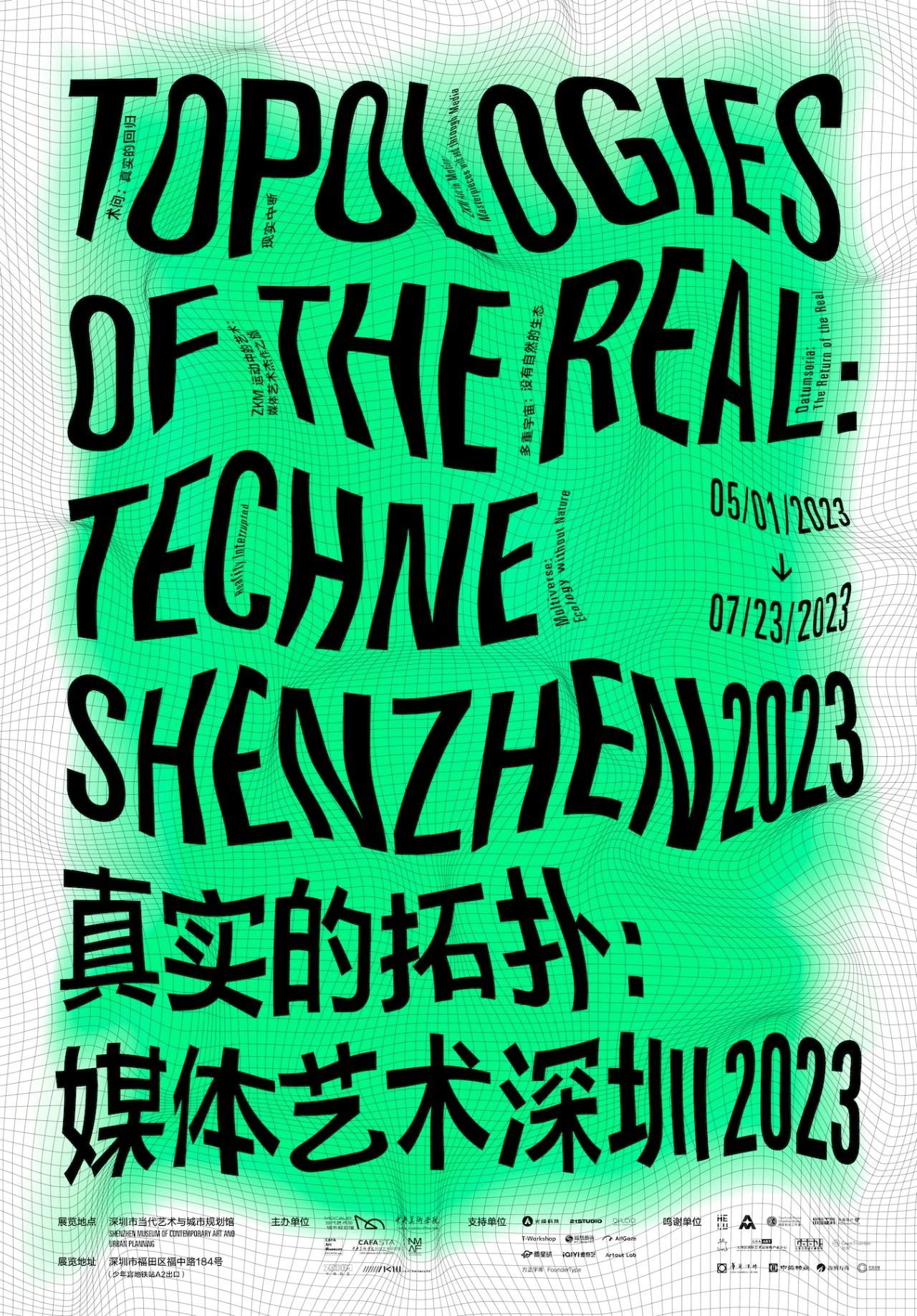 A poster for the exhibition.