Share

Print
A+
A-
Spanish-speaking expats share life stories in Futian
Writer: Chen Xiaochun | Editor: Zhang Chanwen | From: Shenzhen Daily | Updated: 2023-05-29
Colombian chef delights Latin American food lovers

Videos and photos by Lin Jianping except otherwise stated.
Óscar Herrera, originally from Bogotá, Colombia, is the chef and manager of La Lupita restaurants in three cities — Shenzhen, Guangzhou and Xiamen.
Óscar Herrera presents a Colombian dish.
With 18 years of culinary experience, he has spent the last four years in China, during which he has had the opportunity to reside in several cities, including Guangzhou, Foshan and Qingyuan. Recently, he joined La Lupita for the opening of its new branch in Xiamen and came to Shenzhen due to his dual role as a chef and manager at the Shenzhen location.
"I've been in Shenzhen for a short period of time because last year I started working with La Lupita for the opening of its new branch in Xiamen. So, I've been moving between Xiamen, Shenzhen and Guangzhou for about eight months," Herrera said in an exclusive interview with Shenzhen Daily.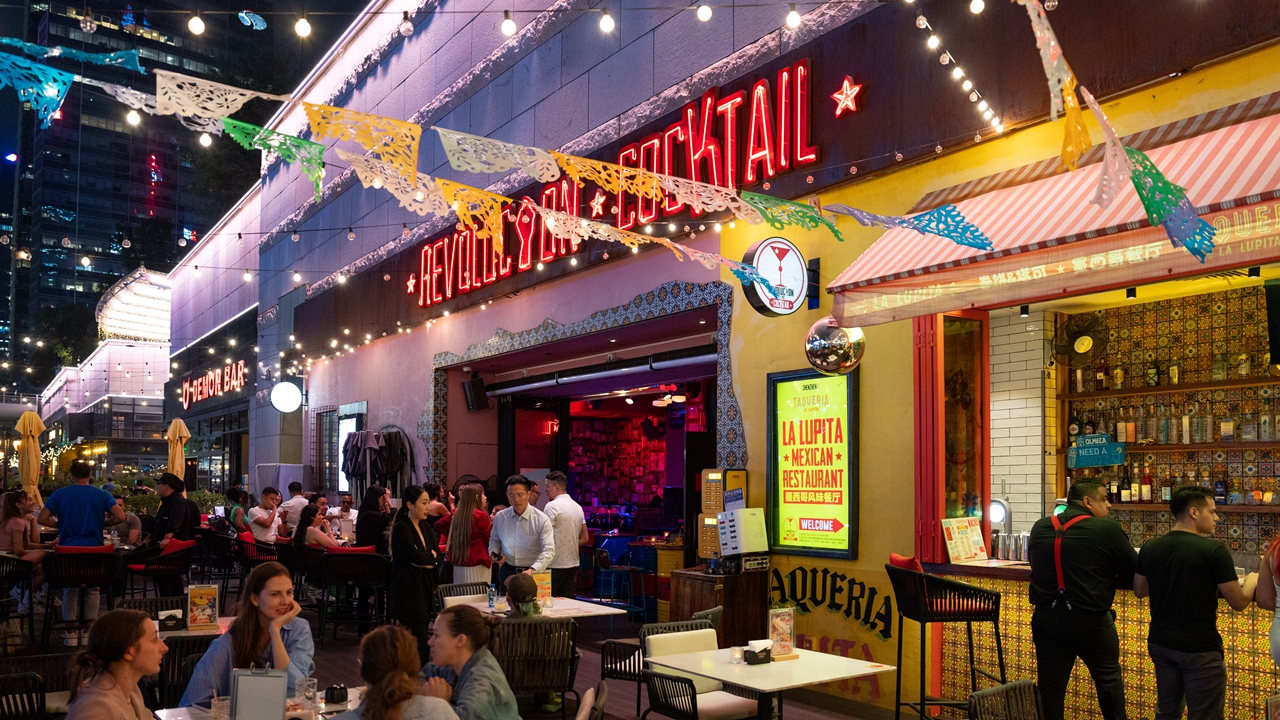 La Lupita Shenzhen restaurant is located at the Convention and Exhibition Center area in Futian District. It offers a wide variety of Mexican dishes, including classic dishes such as burritos, tacos and quesadillas.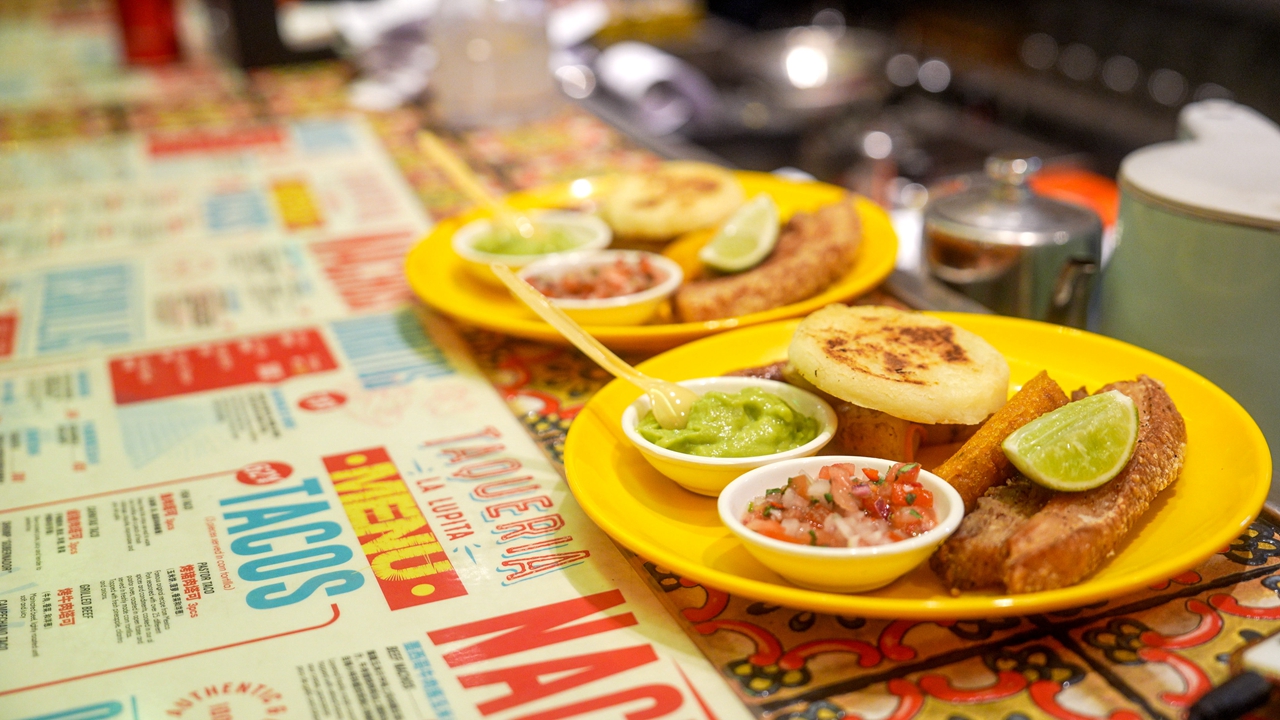 Colombian food
"In addition to striving to be the best Mexican food restaurant, which is our main goal, we also aim to cater to the tastes of the entire Latin American community. So, from time to time, we organize special themed events at La Lupita where we prepare and serve typical dishes from different Latin American countries such as Peru, Colombia, Argentina and Cuba," he said.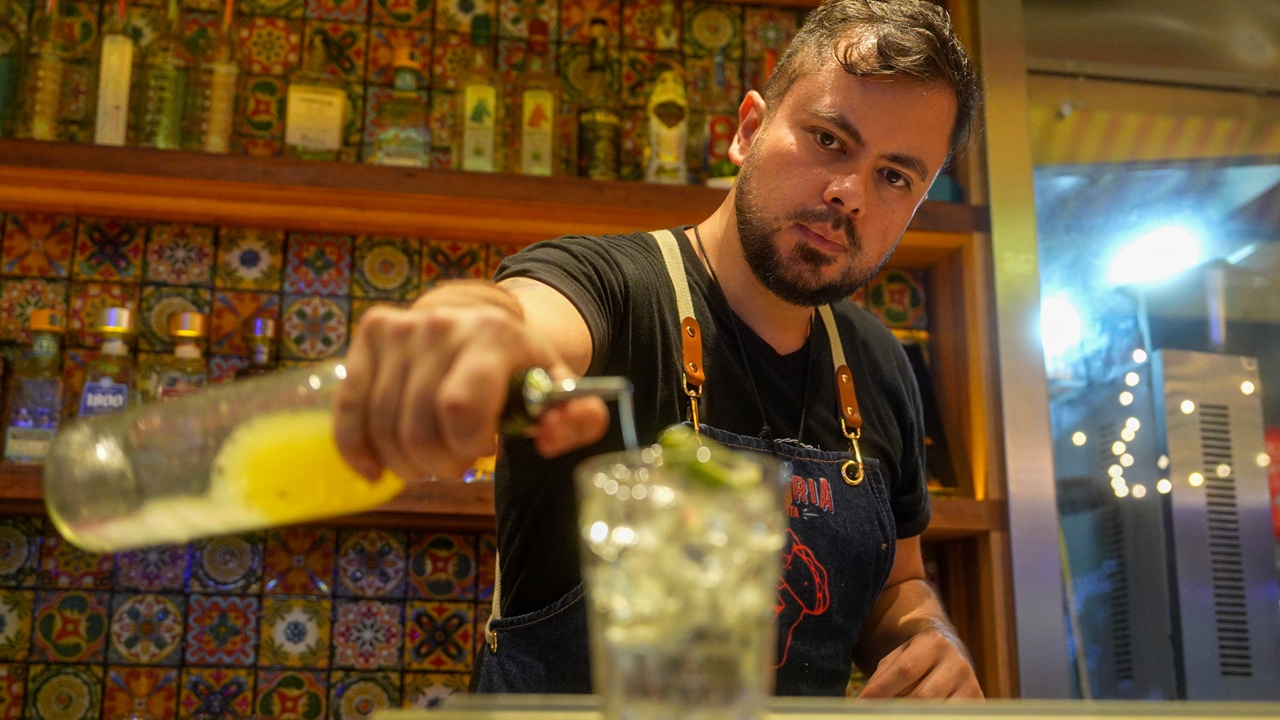 Herrera prepares a cocktail.
According to Herrera, the restaurant's Futian location has a significant advantage, as it is surrounded by a diverse range of bars and restaurants that attract many people. This increases the restaurant's visibility and helps acquire more customers.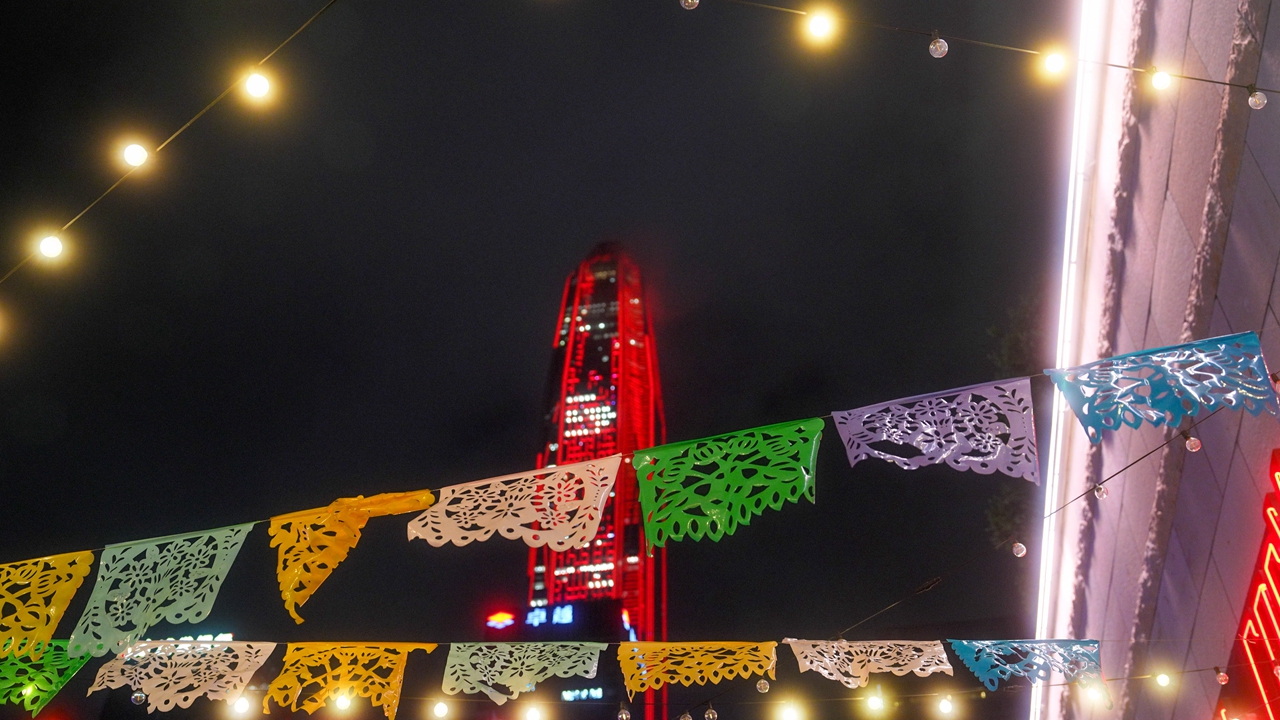 A view of Ping An International Finance Center from the restaurant.
"Futian is very beautiful and cosmopolitan, offering a wide array of bars, restaurants and markets. Each time I come to Shenzhen, I also reside here in Futian, very close by. The apartments are comfortable. It's beautiful," he commented.
Dancer brings Latin rhythm to Futian
Edwar Javier Figueroa Arce, 30, from Colombia, is a professional dancer and organizer of Latin parties. He has been living in China for four years, including more than one year in Shenzhen. Every Wednesday, at Revolucion Cocktail bar in Futian District, he takes charge of livening up the night with his incredible dance moves and his knack for organizing Latin parties.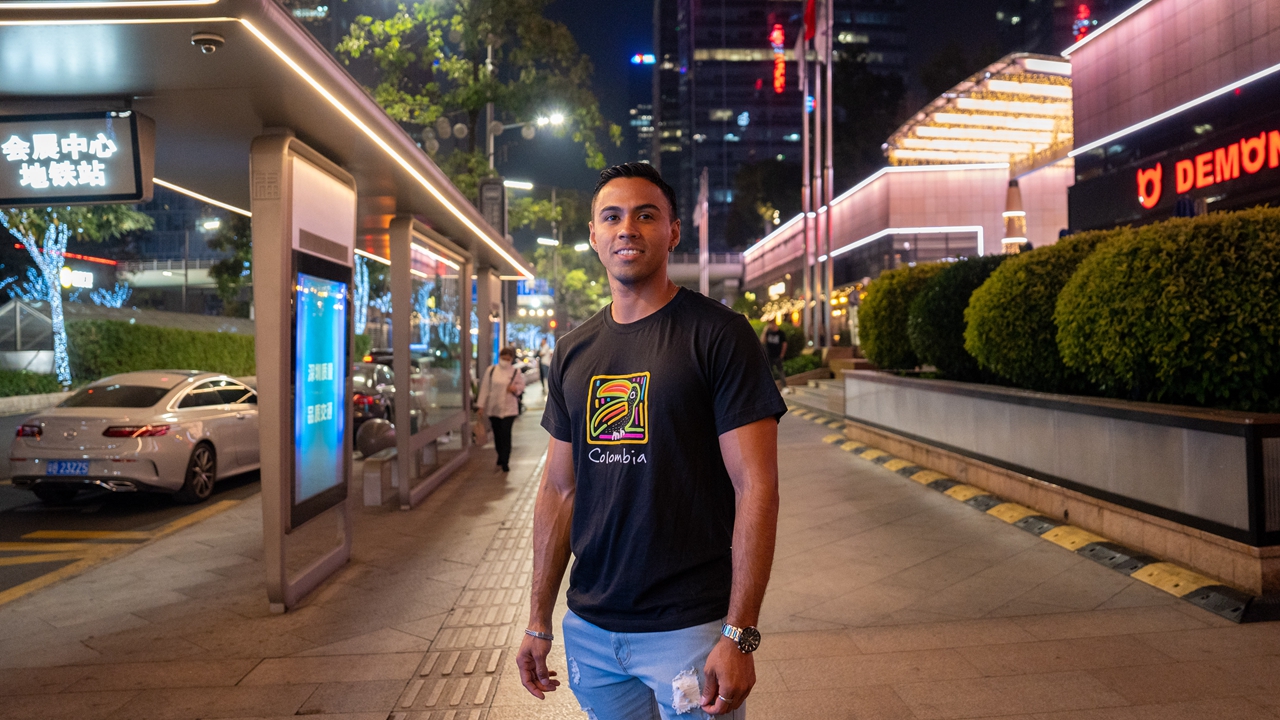 Edwar Javier Figueroa Arce poses for a photo in Futian District.
He arrived in China four years ago, and Shenzhen was his first destination. Since then, the city has become one of his favorite cities in China.
"I have been in various cities like Guangzhou, Maoming and Yingde... Shenzhen was my first city in China four years ago. I really love it. The people here are very friendly. The dance culture here is extremely captivating for the Chinese, and the city is very beautiful compared to others," he remarked.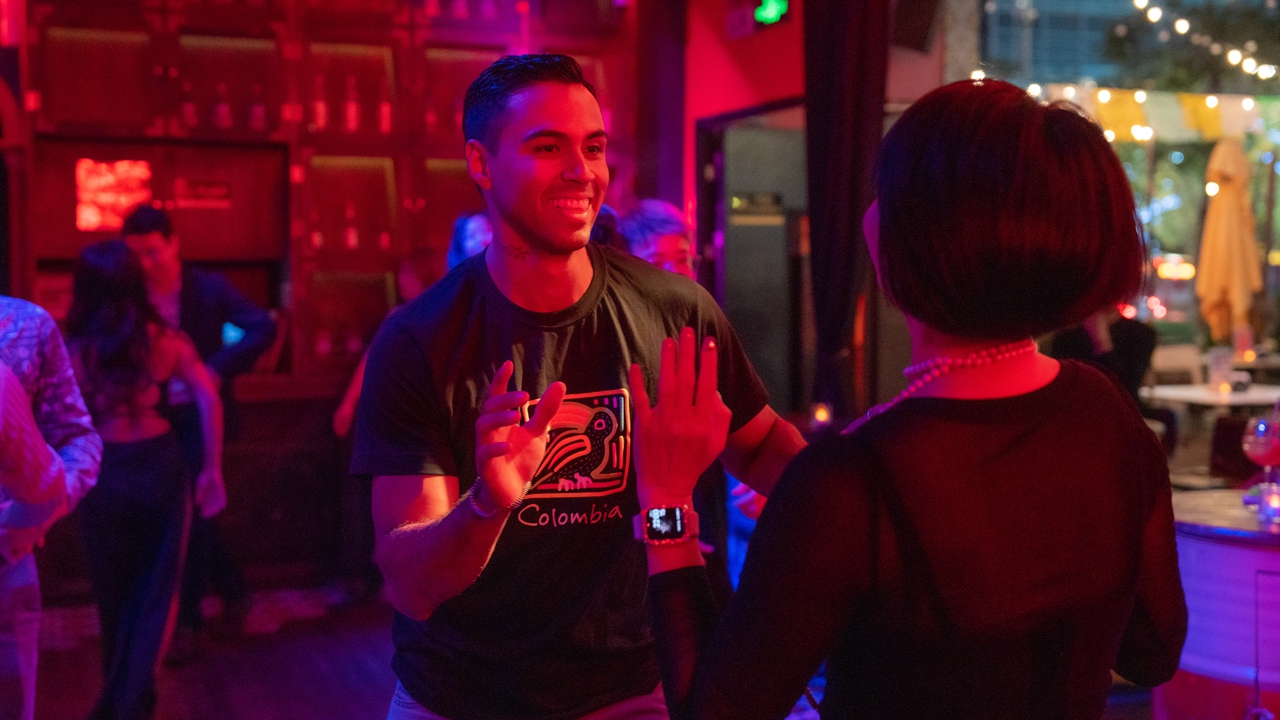 Figueroa Arce dances at the party.
"I have been dancing for 16 years and have undertaken various roles, including being an organizer of Latin parties such as the one held every Wednesday night at this bar. Another role I have is as a dance teacher, specializing in Latin dances," he said in an exclusive interview with Shenzhen Daily.
People enjoy dancing at the dance party.
According to Figueroa Arce, the Latin dance party begins every Wednesday night at 9:30 and lasts until 2:00 in the morning. The event draws a significant crowd, with attendance ranging from 50 to 70 people on occasions.
"Here on Wednesday nights, we host a Latin music party that goes on all night, featuring genres like salsa, bachata, reggaeton, merengue and cha-cha-cha. The ambiance is incredibly relaxing, fun and pleasant, providing an excellent opportunity to meet new friends," he said.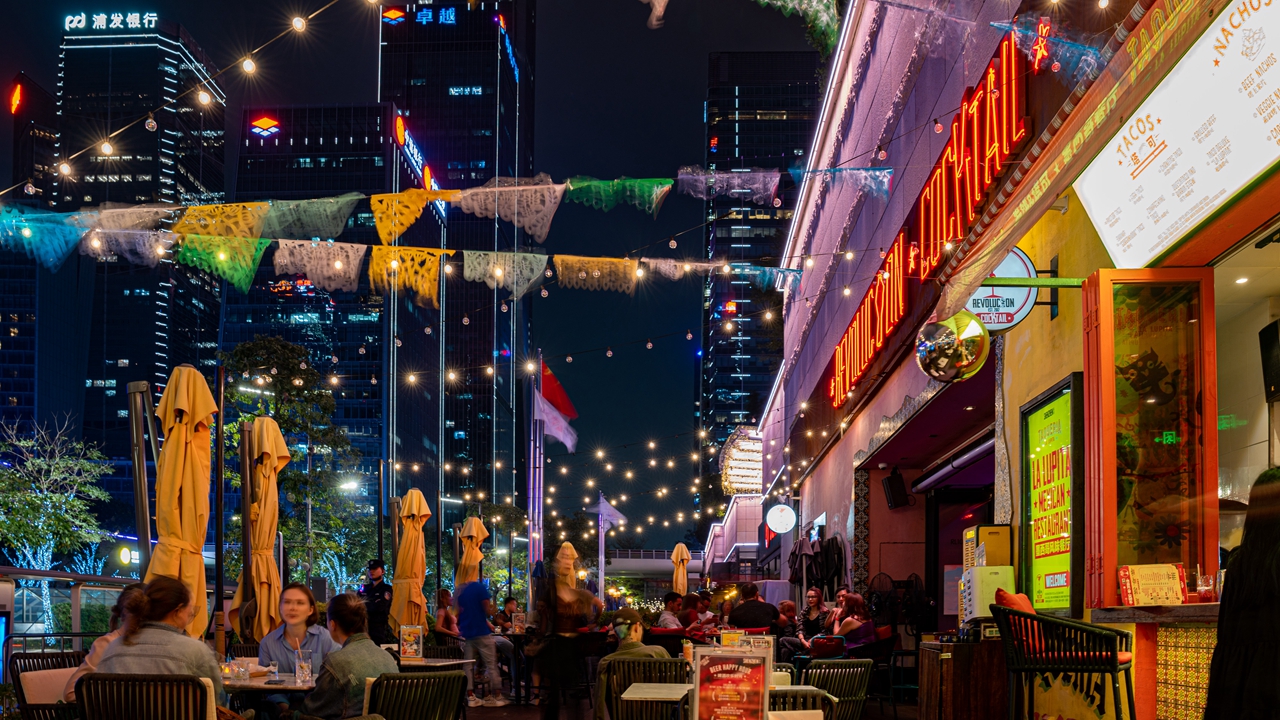 A view of the Revolucion Cocktail bar in Futian District.
For Figueroa Arce, Futian is an incredible place. "It's really cool. I spend a great deal of my week in this district. Here, you can find everything, from bars and parties to shopping malls and institutes. Even the Metro is very user-friendly," he recounted.
Chef brings Spanish gastronomy to SZ
Thanks to a job offer, Iván Arroyo del Castillo came to Shenzhen in 2021. Raised in Mexico after being born in Spain, he has been living in China for 12 years and is currently a chef at the Mandarin Oriental Shenzhen in Futian.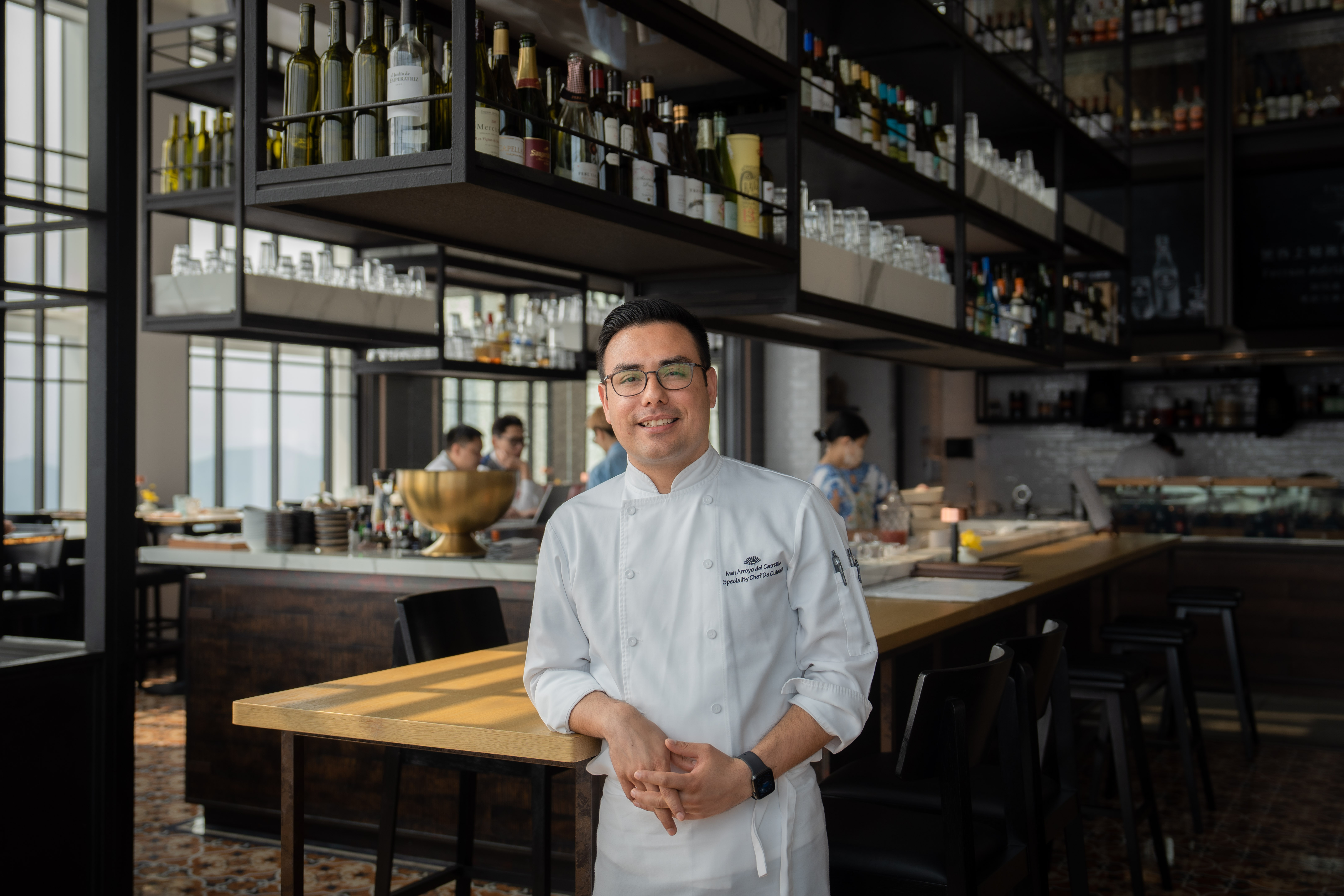 Iván Arroyo del Castillo at the TAPAS 77 restaurant.
"I used to live in Guangzhou, and the reason why I came to Shenzhen is because of the project of this hotel. When I learned that a Spanish restaurant of this quality was going to open with the Mandarin Oriental project, I was very interested. After talking to the executive chef and learning more details about the project, I became even more interested and decided to join the team," Arroyo del Castillo said.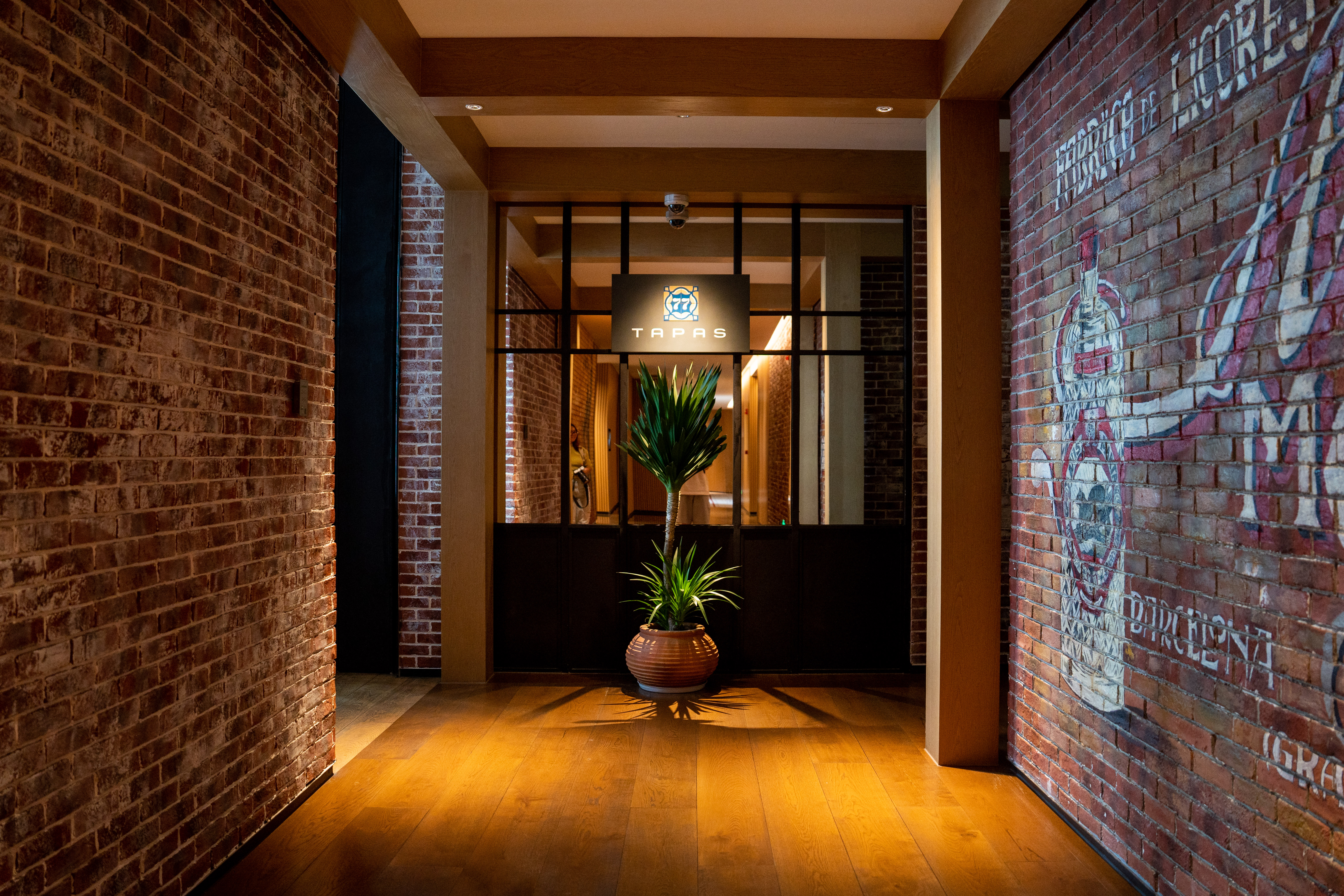 He works as the chef of TAPAS 77 restaurant at Mandarin Oriental Shenzhen, where traditional Spanish tapas are served with an innovative presentation. The restaurant offers a casual dining experience that combines traditional Spanish cuisine with modern touches.
"The idea of TAPAS 77 is that you can order different dishes and share them with your family or friends and not feel the typical pressure of high-end restaurants, where you have to choose your menu from the beginning or worry about which fork or knife to use. The idea is for us to integrate a bit of the local culture, where people feel more comfortable sitting at the table, sharing food," Arroyo del Castillo explained.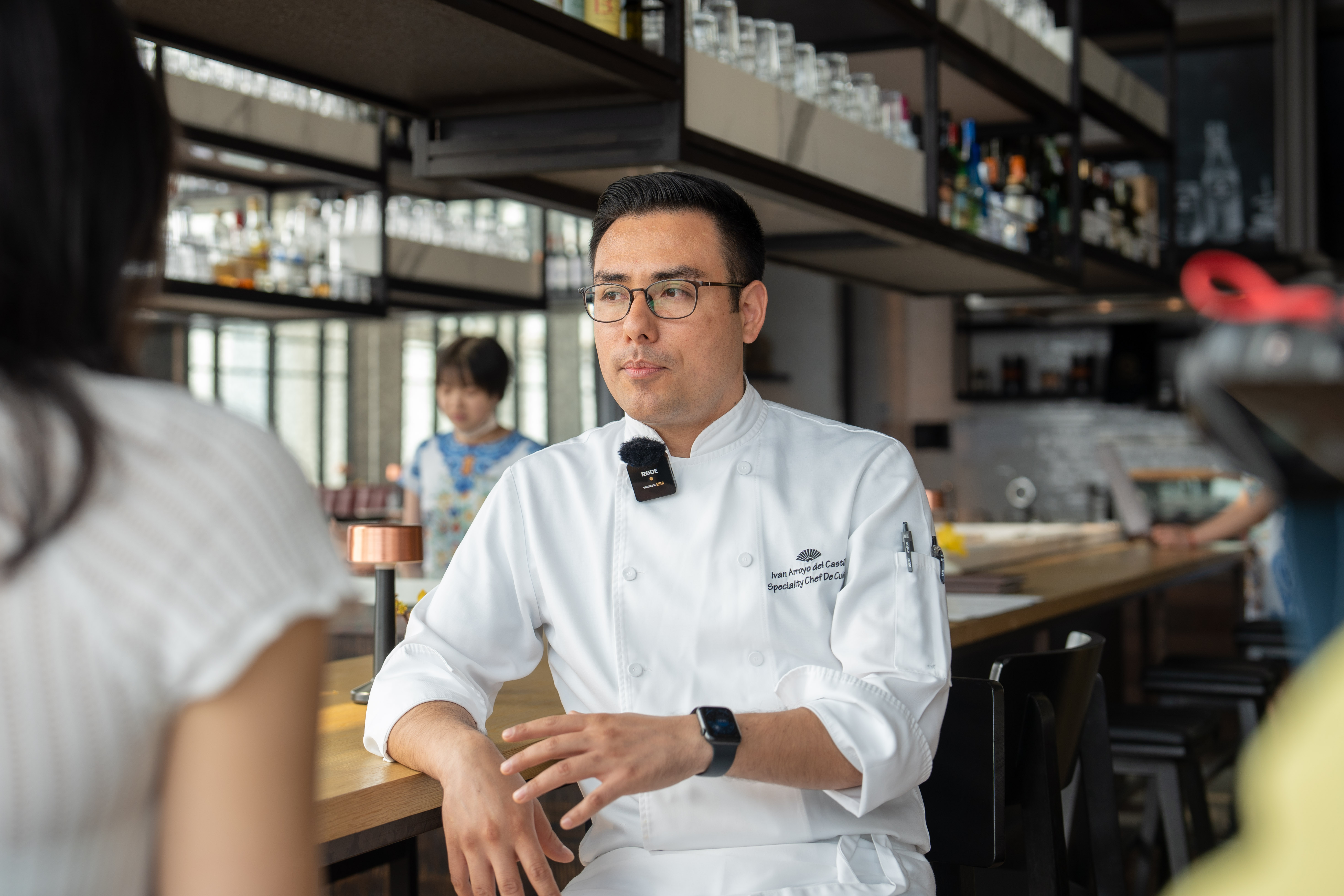 Arroyo del Castillo has an exclusive interview with Shenzhen Daily.
The restaurant mainly serves local customers. According to Arroyo del Castillo, many visit the place to experience the concept of tapas and Spanish cuisine, something that is hard to find in Shenzhen.
Among the different dishes offered by the restaurant, ham is very popular. "We have different varieties of ham, the most popular one being Cinco Jotas, because we cut it in front of the customer. And then we have other popular dishes, such as the Galician-style Octopus. We use local octopus, fresh, but cook it in a very traditional way."
The chef takes pleasure in observing customers' natural reactions as they try his food, and he feels a great sense of satisfaction in seeing them enjoy it so much. It is highly rewarding for him to witness the happiness on diners' faces after trying his dishes.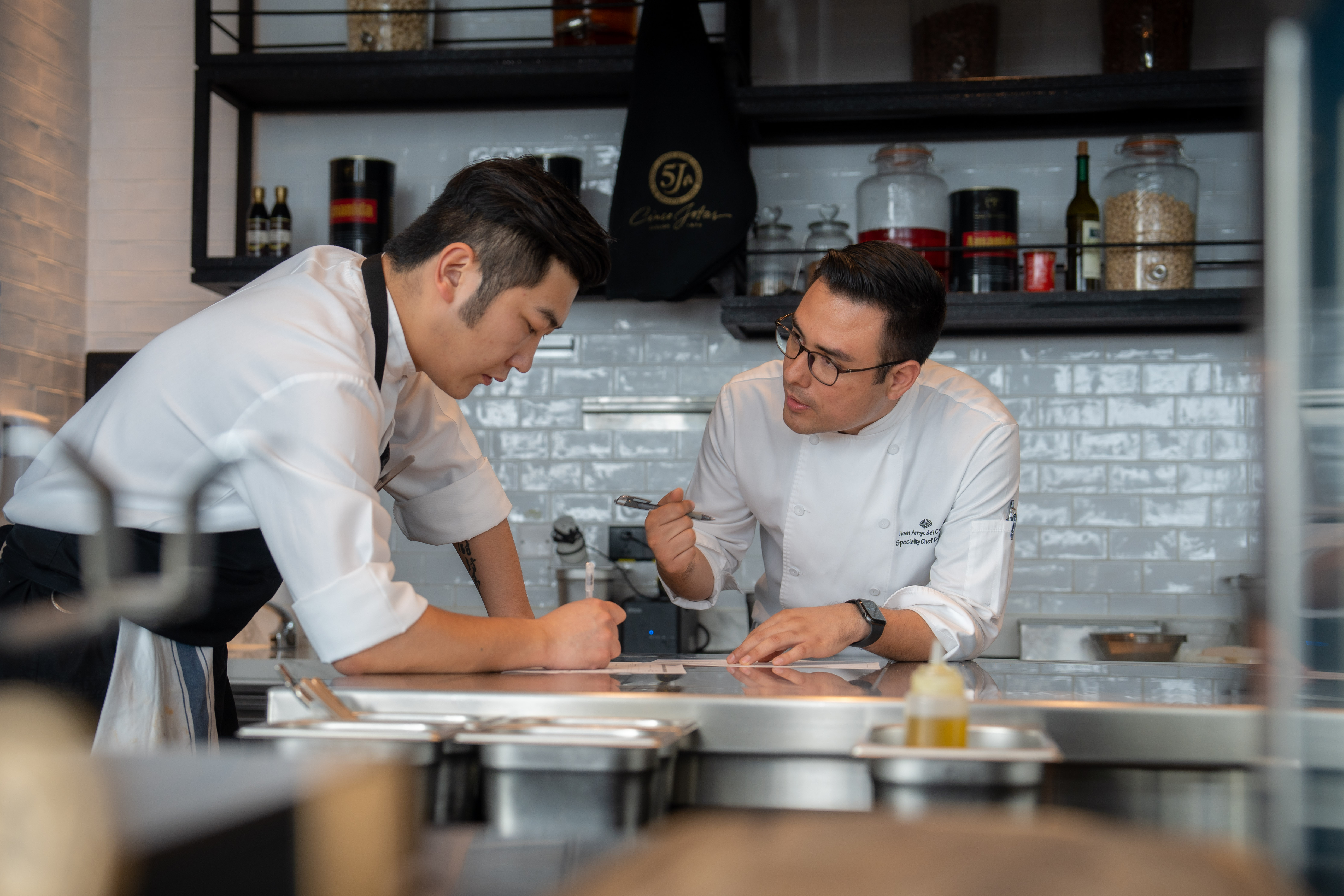 Arroyo del Castillo communicates with his colleague.
"In English, it's known as the 'Nod Effect.' Since it's an open kitchen, I have numerous opportunities to observe customers' genuine reactions when they taste the food. This has provided me with a lot of satisfaction, and it's fascinating to see how people analyze and appreciate the food they eat, and when they eat, and how surprised they are at how delicious the dishes are," he said.
Arroyo del Castillo works in Futian and lives in Shekou. Every day, he rides his bike to work, following the route along Shenzhen Bay.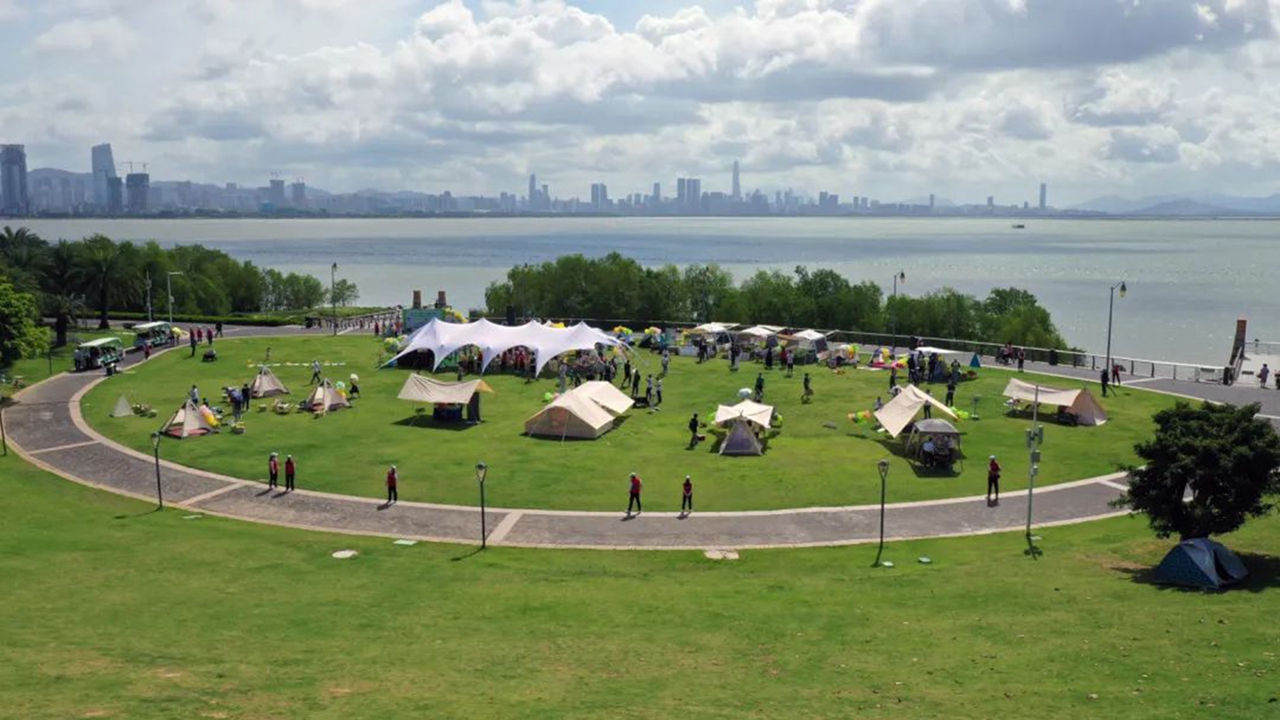 A view of Shenzhen Bay Park. Sun Yuchen
"In general, you can see the entire landscape of Shenzhen Bay because the path runs along the bay. So, it's really by the sea. It's very beautiful during the day. At night, you can't see as much, but it's still beautiful because it's very serene. There aren't many people. It's quiet and relaxing. It's very nice to start the workday with a view of the sea during the 35-minute ride," he said.
In his opinion, Shekou has unique charm, while Futian stands out for being one of the city's most modern areas.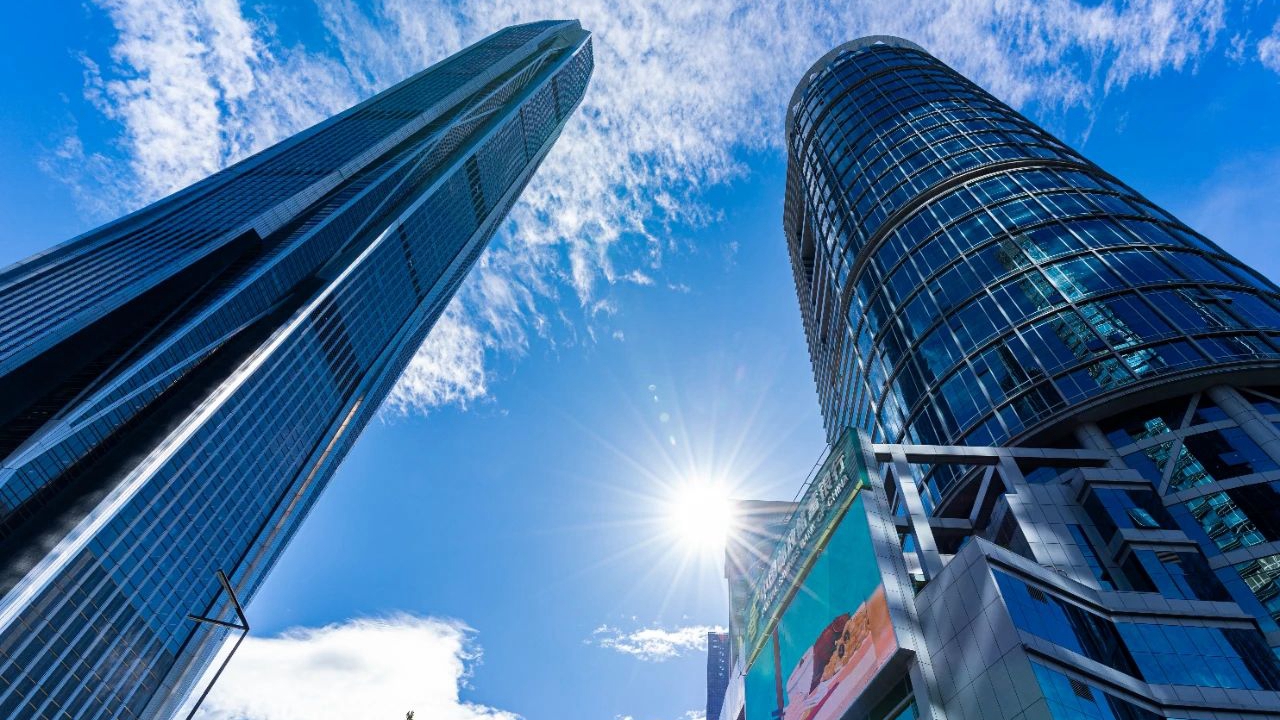 Skyscrapers in Futian District.
"It's the part where the skyscrapers are, where the streets are new, where all the businesses are brands. Everything is modern and it feels like New York or something. It's super modern, with all the services at hand, super nice," he commented.
He was deeply impressed by the abundance of green spaces intermingling with urban areas in Shenzhen.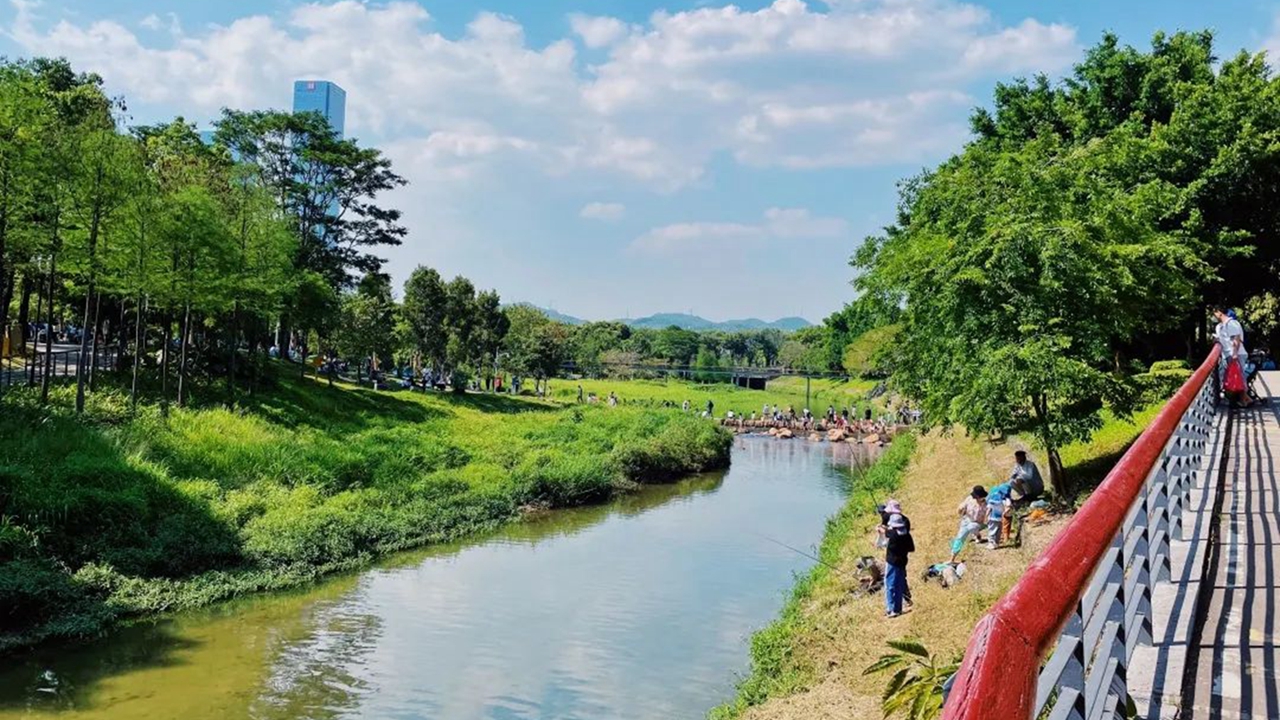 Shenzhen Central Park. Chen Qiaomei
"I later learned that this city was modeled after Singapore, which intrigued me because it combines numerous green areas with urban spaces. This is unusual in modern cities where real estate is very expensive, and the focus is primarily on business," he expressed.
Arroyo del Castillo poses for a photo at the restaurant.
For the future, Arroyo del Castillo hopes that the restaurant will achieve greater success, such as gaining recognition in the city. He also aspires to grow professionally within the hotel group.
"In general, life in China is good. I have no complaints. Obviously, the past years have been a bit tough for everyone, but overall, I live very happily here in China, with all the comforts one could have. It's a very good place to live," he commented.