Share

Print
A+
A-
Expats experience Nantou's ancient town
Writer: Han Ximin, Xiao Peishan | Editor: Liu Minxia | From: Shenzhen Daily | Updated: 2023-06-08
People visit a museum in the Nantou Ancient Town on Tuesday. More than 30 international volunteers and residents in Shekou experienced the Nantou Ancient Town on Tuesday. Photos courtesy of the Shekou Management and Service Center for Expats

More than 30 international volunteers and residents in Shekou experienced the Nantou Ancient Town and the charm of the OH Bay in a bus tour sightseeing event Tuesday.
On the Lang Lang Music Sightseeing Bus, the piano attracted Leo Livingston from the U.K. to play Fur Elise and Moonlight Sonata (Movement 1) and Hou Xiaowen, an international volunteer, to give an impromptu rendition of classic songs such as Jasmine, The Moon Represents My Heart and River Flows in You.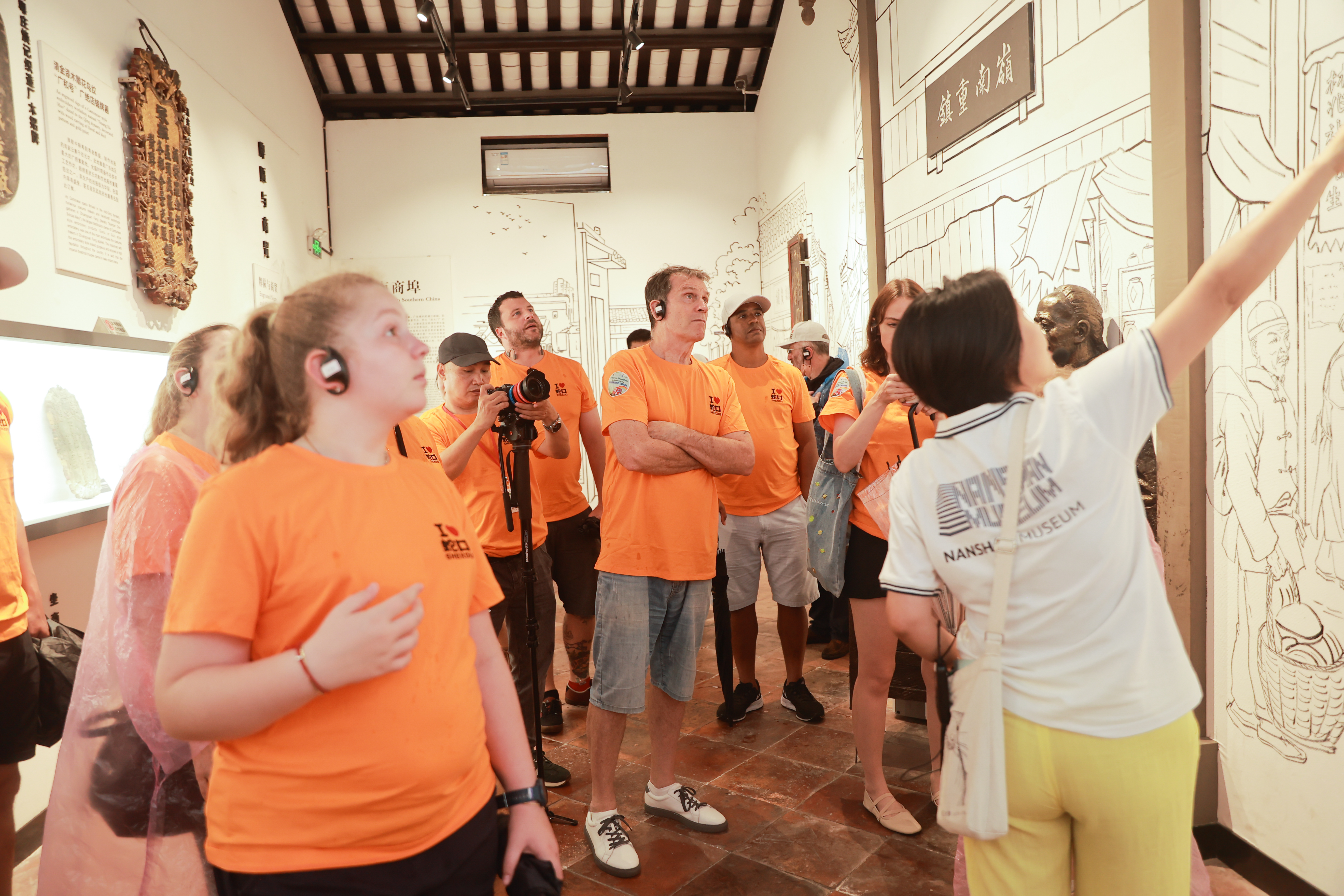 People visit a museum in the Nantou Ancient Town on Tuesday.
The Nantou Ancient Town, the original office residence of Xin'an County that ruled a vast area of the present Hong Kong, Dongguan and Shenzhen, was the administrative hub of the south coastal areas of China during the Qing Dynasty and the distribution center of maritime transportation and trade.
Participants learned about the 1,700-year-old history and prosperity of the ancient town presented by the modern technologies and art techniques at the 1820 Digital Exhibition Hall.
"It's a perfect combination of ancient history and modern culture that has an ancient town site in this young city," said Karen Michael from the U.K.
Participants at the 1820 Digital Exhibition Hall.
The group also toured around the Bay Glory Ferris Wheel of Oh Bay, a beautiful landscape along the coast of Bao'an.
The event is the last episode of the "Discover Shenzhen — Through the Four Seasons" event series, organized by the Shekou Management and Service Center for Expats.
The events include four separate parts with themes of culture and history, city night view, tech ecosystem and bay area charm.
Representatives from foreign-owned companies and resident representatives were invited to visit Shenzhen's major landmarks and explore the city in a unique way.