Share

Print
A+
A-
The Eurasian teal
Writer: Issac Cohen | Editor: Liu Minxia | From: Shenzhen Daily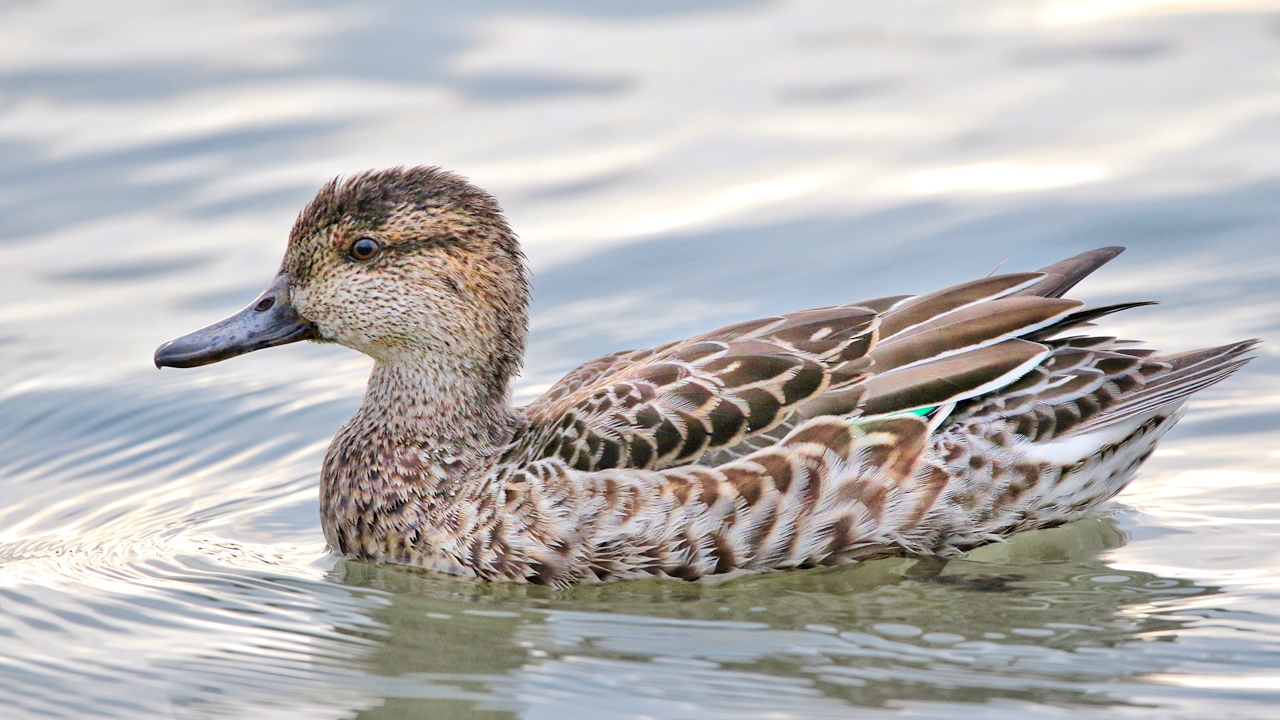 A female Eurasian teal is seen foraging in waters off Shenzhen Bay. Photos by Isaac Cohen

The Eurasian teal
The gorgeous Eurasian teal (Anas crecca) is a familiar and welcome sight for anyone living in or visiting Shenzhen during winter. These small ducks with striking coloring add joy and life to Shenzhen Bay Park during their migratory journey to warmer lands.
绿翅鸭是深圳候鸟中一道靓丽的风景线。每年冬天,这些羽色靓丽的小鸭子就来到深圳湾越冬,为这里增添了不少生机和乐趣。
The Eurasian teal is one of the smallest duck species, averaging only 35 centimeters in length and weighing around one pound. Despite their small stature, these ducks have good looks. Males have a deep navy blue head and neck contrastingwith their chestnut brown backs and pale grey wings adorned with beautifully-colored patches. Females are much less colorful, with mottled brown feathers and lighter faces.
绿翅鸭是体型最小的浮水鸭之一,体长仅35厘米,重约500克。它们个头虽小,模样却很美:繁殖期雄鸭头、颈部栗红色,具显眼的辉蓝色带斑,翼覆羽灰白色,具细密的虫蠹状斑点。雌鸭体色黯淡,呈斑驳的浅棕色,面部颜色稍浅。
These little ducks have webbed feet and short bills that are perfect for grazing on vegetation. Their diet mainly consists of pond plants, seeds, grains, and small invertebrates in and around the water. They will forage in shallow ponds, streams, and wetlands, grazing on plants and insects at the water's edge.
绿翅鸭足具蹼,喙短粗,营草食,常见于浅水池塘、溪流、湿地等水体的边缘地带,池塘水生植物及其种子为食,有时也吃小型水生无脊椎动物。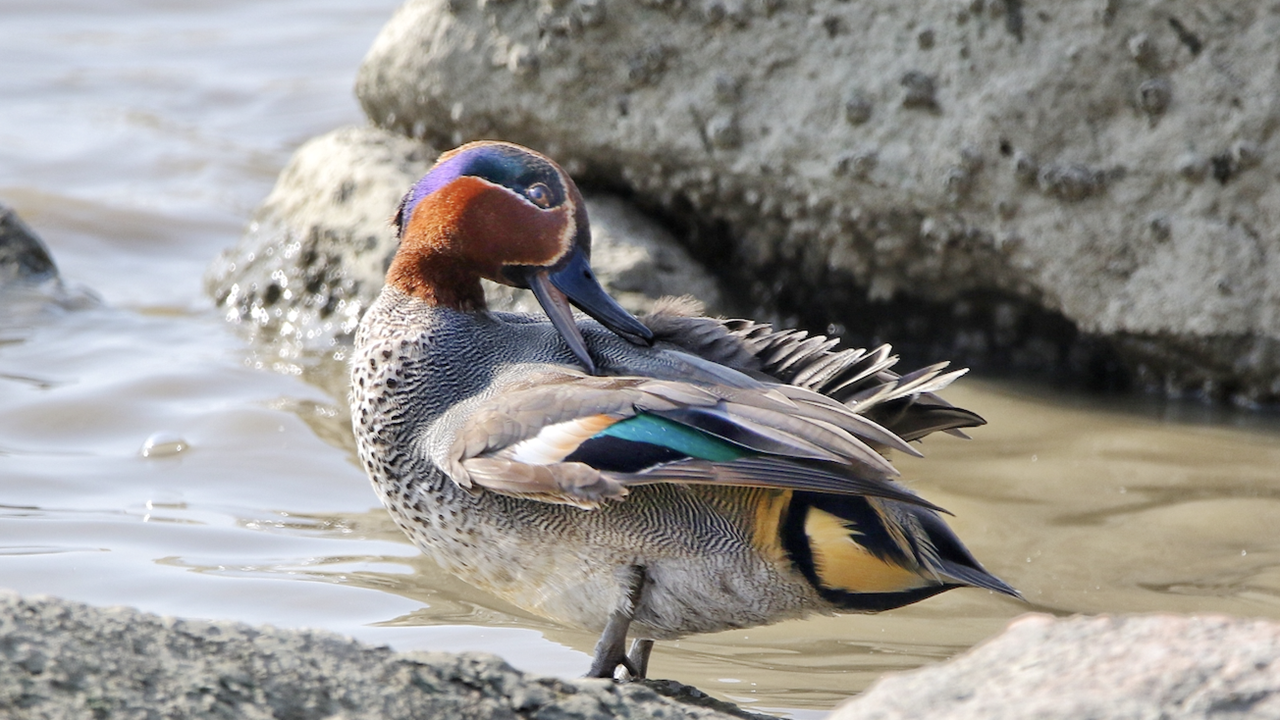 A male Eurasian teal is seen at Shenzhen Bay Park.
During mating season in spring, male Eurasian teals perform dramatic courtship displays to attract mates. Several males will pursue a single female in a competitive race, swimming quickly around her while shaking their heads to show off their colorful feathers. Once pairs have formed, the female will build a nest in tall grasses and weeds near water. Females will lay around 10 eggs per clutch that both parents will incubate for about three weeks.
绿翅鸭在春季繁殖,雄性有高调的求偶行为,甚至会多只雄性同时追求一只雌性。求偶时,雄性会围着雌性快速游动,并不停点头,伸展颈部,以充分炫耀它们头部的美丽羽毛。结成伉俪后,雌性会在临水植被茂密处筑巢,每窝产卵可达10枚,由亲鸟共同孵化约三周后,雏鸟方破壳。
After hatching, both parents remain fiercely protective of their newborns, guarding and leading them to nearby ponds and streams to feed. The ducklings grow quickly, achieving full adult size in about two months.
绿翅鸭的亲鸟可谓是"模范父母":它们会无微不至地照料后代,把小鸭子们带在身边,教它们在栖息地附近的池塘和小溪里游泳、觅食。雏鸟的成长速度非常快,仅需2个月体型便与成鸟相当。
The best way to see Eurasian teals up close is by visiting Shenzhen Bay Park early in the morning during the winter. The ducks are most active at dawn as they feed and preen before temperatures rise. You're almost guaranteed to spot clusters gathered together, diving for food or resting placidly on the water's surface. And you'll undoubtedly find their charming good looks and cheerful nature infectious.
冬季清晨的深圳湾是绿翅鸭最佳的观赏时段。它们一般会趁晨光熹微、气温较低之时凫水觅食,有时也上岸梳理羽毛。潮位升起来的时候,你也能在水面看到它们三两成群的身影,或时不时把头扎进水里寻找食物,或静静地飘在海面上打盹休憩。有兴趣的话就来看看吧,相信这些漂亮、活泼的鸭子们一定会让你赞叹不已。