Share

Print
A+
A-
The rock pigeon
Writer: Isaac Cohen | Editor: Zhang Chanwen | From: Shenzhen Daily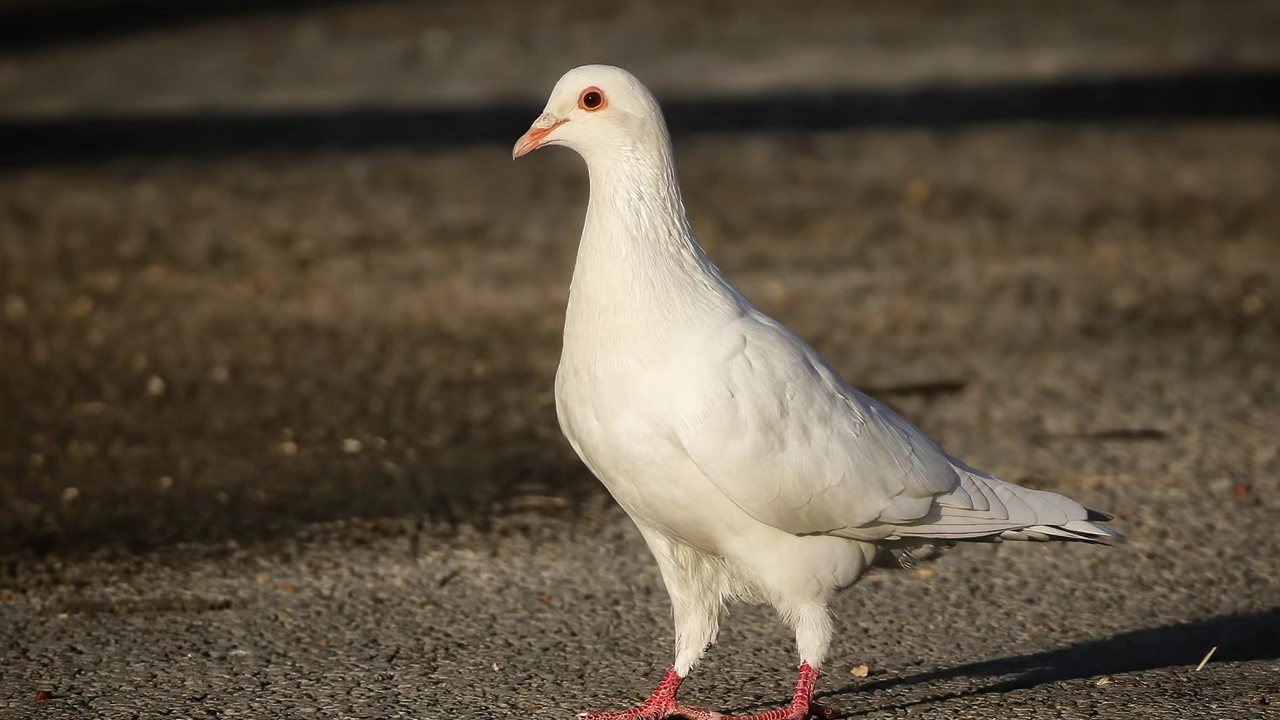 A white rock pigeon is seen at Shenzhen Bay in Nanshan District. Photos by Isaac Cohen

The rock pigeon
The rock pigeon (Columba livia), also known as the common pigeon or city pigeon, is an omnipresent bird found in urban and rural areas worldwide, including Shenzhen.

岩鸽,又称原鸽或家鸽,是一种在都市和乡村里皆常见的鸟类,在深圳亦是如此。
Native to Europe, North Africa, and southwestern Asia, this remarkable bird has been introduced to many regions across the globe, including the Americas, Australia, and New Zealand. It has become one of the most prevalent avian species on Earth.
岩鸽原产于欧洲、北非及亚洲西南部,经贸易通道被引入美洲、澳大利亚、新西兰等地,是世界上分布最广的鸟类之一。
Measuring approximately 35 centimeters in length, the rock pigeon possesses a distinctively plump body with a small head, short neck, and rounded wings. While their plumage exhibits various colors, the most frequently observed appearance features a bluish-gray body adorned with two black bars on the wings and a white rump. The head and breast are often iridescent, showing shades of purple and green in the sunlight.
岩鸽体长约35厘米,具有身躯大、头小、脖颈短、翅膀圆等鸠鸽科鸟类的典型特征。本物种拥有多种体色,最常见的为石板蓝灰色,翅膀具黑带,臀白色,头、胸部覆羽具结构色特点,在阳光下泛紫色或绿色金属光泽。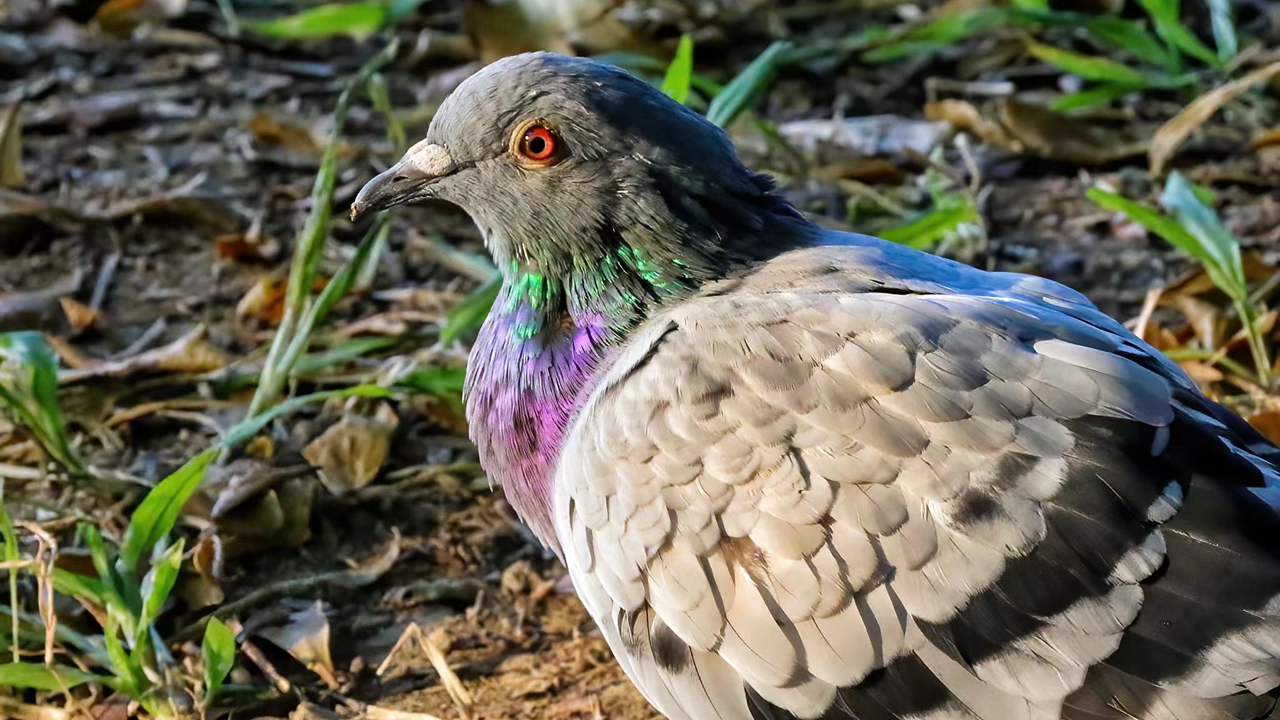 A rock pigeon is seen at Shenzhen Bay in Nanshan District.
Rock pigeons are social birds often found in flocks of up to several hundred individuals. They are also highly adaptable and can thrive in various environments, including cities, towns, and farmland. They are often seen perched on buildings, ledges, or other structures.
岩鸽的社会性很强,常以数量上百的大群为单位共同生活。它们也能适应各种各样的生存环境,无论是在城市还是村庄,都能在楼顶、窗台等建筑上发现它们的身影。
The rock pigeon is primarily granivorous, meaning they feed on seeds and grains. However, it also eats insects, fruits, and other types of plant material. In urban settings, it often scavenges for food, eating discarded scraps from human settlements. This adaptive behavior has aided them in colonizing entire cities, and become a nuisance in certain regions. It is crucial to refrain from feeding them in parks.
岩鸽主要以植物种子及谷物为食,也吃昆虫、水果等。栖息在城镇的个体则会在人类聚落附近捡拾食物残渣。因为对吃的"百无禁忌",岩鸽的泛滥给某些城市带来了不小的困扰。为了解决这些"鸽患",首先要做到的就是倡导人们不要随便投喂它们。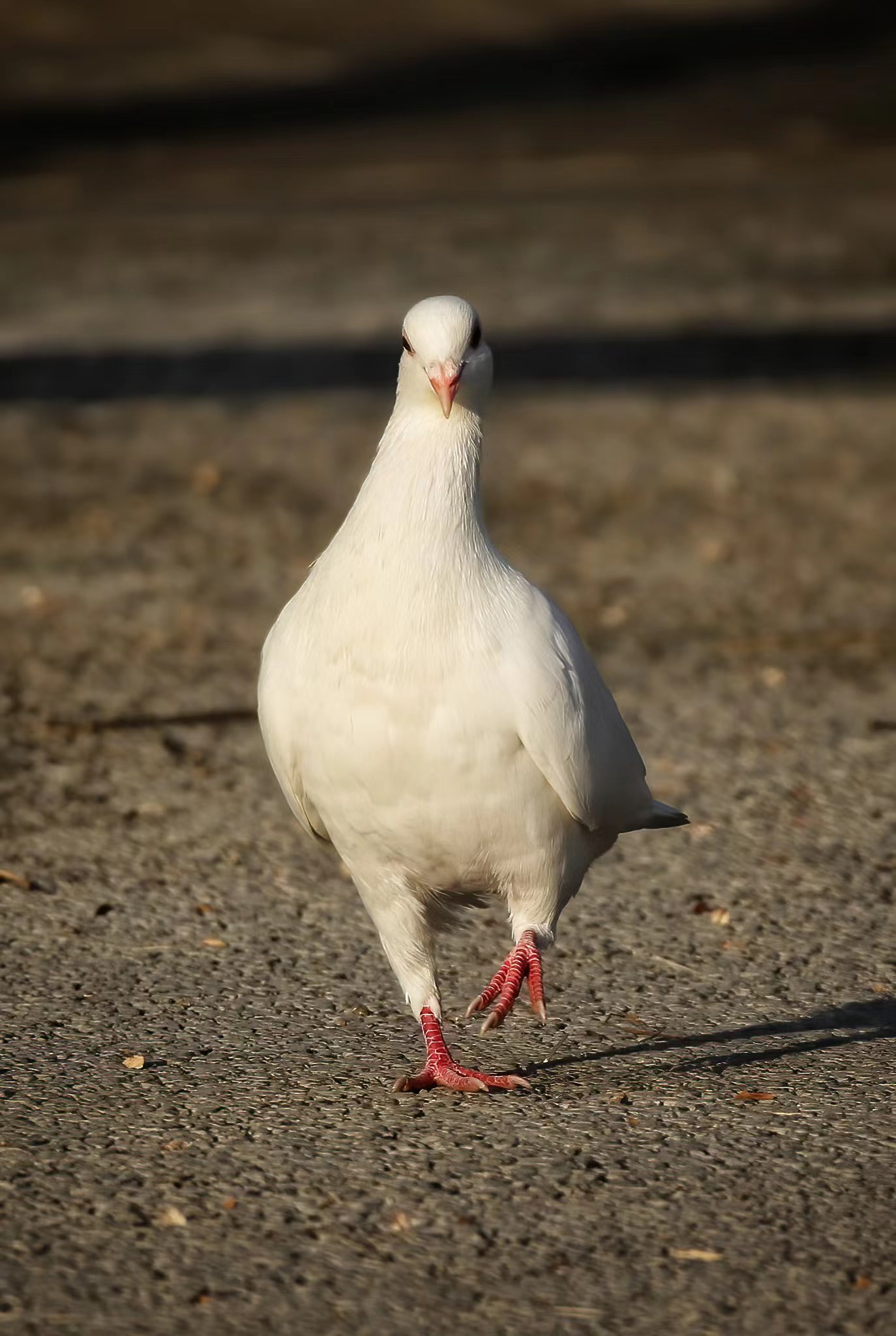 A rock pigeon is seen at Shenzhen Bay in Nanshan District.
Rock pigeons are monogamous and form long-term pair bonds. They breed throughout the year, with a peak breeding season in spring and summer. The female lays two white eggs, which both parents incubate for about two or three weeks. The chicks hatch in a relatively undeveloped state and require extensive care from their dedicated parents. They fledge after about five weeks and become sexually mature at around six months.
岩鸽恪守一夫一妻制,对伴侣的忠诚度很高。它们全年皆可繁殖,在春季和夏季繁殖行为最为活跃。雌性每窝产卵2枚,卵呈白色,由双亲共同孵化2到3周后雏鸟即破壳。因本物种属晚成鸟,孵化后全身无毛,眼不能睁开,需要由亲鸟悉心照料5周后方具备飞行能力,半岁即性成熟。
Currently, the rock pigeon is not a threatened species. Due to its high population density and its tendency to cause damage to structures and buildings, it is even considered a pest species. However, their populations have experienced declines in some areas, as a result of habitat loss and environmental pollution.
因为数量丰富,岩鸽的生存并不受威胁。因为它们在城市里繁殖泛滥,产生的大量排泄物腐蚀了建筑,其种群数量反而还需调控。不过,它们也同样经受着栖息地丧失和人类污染物的威胁,在部分地区的种群数量呈下降趋势。