Share

Print
A+
A-
The common pochard
Writer: Isaac Cohen | Editor: Ye Shangqing | From: Shenzhen Daily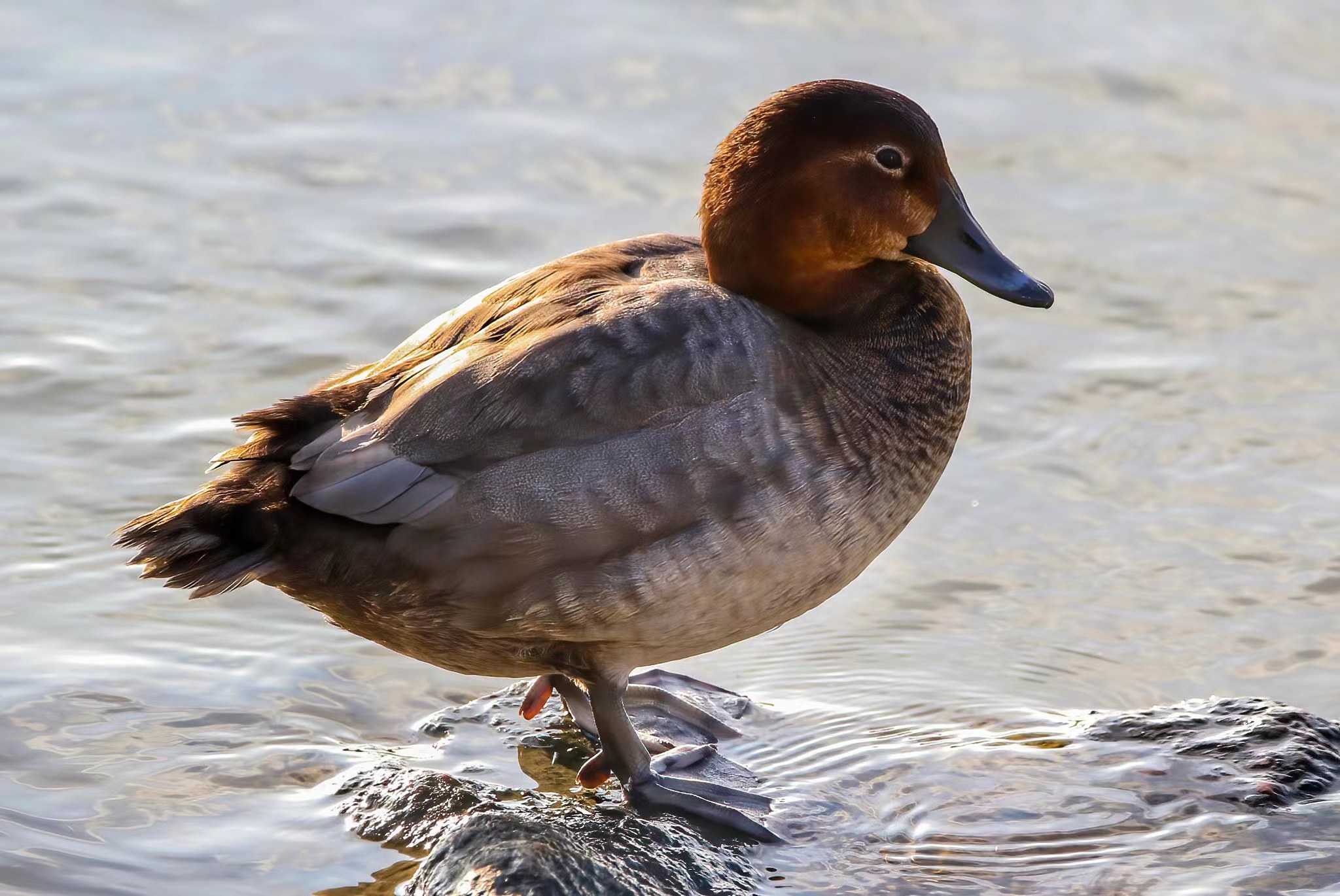 A common pochard is seen at Shenzhen Bay in Nanshan District.
The common pochard
The common pochard (Aythya ferina), also known as the European pochard, is a medium-sized diving duck found in Europe and Asia. It grows to about 55 centimeters in length and can weigh up to 1.3 kilograms. Males have a distinctive red head and neck, with a black breast and a grayish brown body, while females are less colorful, with a brown head and body and a darker bill. Both sexes have rounded heads and a steep forehead, giving them a distinctive appearance.
红头潜鸭是一种原产于亚欧大陆的,体型中等的深水鸭类。体长可达55厘米,体重可达1.3千克。雄性头、颈部栗红色,胸部黑色,躯干灰白色,雌性体色较为黯淡,头、躯体为褐色,喙黑色。本物种的辨识依据之一在于其头部硕大,额长并向下倾斜。
The common pochard is a migratory bird that breeds in northern and central Europe and Asia. During the winter, it travels long distances, migrating southwards to the Mediterranean, North Africa, and western Asia. Our city has had the pleasure in past years to receive a small group of this fascinating bird.
红头潜鸭繁殖于欧洲、亚洲中部及北部,秋冬季则从繁殖地出发,南下数千公里至地中海沿岸、北非、西亚等地区越冬,在深圳属少见冬候鸟。
This beautiful pochard can stay underwater for up to 30 seconds. It is a social bird often found in small groups or large flocks during the winter months. During the breeding season, however, it becomes more territorial and aggressive towards other birds.
红头潜鸭可以下潜半分钟之久,社会性强,冬季常见以小群为单位活动,也见集大群。繁殖期时护巢行为强,常驱赶靠近领地的其他鸟类。
It is primarily herbivorous, feeding on various aquatic plants and seeds. It also eats small invertebrates such as insects, snails and crustaceans; during the winter, it may also feed on grains.
红头潜鸭是草食性鸟类,以水生植物的茎叶和种子为食,也吃昆虫、蜗牛、贝类等无脊椎动物。冬季因为食物来源匮乏,也会在农田中捡拾谷物。
Common pochards breed in wetland areas such as lakes, ponds, and marshes, where males attract a mate by performing a display flight, during which he raises his head and tail feathers and calls loudly. Females then select a nesting site, usually in dense vegetation near the water's edge, where they lay up to 10 eggs per clutch, which both parents incubate for about a month. The chicks are precocial, meaning they are well-developed and can swim and feed themselves shortly after hatching.
繁殖期的红头潜鸭营巢于湖泊、池塘、沼泽等地,雄性有花哨的求偶行为,会频繁点头,摆动尾部并发出响亮鸣叫,配对成功后,由雌性在植被茂密的水边选定巢址。每窝产卵可达10枚,由双亲共同孵化约一个月后,雏鸟破壳。因本物种属早成鸟,雏鸟出生便具绒毛,很快就可以随亲鸟一同觅食。
The common pochard is listed as a vulnerable species by the International Union for Conservation of Nature (IUCN). Its populations have declined in many parts of its range due to habitat loss, hunting and pollution. In some areas, it has also been affected by the spread of invasive species, such as the zebra mussel, which can reduce food availability and breeding sites. Conservation efforts on its behalf are needed, including creating protected areas and restoring wetland habitats.
在世界自然保护联盟(IUCN)濒危物种红色名录中,红头潜鸭被定义为"易危"。由于栖息地丧失、盗猎猖獗、污染严重,它们在各地的种群都呈下降趋势。同时,斑马贻贝等入侵物种的泛滥也会抢夺红头潜鸭的食物,挤占生存空间,导致种群进一步减少。因此,应通过划定保护区、修复湿地等方式来实现对本物种的有效保护。