Share

Print
A+
A-
Spanish teacher nurturing global minds through language
Writer: Liu Shuyan | Editor: Ye Shangqing | From: Shenzhen Daily | Updated: 2023-08-07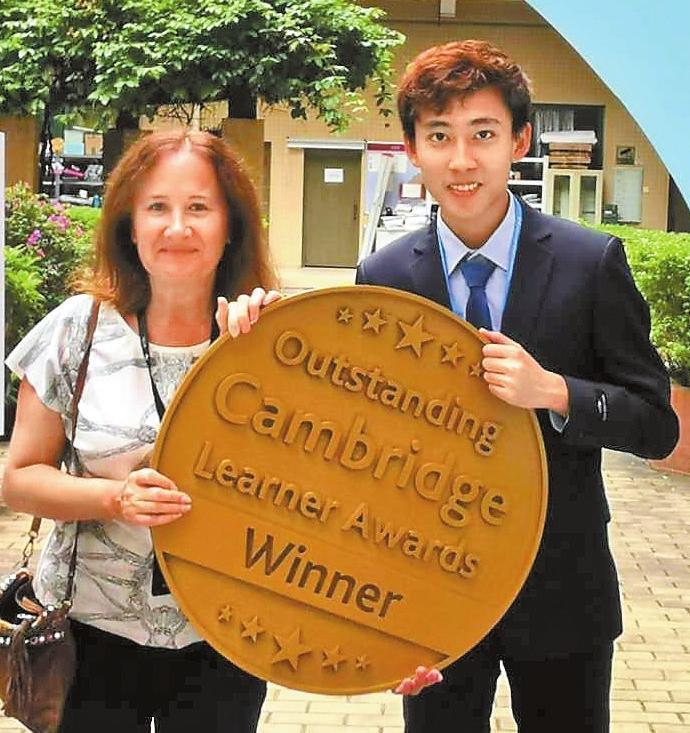 Maria Pascua (L) poses for a photo with a SCIE student named Travis, who delivered a speech partially in Spanish at the Outstanding Cambridge Learner Awards ceremony, in this photo taken in October 2019. Courtesy of Maria Pascua
Maria Pascua, a passionate Spanish teacher at the Shenzhen College of International Education (SCIE), has made a significant impact on her students' lives and the school community.
Pascua arrived in Shenzhen in August 2012, seeking a new challenge and adventure after teaching internationally for five years. Before coming to Shenzhen, she worked as a foreign language assistant in the U.K. and taught adults English in Spain.
"Though I enjoyed the teaching part of it (her previous career in Europe), it's still very different from the uniqueness I felt with teenage students," she said, while recounting her path to becoming an educator. She highlighted the distinction of being a part of teenage students' school lives and seeing them grow.
"SCIE is that kind of school catering to talented students," Pascua said. "And in my case, I was able to build my own curriculum, as Spanish was a new subject there."
Driven by the school's unique nature and opportunity, Pascua and her husband made the decision to join. Pascua is now in charge of the school's Romance Languages Department, while her husband, Stuart Ashmore, has been working there as the head of geography.
Working with colleagues from various cultural backgrounds has been an enriching experience for Pascua. She speaks highly of the unity and self-improvement fostered within the SCIE staff, attributing it to the school's commitment to following the latest educational trends. This unity is also a reflection of Shenzhen's internationally open nature, making the city an ideal location for such a diverse and inclusive school. "We are lucky that SCIE lies in such a modern city, changing with each passing day."
Pascua loves to create fun and immersive experiences in her Spanish class activities at SCIE. Some memorable moments include sampling Spanish food in the classroom, organizing performances in Spanish for the Chinese New Year, and carrying out field trips to cities in Spain. "At different times, we've had chorizo, salchichon, homemade tortillas and turrón at Christmas. …This year, we are planning on putting on a little play in Spanish to celebrate the school's anniversary."
Pascua reminisced about one of her most delightful experiences at SCIE. It was in her third year at the school, when all students in grade two performed in Spanish at the New Year concert and expressed their love for her.
"At the end of the performance all at once they shouted, 'We love you, Maria!' It was very touching, and I will remember it all my life," she said. "It is also very rewarding when graduates keep in touch and tell me about how Spanish has been useful in their university courses, or when they visit Spain and Latin America for leisure, further studies or as part of their job."
As a language teacher, Pascua believes that her role goes beyond teaching the subject matter. "The main difference (from teaching other subjects) is that you are teaching not just a subject but also a culture, and you want students to become aware of a different lifestyle and respect ideas different from their own."
Through language learning, her students become more internationally minded and can engage in discussions about world issues, literature, as well as comparisons between their home country and the culture of the language they are studying.
In her time at SCIE, Pascua has witnessed Shenzhen's rapid development and its impact on the school. "Although most of our students are Chinese nationals, just as before, you can see students are now more internationally aware than in the past," she said.
Shenzhen's involvement in globalization can also be felt outside the school. "In Shenzhen, we can see more services tailored to meet the needs of foreign residents. There are governmental websites offering help in languages other than English; initiatives from local authorities to include expatriates in their events; newspaper articles like this dedicated to raising awareness of expat life." Pascua said.