Share

Print
A+
A-
A love affair with SZ's diverse culture
Writer: Wang Yingxin | Editor: Zhang Chanwen | From: Shenzhen Daily | Updated: 2023-08-14
Sadulaeva Feruza from Uzbekistan has been living in Shenzhen since 2017, and now she considers the city her second home.
"If you ask me which Chinese city I would like to live in, without any doubt I would say Shenzhen," Feruza told Shenzhen Daily.
The Uzbek woman, who used to be a real estate manager in her home country, is now working as a Chinese-Russian interpreter in Shenzhen. She also volunteers to offer English and Russian lessons to children and her neighbors in Longhua District from time to time, helping them improve their language skills.

"I can feel an incredible amount of respect from students in class," Feruza said, adding that Chinese people have the tradition of showing great respect for their teachers.
Feruza made her first visit to China in 2009 and fell in love with Chinese culture right during that visit. Her love for Chinese culture has prompted her to take her Chinese learning seriously. Two years ago, she passed HSK 5 (a test of Chinese proficiency), the second-highest level in the test.
Recalling her early days in Shenzhen, she recounted an incident when she and her Russian friend got onto the wrong train because of their not-so-good Chinese, which left a deep impression on her.
"The same thing won't happen to me again, because now I can ask someone for help since I have acquired the language," she added.
Beyond mastering the language, Feruza also emphasized her deepening familiarity with the city she has called home for seven years.
"As a modern international city, Shenzhen is a home to many expats who work in sectors such as high technology and international trade. The city is making life more and more convenient for expats by improving public services catered to them."
Feruza said she is especially impressed by Shenzhen's diverse culture.
"You can meet people of different nationalities here in Shenzhen. Sometimes, when I take part in events and activities such as dancing clubs or competitions, I make friends with both Chinese and foreigners. I'm glad to establish global friendship," Feruza said.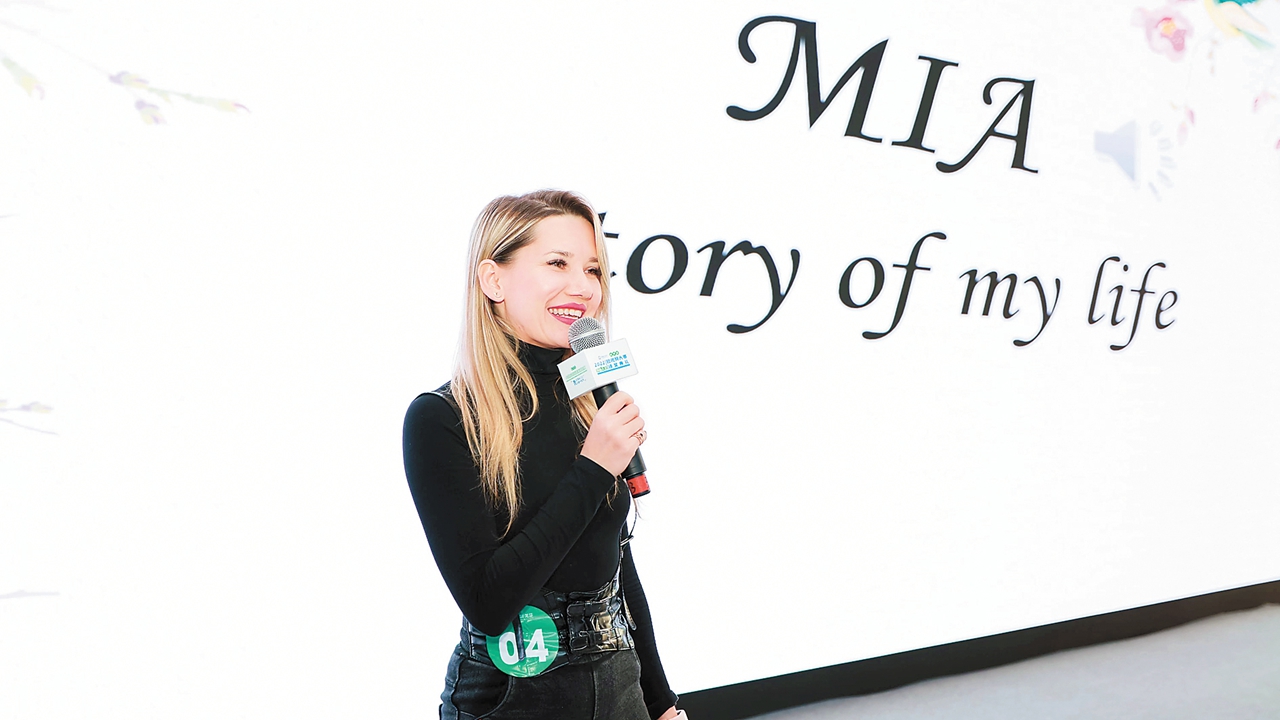 Sadulaeva Feruza is seen during a bilingual speech competition for Chinese and expat residents in Longhua District in November 2022. Courtesy of Sadulaeva Feruza
Feruza was one of the participants of an expatriate vlog competition held in Longhua District in November last year and distinguished herself as an outstanding awardee. She clinched the third prize in a bilingual speech competition for Chinese and expat residents in Longhua District in November 2022.

"Honestly, the prizes don't matter for me. The main purpose for me to participate in such activities is to make new friends and improve my language skills. I really had a delightful and fulfilling experience to get acquainted with people from all over the world," she said.
Feruza said one of her favorite things to do in Shenzhen is to take a walk around the city.
"Shenzhen has a lot for me to explore. During hot or rainy summer days like recently, it is perfect to take a walk in shopping malls," she said. "I love hanging out in these huge and spectacular shopping malls."
When the weather is cooler and drier, she enjoys outings along the city's long coastline, as well as the city's numerous beautiful parks and mountains.
Her favorite places are historical sites scattered around the city, which tell tales of the Chinese traditional architecture and culture. She said she enjoys strolling through the ancient alleys in Dapeng Fortress in Dapeng New Area and Nantou Ancient Town in Nanshan District because they offer a glimpse into the areas' ancient lifestyle.