Share

Print
A+
A-
The eastern buzzard
Writer: Isaac Cohen | Editor: Zhang Chanwen | From: Shenzhen Daily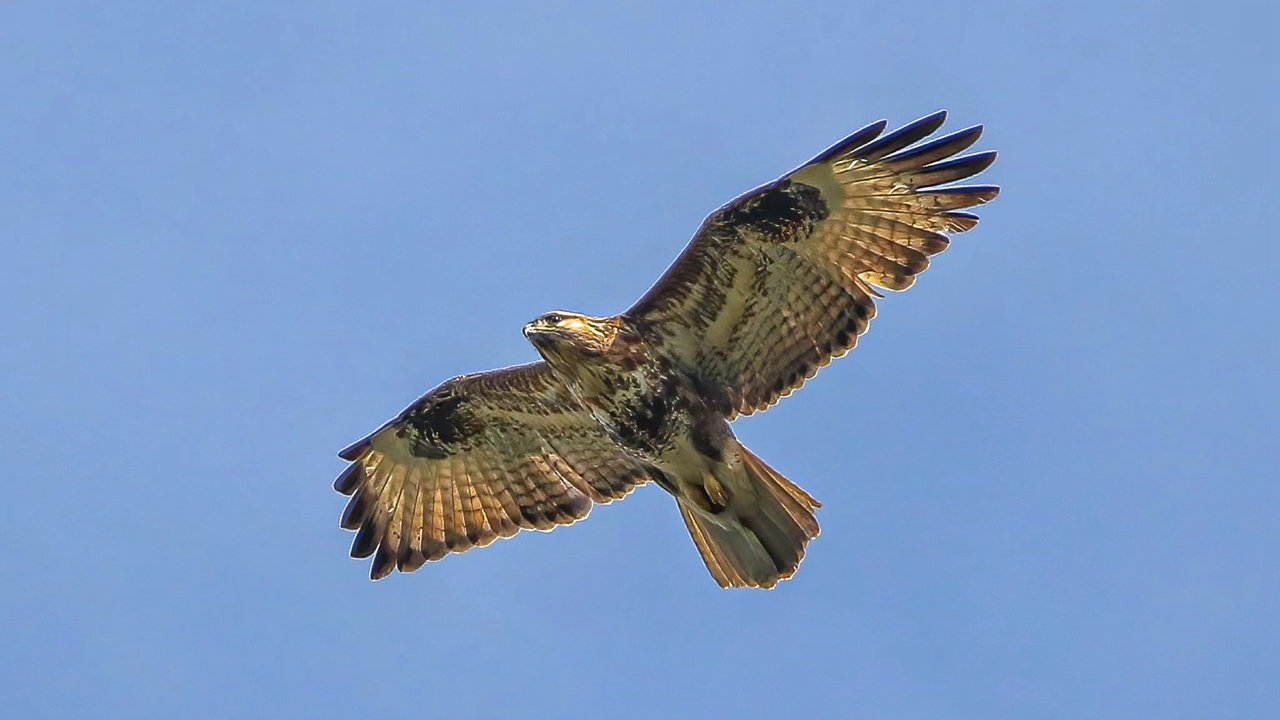 An eastern buzzzard is seen gliding across the sky in Futian Mangrove Ecological Park. Photos by Isaac Cohen

The eastern buzzzard
The eastern buzzard (Buteo japonicus), also known as the Japanese buzzard, is a medium-sized bird of prey that visits our city on its route of migration to warmer lands during the winter. With its distinctive appearance and fascinating behavior, the eastern buzzard plays an essential role in the ecosystems it inhabits.

东方鵟又称日本鵟,是一种中等体型的猛禽,冬季迁徙时会途经深圳。东方鵟不仅有着独特迷人的形态特征和生活习性,还对栖息地的生态系统有着重要作用。
This amazing buzzard is characterized by its robust build, broad wingspan, and short, hooked beak. It typically grows up to 55 centimeters long, with an impressive wingspan of approximately 1.4 meters. The plumage of this species varies greatly, ranging from dark brown to pale brown with streaks or bars. Adult birds often exhibit a prominent white or light-colored throat patch, while juveniles have more mottled plumage and lack the throat patch.
东方鵟体型健壮,身长可达55厘米。其翼展宽阔,可达1.4米左右;喙短,呈钩状。不同个体羽毛颜色不一,从深褐色到淡褐色带条纹皆可见。成年东方鵟喉部通常有显眼的白斑或浅斑,幼鸟则羽毛颜色较杂,喉部没有色斑。
An eastern buzzzard is seen gliding across the sky in Futian Mangrove Ecological Park.
Eastern buzzards are known for their remarkable migratory behavior. They breed in temperate and boreal forests across eastern Asia, including Japan, China, and parts of Russia. As winter approaches, they undertake extensive journeys, migrating to warmer regions in Southeast Asia, the Indian subcontinent, and even as far as the Indonesian archipelago.
东方鵟是一种候鸟,以大迁徙而闻名。它们在亚洲气候温和的森林里(包括日本、中国和俄罗斯部分地区)繁衍生息。冬季来临时,它们会长途跋涉,迁徙至东南亚和印度次大陆甚至远至印度尼西亚群岛的温暖地区。
These beautiful birds are monogamous, forming long-term pair bonds. The breeding season typically begins in early spring, when the male performs aerial displays to attract a mate, showcasing spectacular flight maneuvers and calling loudly. The female lays up to three eggs per clutch, which both parents incubate for approximately a month. After hatching, the chicks are cared for by both parents, and they fledge after about 45 days.
东方鵟实行稳定的一夫一妻制。繁殖季通常于早春开始,雄鸟会通过空中表演,展示飞行技巧及大声鸣叫来求偶。雌鸟每窝最多产三个蛋,父母双方都要孵化大约一个月。孵化后,雏鸟由父母双方共同照料,约45天后可以飞行。
These birds play a crucial ecological role as top predators, helping to maintain the balance of their ecosystems. By preying on small mammals, reptiles, birds, and insects, they control populations and prevent the overabundance of certain species.
作为顶级掠食者,东方鵟通过捕食小型哺乳动物、爬行动物、鸟类和昆虫等,控制了这些种群的数量,防止其泛滥,因而对维持生态系统平衡起着关键作用。
Eastern buzzards are primarily carnivorous, with a diet consisting mainly of small mammals such as rodents, rabbits, and squirrels. They also feed on birds, reptiles, amphibians, insects, and carrion. Employing a sit-and-wait hunting strategy, they perch on elevated vantage points and scan the ground for potential prey. Once a target is detected, they swoop quickly and accurately to capture their meal.
东方鵟是肉食动物,食谱主要包括如啮齿动物、兔子和松鼠等小型哺乳动物,也以鸟类、爬行动物、两栖动物、昆虫和腐肉为食。它们采用埋伏式的捕食策略,栖于高处的有利位置,扫视地面寻找潜在的猎物。一旦发现目标,就会迅速精准地向猎物出手。
Their presence in an area can also serve as an indicator of a healthy ecosystem, as these birds require suitable habitats, abundant prey, and sufficient nesting sites. Thumbs up to our city for supporting these amazing creatures during their yearly journey!
东方鵟对栖息地、猎物、筑巢选址要求很高,因此它们的出现证明了深圳的生态系统十分健康。深圳为这些生灵在一年一度的迁徙旅途中提供了良好的栖息地,让我们为深圳点赞!