Share

Print
A+
A-
The tufted duck
Writer: Isaac Cohen | Editor: Zhang Chanwen | From: Shenzhen Daily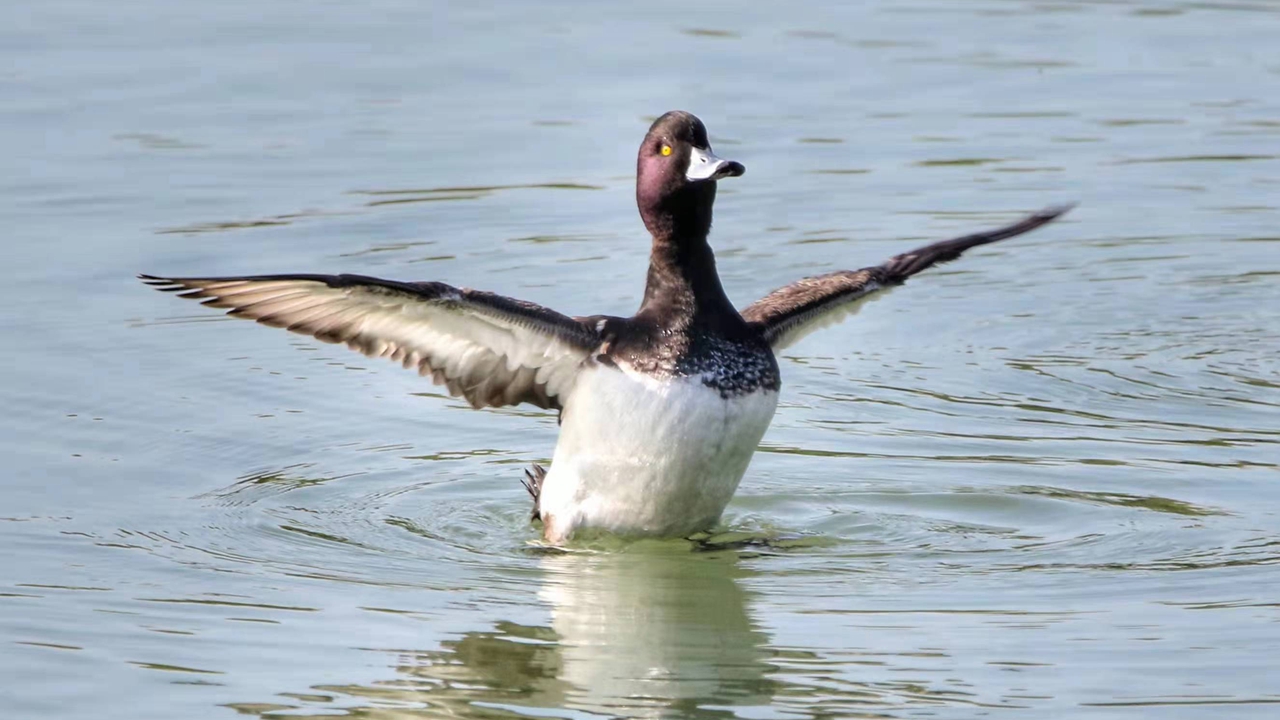 A tufted duck is seen spreading its wings at Shenzhen Bay in Nanshan District. Photos by Isaac Cohen

The tufted duck
The tufted duck (Aythya fuligula) is a captivating waterfowl species that visits our city in winter. With its striking appearance, unique behaviors, and ecological significance, this species has captured the attention of bird enthusiasts and researchers alike.

凤头潜鸭是深圳的常见冬候鸟,它们特征明显,行为有趣,生态位独特,吸引了大量观鸟爱好者和研究人员的关注。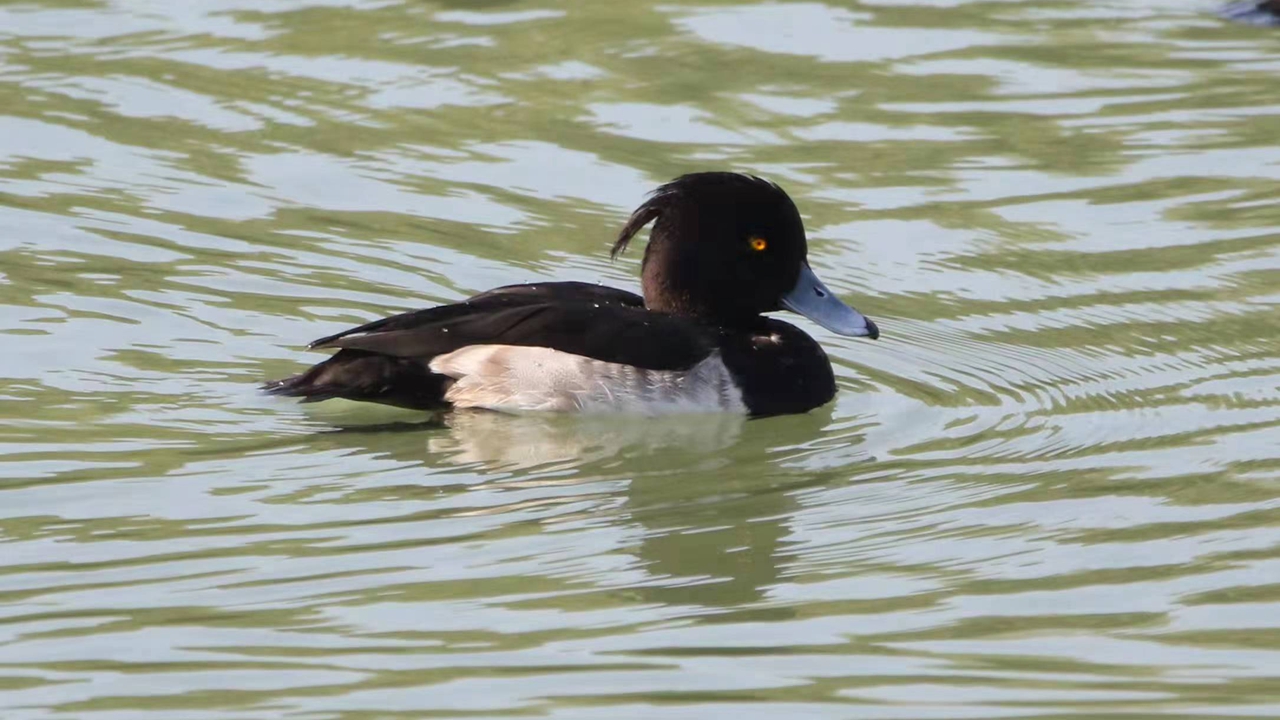 A tufted duck is seen at Shenzhen Bay in Nanshan District.
Measuring approximately 47 centimeters in length, the tufted duck is a medium-sized diving duck. It features a sleek, black body with white flanks, a distinctive tuft of feathers on its head, which is more prominent in males, and bright yellow eyes. Its blue-gray bill and grayish-blue legs further enhance its charm.
凤头潜鸭体型中等,成年个体体长约47厘米,体羽黑色,光滑拒水,腹部、胁部具白色块斑,雌雄均有辫状冠羽,雄性更明显,虹膜金黄色,喙蓝灰色,脚蓝灰色。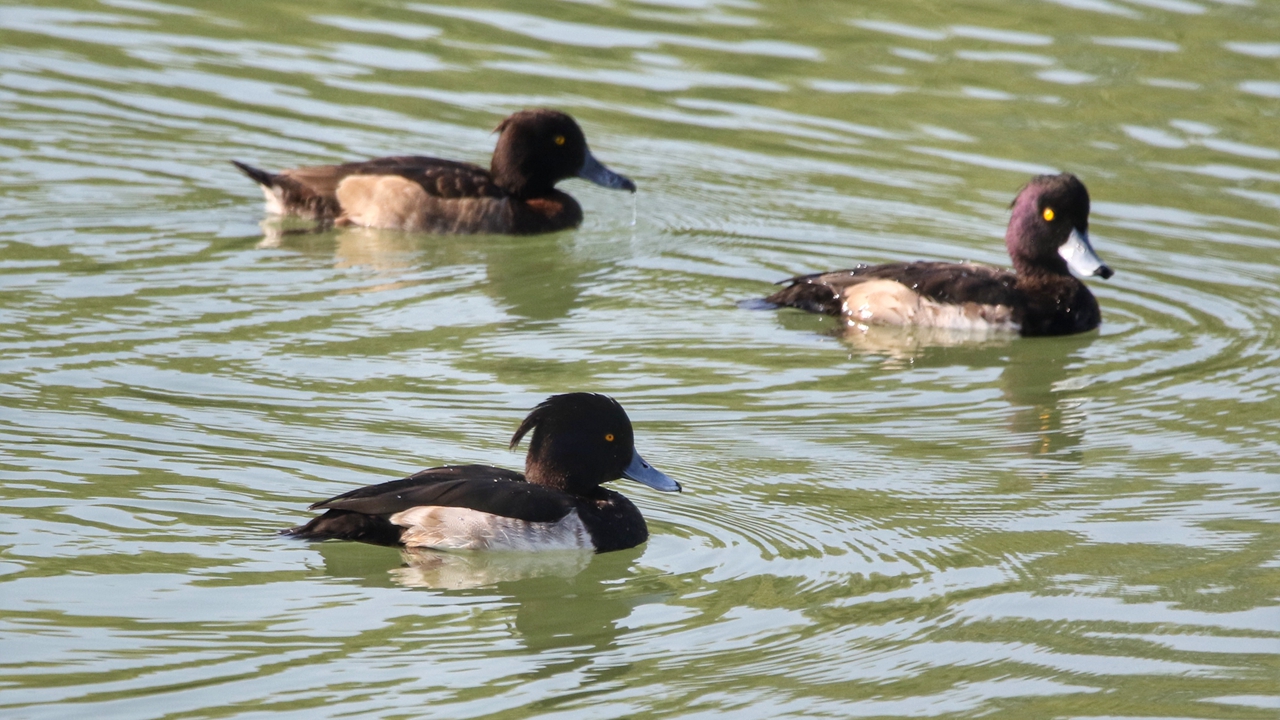 A group of tufted duck are seen at Shenzhen Bay in Nanshan District.
As migratory birds, tufted ducks exhibit varying patterns in different regions. In Europe and Asia, they breed in northern regions such asRussia and Scandinavia, and migrate southwards during winter to coastal areas and large inland water bodies.
不同地区的凤头潜鸭,其迁徙的路线也不尽相同。栖息在欧亚大陆的种群繁殖于俄罗斯及斯堪的纳维亚半岛等地区,秋冬季节则迁徙至南部的沿海及内陆湖地区越冬。
These ducks are primarily diving herbivores, but they also consume small invertebrates. Their diet consists of aquatic plants, seeds, roots, and tubers. They can dive to considerable depths, submerging for short durations to forage for food. This behavior allows them to access a wide range of submerged vegetation and invertebrates.
凤头潜鸭属草食性鸟类,有时也吃小型无脊椎动物,它们的食谱主要包括水生植物、种子及根茎。擅潜水,能够在水下短暂活动,取食生长栖息于深度略深区域的植物和无脊椎动物。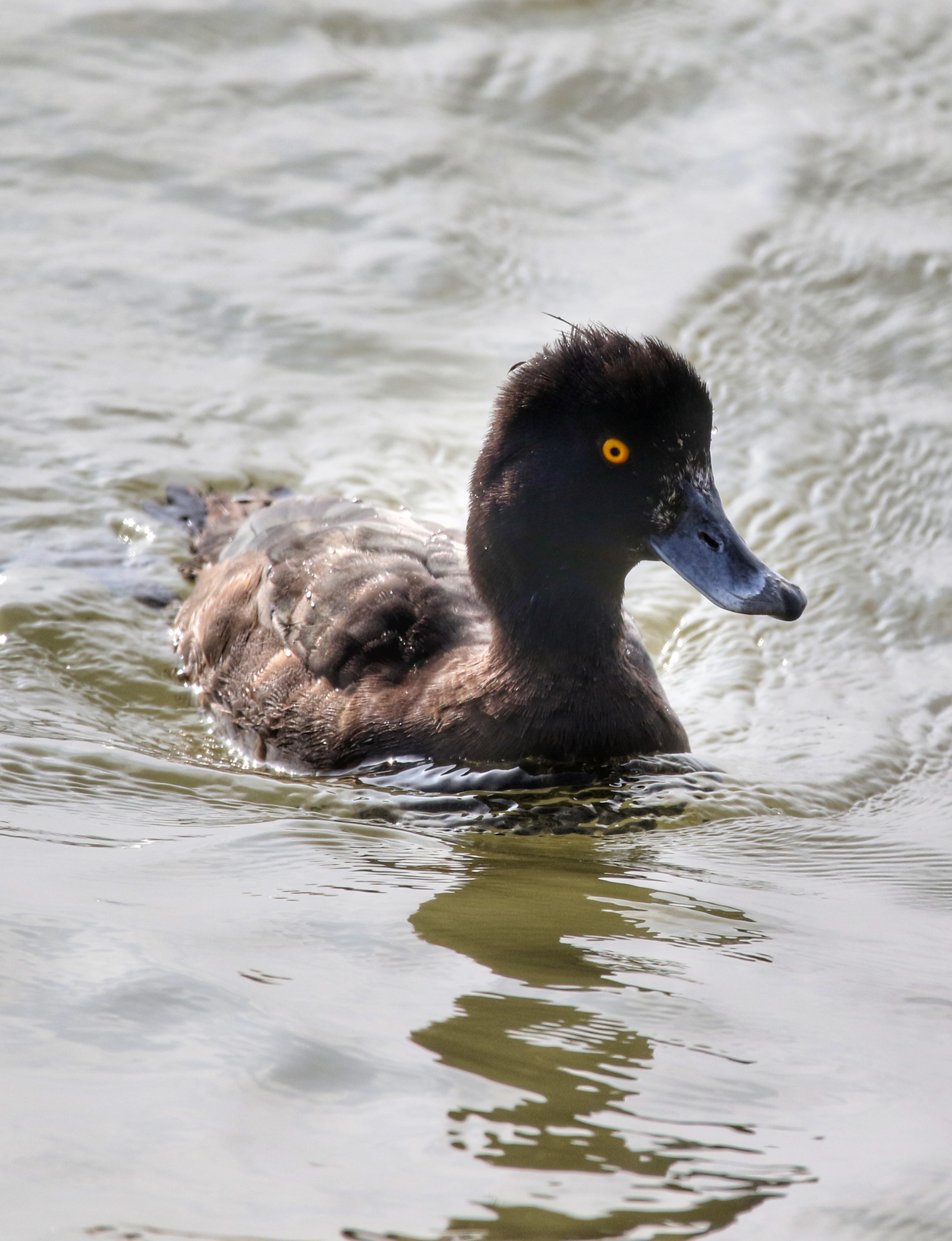 A tufted duck is seen at Shenzhen Bay in Nanshan District.
Typically, tufted ducks breed from April to June. Once paired, the female constructs a nest on the ground near water, often hidden amid vegetation using feathers and plant material. Each clutch consists of up to 10 eggs, which the female incubates for approximately a month. The ducklings, known as precocial, acquire the ability to swim and find their own food shortly after birth. While the female provides parental care and protection, the male may either join the family later or search for another mate.
凤头潜鸭繁殖于每年4至6月。交配后,雌性在临水处植被茂密的地面用羽毛、草叶等材料筑巢,每窝产卵可达10枚,孵化约一个月后雏鸟破壳,属早成鸟,出生便能游泳,随亲鸟外出觅食。雏鸟出生后大部分情况下由雌鸟抚养,雄鸟仅负责警戒巢穴等工作,更有甚者会在不久后离开,寻找新的配偶组建新家庭。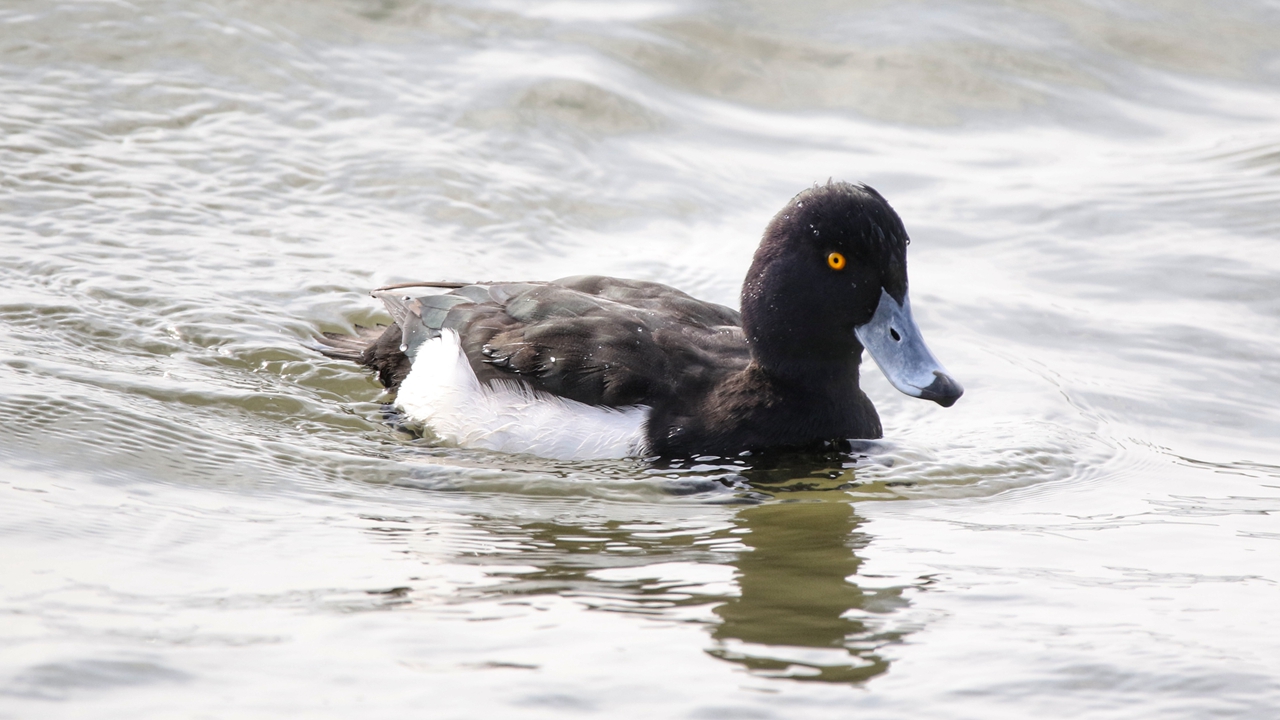 A tufted duck is seen at Shenzhen Bay in Nanshan District.
Tufted ducks play a crucial role in freshwater and coastal ecosystems. Their feeding habits contribute to the control of aquatic vegetation, preventing excessive growth and promoting healthier water bodies. By consuming seeds and vegetation, they also aid in seed dispersal, facilitating the growth of aquatic plants.
凤头潜鸭在维护淡水及沿海生态平衡中扮演重要角色。因为它们主要以浮游水生植物为食,从而可以控制植物种群的规模,避免大规模的藻类暴发现象。同时它们也能帮助植株把种子传播到更远的地方扎根发芽。
These ducks serve as an essential link in the food chain. Their presence supports various predators, including birds of prey, mammals, and larger fish species. Furthermore, through their migration patterns, tufted ducks connect diverse habitats, thereby serving as valuable indicators of environmental health and ecosystem changes.
凤头潜鸭还食物链中不可或缺的角色,为猛禽、猛兽、大型食肉鱼类等高阶掠食者提供了食物。此外它们作为候鸟也具有一定的生态研究价值,通过分析它们迁徙路线上的越冬地,我们可以判断当地的生态环境是否处于健康且无异常改变的状态。