Share

Print
A+
A-
Expats immersed in traditional Chinese cultural activities
Writer: Shao Jingfeng, Han Ximin | Editor: Zhang Chanwen | From: Shenzhen Daily | Updated: 2023-09-27
With the upcoming the Mid-Autumn Festival and National Day holidays, international communities across Shenzhen have organized a variety of activities aimed at celebrating the holidays and helping residents deepen their understanding of Chinese culture.
Some 14 expats gathered at IF Hall in Nantou Ancient Town in Nanshan District yesterday for an activity of crafting snow skin moon cakes. The event, hosted by the Shenzhen Municipal Science, Technology and Innovation Commission, was held to celebrate the upcoming Mid-Autumn Festival while providing participants with a chance to enhance their understanding of the festival through hands-on experience.
Professor Horst Vogel of Switzerland (R) makes moon cakes during an event in Nantou Ancient Town in Nanshan District yesterday. Courtesy of the science and technology innovation commission
Among the participants was Horst Vogel, a professor with the Shenzhen Institute of Advanced Technology (SIAT) of the Chinese Academy of Sciences (CAS), who expressed his enjoyment of the event. Although the Swiss scientist had been celebrating the festival for the past four years since coming to China, it was his first time making moon cakes himself. "Making moon cakes was a good idea that brightened my day. I will share these moon cakes I made with my friends," said Vogel.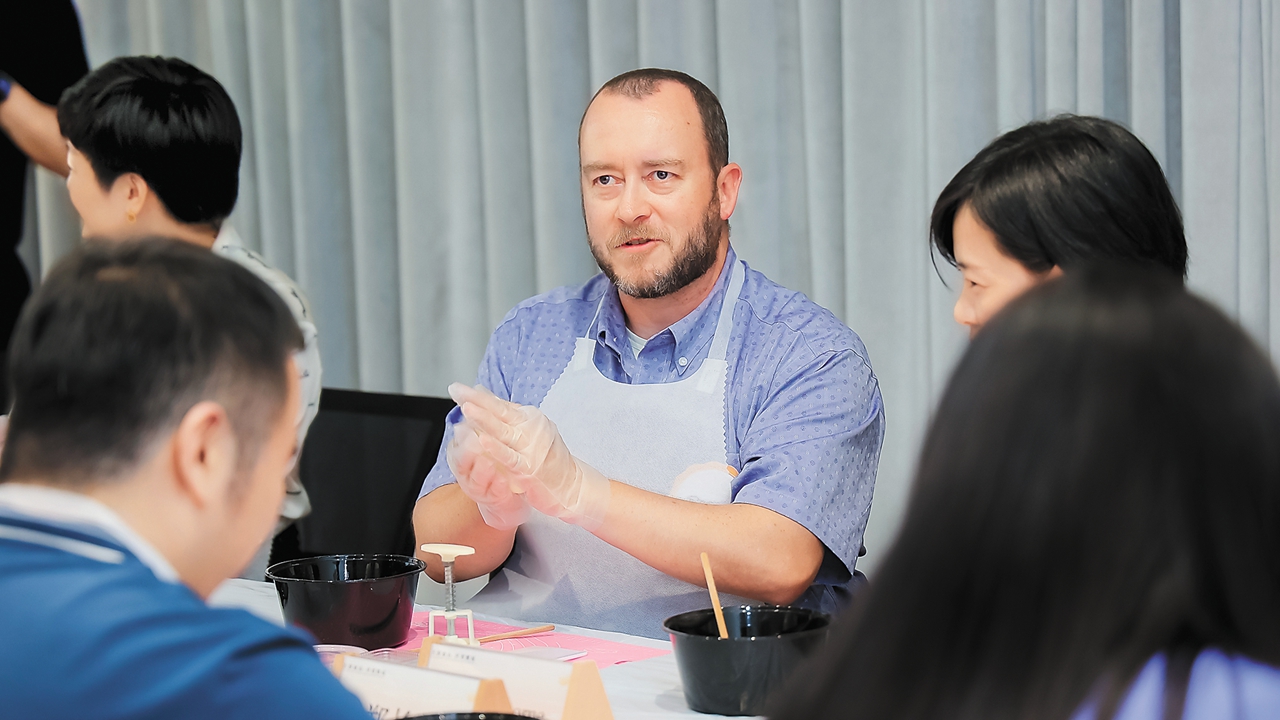 Steve Osborne from Canada makes mooncakes during an event in Nantou Ancient Town in Nanshan District yesterday. Organized by the city's science and technology innovation commission, the event invited 14 foreign talents to celebrate the upcoming Mid-Autumn Festival that falls on Friday. Courtesy of the science and technology innovation commission
Steve Osborne, a Canadian technical staffer working at Husky Oil Operations (China) Ltd., has only been in Shenzhen for a week. He said that the event helped him gain a better understanding of the Chinese tradition of celebrating the Mid-Autumn Festival. "Bringing people together is a part of this festival." Osborne said. "It was a pleasant experience to explore the ancient town and learn about its history and traditions."
A Hanfu and tea ceremony salon held at Guanlan International Block on Saturday drew the participation of dozens of Chinese and foreign residents.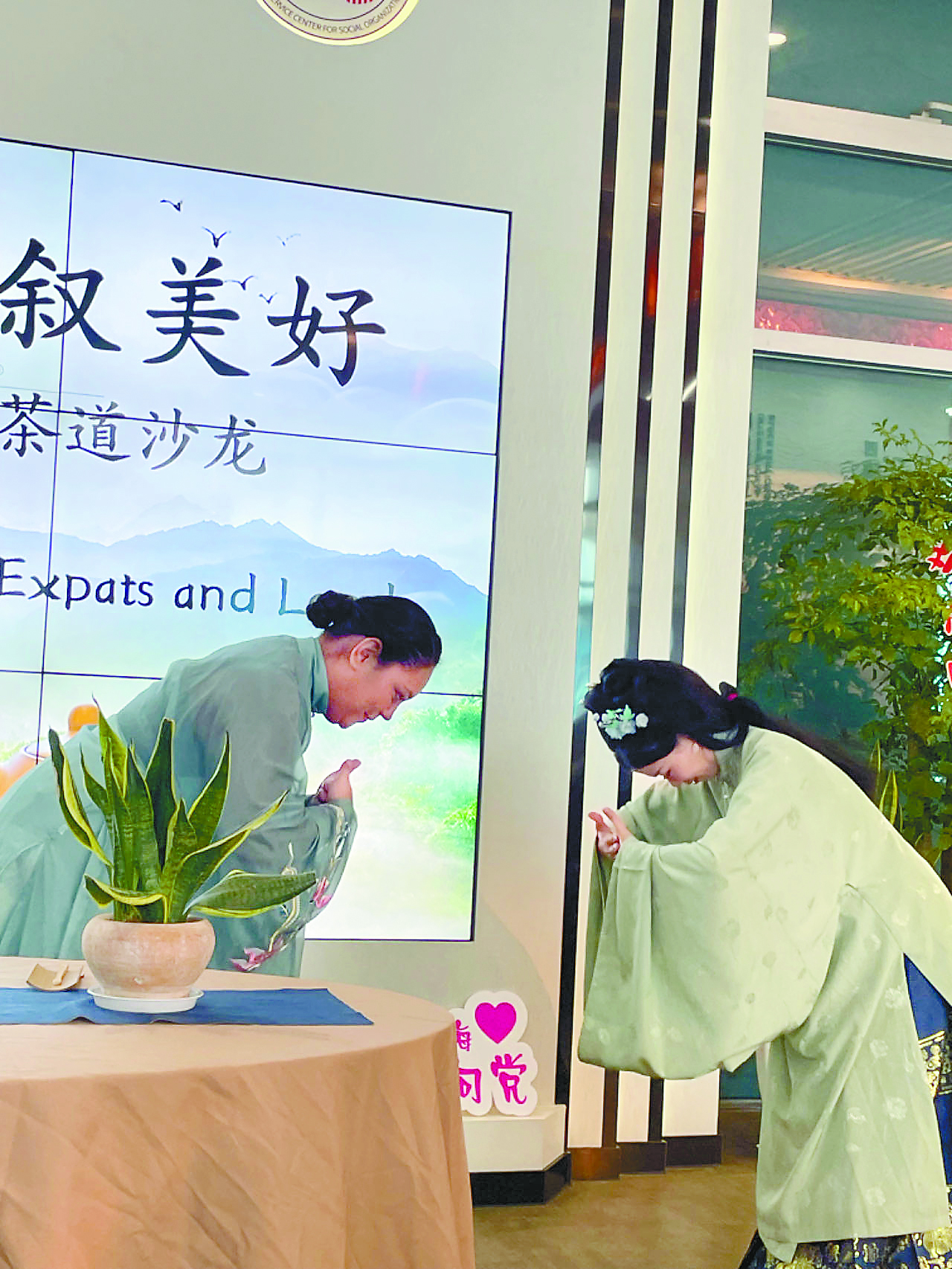 Arline Shedden (L) from Costa Rica learns traditional Hanfu etiquette at a Hanfu and tea ceremony salon held at Guanlan International Block in Longhua District on Saturday. Windy Shao
Dressed in stunning Hanfu costumes, they immersed themselves in the unique charm of traditional Chinese culture. The tea art performance was a highlight of the event, featuring teachers from Edixia Art Village in Longhua District. They showcased the elegance and allure of traditional tea culture, providing instructions on the correct usage of tea utensils, as well as techniques on how to control water temperature and tea-to-water ratio, ensuring a delightful tea-drinking experience for all. Amid the lingering aroma of tea, the attendees, attired in their splendid Hanfu, felt as if they had traversed time and stepped into a magnificent feast from ancient times.

Muhammad Idrees from Pakistan, a Ph.D. student at Shenzhen University, expressed his excitement over experiencing the traditional ceremony.
"As part of my doctoral degree courses, I have studied 'Overview of China,' which is very informative. I have attended several of such events, and through them, I have had the opportunity to immerse myself in Chinese culture," Idrees said.
"During the salon, I learned how to make tea while wearing beautiful traditional clothes. The tea had an exquisite taste, fragrance and color. It made me feel like a king sharing a cup of tea with my Cabinet members," Idrees joked.
Arline Shedden from Costa Rica, who has attended several events at Guanlan International Block, shared her enthusiasm for these cultural activities. Her husband, Alex Calderon, also joined this time to try out traditional Chinese attire.
"I appreciate the opportunity to engage in such activities here. They offer a fantastic way to learn about culture," Shedden told Shenzhen Daily.
Guguchia Natia from Georgia expressed her admiration for the traditional costumes.
"Hanfu is so beautiful, and I love wearing it! This was my first experience with a tea ceremony," she said. "Our fantastic organizers provided me with a wealth of knowledge about Chinese tea culture. I enjoyed the marvelous tea art performances."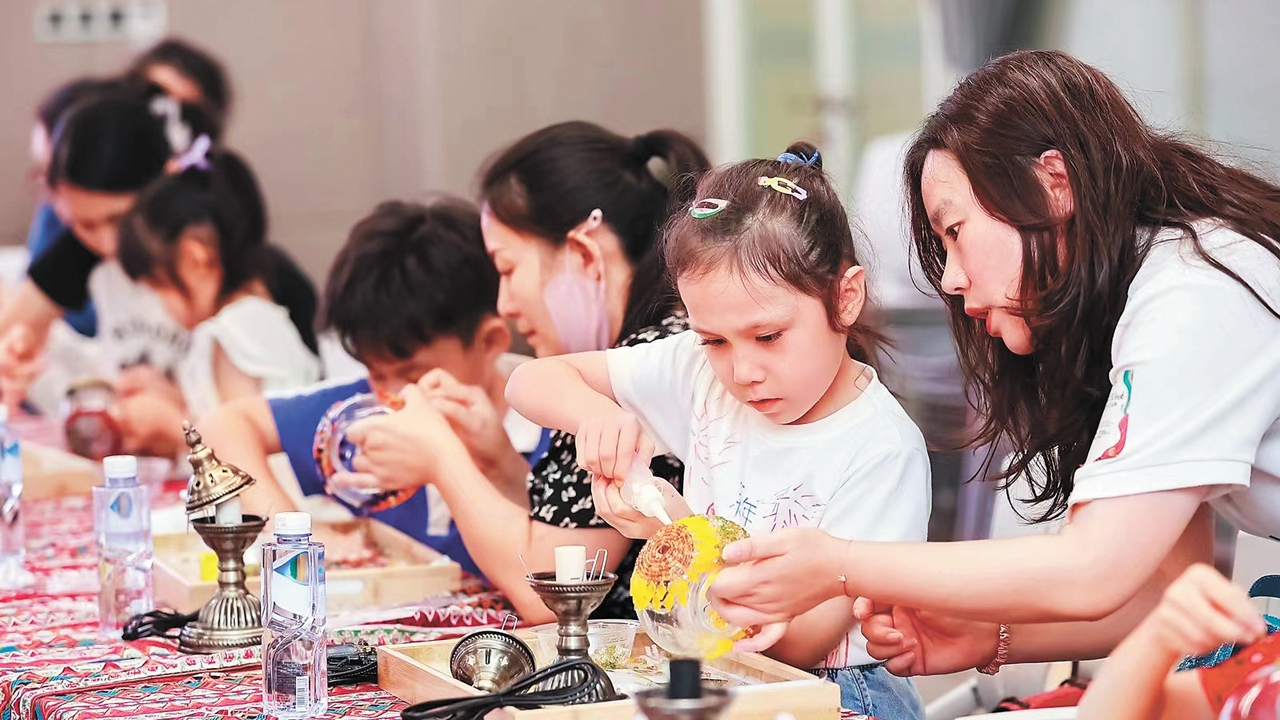 Children learn to make Turkish lamps at the Cuizhu Culture Week event in Cuizhu Subdistrict, Luohu District, on Sunday. Courtesy of Cuizhu Subdistrict Office
On Sunday afternoon, the Art at Fingertips event, part of the Cuizhu Culture Week, was held in Cuizhu Subdistrict, Luohu District. Local and foreign participants enjoyed a traditional Chinese instrumental performance and Turkish lamp DIY activity.

The instrumentalists played famous Chinese and foreign songs with traditional Chinese musical instruments.
This was the first time for Palici George Bogdan from Romania to participate in the activity in Cuizhu. Having lived in the area for a year, he said he wants to participate in more activities to make more friends from different countries.
Local participant Liu Xing is keen on learning about cultures from different countries. She looks forward to participating in more activities to make friends with the "foreign neighbors."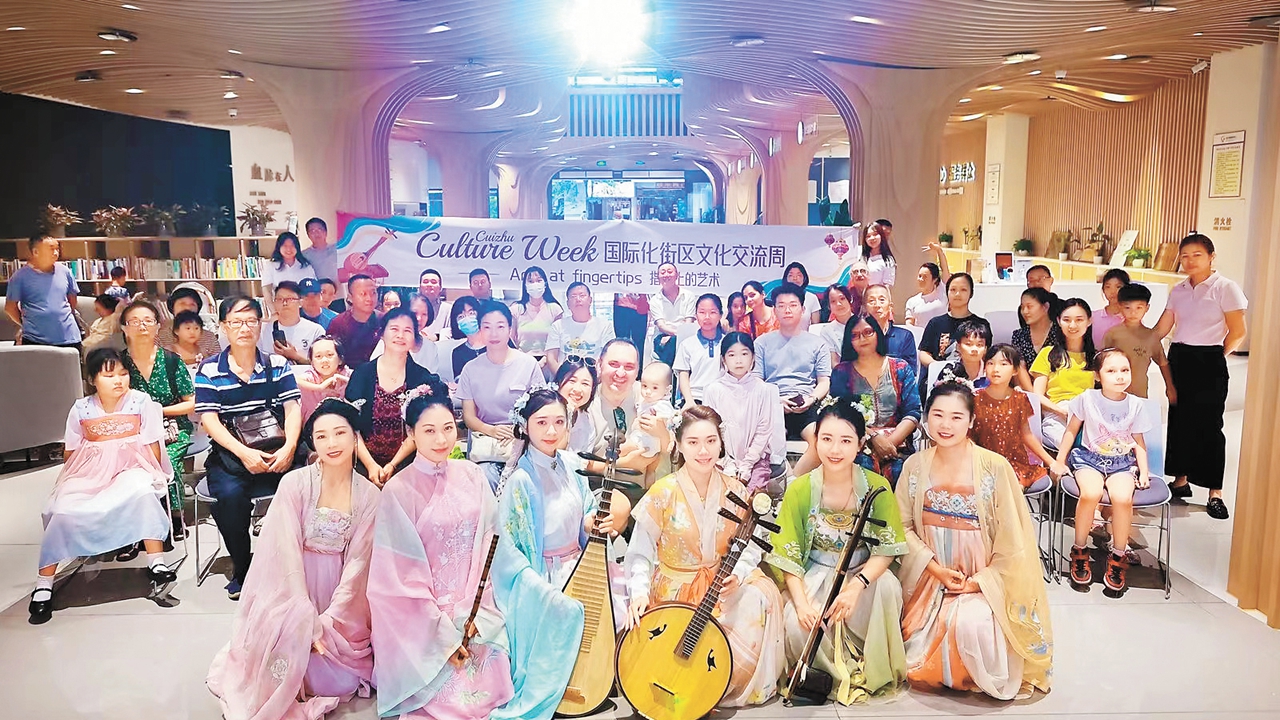 Performers pose for a photo with local and expat residents participating in the event in Cuizhu Subdistrict. Courtesy of Cuizhu Subdistrict Office
As an international demonstration block featuring commercial cultural tourism, Cuizhu has been creating an international atmosphere and optimizing its environment for expat residents and investors. The Cuizhu Culture Week not only builds a platform for communication between Chinese and foreign communities, but also promotes the integration of Chinese and foreign cultures, according to Cuizhu Subdistrict Office.