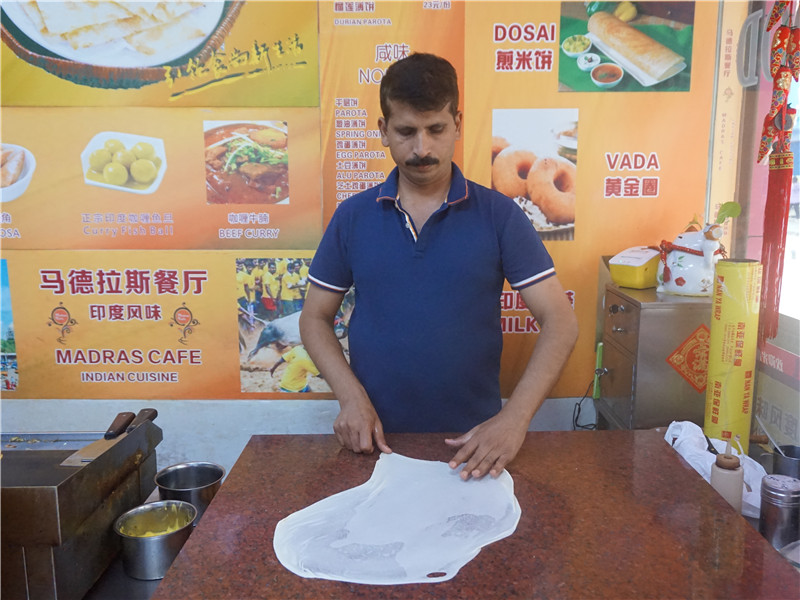 Seenimohideen Abdlil Thajudeen
Stepping out of the Shuiwan Metro Station in Shekou, visitors will find themselves on a street full of shops and food stalls, a very different scene than the concrete jungle near the city center or the neatly designed shopping malls that seem to all be the same. Many restaurants are lined up along the pedestrian area, offering local foods and foreign cuisines, and customers can enjoy their meals sitting around tables on the sidewalk. Madras Café, an Indian restaurant at the end of the street, seems easy to miss. However, the tiny restaurant offering authentic Indian cuisine has actually gone viral on the web and is an attraction for many foodies.
The name Madras comes from the hometown of the owner, Seenimohideen Abdlil Thajudeen. An ethnic Tamil from the Southern Indian city, which is now officially named Chennai, Thajudeen learned to cook for three years before coming to Shenzhen in the late 1990s. He first worked at a Chinese restaurant as a chef making roti parotta, a type of pancake popular around India and Southeast Asia. In 2012, Thajudeen started his own business in Shekou, offering authentic Indian food like curry, masala and parotta. When asked about his style of cooking, Thajudeen said that he preserves the original taste from his hometown by importing ingredients like the curry spice from India. "Cuisines in Southern India aren't very spicy, so the flavor is generally accepted by the people here in Shenzhen."
Married to a Chinese wife, Thajudeen is fluent in Mandarin and Cantonese. He switches freely between Tamil, English, Mandarin and Cantonese when instructing his staff, serving different customers and dealing with delivery men. The large number of expats in Shekou is one of the reasons Thajudeen set up his restaurant, but many of his frequent customers are Chinese. "I love Shenzhen, and I've spent most of my time here for the past 20 years. Many of my friends are Chinese."
As Madras Café is very popular in the area, Thajudeen also plans to expand his business one day, but what he cherishes the most is satisfying as well as entertaining his customers. Chinese guests really like to watch how they make the traditional Indian snack parotta, said Thajudeen.