It is hard to imagine how much a foreigner could be fascinated with a martial art until you meet Duiu Onofrei, a man from Romania who has been practicing Qwan Ki Do for almost 30 years.
Qwan Ki Do is a martial art with ancient traditions that is very modern at the same time. The founder of the style is Pham Xuan Tong, a Vietnamese master who also studied the Chinese style of martial arts. Thus, he combined the two styles, resulting in the style of Qwan Ki Do, according to Onofrei.
Onofrei, who came to Shenzhen two years ago, is a black belt in Qwan Ki Do. He told the Shenzhen Daily that he wants to help the city organize the next World Qwan Ki Do Championship in 2024, bringing together contestants from around twenty countries.
Onofrei said that he has shared this idea with staff at the Nanshan International Cultural Exchange and Service Center in Zhaoshang Subdistrict. "It seems that we have like five years to go but time flies. We would have a lot to prepare if we finally get the chance to hold the competition," said Onofrei.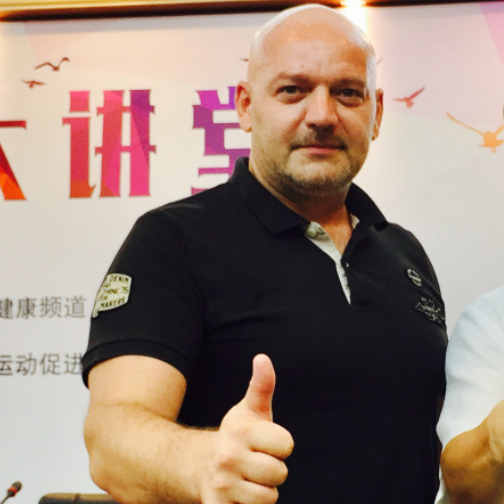 Duiu Onofrei

At present, the World Qwan Ki Do Championship is held every four years by the World Union of Qwan Ki Do. It has been held in European countries, such as France, Romania, Italy, Germany, Belgium and Switzerland. Onofrei hopes that he can not only bring this contest to China but most importantly coach a Chinese team to represent the country in the competition.
Aside from seeking cooperation opportunities for the international Qwan Ki Do matches, Onofrei is preparing a business to teach Qwan Ki Do to more Chinese and has participated in many volunteer activities in the city. He has become a member of an international volunteer team called "HOPE" (Help One Person Every day).
Onofrei maintains that he always feels happy to help those in need. He also offers free self-defense classes for women each week in Nanshan.
Shenzhen, in Onofrei's eyes, is a clean, modern and foreigner-friendly city, full of numerous green parks and recreational places. Onofrei said that people are kind and friendly in China, which makes him feel even more at home than in his own country, especially here in Shenzhen.