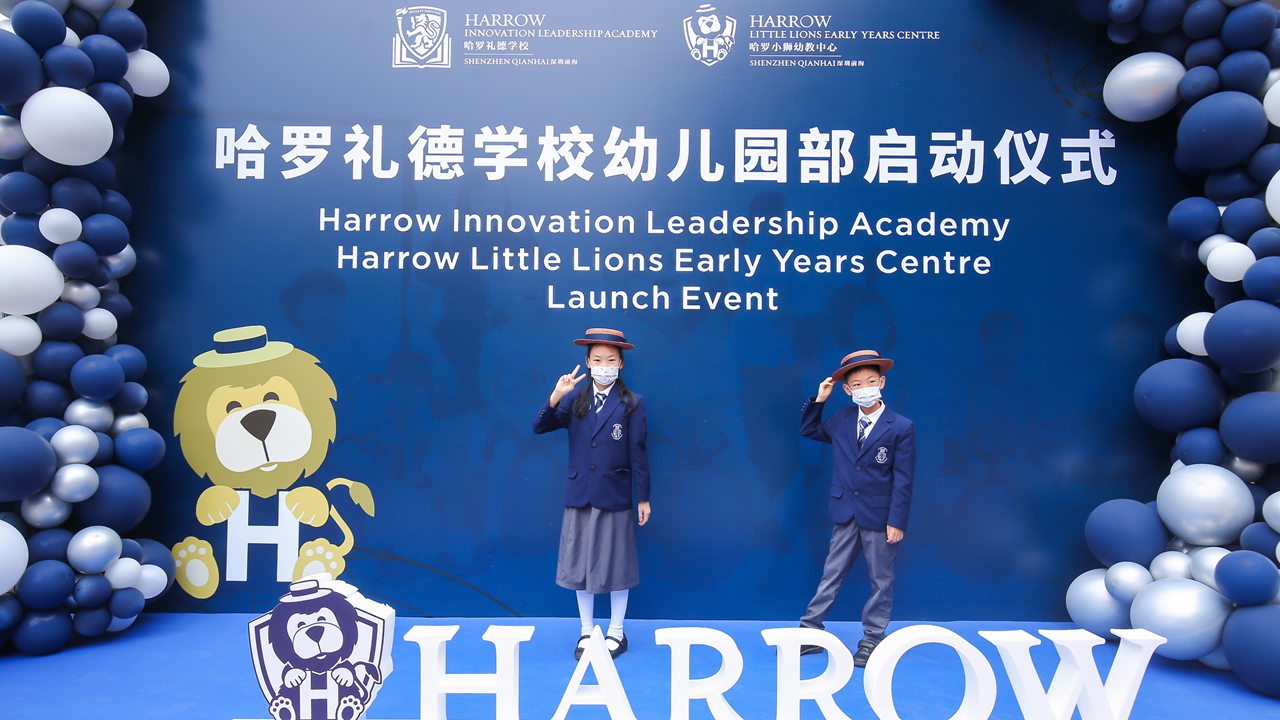 Two Harrow students take a group photo at the launching ceremony. Courtesy of the school
Harrow Innovation Leadership Academy's Harrow Little Lions Early Years Center Shenzhen, a bilingual kindergarten for children aged two to six years old, has announced to open for classes this autumn, audiences were told at the launch ceremony held at Harrow International School Shenzhen Qianhai on Saturday.
There are two Harrow Schools in Qianhai, Shenzhen. Both the Harrow International School Shenzhen Qianhai and the Harrow Innovative Leadership Academy Shenzhen Qianhai plan to offer K-12 schooling from kindergarten to senior high school.
Unlike Harrow International School, which only accepts students who are Hong Kong, Macao and Taiwan residents or foreign passport holders, Harrow Innovative Leadership Academy emphasises on bilingual and bicultural education and thus welcomes students from all nationalities.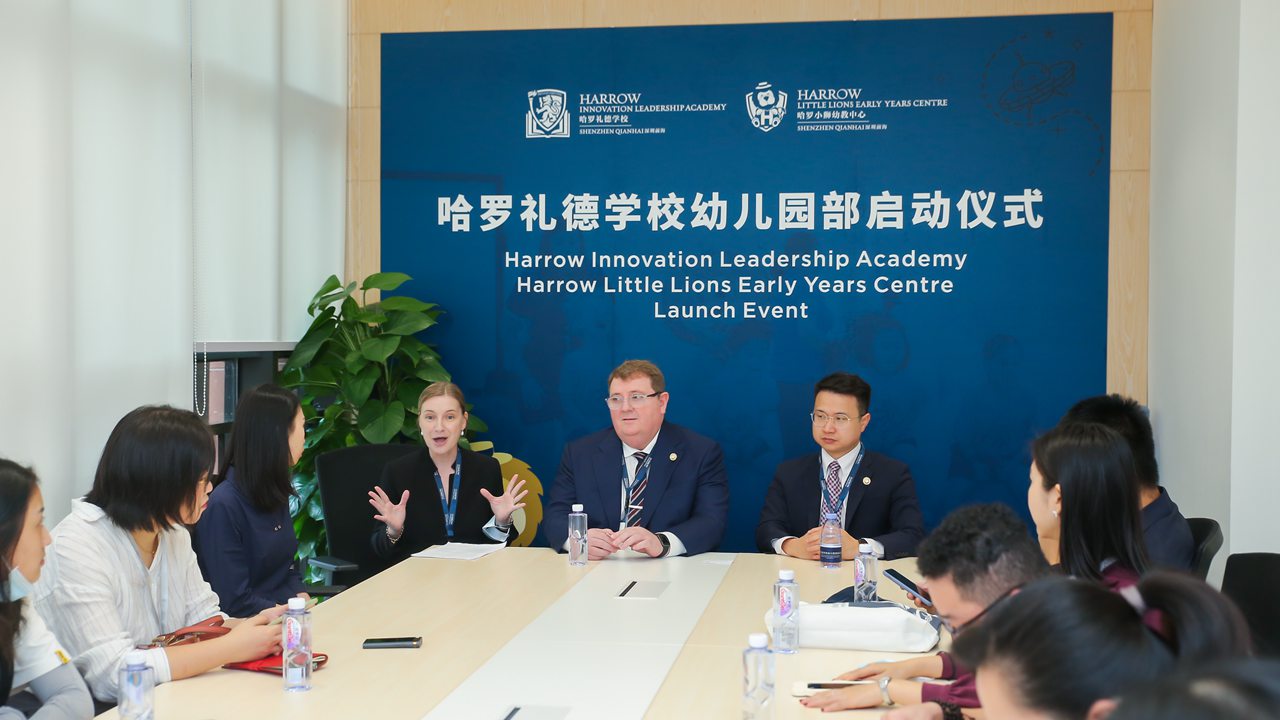 Heads of Harrow International School Shenzhen Qianhai introduces the Little Lions Early Years Center to the reporters.
David Shinkfield, Headmaster of Harrow Shenzhen Qianhai said in his speech: "More important than the differences, it is the similarities that will make Harrow Shenzhen unique, the two schools will adopt the same Harrow standards, be managed by the same Harrow Shenzhen Board of Governors and leadership team, and share the same harrow culture."
Mr. Ma Wei Hua, Chairman of the School Management Committee, Harrow International Schools, delivered a speech. "For more than 450 years, Harrow has truly practiced the essence of education—adhering to the concept of holistic education, focusing on the all-round development of children, and striving to cultivate leaders for our world with the qualities of 'courage, honor, humility, and fellowship'. I really believe in the concept brought by Kevin Qian Principal – 'Connecting East and West, fostering global leaders'", he mentioned.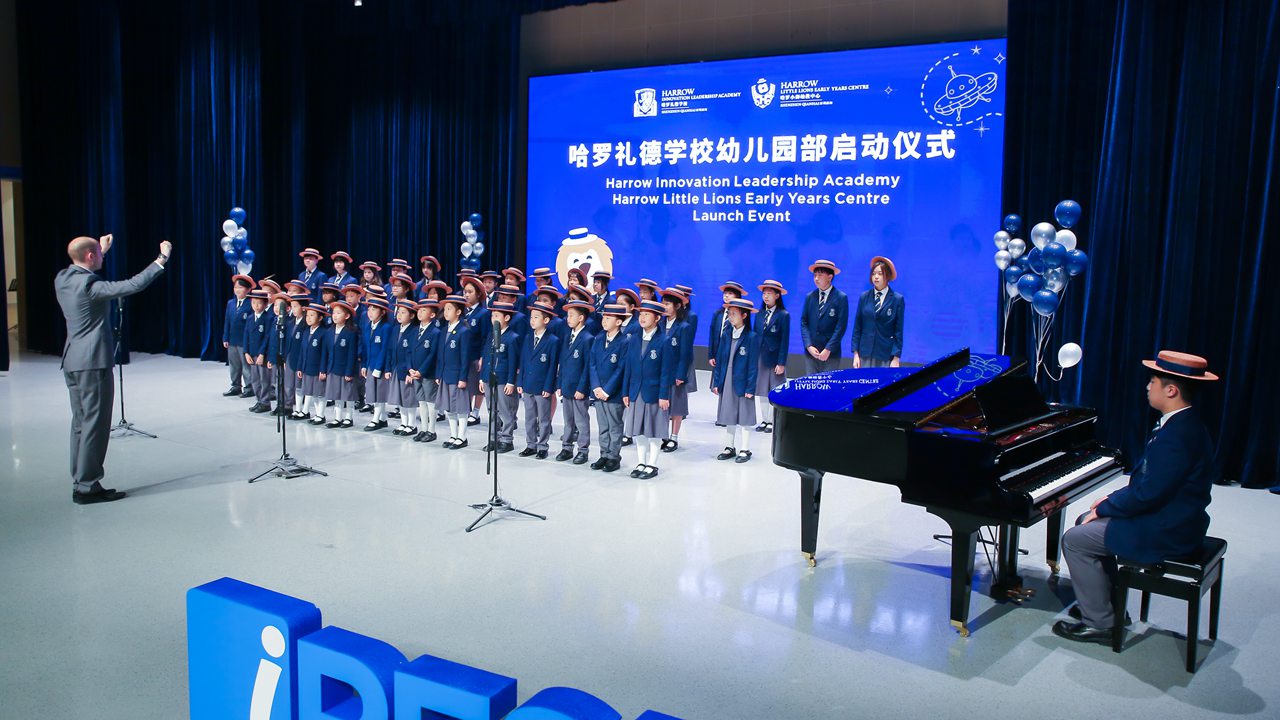 Students of Harrow International School Shenzhen Qianhai perform a chorus at the launch ceremony.
According to Jan Dubiel, Group Principal for Harrow Little Lions, early childhood education lays the foundation for future success and is directly related to academic excellence and future achievement. "Parts of our educational philosophy is to shape the responsibility into the experience that they have. So the Harrow Approach rests on what we know about the early years and why it is so important, but it also draws from our long history and long tradition. That's why we think the Harrow experience would be the best kind of experience for the young children." he said.
Parents interested in Harrow Shenzhen can get more information from the public account "Harrow Shenzhen" on WeChat.