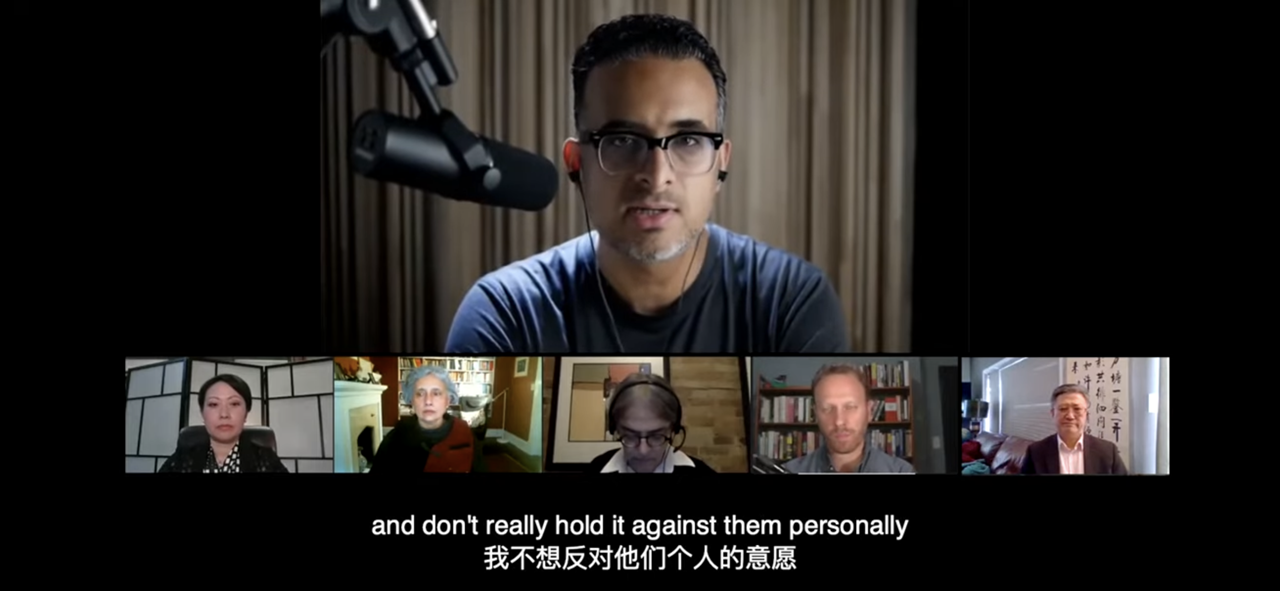 A screenshot of a 12-minute video clip, in which Daniel Dumbrill (top) shared his thoughts on why the West is targeting China's Xinjiang. The video has gone viral since it was uploaded earlier this month. SD-Agencies
A video clip disclosing U.S. maneuver of the fabricated "genocide" of Uygurs in China's Xinjiang uploaded by Daniel Dumbrill, a Canadian living in Shenzhen, has drawn wide attention, receiving nearly 190,000 views by 4 p.m. yesterday, two days after it was screened at a regular news conference of the Ministry of Foreign Affairs and reposted by its spokesperson Hua Chunying.
In the 12-minute clip, an excerpt of a zoom panel, Daniel Dumbrill, a video blogger with more than 100,000 followers, said the reason why the Xinjiang narratives matter so much to the Western governments, particularly the U.S. Government, is American' geopolitical interests.
"There is an increasing risk that RMB will challenge the U.S. dollar's global hegemony… adding the context of Xinjiang being the site of Asia's largest oil deposit and a key doorway to China's Belt and Road Initiative and the fact that it suffered from pre-existing Islamic terrorism problems, the question becomes how could you possibly NOT expect America to take a special interest in Xinjiang," Dumbrill said in the video.
In the channel, Daniel said he would like as many people as possible to understand this message, encouraging people to think critically, dig deeper and do their own research, not to accept the anti-China propaganda for face value, and equip themselves with facts.
In the clip, Dumbrill cited examples about the achievements China has made in the construction of Xinjiang and criticized one-sided, fake news reported by Western media about Xinjiang.
For Uygurs, the sanction measures on Xinjiang on an allegation of "slave labor" are not based on evidence, he said.
"Ironically, the sanctions will take away the livelihood of those Uygurs and create an interesting situation where now he sees foreign China watchers complaining that Uygurs need to travel out of the autonomous region in order to find work," he said.
"I think the sanctions are designed to do exactly what sanctions are designed to do, which is to make ordinary people suffer, make them want to rise up against their government. When you combine that with the odd recent declassifications of ETIM as a terrorist organization by the U.S., it seems that America is on a pretty clear path to support terrorism in order to achieve its geopolitical interests."
A viewer identified as Cyrus Janssen said it was important to engage in dialogue and ask questions. It was not surprising that 80 MPs in Canada all ignored or denied the interview requests by Dumbrill, but it was sad that none of them feel confident enough to defend their position, the netizen said.
The other viewer identified as Wuu Hoo, a Chinese growing up in the U.S. since the age of 5, said she/he heard negative comments about China and received racist comments after the family moved to a small city in Nevada from New York City.
But when Wuu Hoo visited China a few years ago, she/he realized how great China is.
"The cities were totally different from before, everyone seemed so happy… When I came back from China, whenever I hear about a negative comment made about China, I actually do some research instead of just listening and believing it. Looking at how China solves problems, like the pandemic, I was actually so PROUD of being Chinese. People say the Chinese Government brainwashes people, but honestly, I felt like I was being brainwashed in the U.S. into thinking that my home country is terrible in every way," said Wuu Hoo.
In the You Tube channel, Dumbrill, a father of 4 who has been living in China for 13 years, shared his experience about the country.
The bar owner in Shenzhen has also followed hot topics like Hong Kong turmoil and COVID-19 and tell the world what China really is.
The Shenzhen Daily reporter met Dumbrill on Oct. 15 last year, when he attended a symposium on Shenzhen's development on the 40th anniversary of the special economic zone. At the symposium, he said he did this because he thought China is misunderstood and should tell its side of story better. He wanted to tell people from all around the world how great Shenzhen and China is.
Dumbrill declined the interview request of the reporter, saying he just wanted to tell the truth about Xinjiang to the Western people and prevent them from being kept in darkness.