Luo Hao, PR Director for BYD Co Ltd (BYD) applauded Shenzhen for taking the lead in energy conservation and pollution reduction and discussed a role BYD has played in helping Shenzhen build itself into a model city for sustainable development.
Founded in Shenzhen in 1995, BYD is China's largest new-energy auto manufacturer and engages in four different businesses: automobiles, rail transit, renewable energy, and electronics. Its energy vehicles (EVs) have been sold to over 300 cities in more than 50 countries and regions globally.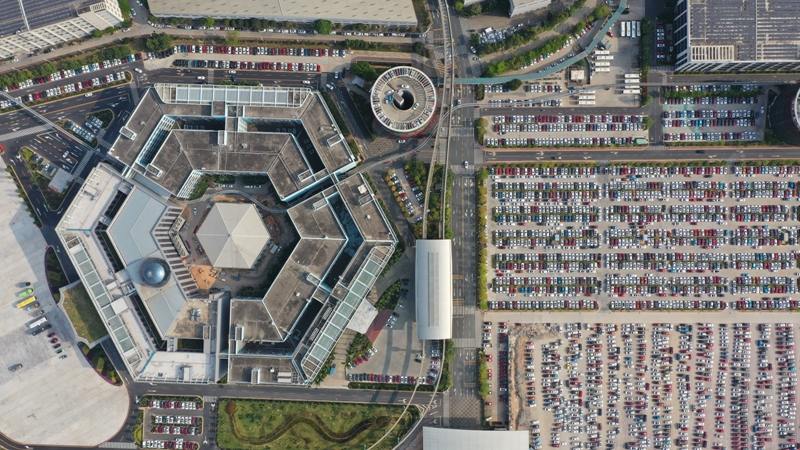 An aerial shot of BYD's headquarters office building in Pingshan District. Photos by Sun Yuchen
BYD contributed to achieving pure electrification of public transportation systems in Shenzhen by 2020 and has promoted the Shenzhen model worldwide. "BYD has captured an over 60 percent share of the U.K.'s electric bus market, and 80 percent of that in London," said Luo.
Luo told a group of journalists that the secret to BYD's success in the domestic and overseas markets lies in its in-house developed core technologies in the sectors of batteries, electric motors, electronic controls, and IGBT semiconductors.
The latest data shows BYD invested 5.46 percent of its revenue in 2020, 8.56 billion yuan, in R&D. A "Technology Pool" in the company has employed 35,000 talents in R&D. They have applied for 32,000 patents, among which 17,000 are invention patents, and 21,000 have already been authorized. "BYD has been ranked the number one in the number of patents among Chinese automobile companies for three consecutive years," said Luo.
"Battery technology is BYD's outstanding advantage in competing against rivals in the EV industry. The battery technology has allowed BYD to find its place in the overseas market," Luo said. The renewable energy giant started as a production line of nickel-cadmium batteries. Over the past two decades, BYD has developed and formed a complete battery supply chain from mineral resources and raw materials to cells, modules and packs. Its factories were set up in China as well as the U.S. and Brazil.
Blade Battery, the latest battery product, aims to redefine EV safety standards. By the words of Wang Chuanfu, Chairman and President of BYD, Blade Battery can "erase the term 'spontaneous combustion' from the dictionary of new energy vehicles." The new battery has been installed in the Han EV, a flagship sedan model BYD set into motion last July. Han has a cruising range of 605 kilometers and an acceleration of 0 to 100km/h in just 3.9 seconds. The number of new models sold exceeded 12,000 in last December. "This is a landmark for the Chinese EV industry, which means Chinese EVs are equipped with core competence in terms of technology, design, and performance," said Luo.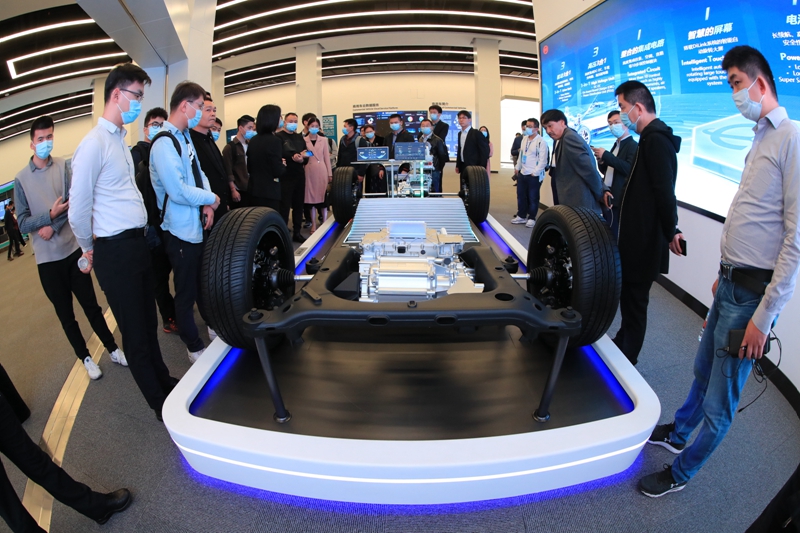 Visitors at BYD's exhibition hall.
Automotive-grade chips are another key technology being produced by BYD, such as IGBT (insulated gate bipolar transistor) and MCU (microcontroller unit). As the largest IGBT manufacturer in China, "I don't think we will be strangled. We have enough chips to meet our own demand, and even can help other Chinese automobile firms to get rid of the monopoly (of the developed countries) and bottlenecked challenges," said Luo.
Bolstered by its competitive technologies in various industries, BYD is capable of providing integrated solutions for big clients, such as governments. The proposal covers renewable energy generation to storage to application. "We are the world's first and only company that can offer integrated solutions to address the air pollution and traffic congestion."
BYD proposed the world's first solution to electrify public transportation in 2010. The strategy was highly praised in China and became a national policy, which then led to full-scale electrification of public transportation in cities like Shenzhen.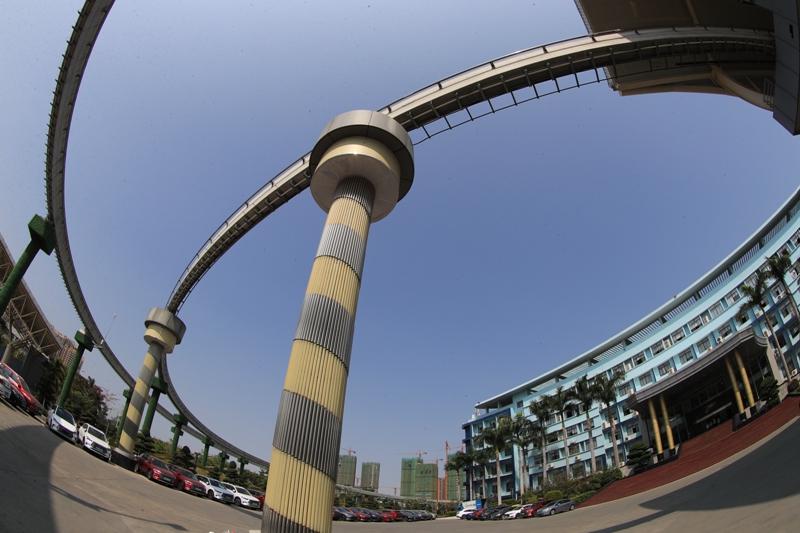 A scene of BYD's rail transit project.

On April 1, the Shenzhen government announced its new plan for the promotion of EVs. The city plans to increase its ownership of EVs to 1 million units and install 833,000 EV chargers by 2025. The new-energy cars will eventually account for 60 percent of the city's newly registered cars by the end of the next five years.
"BYD's products have a strategic advantage over our competitors. Each of our business moves goes hand in hand with national policies and strategies," said Luo.