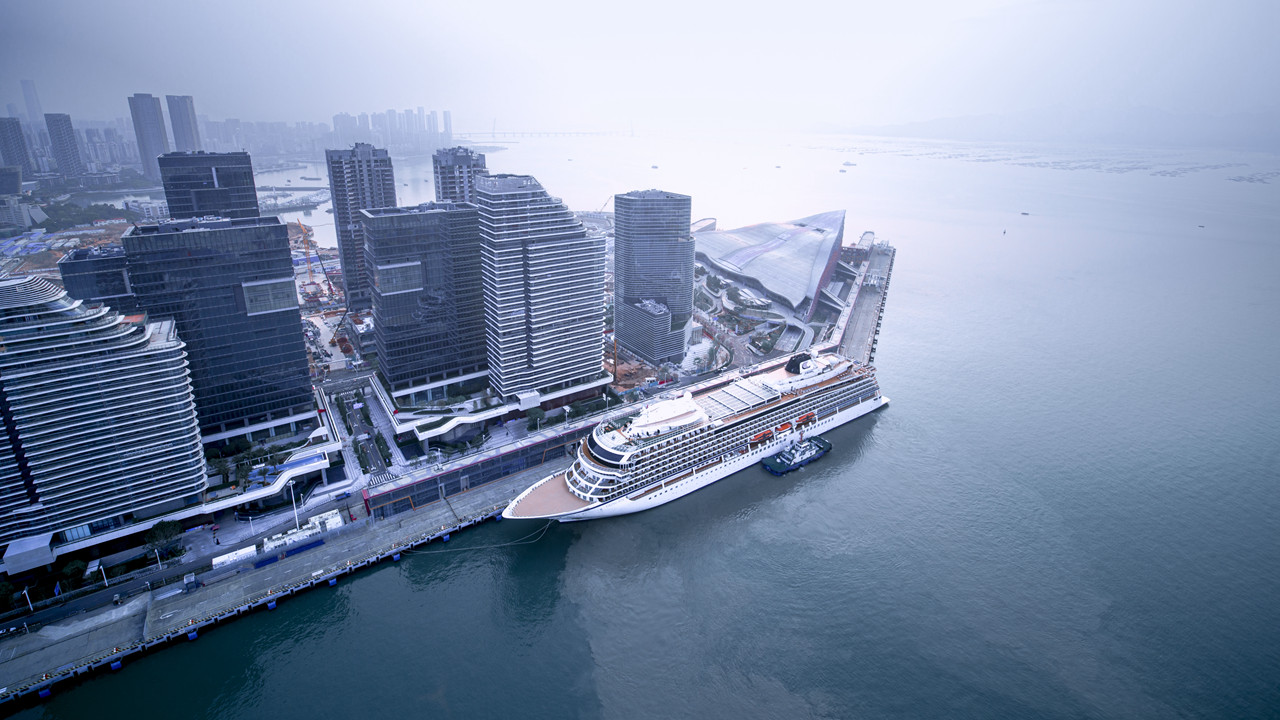 The Viking Sun cruise ship docks at Shekou Cruise Homeport. Courtesy of Shenzhen Customs
The Viking Sun cruise ship officially docked at Shekou Cruise Homeport on Wednesday after completing customs clearance.
The cruise ship, built in 2017, is expected to officially transfer ownership to a Chinese-foreign joint venture, making it the first luxury cruise ship to fly the Chinese flag. In November, China Merchants Shekou inked an agreement with Viking Cruises to develop cruise tourism in China, starting with Viking Sun. Viking Sun will be renamed after its ownship is officially transferred. Under the agreement, the two companies have set up a joint venture focusing on the Chinese source market, including operating a fleet of China-flagged ships offering coastal cruises.
The ship is a state-of-the-art ship designed to provide travelers with all comforts available. Built by the Italian Fincantieri S.p.A in 2017, Viking Sun is 228.2 meters long, 28.8 meters wide, and has a total weight capacity of 47,800 tons. It has nine decks, 465 cabins and a 930-passenger capacity.
The cruise ship uses energy-saving hybrid engines and is equipped with novel devices such as solar panels for river cruise ships.
Since the opening of the Shekou Cruise Homeport in 2016, more than 529 cruise ships have called at and left the homeport, serving nearly 1 million passenger trips.
The cruise ship industry in China is still in its nascent stages. The itineraries are mainly outbound tours. The domestic luxury cruise market has great potential, according to analysts. China Merchants Viking Cruise Co. Ltd., the joint venture, plans to optimize routes and explore the domestic and international markets while taking all the necessary precautions against COVID-19.