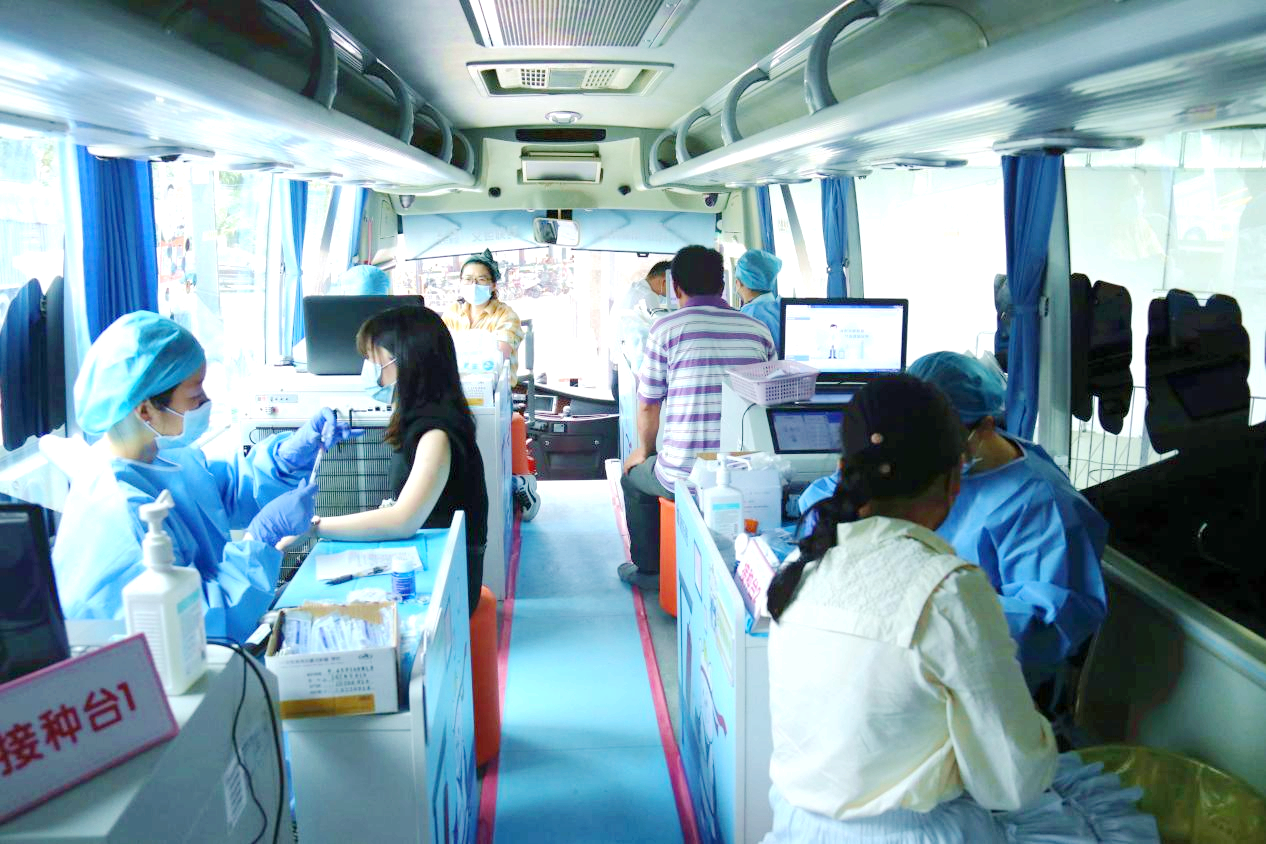 Citizens receive vaccine shots on a mobile COVID-19 vaccination vehicle, Guangdong's first, in Minzhi Subdistrict in Longhua District on Thursday. The vehicle was introduced in a bid to expand vaccine access and encourage residents to get vaccinated. Liao Jingwen
A mobile COVID-19 vaccination vehicle, which is the first ever used in Guangdong Province, began serving the public Thursday morning at the Ahoke Tianyao Square in Minzhi Subdistrict, Longhua District.
As of 3 p.m. Thursday, a total of 600 doses of COVID-19 vaccine had been administered to citizens with the facilities on the vehicle.
The vehicle was introduced by the subdistrict and Longhua District People's Hospital in a bid to expand vaccine access and encourage citizens to get vaccinated by sparing them the trouble of going all the way to the other designated vaccination sites.
The red vehicle, from the outside, looks no different from an ordinary coach bus but, in fact, accomplishes all necessary functions required for the vaccination process, including a cold-chain area, an inoculation area, and separate halls for vaccine recipients to enter and exit the vehicle.
It is equipped with medically equipped freezers specially designed for storing vaccines which are sent out automatically with just a click on the electronic screen of the freezer. Additionally, an electronic thermometer and a mercury thermometer are used to make sure that the vaccines are kept within the required temperature range for safe use.
Outside the vehicle, a registration area, an observation area and a treatment room for adverse reaction are always set up, and an ambulance and a professional first-aid team are also put in place in case of emergencies.
According to Longhua District People's Hospital, they have sent a total of 18 medical workers to the vaccination vehicle.
Social workers, volunteers and security personnel are also on site to guide residents to make appointments, fill out forms and maintain order in an effort to shorten the wait time.