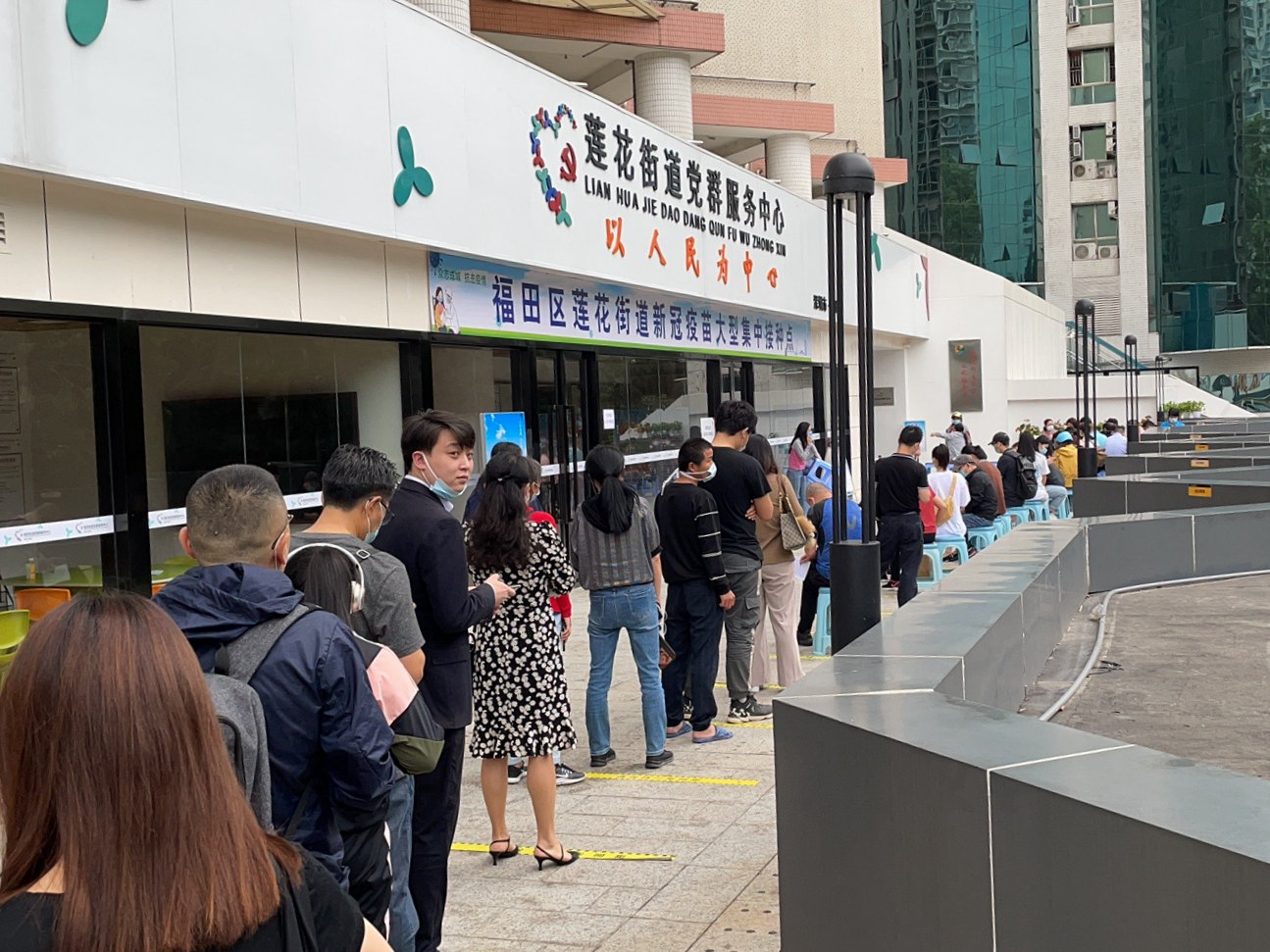 Citizens wait in line for a COVID-19 vaccine shot at a vaccination site of Lianhua Subdistrict, Futian District on Tuesday. Wang Haolan
Over the past week, most parts of Guangdong Province had experienced a shortage of COVID-19 vaccines, which prompted many people to begin worrying about the vaccine's effectivity if the interval between the first and second doses is too long.

In response to the citizens' apprehension, the municipal health commission said that the recommended interval is 21 to 56 days between the two doses of inactivated COVID-19 vaccine according to the vaccination guidelines and that the vaccine supply will quickly catch up with the demand, Shenzhen Economic Daily reported yesterday.
According to the first edition of guidelines on COVID-19 vaccination, the interval between the two doses of the inactivated COVID-19 vaccine is recommended to be administered more than or equal to three weeks (21 days), and the second dose should be completed as early as possible within eight weeks (56 days).
The interval between the two doses is determined according to the data of clinical trials and the results of relevant monitoring data from those who got vaccinated in the early clinical trials.
The level of antibodies produced after injection determines the number of doses and the interval between the doses to achieve the immunization effect.
According to the current evidence-based analysis, delayed vaccination generally does not affect the immunization effect. If the second dose cannot be completed within the required time interval, it should be administered as soon as possible without having to restart the immunization procedure.
It is also suggested that the two vaccine doses should be of the same type from the same manufacturer, said the city's health authorities.
However, a second dose of the same type from a different manufacturer can also be administered in special conditions such as vaccine supply shortage or the vaccine recipient is on an out-of-town business trip and fails to find the vaccine made by the same manufacturer.