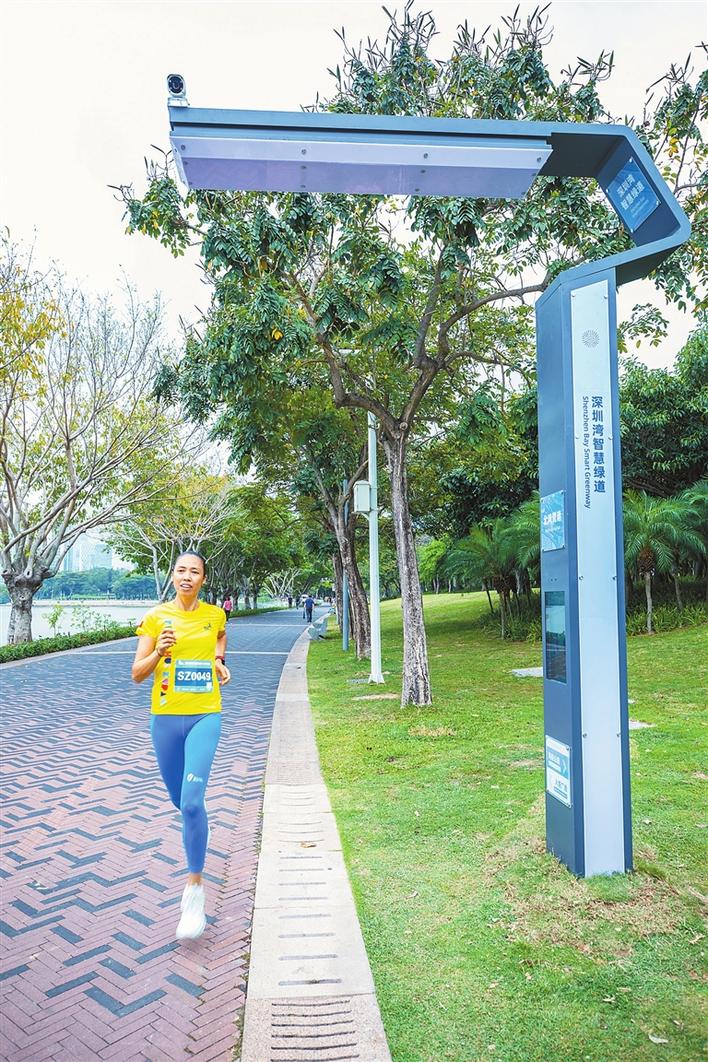 A runner passes a pole along Shenzhen Bay Park's smart greenway in Nanshan District on Sunday. Li Zhong
A total of 131 5G smart applications and products have been put into trial operation on the greenways of 34 parks in Shenzhen to provide a wide range of convenient services to residents, the Shenzhen Municipal Urban Administration and Law Enforcement Bureau said Sunday.
Smart installations, including 5G smart greenways, 5G lockers, 5G driverless tour buses and unmanned vehicles selling coffee and snacks, are now becoming a reality in the city's parks, providing a new experience for citizens.
It is said that the municipal urban management authority launched a campaign to build 5G smart running paths in parks this year.
The authority cooperated with the first batch of 11 enterprises, including China Unicom, China Telecom, China Mobile, Tencent and Huawei to form an alliance to promote 5G construction.
The pilot smart greenway in Lianhua Hill Park extends 1.5 kilometers surrounding Yangri Lake, according to Liang Zhiyu, deputy director of Shenzhen Park Management Center.
With 5G, runners can have their running speed, distance and mileage recorded to a database via facial recognition from the screen on a smart pole along the greenway.
This data will be used for physically guiding runners and providing runners with interaction such as giving them rankings according to their running distance or other data.
A smart driverless tour bus with a smart broadcasting system to introduce sights will be put in use in Lianhua Hill Park in Futian District in June. In order to ensure the safety of visitors, a worker will stay on the tour bus, said Liang.
Another smart greenway was built in Shenzhen Bay Park, extending 10.5 kilometers from the mangrove nature reserve to Haifeng sports square.
The smart running path is more professional and flexible for different purposes. Residents can go to the greenway for daily workouts and marathon training.
The greenway is also said to be the country's first professional coastal half marathon smart running path. Citizens can also collect a free professional running chip to get their running results identified, according to Liang.
In addition to smart greenways, residents can keep personal belongings in smart lockers by just scanning their faces and hail unmanned sales vehicles to buy coffee and snacks.